Labeling Each Top MLB Prospect as Available or Untouchable at the Deadline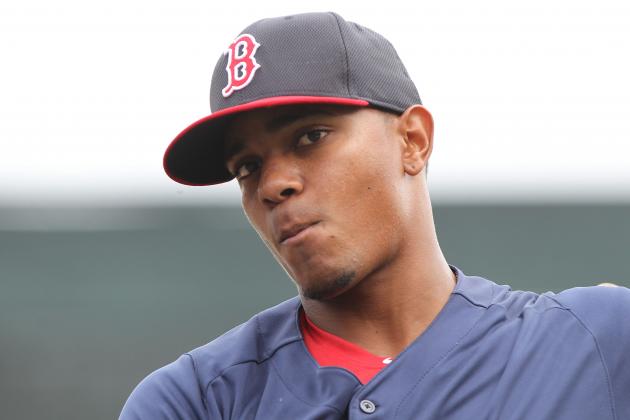 Kim Klement-USA TODAY Sports
Boston's Xander Bogaerts is a star in the making, but would the Red Sox consider trading him?
The term "untradeable" gets used too often in Major League Baseball, especially when it comes to prospects. Anyone can be dealt at any time for the right price, but how many teams are willing to pay that toll?
As much as fans like to throw out trade proposals where their favorite team sends a package of players who are decent big leaguers to a team with an elite prospect to rebuild their franchise, that's not how things work.
With the July 31 non-waiver trade deadline rapidly approaching, all 30 teams are going to see rumors about them with the names of some of the best prospects in the game getting bantered about.
A lot of them will amount to nothing, but every so often a team will pull the trigger to upgrade their roster and chances to win now. And that is what you are supposed to do with prospects; a big reason teams acquire star power and depth in their system is to trade from it when they feel their window is open.
But who among the elite prospects would really be available in a trade? Here is how we would classify the top 20 minor leaguers in baseball in advance of the July 31 trade deadline.
Note: Prospects listed are in order they appear on Mike Rosenbaum's Midseason Top 50. If a player on the list is currently in the big leagues, he is ineligible for this list and will be skipped over in favor of the next player on the list.
Begin Slideshow

»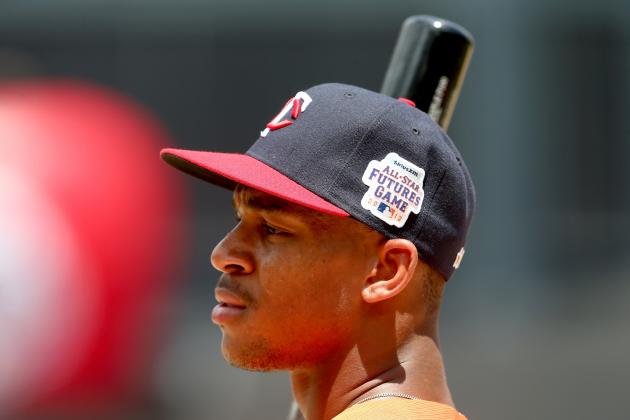 Elsa/Getty Images

Byron Buxton started the year with high expectations after being the No. 2 pick in the 2012 draft. It is safe to say that the 19-year-old has exceeded even the most optimistic predictions for his first full season, showing true five-tool ability with more in-game power than expected at this age.
The Twins promoted Buxton to High-A a few weeks ago and his numbers have cooled off (.245/.287/.340), though that was to be expected given that he is playing against competition that is 2-3 years older than him.
When you have a talent this special with a chance to make it to the big leagues before his 21st birthday, there is no way you are going to part with that.
Status: Unavailable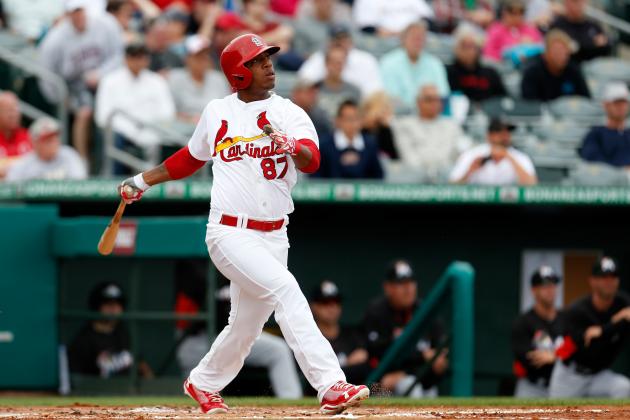 Chris Trotman/Getty Images

There was supposed to be a point this year when Oscar Taveras took over as the everyday right fielder in St. Louis. After all, he was starting the year in Triple-A after a breakout season in 2012 with one of the best bats in all of minor league baseball.
Unfortunately, due to injuries, Taveras seems more likely to wait until 2014 to make his debut. It also doesn't help that Carlos Beltran is having an All-Star season for the Cardinals in the final year of his deal.
But given Taveras' rare ability to hit for average and power, as well as his ridiculous plate coverage and bat speed, it would take something really special (like the oft-talked about Taveras-for-Profar trade that fans love to mention) in order for the Cardinals to pull the trigger.
Status: Unavailable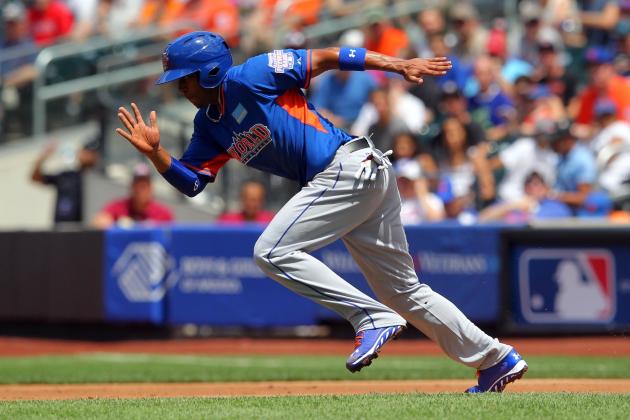 Brad Penner-USA TODAY Sports

The Red Sox may feel like they need to acquire another starting pitcher for a run in the postseason this year, but it is not going to come at the expense of Xander Bogaerts. Part of that is because there just aren't enough quality pitchers out there, but it has a lot more to do with how special Bogaerts is.
If you watched the Futures Game, where Bogaerts showed a tremendous hit tool with the ability to pull his hands in just to line a single up the middle, you can understand why he gets talked about with such reverence.
On top of that, Bogaerts is likely to play shortstop for at least the first few years of his career. When you put his ability to hit and hit for power at shortstop, even with average defense, that is an All-Star and potential MVP candidate. He's not going anywhere.
Status: Unavailable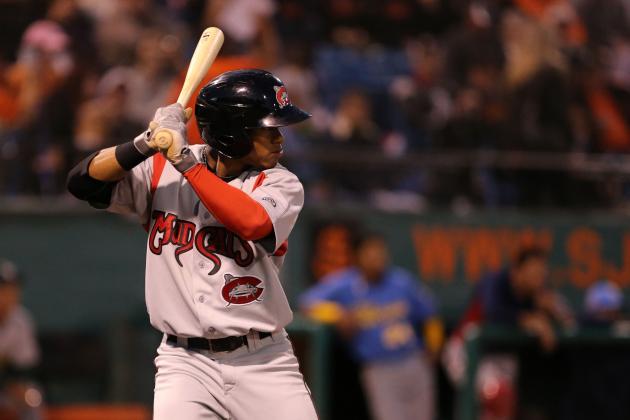 USA TODAY Sports

Just to illustrate how far along Lindor is, despite being drafted in 2011 and having nearly two full seasons of professional experience under his belt, the Indians star prospect is just one month older than Byron Buxton and already a level ahead of him.
Lindor obviously doesn't have the ceiling that Buxton does, but his floor is incredibly high and his defense at shortstop is outstanding. He doesn't project to hit many home runs given his slight frame and compact swing, but there is more than enough power in his hands and drive in his legs to hit a lot of doubles.
Incredibly advanced at such a young age, Lindor has a tremendous eye at the plate with very good pitch recognition and doesn't expand his zone very often.
The Indians are, in all likelihood, going to lose Asdrubal Cabrera at the end of this year. But with Lindor waiting in the wings, they won't have to look hard to find his replacement as soon as early 2014.
Status: Unavailable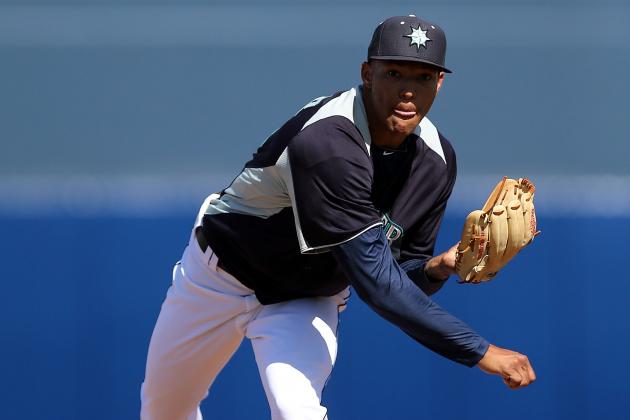 Christian Petersen/Getty Images

Under the right circumstances, which I understand is a redundant statement because anyone can be traded in that scenario, I can see the Mariners entertaining trading Walker.
They already have Felix Hernandez locked into a long-term deal. Hisashi Iwakuma is getting up there in age (32), but has proven over the last two years to be a very good big league starter.
The Mariners have good pitching depth in the minors with Danny Hultzen (who is injured and doesn't have a high ceiling), Brandon Maurer's brief run in the big leagues this year doesn't mean he won't turn into a good big league starter and James Paxton is probably a reliever at the MLB level with above-average stuff as a left-hander.
Despite the emergence of Nick Franklin and hope for Mike Zunino, the Mariners still have to build a lineup around players not in their 40s to compete in the AL West. If they could get a strong package of hitters for Walker, it is not impossible to see them deal him.
That said, Walker is just 20 years old in Triple-A with a plus-plus fastball, plus cutter, potentially above-average changeup and average breaking ball. It is hard to justify moving a player with that kind of stuff and potential.
Status: Unavailable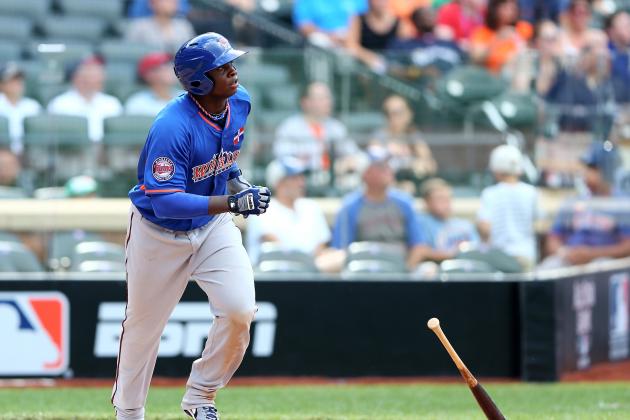 Elsa/Getty Images

Right-handed power hitters are a rare breed in the minors right now. Miguel Sano has the best power of any prospect in baseball right now, and some of the best at any level of baseball. His batting practice sessions are must-see TV (if only they were broadcast).
But Sano does so much more than just hit the ball really far really hard. He has turned himself into a solid defensive player at third base and has a very patient approach at the plate with the ability to take walks.
He doesn't shorten his stroke with two strikes, so the average will likely never be better than .260-.270, but when you are walking 80-90 times with 35-plus homers it doesn't matter.
For a franchise like the Twins, in full rebuild mode, to have two of the best and most exciting talents in the minors is special and speaks volumes about the direction they are headed. Sano, like Buxton, isn't going anywhere.
Status: Unavailable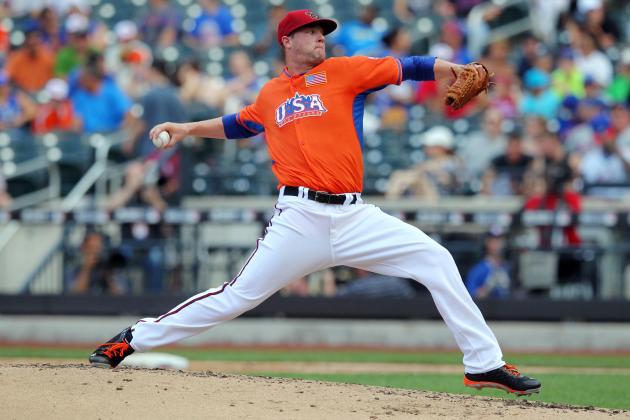 Brad Penner-USA TODAY Sports

This has been a great bounce-back season for Archie Bradley, who really struggled with command and control in his debut season at Low-A in 2012. The stuff is still there, with a plus-plus fastball-curveball combination and a developing changeup that looks like an average big league pitch.
The Diamondbacks have put Bradley on the fast track to the big leagues by promoting him to Double-A at the age of 20. He is still working on finding a consistent release point and controlling his entire arsenal, so don't expect to see him before the All-Star break next year (at the earliest).
Given that the Diamondbacks know the strength of their franchise moving forward is in the rotation, with Bradley in the minors and other arms like Tyler Skaggs, Patrick Corbin and Randall Delgado performing well in the big leagues under team control for the next 5-6 years, it would be a surprise if he was moved.
Status: Unavailable
Chris Trotman/Getty Images

Note: The Marlins called up Yelich on Tuesday, but since he hasn't played in an MLB game prior to this posting we have included him.
I always hesitate to say never when it comes to the Marlins, because once a player reaches $500,000 in salary that might be too much for that ownership group. But since Yelich is years away from arbitration and even further away from free agency, it is hard to imagine him being used in a trade.
The Marlins called Yelich, along with Jake Marisnick, up on Tuesday because they saw, just as everyone else did in the Futures Game, how special his hit tool is.
He doesn't have huge raw power in his 195-pound frame, but because his hands are so quick and his swing is so fluid he could turn into a 20-25 home run per year player who hits over .300.
Yelich has one of the sweetest swings and hit tools in the minors. Add to that the fact he can play center field at an above-average level, and you have a star in the making.
Status: Unavailable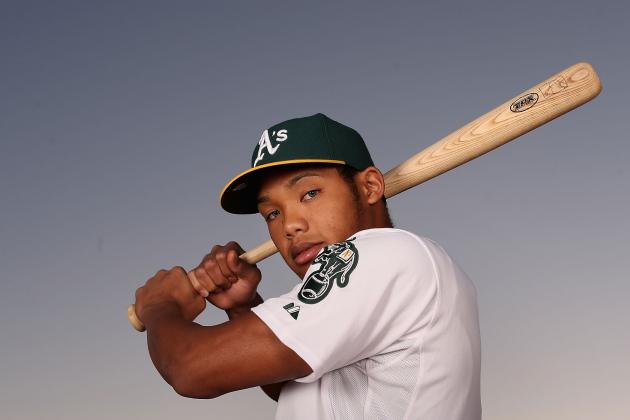 Christian Petersen/Getty Images

The Athletics were so impressed by Addison Russell in his brief exposure to professional pitching last year that he moved three levels before settling in at High-A this season. He got off to a slow start but has picked things up since June, hitting .322/.366/.566 in 35 games.
Russell is going to grow into more over-the-fence power as he ages and his body fills out, but the bat speed is electric and the defense at shortstop is terrific thanks to plus range and arm strength.
He is one month younger than Buxton and plays at the same level, so that should tell you something about how well Russell has adjusted to professional baseball. The Athletics are not going to move him.
Status: Unavailable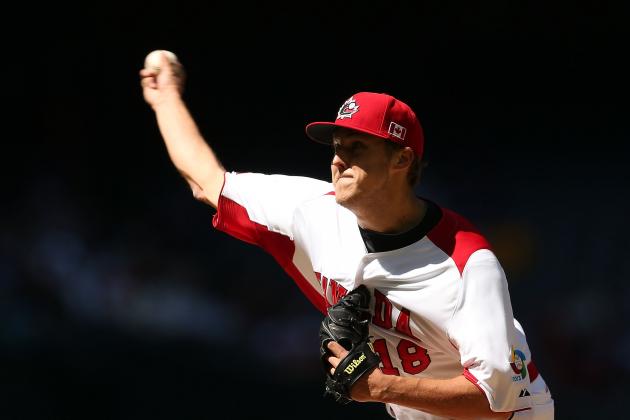 Christian Petersen/Getty Images

The Pirates are building a very good, young, inexpensive core group of players that will allow them to do much better than just finish .500 to break some ridiculous losing streak.
Jameson Taillon, the player taken after Washington grabbed Bryce Harper with the No. 1 pick in 2010, has always shown tremendous stuff and the results are slowly starting to match. He doesn't miss as many bats as you would like for someone with a power fastball-curveball combination.
There are still some flaws, like repeating the delivery with his long 6'6" frame, but the total package still projects as a good No. 2 starter in the big leagues.
Pair Taillon with Gerrit Cole, and suddenly the Pirates have an exciting top of the rotation that can carry them further than they have gone in a long, long time.
Status: Unavailable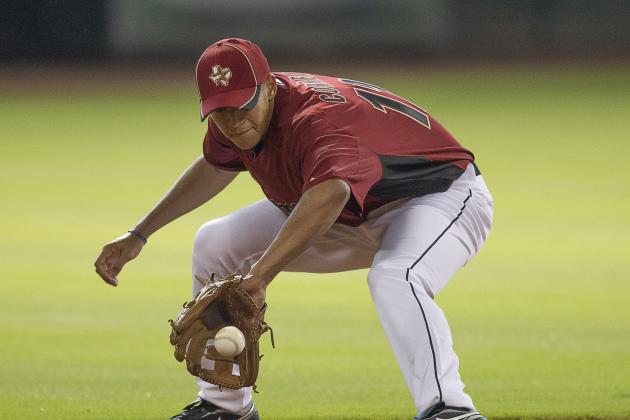 Bob Levey/Getty Images

Lost in the madness of Byron Buxton picking apart the Midwest League is the season that Carlos Correa has put together for Quad Cities as an 18-year-old. The top pick in last year's draft is hitting .318/.409/.464 in a pitcher-friendly league.
Correa was touted for his offensive prowess coming into the 2012 draft and that has certainly carried over into pro ball. His huge 6'5 frame will likely outgrow shortstop, but there could be a few years where he is able to stay there.
Regardless of where he plays, Correa projects as an offensive monster who can hit in the middle of a lineup for an Astros team that has put all its energy into player development.
Do you really think they would trade a player like that?
Status: Unavailable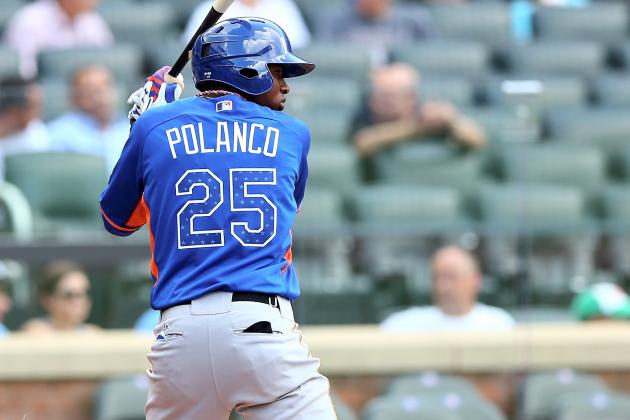 Elsa/Getty Images

Gregory Polanco is a quality center fielder—despite some of the routes he took in the Futures Game—who will likely be pushed to right field if he makes it to Pittsburgh because Andrew McCutchen isn't going anywhere.
However, given his ceiling and value of being a center fielder with power, Polanco could make a very attractive trade chip for a Pirates team that is offensively challenged right now and boasts a lot of outfield depth in the big leagues and minors.
General manager Neal Huntington has said that the team wouldn't necessarily cut itself off from getting a two-month rental player by dealing a top prospect, though that hardly means something will happen.
But Polanco could be an intriguing trade chip for the Pirates to dangle out there because of what he can do on the field and the spots they already have filled in the big leagues.
Status: Available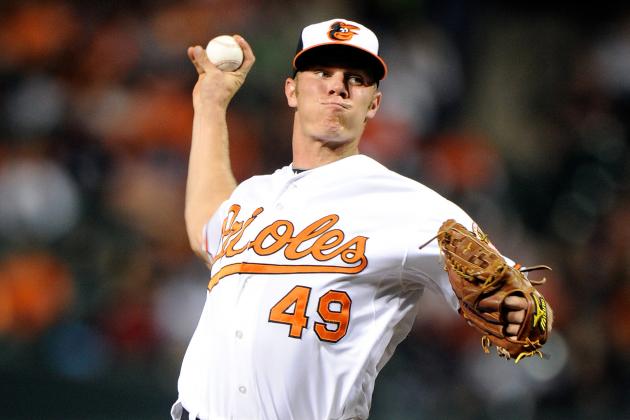 Greg Fiume/Getty Images

Not that they would have been inclined to deal him anyway given their starting pitching woes, but the Orioles certainly can't move Dylan Bundy for at least a year after he underwent Tommy John surgery in June.
It will be interesting to see how Bundy's arm and velocity work when is able to return. He will be just 21 by the time he starts throwing in games again, assuming the rehab and recovery go smoothly.
Until then, the Orioles and their fans will sit with bated breath hoping Bundy can come back and reach the incredibly high ceiling established after his debut 2012 season.
Status: Unavailable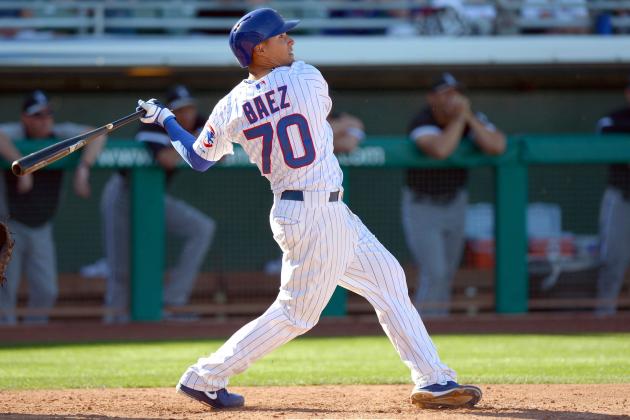 Jake Roth-USA TODAY Sports

I am going to play devil's advocate for a moment. No one will deny that Javier Baez has an incredibly high ceiling thanks in large part to plus-plus power derived from the best bat speed you will see at any level of baseball.
However, there are also serious flaws with Baez's approach at the plate that can and will be exposed the further up the ladder he moves. In fact, it has already started at Double-A, where the 20-year-old has struck out 20 times in 55 at-bats.
Baez will swing at anything and everything near the plate, which can lead to some majestic home runs and a lot of plate appearances given away. The Cubs already endured that kind of headache with Josh Vitters, who flamed out in the minors.
Baez's ceiling is higher than Vitters', but the floor is about the same. Baez is a better-than-expected shortstop, though he is still likely to end up at third base.
With that in mind, not to mention the dearth of potential third baseman the Cubs have with Mike Olt, Kris Bryant and Junior Lake, the Cubs could try to float Baez out there to see if they can acquire some desperately-needed top-tier pitching help.
The odds of that happening are miniscule, but it might not be the worst idea in the world.
Status: Available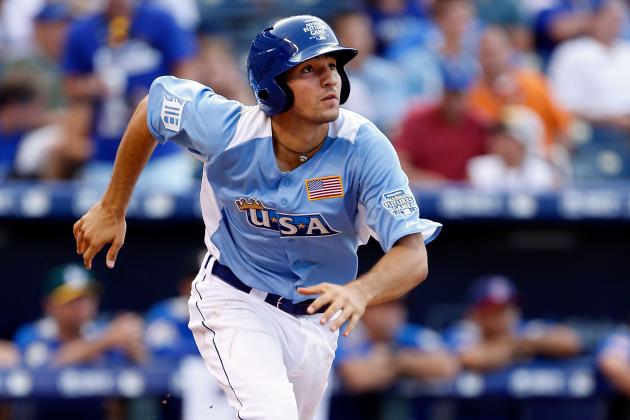 Jamie Squire/Getty Images

One thing that we know about the Tigers is they aren't afraid to trade anyone in their farm system if it will help improve their big league club right now.
That isn't to say general manager Dave Dombrowski will give players away, but he is also ready to wheel and deal.
Castellanos has done everything the Tigers have asked of him, including switching positions from third base to the outfield.
His bat profiles better at third base, because he doesn't have the kind of power you want from a corner outfielder. He has such a strong feel for hitting that the bat will play anywhere, but the ceiling depends on what position he's at.
We know the Tigers have weaknesses, especially in the bullpen. I can't envision Dombrowski giving up Castellanos for a reliever, but it wouldn't be a surprise if he found a deal no one sees coming that allows him to part with his top prospect.
Status: Available
Even though Albert Almora lacks the one explosive tool like his fellow Cub prospect Javier Baez, his floor is much higher because of his natural feel for the game and ability to control his bat in the hitting zone.
Almora's polish and plus defense in center field, all at the ripe age of 19, are playing very well in High-A. Through 50 games, he is hitting .324/.369/.469 with 20 extra-base hits.
Combine all of that and the Cubs aren't going to be entertaining offers, or listening to many, for their future center fielder. An up-the-middle talent who hits for average and power and who can steal bases and can move relatively quickly are rare breeds.
Status: Unavailable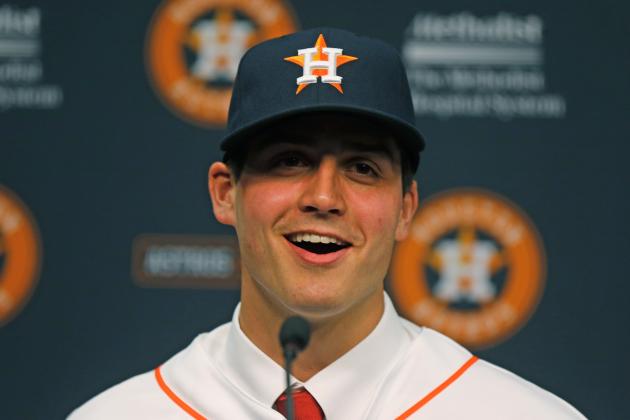 Scott Halleran/Getty Images

When you are the No. 1 pick in a draft that took place one month ago, one of the center-piece players for a rebuilding franchise and have only 13 innings of professional experience under your belt, you're not going to get traded.
Plus, since Appel just signed his contract a few weeks ago, he can't be traded for 12 months.
Status: Unavailable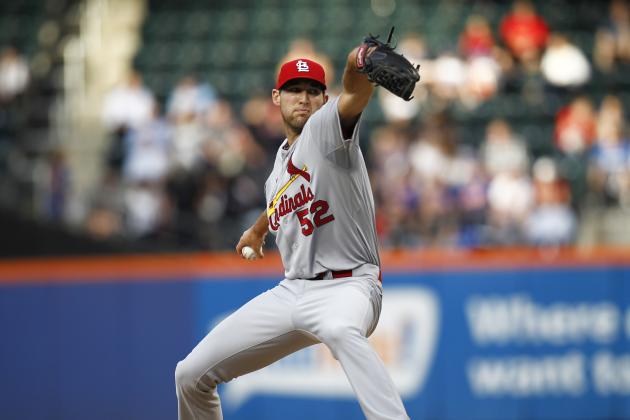 Jeff Zelevansky/Getty Images

Flush with pitching talent, the Cardinals could start to dangle some of their minor leaguers at the upper levels to plug a hole, if you can find one, on the big league roster.
However, Wacha doesn't seem to fit in that category for two reasons.
One, after having solid stuff coming out of college, Wacha's arsenal has gotten better this season thanks to a much-improved breaking ball and a little more velocity on the fastball.
Two, despite their depth, the Cardinals can throw Wacha into the back of their rotation next year to replace Jake Westbrook and allow him to get his feet wet.
Honestly, it is hard to say what the Cardinals might do just because they don't really have any major flaws in the big leagues or minors. They have talent coming out of their ears with the ability to add more through trades or free agency if they want to.
Status: Available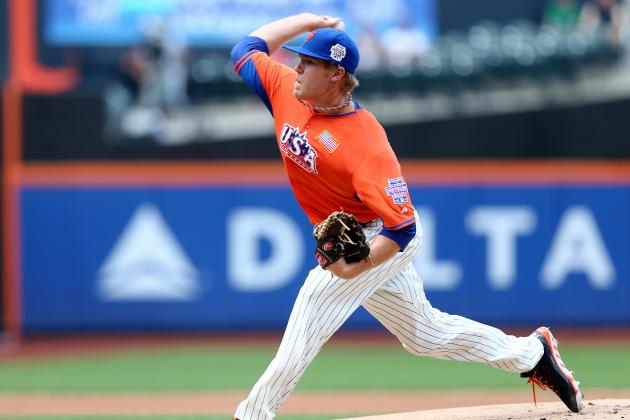 Elsa/Getty Images

When the New York Mets finally bit the bullet and went full speed ahead with a rebuilding effort, the key to the whole thing became dealing R.A. Dickey to Toronto last offseason for a package of prospects.
Originally we thought Travis d'Arnaud would be the top prize in that deal. But his injury problems, whether they are a symptom of his body breaking down or just bad luck, make it difficult to see him holding up enough to have an impact.
However, the deal still looks strong because Noah Syndergaard continues to take steps forward. He is still learning to throw the breaking ball and changeup for strikes consistently, but the package is there for him to be a solid No. 2 or very good No. 3 starter.
Regardless, the Mets need to be adding prospects to their system, not subtracting.
Status: Unavailable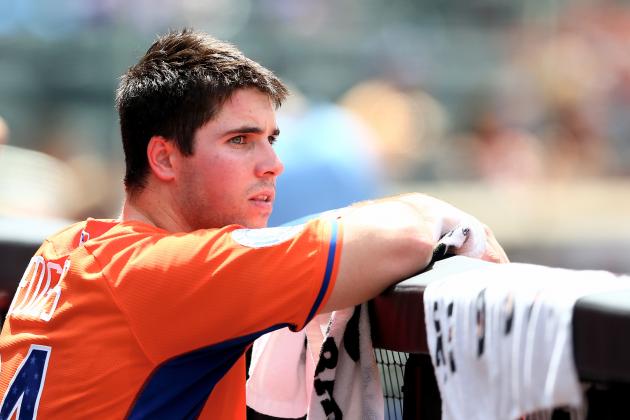 Elsa/Getty Images

When you can find an elite defensive catcher with offensive upside that tends to get overlooked because the work behind the plate is so good, there is no reason at all to move that.
Especially when you are a team like the Padres, which is a franchise still rebuilding after trading Adrian Gonzalez and Jake Peavy years ago.
Austin Hedges is going to be a very good big leaguer with a chance to be even better, assuming his above-average raw power plays in games more often. He is still just 20 years old, so there is no reason to worry about him not getting there yet.
And even if the power doesn't show up, Hedges has good bat control, plate coverage and pitch recognition to be a solid hitter.
Combine that with everything he adds behind the plate—catching, receiving, framing, blocking, arm strength and accuracy—you have at the very least a good catcher.
Status: Unavailable