Rookie, Undrafted Free-Agent Watch for Oakland Raiders Training Camp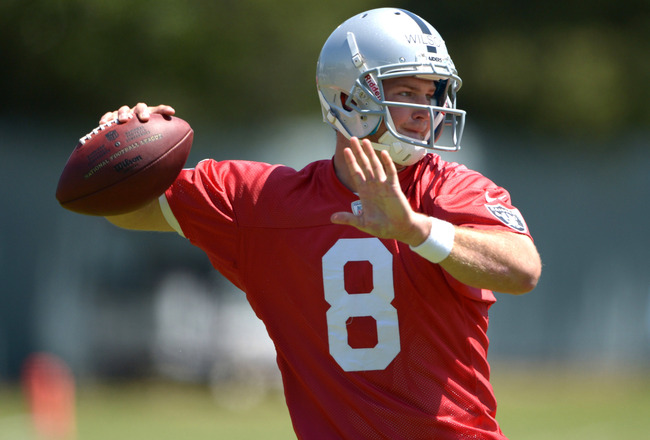 USA TODAY Sports
As Reggie McKenzie continues his complete rebuild of the Oakland Raiders, it is this class of rookies that will be most important moving forward.
For the first time, McKenzie had a decent number of draft selections at his disposal, and he of course brought in a number of undrafted free agents as well.
Given the salary-cap purging and limitations the Raiders had this offseason, success in 2013 will have to come with significant contributions from some of these players.
Here is a look at every rookie player heading into training camp with the Oakland Raiders.
CB D.J. Hayden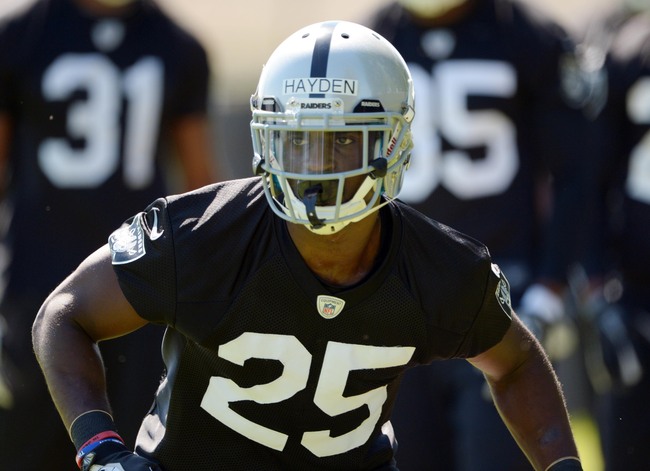 USA TODAY Sports
College: Houston
Draft Status: Round 1
Height: 5'11''
Weight: 191 lbs
Analysis: Medical concerns had many putting D.J. Hayden much lower than the spot the Raiders took him, but with those now out of the way, there is no denying the talent level he possesses. Hayden excels in both man and zone coverage concepts, and he's a sound tackler as well. His versatility should make him a great fit for the Raiders' secondary.
OT Menelik Watson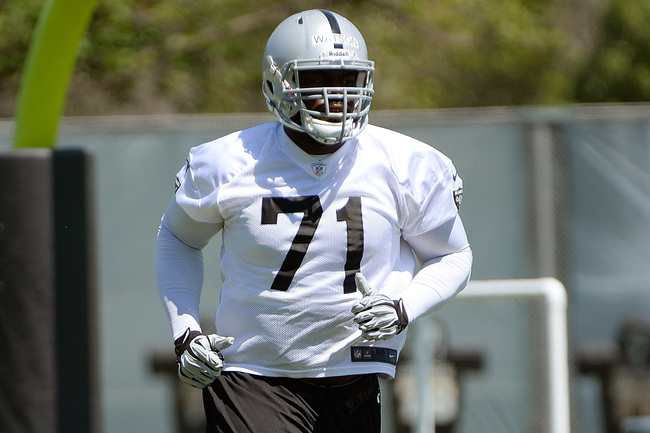 Thearon W. Henderson/Getty Images
College: Florida State
Draft Status: Round 2
Height: 6'5''
Weight: 310 lbs
Analysis: Menelik Watson is considered a very raw prospect, but one with an extremely high ceiling given his physical ability. If he can win the starting right tackle job this season, great. If not, giving him time to develop is not a bad idea either. In any event, this was a good pick for the Raiders.
LB Sio Moore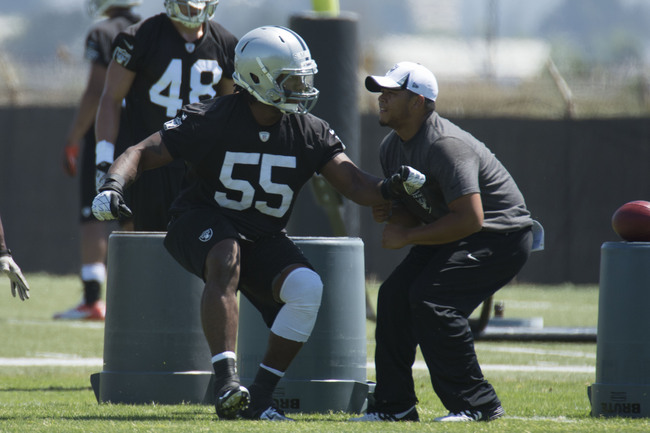 Kyle Terada-USA TODAY Sports
College: Connecticut
Draft Status: Round 3
Height: 6'1''
Weight: 245 lbs
Analysis: The Sio Moore selection in the third round was a popular one for the Raiders coming out of this draft. Moore could end up winning one of the starting outside linebacker jobs coming out of camp or contributing as a nickel pass-rusher. Both are areas of need for the Raiders, so Moore should have an impact right away.
QB Tyler Wilson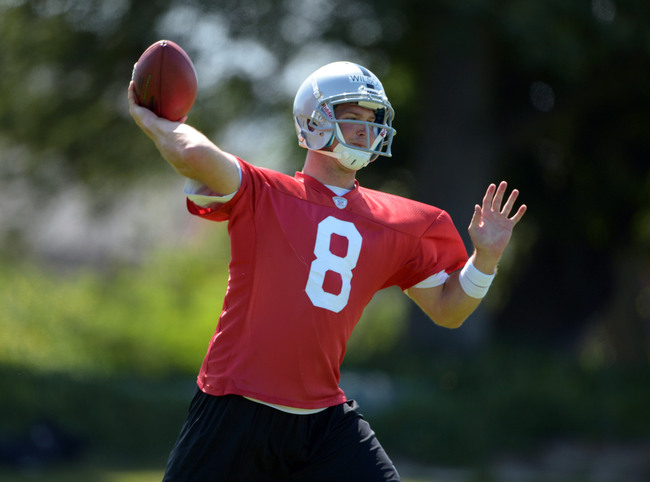 USA TODAY Sports
College: Arkansas
Draft Status: Round 4
Height: 6'2''
Weight: 215 lbs
Analysis: Many assumed the Raiders would select a quarterback at some point during this draft, and with Arkansas' Tyler Wilson, they got some great value. Prior to a difficult season for the entire Razorbacks program, Wilson was considered a first-round talent. He could compete as soon as this season, and he just may be the Raiders' quarterback of the future.
TE Nick Kasa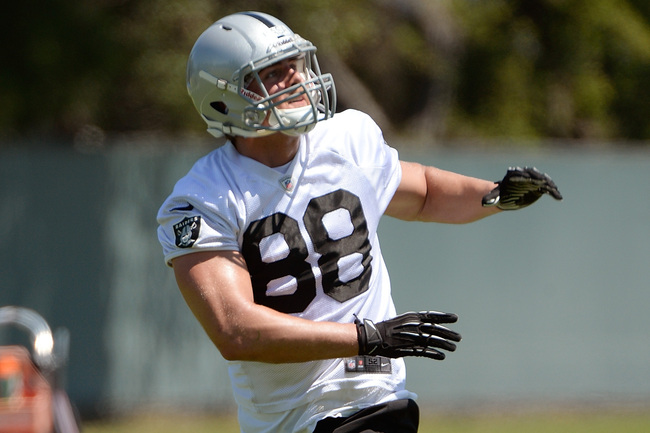 Thearon W. Henderson/Getty Images
College: Colorado
Draft Status: Round 6
Height: 6'6''
Weight: 269 lbs
Analysis: Addressing a position of need, Nick Kasa was the first of two tight ends selected by the Raiders in the sixth round. Kasa moves extremely well for his size, and he could turn into a productive threat in the passing game. What's even more impressive, at this point, is his blocking ability and willingness. While the Raiders have gotten some receiving yardage production from the tight end spot in recent seasons, that is something that has been missing in a big way.
RB Latavius Murray
Kyle Terada-USA TODAY Sports
College: Central Florida
Draft Status: Round 6
Height: 6'2''
Weight: 223 lbs
Analysis: Latavius Murray may have been a late-round pick, but he will have an opportunity to compete for some carries pretty early on as Darren McFadden's primary backup. Murray possesses the rare combination of size and speed that is quite similar to that of McFadden, and he can be a productive receiver out of the backfield as well.
TE Mychal Rivera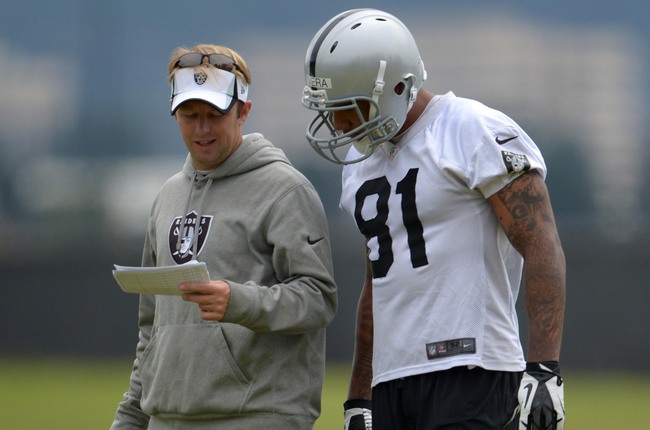 USA TODAY Sports
College: Tennessee
Draft Status: Round 6
Height: 6'3''
Weight: 242 lbs
Analysis: As part of a talented but significantly underachieving offense at Tennessee, Mychal Rivera flew a bit under the radar heading into the draft. Rivera is more of a pure receiving tight end than Nick Kasa but less of a blocker. The two could make for an impressive tandem at the position for years to come.
DT Stacy McGee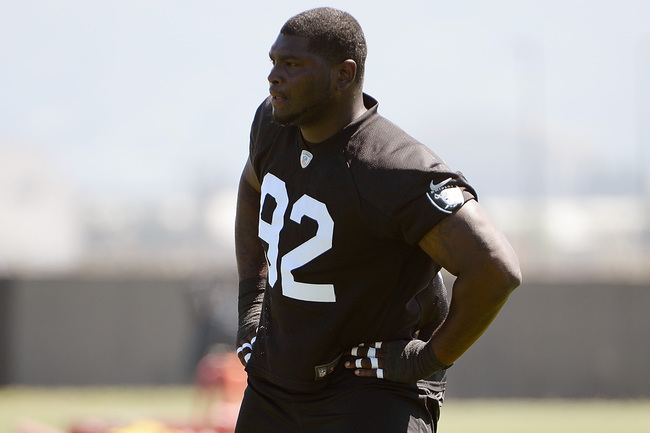 Thearon W. Henderson/Getty Images
College: Oklahoma
Draft Status: Round 6
Height: 6'3''
Weight: 308 lbs
Analysis: Some off-field concerns hurt his draft stock, but Stacy McGee has the ability to be a well-balanced defensive tackle. He joins a very thin position group rotation on this Raiders team and should be able to make the final 53-man roster out of camp.
WR Brice Butler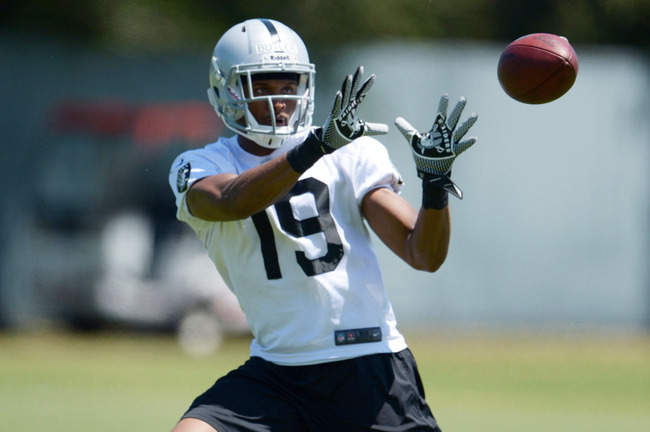 USA TODAY Sports
College: San Diego State
Draft Status: Round 7
Height: 6'3''
Weight: 205 lbs
Analysis: With his size and speed combination, Brice Butler has the physical talent to be a productive receiver in the NFL. Butler will have to translate that ability to production better than he was able to at San Diego State. At a crowded position group, a year on the Raiders' practice squad might be a beneficial situation.
DE David Bass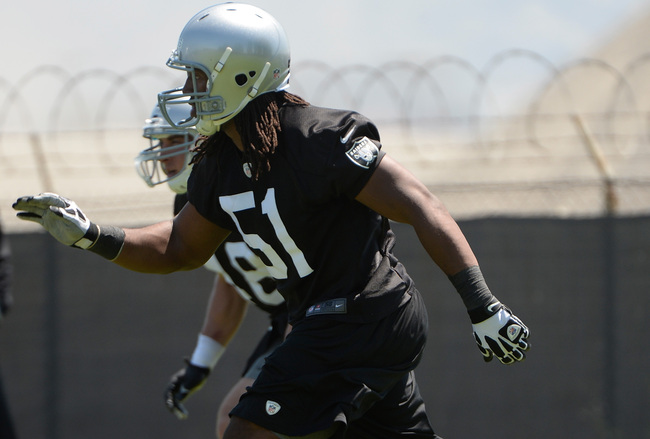 Thearon W. Henderson/Getty Images
College: Missouri Western
Draft Status: Round 7
Height: 6'4''
Weight: 262 lbs
Analysis: While he won't be expected to fix the Raiders' pass-rushing problems, David Bass could do a lot to help in that area early on. A dominant pass-rusher at Missouri Western, Bass has impressive quickness off the edge. He may just be the kind of player the Raiders are missing in their defensive line rotation.
Undrafted Free Agents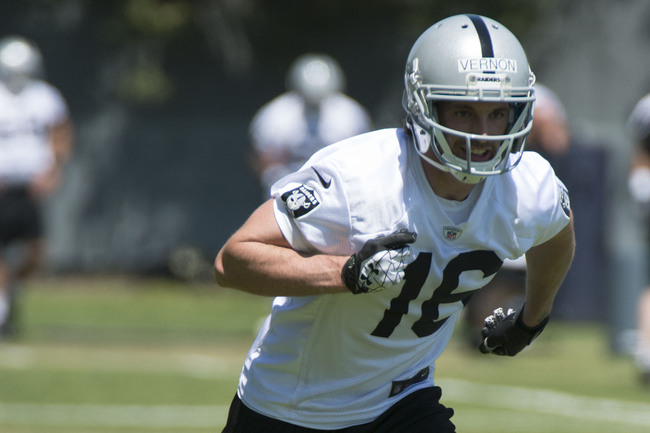 Kyle Terada-USA TODAY Sports
LB Billy Boyko, CB Chance Casey, LB Eric Harper, WR Greg Jenkins, S Shelton Johnson, TE Brian Leonhardt, G Lamar Mady, QB Matthew McGloin, WR Sam McGuffie, DE Ryan Robinson, C Andrew Robiskie, DT Kurt Taufa'asau, WR Conner Vernon, OT John Wetzel, CB Mitchell White, RB Deonte Williams
Analysis: The Raiders brought in a good group of undrafted free agents this year, and some of them will have a decent shot at making the final 53-man roster. Most notably, WRs Conner Vernon and Sam McGuffie could be battling to make the team as slot receivers, and OT John Wetzel could earn a spot as a reserve lineman. Depending on how they perform in camp, all of these undrafted free-agent players could be considered for the practice squad as well, and thus future development with the team.
Keep Reading

Oakland Raiders: Like this team?