Players That Contending Teams Hope Will Be Available at MLB Trade Deadline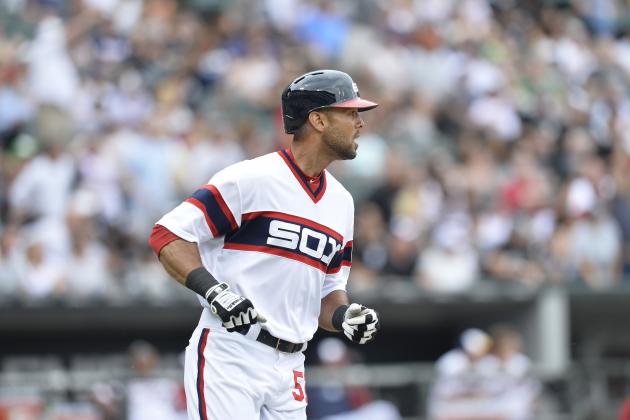 Brian Kersey/Getty Images
Alex Rios would be highly coveted if the White Sox made him available on the trade market..
Earlier today, I named seven players guaranteed to be traded by the July 31st deadline. Not surprisingly, all seven will be free agents after the season and play on teams that aren't in playoff contention now and aren't expected to be a month from now.
On the flip side, there is an entire different group of players that might become available if their teams either fall out of the playoff race or fail to make a run to get back to within striking distance. Then there are the rebuilding teams, such as the Astros and Marlins, with valuable trade chips who are under team control for a few more seasons. Trading them could make sense if a particular organization feels that the return will help expedite the rebuilding process.
Which teams will be left standing as playoff contenders in late July is still to be determined, but it's likely that many of them will be asking about the availability of these six players in hopes of acquiring them for the stretch run and beyond.
Begin Slideshow

»
Ezra Shaw/Getty Images

The least talked-about top-of-the-rotation starter in the majors has to be Hisashi Iwakuma, who was buried so deep in the Mariners bullpen at the start of the 2012 season that he was often bypassed in mop-up duty.
When he finally cracked the rotation in early July, it didn't take him long to establish that he was a legitimate big league starter and that manager Eric Wedge was wrong not to see that early on. Iwakuma finished with an 8-4 record, 2.65 ERA, 28 walks and 78 strikeouts in 95 innings over 16 starts.
Hitting free agency after his one-year, $1.5 million deal expired, it was apparent that other teams around the league weren't sold on his 16-start sample, so he re-signed with the M's on another one-year deal for $6.5 million that includes a $7 million club option, which will almost certainly be exercised.
Whether it's the Mariners or another team that will be picking up the club option remains to be seen. The M's are just 31-40 but are still just 8.5 games back of a playoff spot. If they can get to within five games or less in a month, you can pretty much eliminate any talk of an Iwakuma trade.
And if they fail to gain ground, it's still no certainty. They don't have to trade the 32-year-old now since he'll be a bargain as one of the best No. 2 starters in the game in 2014. And even if they're "sellers," they'll have several free agents-to-be that will garner interest.
None would bring back close to the caliber of prospect Iwakuma would in a trade, though, which is why it's a possibility and worth discussing.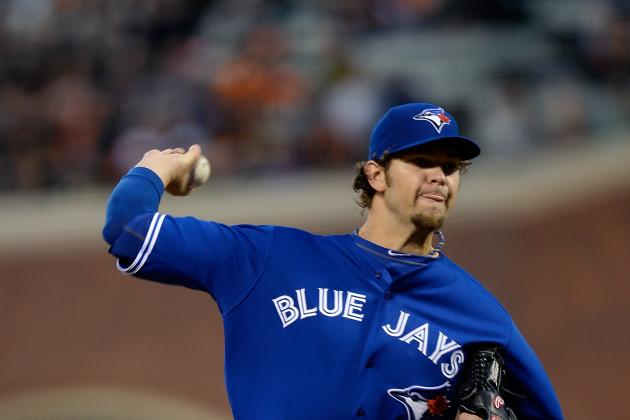 Thearon W. Henderson/Getty Images

Six consecutive wins by the Jays have them back within three games of the .500 mark and just 5.5 games back of a playoff spot. Jose Reyes will return soon and Josh Johnson looked like the old version of himself in his last start (7.1 IP, 0 R, 5 H, 2 BB, 10 K). Who said the Blue Jays were done?
As much as I thought they were capable of making a run with Mark Buehrle bouncing back from a slow start and R.A. Dickey pitching well most of the time—even if he's not at his Cy Young-caliber form of the past couple of seasons—they still had some question marks in the back of the rotation. Esmil Rogers and Chien-Ming Wang have pitched well and could be enough to solidify the last two spots, though.
Teams around the league are taking notice and hoping the Jays can slow down and lose ground, not only because they're one of the most talented teams in the majors "on paper," but because a potential staff ace —Josh Johnson—would likely be available in a trade.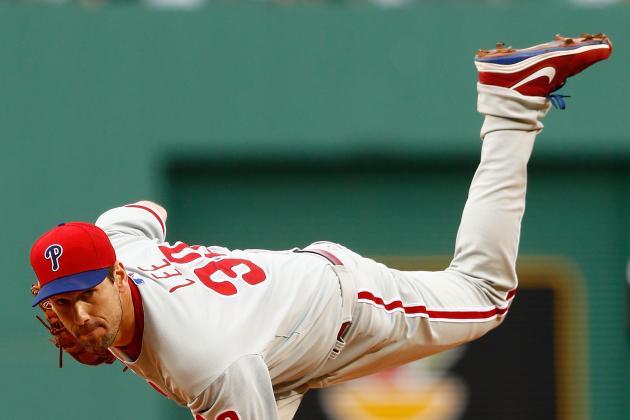 Jared Wickerham/Getty Images

Phillies general manager Ruben Amaro Jr. has already come out and said there would be no benefit to trading a player like Cliff Lee. But if they're out of the playoff race in late July —they're currently 34-37 and 7.5 games back of a playoff spot—he'll have to take a serious look at his roster and the lack of help on the way from the upper minors.
While Amaro's statement on Monday that he "doesn't do five-year plans" shows a win-now attitude, he is reaching the point where that unwillingness to look to the future is coming back to haunt him. He acknowledges that they'll have to replace free agents from within, but he doesn't have the talent in the upper levels of the farm system to make the seamless transition. We're already seeing the effects of that in 2013.
Sure, he'll have some free agents-to-be to shop, including Carlos Ruiz, Chase Utley and Michael Young, but none will bring back a whole lot in return. You know who will bring back a lot in return? Cliff Lee.
The 34-year-old is guaranteed at least $62.5 million over the next two seasons ($25M in 2014, $25M in 2015, $27.5M vesting option in 2016 with a $12.5M buyout) and can block trades to 20 teams. But it won't mean that contending teams won't be calling Amaro about Lee's availability and hoping he reconsiders a chance to add two or three very good prospects to his farm system.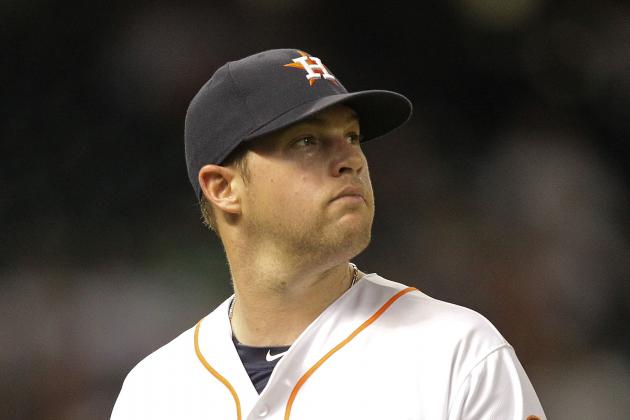 Bob Levey/Getty Images

The Astros are better than expected in 2013, which means they're on pace for a 100-loss season as opposed to a 120-loss season. The farm system is also looking strong. I'm not sure it changes they're timetable for when they'll be ready to compete for a playoff spot, though.
Realistically, the rebuilding of the Astros back into a playoff contender would be complete no sooner than 2015, which is the last year of team control for current staff ace Bud Norris. The 28-year-old's value, however, might never be higher than right now.
Norris has been "Mr. Consistent" this season, allowing no more than three earned runs in 12 of 15 starts and completing at least six innings in nine of his last 10 starts. A team like the Giants, who need help now and beyond with two-fifths of their rotation—Tim Lincecum and Barry Zito—eligible for free agency after the season would be an ideal fit.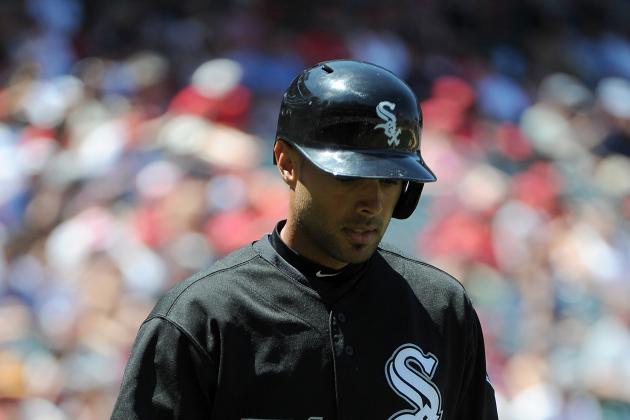 Lisa Blumenfeld/Getty Images

Relief pitcher Jesse Crain won't be the only White Sox player teams ask about if they become "sellers" next month. Alex Rios will also be a popular trade target for teams looking to upgrade their outfield.
Due the remainder of his $12.5 million salary for 2013 and guaranteed another $14 million through 2014 ($12.5 million, $1 million buyout; $1.5 million buyout if traded)—not a bad deal for a 32-year-old outfielder on pace for 26 homers and 26 stolen bases—Rios would be a great fit in the middle of a contending team's lineup.
The White Sox, 29-38 and 8.5 games back of a playoff spot, are a long way from throwing in the towel, but their 25-man roster isn't stacked with the kind of talent to make a run. They'll have a hard time replacing Rios' production from within, but they can utilize the savings to fill the hole this offseason while adding some pretty good talent to their farm system in July.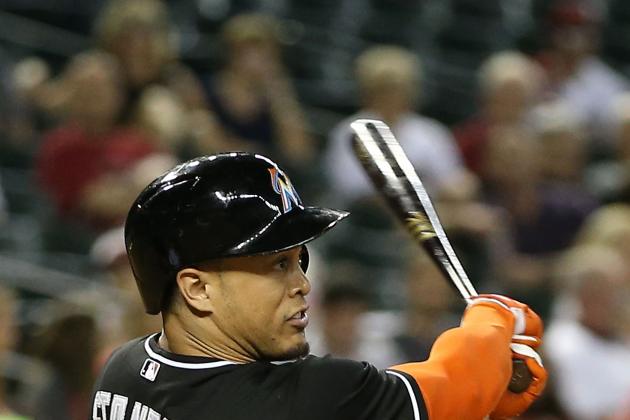 Christian Petersen/Getty Images

I'll go out on a limb and say that most contending teams hope Stanton won't become available. Why? Because they don't have the package of prospects to acquire him and they could be competing for a playoff spot against one of the few teams that can acquire him and really hope the Marlins will trade him.
In case any team needed a reminder of Stanton's talent, the 23-year-old is 11-for-28 with four homers and three doubles since returning from the disabled list on June 10th. He now has 100 career homers in 400 games played, keeping him on pace with some of the great sluggers in the game.
The Rangers and Red Sox are two teams that come to mind as potential suitors, although a top shortstop prospect—either Jurickson Profar or Xander Bogaerts—would likely be the centerpiece of any deal.