Predicting the 10 MLB Draftees Who Will Snag the Largest Signing Bonuses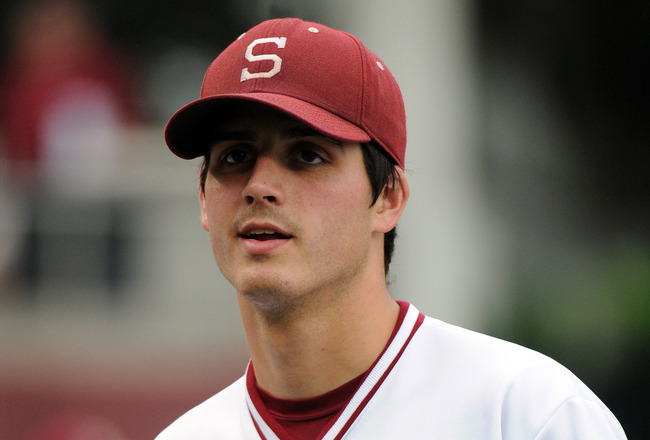 The recommended slot value for the No. 1 pick is $7,790,400.
Melina Vastola-USA TODAY Sports
While it's only been a few days since the conclusion of the 2013 First-Year Player draft, some teams have already announced the signing of their early-round selections.
For example, Baseball America reported that the Phillies and third-round pick Cord Sandberg have already reached an agreement on an over-slot signing bonus of $775,000 and that the Reds announced yesterday that they have come to terms with first-rounder Phil Ervin for $1,812,400, the recommended slot value for the No. 27 pick.
However, not every player will be an easy signing like Sandberg and Ervin. A majority of the players selected in the first round will likely hold out until the mid-July signing deadline with the hope of landing an above-slot bonus.
So, of the remaining unsigned draft picks, here's a look at the players who figure to command the highest bonuses.
10. Dominic Smith, 1B, New York Mets
New York Mets' Bonus Pool: $6,990,000
The Mets were all over first baseman Dominic Smith with their first-round pick (No. 11 overall), as he was regarded as one of the best prep hitters in the 2013 draft class.
Due to the lack of impact bats in their system, expect the organization to offer Smith the recommended slot value of $2,840,300 to ensure he signs. And if for some reason that isn't enough to ink the left-handed hitter, it wouldn't surprise me if they dug deeper into their pockets to offer him closer to $3 million.
9. Austin Meadows, OF, Pittsburgh Pirates
Pittsburgh Pirates' Bonus Pool: $8,884,600
The Pirates made a splash in the first round with two early picks, which they used on outfielder Austin Meadows (No. 9) and catcher Reese McGuire (No. 14). Although both players come with signability concerns, especially McGuire, I doubt that the organization would have targeted them if they weren't willing to sign.
Considering that the No. 9 pick carries a recommended slot value of $3,029,600 and the No. 14 a value of $2,569,800, it makes sense for the Pirates to offer both players an equal amount so as to ensure they sign their remaining draft picks. At the same time, I wouldn't be surprised if Meadows receives slightly above the suggested amount.
8. Colin Moran, 3B, Miami Marlins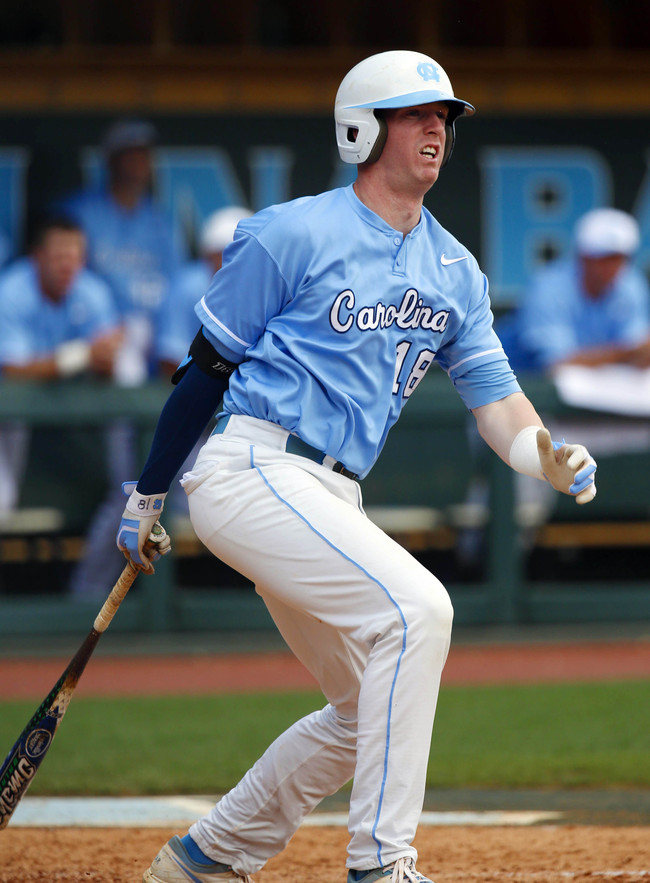 James Guillory-USA TODAY Sports
Miami Marlins' Bonus Pool: $9,503,100
Rumored to be in the mix to go No. 1 overall to the Astros assuming that he was willing to cut a deal, Moran ultimately fell to the Marlins at No. 6. Besides left-hander Matt Krook, whom they selected with the No. 35 pick in the sandwich round, the Marlins targeted a majority of their high-upside players on Day 2. More importantly, none of those players are believed to carry a high price tag.
The slot value for Moran's spot is $3,516,500, which he should see most of assuming that he signs. The only reason he may receive anything less than that amount is if Krook demands an over-slot bonus.
7. Sean Manaea, LHP, Kansas City Royals
Kansas City Royals' Bonus Pool: $8,290,700
When the Royals reached for Stephen F. Austin shortstop Hunter Dozier with the No. 8 pick, it was immediately obvious that there was a method to their madness.
And sure enough, the team took a major gamble with the No. 34 pick when they selected left-hander Sean Manaea, a player who was regarded as a likely top-10 pick headed into the spring, but saw his stock steadily fall over the course of the season due to underwhelming performance and concerns about an ongoing hip injury.
However, it's doubtful that the Royals would have gone out on a limb as they did had they not deemed Manaea signable.
And furthermore, as a Scott Boras client, they knew he wouldn't be available at a discounted rate later in the draft. So, after signing Dozier for below slot value at $2.2 million, the organization now has roughly $6 million left to spend on their draft picks. And with that being said, I wouldn't be surprised if they offer Manaea a signing bonus of over $3 million.
6. Phil Bickford, RHP, Toronto Blue Jays
Toronto Blue Jays' Bonus Pool: $6,398,200
No player had more helium headed into the draft than Phil Bickford. And considering that the prep right-hander had been floating around a reported price tag of $4.25 million, it was overtly clear that whoever wanted him would be forced to take a flier early in the first round.
After trading away two of their top arms (Noah Syndergaard and Justin Nicolino) during the offseason, the Blue Jays decided to go all-in on high-upside arms on Day 1, as they popped Bickford with the No. 10 pick.
Considering the slot value for the pick is $2,921,400, it's a safe assumption that the Blue Jays will offer him more than the recommended amount. And while I don't see them meeting Bickford's lofty demand, it's conceivable that the two parties will meet in the middle around $3.5 million.
5. Clint Frazier, OF, Cleveland Indians
Cleveland Indians' Bonus Pool: $6,188,800
Besides the Angels and Nationals, the Cleveland Indians were the only other organization with nine picks within the first 10 rounds of the draft. And as a result, they were able to, in theory, target a player with a higher price tag with their initial selection.
The Tribe ultimately passed over numerous players who fit their current needs in order to make a run at a young, high-ceiling player in Clint Frazier at No. 5 overall.
With a recommended slot value of $3,787,000, the fact that they had fewer top-10-round selections than most teams should work in the organization's favor, as they should be able to offer the prep outfielder at least that amount, if not more.
4. Kohl Stewart, RHP, Minnesota Twins
Minnesota Twins' Bonus Pool: $8,264,400
Due to his status as a two-sport standout who's committed to quarterback at Texas A&M, Stewart arguably has more leverage toward receiving an over-slot bonus than any other 2013 draftee. Therefore, it was common knowledge headed into the draft that the prep right-hander would need to be an early first-round pick to pass on his scholarship opportunity.
While the No. 4 pick holds a recommended slot value of $4,554,400, I think the Twins will ultimately kick Stewart additional money, especially when considering the cost-saving college selections made in subsequent rounds. Don't be surprised if he receives upward of $4.75 million.
3. Jonathan Gray, RHP, Colorado Rockies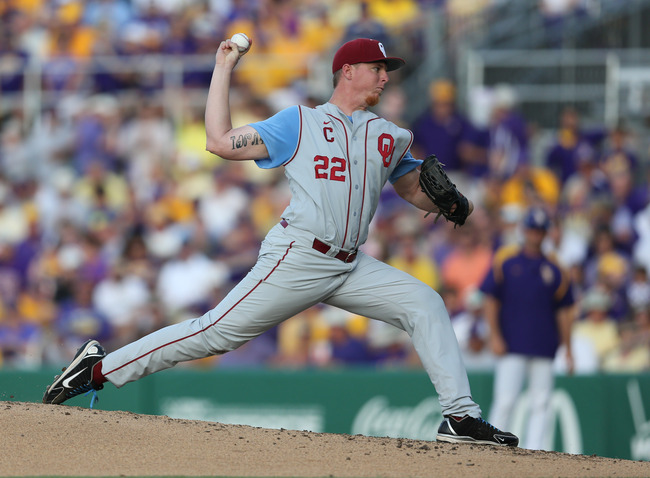 Crystal LoGiudice-USA TODAY Sportsts
Colorado Rockies' Bonus Pool: $10,199,400
Headed into the draft, Gray was seemingly the top candidate to be selected by the Astros with the No. 1 pick. However, he ultimately fell to the Rockies at No. 3, which, in theory, cost him roughly $2 million.
Even though the pick still carries a recommended slot value of $5,626,400, expect Gray to ask for more than that amount. While I believe he'll sign, it's worth noting that the right-hander does have some leverage as a junior and also due to the fact his value has skyrocketed over the last year. Therefore, I think Gray stands to make slightly more than slot value.
2. Kris Bryant, 3B/OF, Chicago Cubs
Chicago Cubs' Bonus Pool: $10,556,500
The Cubs surprised everyone—though it wasn't a huge shocker—by selecting San Diego third baseman Kris Bryant over hard-throwing right-hander Jonathan Gray with the No. 2 pick.
Despite their need for advanced, high-floor pitching prospects, the organization ultimately decided to fill the long-standing, glaring hole within their system (and at the major league level) at the hot corner with the best power hitter in the draft class.
As a result, the Cubs went heavy on pitching on Day 2 and found considerable value in a host of college arms that fell into their lap.
The recommended slot value for the No. 2 pick is $6,708,400, and considering that Bryant, like Appel, is a Scott Boras client, there's a legitimate chance that he receives even more than that.
1. Mark Appel, RHP, Stanford
Melina Vastola-USA TODAY Sports
Houston Astros' Bonus Pool: $11,698,800
Selected eighth overall by the Pirates in the 2012 draft, Appel, a Scott Boras client, turned down a $3.8 million signing bonus to return to Stanford for his senior year.
Although the decision was criticized at the time, especially by Pirates fans, it's impossible to blame the right-hander seeing as how it worked out in his favor and ultimately led to his selection as this year's No. 1 pick.
The recommended slot value for signing Appel is $7,790,400, an amount that given the money they presumably saved on Day 2 of the draft, will be paid in full to the Stanford right-hander. And in all honesty, I wouldn't be surprised if he ends up receiving upward of $8 million when all is said and done.
Keep Reading