Top 10 Tear-Jerker Moments of the 2013 MLB Season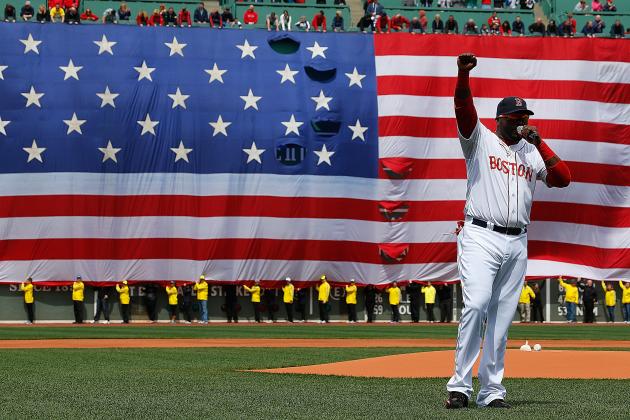 Jim Rogash/Getty Images

The 2013 MLB season is closing in on the halfway mark, but the highlight of this season is not the play on the field but the human aspect of the game.
Baseball is America's Pastime, and it brings out raw emotion in both players and fans.
From frustrated screw-ups to amazing comeback stories, here are the top 10 tear-jerker moments from the 2013 MLB season so far.
Begin Slideshow

»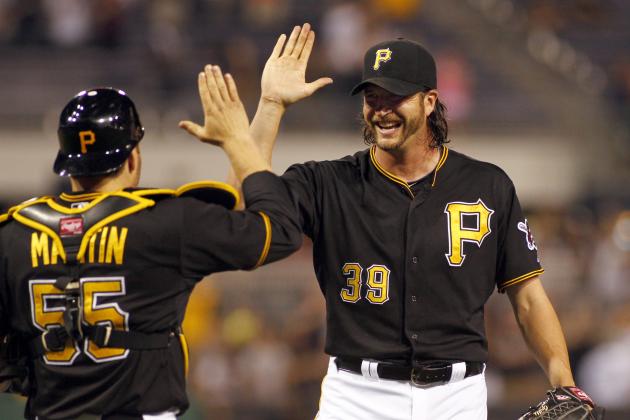 Justin K. Aller/Getty Images

Jason Grilli was 36 years old entering the 2013 MLB season, and his career was coming to a close.
Grilli, a long-time reliever for the Pittsburgh Pirates, had a total of seven career saves and an ERA close to 4.50 before the Pirates gave him his first shot at being a closer this year.
They don't regret it.
There hasn't been a better closer in baseball this season, as Grilli has converted 23 straight save attempts with an ERA of 0.98 and a WHIP of 0.76.
He's been making batters look silly, and Grilli has been a feel-good story all year.
No one has the style Mariano Rivera has.
Mo is going out in style, and his retirement tour is well underway. He's meeting with people during his final stop at each ballpark, including Colorado and Kansas City among others.
The best moment by far, however, came in New York at Citi Field against the New York Mets.
Mo threw out the ceremonial first pitch to open the game as his career in the Subway Series came to a close, and it was classy on both sides to see Rivera go out like a hero against his crosstown rivals.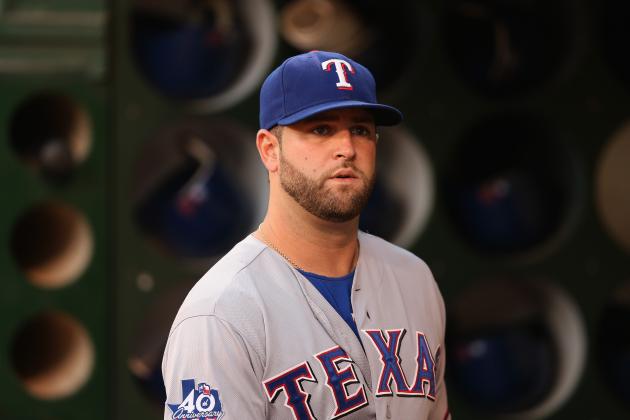 Ezra Shaw/Getty Images

"Nobody likes to see a child cry," Napoli told Sports Reel Boston's Jen Royle.
That was Mike Napoli's thinking when he made a young boy's dream come true. He sent Cade Johnson two autographed jerseys and a handwritten note.
When Napoli left the Texas Rangers for the Boston Red Sox, it broke Cade's heart. Cade's father, Daniel, broke the news to his son, and his reaction can be seen in this video.
Napoli saw the video and wanted to make things right, which is why he gave his No. 1 fan an incredible gift.
With seemingly an entire stadium of loved ones surrounding him, D.J. Peterson couldn't control his emotions when he heard his name called in the 2013 MLB draft.
Peterson was taken 12th overall by the Seattle Mariners and celebrated by sharing an embrace with his brother, Dustin, who was drafted by the San Diego Padres with the 50th overall pick.
The Peterson brothers captured America's hearts, and the Twitter reaction to this move was incredible.
Todd Frazier's two-run homer against the Miami Marlins looked like just another couple of runs to build up an 11-1 lead over the Miami Marlins in a game that was never in doubt.
But it was so much more.
Teddy Kremer has Down syndrome and was acting Cincinnati Reds bat boy for the night. Frazier says he promised Teddy a home run, per MLB.com: "He is so funny. He said, 'Hit me a home run, man, I love you.' I said, 'I love you, too. I'll hit you one.' It was great...I started smiling before I hit home plate."
Needless to say, Teddy was pretty excited.
Everyone who's heard the story of Evan Gattis immediately falls in love with the guy, including ESPN's Buster Olney, as seen in this video.
Gattis wasn't drafted out of high school. He originally agreed to play for Texas A&M but never stepped on the field.
As he told David O'Brien of the Atlanta Journal Constitution: "I was terrified – I didn't want to fail a drug test. I didn't want to be a mess-up, you know? I didn't want to fail at that stage and have people say, 'Here's this kid with all this talent and he wasted it; what a shame' and all that."
Gattis' mother convinced him to enter a rehab facility to rid himself of addiction to marijuana and alcohol. That brought him back to the right path. He played a year of baseball for Seminole State in Oklahoma but got hurt and quit baseball entirely.
The next few years were painful for Gattis. He moved to Boulder, Colo. to be with his sister, where he hitchhiked to work. He worked as a janitor in Texas with his brother (his ID card can still be seen on his Twitter). He traveled to New Mexico in search of spiritual guidance.
Gattis eventually found the desire to play ball once more, and he was drafted by the Atlanta Braves in the 23rd round of the 2010 MLB draft. He played for the lower level teams for the Braves for a couple of years before bursting onto the scene during to join the Braves in the majors in 2013.
Gattis has been killing it this year, batting .263 with 14 home runs and 37 RBI.
Chad Jones was a freak athlete.
Drafted to the MLB twice and the NFL once, Jones could have played either sport professionally coming out of college, but he chose football.
After signing with the New York Giants, he got into a grisly car accident that nearly cost him his leg.
Jones worked tirelessly to make it back onto the football field, but he never did, and it looked like his career in professional sports was over, according to Ralph Vacchiano of the New York Daily News.
Jones eventually started practicing and working hard, and it paid off. He was drafted for a third time in the 2013 MLB draft by the Cincinnati Reds.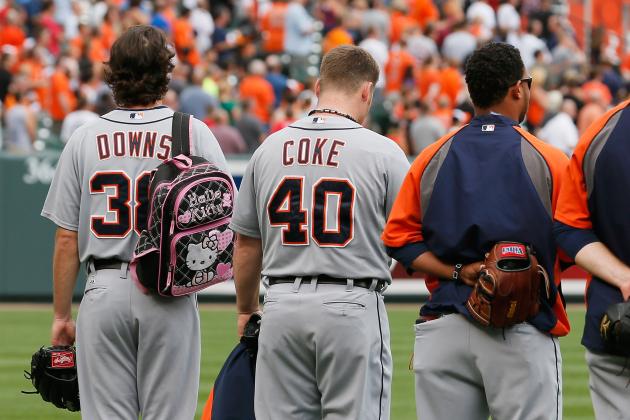 Rob Carr/Getty Images

Darin Downs had the same dream that many kids do: pitch in the MLB.
Downs got the chance to work his way up to that role when he was pitching for the Tampa Bay Rays' Double-A affiliate. However, in his second start for Montgomery, he took a line drive to the head so hard that it rebounded into his team's dugout. He suffered a concussion and lost the ability to speak.
After being rushed to the hospital, it was unclear whether he would live, but after spending three days in the Intensive Care Unit and nine more in the hospital, Downs was released.
His struggles were far from over, however, as he lost the will to play the game he loved.
"Not being able to talk and not being able to do anything other than just making noises. I slowly progressed, like a baby would."

His speech gradually returned, but the process was difficult, to say the least. And, the next few months would prove even more challenging, he said.

"It was a very tough recovery," Downs said. "Post-concussion syndrome was not my friend. I was kind of depressed and tired all the time. I just slept.

"I would tell me myself I'm not going to play again -- that I was scared to go back out there."
Downs would eventually find his way back to the mound, however, and he eventually began to feel comfortable again.
After bouncing around in the minors, Downs was signed as a minor league free agent with the Detroit Tigers.
Downs would eventually pitch late in the 2012 season, but it was Opening Day 2013 that meant the world to him.
Pic from this morning @targetfield #tigers #twins #OpeningDay twitter.com/DDowns99/statu…

— Darin Downs (@DDowns99) April 2, 2013
He's worked his way back to becoming a trusted reliever, posting a 3.00 ERA and a 0.89 WHIP for the Tigers...right by his birthplace, Southland, Michigan.
Lt. Col. Will Adams was deployed to Afghanistan for a year, and he was still there on May 13, 2013 as far as his family knew.
The Tampa Bay Rays decided to help give the Adams family a surprise: Lt. Col. Adams doned catcher's gear and caught the ceremonial first pitch thrown by his daughter Alayna.
When Lt. Col. Adams took off the mask, the emotions flooded from both sides in what is easily the best reunion of the 2013 MLB season.
April 15, 2013 will live in infamy as the day Dzhokhar Tsarnaev set off bombs at the finish line of the Boston Marathon, putting the city on lockdown.
In arguably the most frightening terrorist incident since 9/11, Tsarnaev caused irreparable damage to the city both in terms of property and lives lost.
The Boston Red Sox paid tribute to the fallen victims shortly after the bombing, hosting one of the greatest pregame ceremonies in memory.
Players and fans alike came together in a beautiful moment, but no one was more emotional on that day than David Ortiz. Big Papi got the crowd going by saying, "This is our f---ing city, and nobody going to dictate our freedom. Stay strong."