Stock Up, Stock Down for Cincinnati Reds Top 10 Prospects for Week of May 27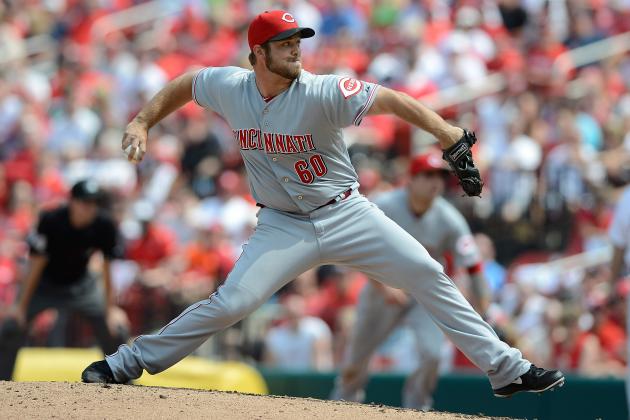 Jeff Curry/Getty Images

The major league baseball season has entered June, and the Cincinnati Reds are beginning to see which prospects are panning out and which ones still need more time at their current levels.
Two months give a team plenty of time to see who is performing well at a particular level and who may be struggling. For the most part, the Reds' top prospects have shown promising signs in 2013.
Prospects like J.J. Hoover and Tony Cingrani have made their marks in the majors, but others such as Billy Hamilton, are trying to get to the big leagues as quickly as possible.
Most of the prospects on this list are likely going to be in the minors until September, at the earliest. There are a couple who may be playing to get a call-up when the rosters expand, but many of these players are still low in the system.
These stocks are determined by how the prospects have done since the last stock watch in the middle of May. Hitters are evaluated on their last 10 games and pitchers are looked at by their last 10 days.
Here's a look at how each of the Reds' top prospects are doing lately.
*All stats are courtesy of MiLB.com unless otherwise noted
Begin Slideshow

»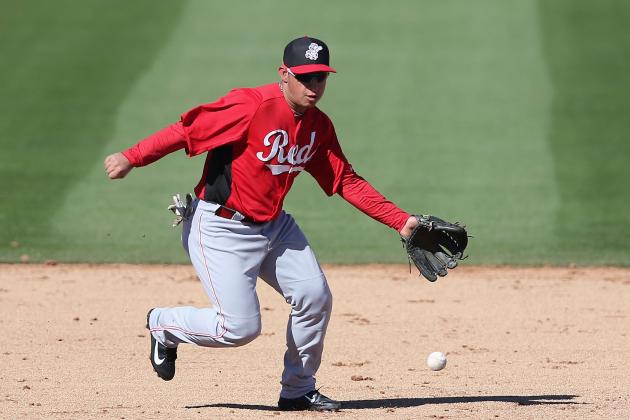 Christian Petersen/Getty Images

Level: Triple-A (Louisville)
Last 10 games: .237/.302/.237, 0 HR, 0 2B, 2 RBI
2013 season stats: .269/.315/.361, 3 HR, 11 2B, 25 RBI
Henry Rodriguez started 2013 well, but he has gone through some struggles lately.
Despite his low average in the last 10 games, he does have a hit in six of those games. He has two multi-hit games, but is having a hard time getting on base consistently.
The 23-year-old has struggled producing runs. He has only one RBI in his last nine games and no extra-base hits in his last 10. He has never been a power hitter, but he normally has some pop in his bat.
After hitting only .223 in April, Rodriguez hit .302 in May. He got off to a big start to the month, but has slumped since then.
Three hits in his last game helped improve his numbers, so his stats were even less impressive heading into the weekend, although he went 3-for-5 Sunday in a 4-3 loss to Toledo, per MiLB.com. He has always been able to hit for a good average, but he's still trying to find his groove this year.
Cincinnati could use a player like Rodriguez in September because of his versatility. However, he's going to have to hit consistently at the higher levels
Stock: Down
Norm Hall/Getty Images

Level: Double-A (Pensacola)
Last 10 games: .231/.286/.282, 0 HR, 2 2B, 2 RBI
2013 season stats: .278/.350/.389, 2 HR, 8 2B, 1 3B, 16 RBI
The batting average doesn't look pretty, but Tucker Barnhart has been getting on base. He ended May with a seven-game hitting streak and had hits in eight of the last 10 games.
Barnhart also had a good May, but saw his numbers decline near the end of the month.
He has had two big flaws this season: hitting against southpaws and hitting with runners on base. He is hitting .194 against lefties and has a .229 average with runners on base. On the other hand, Barnhart is hitting .291 against right-handers and .290 with the bases empty.
Cincinnati remains high on Barnhart, who still is a few years away from the majors, and he should continue to improve at the plate.
Stock: Steady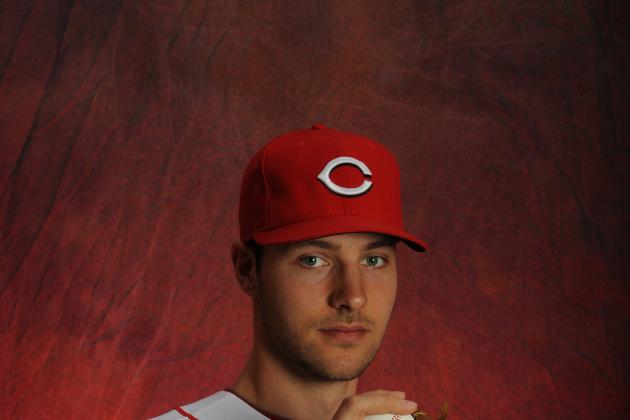 Rich Pilling/Getty Images

Level: High-A (Bakersfield)
Last 10 days: 4 G, 1-0, 5.63 ERA, 8 IP, 6 H, 8 K/4 BB
2013 season stats:
Double-A (Pensacola): 10 G, 0-1, 11.88 ERA, 8.1 IP, 16 H, 8 K/11 BB
Single-A (Bakersfield): 4 G, 1-0, 5.63 ERA, 8 IP, 6 H, 8 K/4 BB
Since the last time stocks were checked, Kyle Lotzkar has been demoted to Single-A. His stock has taken a hit due to a rough time in Pensacola.
The 23-year-old struggled with his control and getting hitters out. He went down to Single-A and still hasn't performed up to expectations. He has allowed a run in three of his four appearances since being demoted, although he did go at least two innings in three of those outings.
He has always had some issues with walks. He walked 63 in 112.2 innings between Pensacola and Bakersfield last year.
Lotzkar has a 5.80 ERA in Pensacola and a 3.15 ERA in Bakersfield over the last two seasons. He looks good at the lower levels, but he is struggling to get hitters out as he faces tougher competition. If he can start getting more strikeouts and limiting walks, he will be out of Bakersfield quickly.
Stock: Down
Level: Low-A (Dayton)
Last 10 games: .297/.422/.405, 0 HR, 2 2B, 1 3B, 7 RBI, 2 SB
2013 season stats: .310/.417/.511, 7 HR, 10 2B, 3 3B, 37 RBI, 3 SB
Outside of Billy Hamilton, Jesse Winker may be the most impressive position player the Reds have in the minors.
Winker has hit in eight of his last 10 games and has reached base multiple times in six of those games. With eight strikeouts and eight walks during that stretch, he's finding a way to learn the strike zone early in his career.
He's only 19 years old, but he has been extremely impressive. The outfielder has three extra-base hits in the last 10 games, and he hit a home run 11 games ago.
As a left-handed hitter, Winker is actually hitting better versus southpaws. He has a .325 average against lefties compared to a .306 average against right-handers.
Winker hit .323 with five home runs, three doubles and two triples in May. If he keeps playing this well, he could be much higher on this list heading into 2014.
Stock: Up
Jonathan Daniel/Getty Images

Level: MLB (Cincinnati)
Last 10 days: 5 G, 0-1, 1.80 ERA, 5 IP, 3 H, 6 K/2 BB
2013 season stats: 25 G, 0-4, 3 Saves, 3.38 ERA, 24 IP, 18 H, 25 K/3 BB
J.J. Hoover hasn't been perfect lately, as he suffered a loss to the Chicago Cubs, but he looks like one of the Reds' most reliable relievers.
He had six strikeouts and two walks—one intentional—in his recent stretch. He has really turned his season around after starting 0-3 in the first two weeks. He allowed three homers during that bad start, but he has allowed only one more home run in nearly two months.
Any role the team has asked him to take, Hoover has done it. He has been the setup man, a long reliever and a closer. He has stepped up while some of the Reds' other relievers have struggled. With Jonathan Broxton getting into jams recently, Hoover could find himself pitching in the eighth from time to time.
Hoover has allowed only one run on four hits in his last six appearances.
The right-hander has done nothing to hurt his stock and Cincinnati continues to give him a chance to prove what he can do.
Stock: Steady
Level: Low-A (Dayton)
Last 10 days: 2 GS, 0-1, 1.69 ERA, 10.2 IP, 6 H, 10 K/7 BB
2013 season stats: 11 G/10 GS, 1-6, 7.16 ERA, 44 IP, 41 H, 60 K/49 BB
The ERA looks good, but there are serious control problems for Ismael Guillon. There's never been a huge concern about teams hitting him, and he keeps showing he is tough to hit.
Seven walks in 10.2 innings at Single-A is concerning, but Guillon has limited the damage lately and his last two starts have been his best of the season.
He had gone only five innings once in his first eight starts, but he accomplished that in back-to-back starts. The southpaw had also never allowed fewer than two runs in a start this year before allowing only one run in each of his past two starts.
Guillon has been very consistent his last two starts, going at least five innings while allowing only three hits, one run and five strikeouts.
Cincinnati still needs the pitcher to work on his control. He has averaged more than one walk per inning this season. While he does have more than one strikeout per inning, the walks will remain an issue as he moves up the system.
Overall, Guillon has done well recently. He is limiting the damage and working deeper into games.
Stock: Up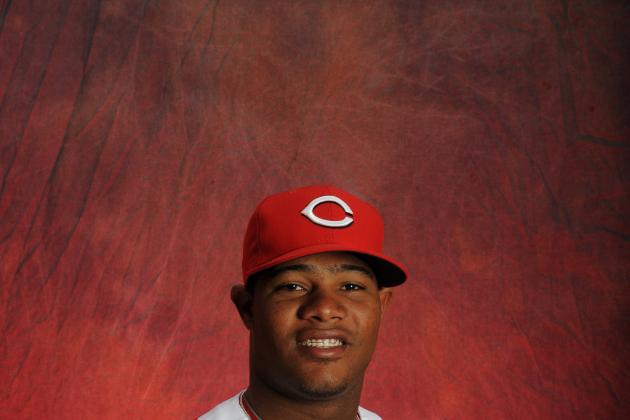 Rich Pilling/Getty Images

Level: Triple-A (Louisville)
Last 10 days: 2 GS, 0-1, 9.72 ERA, 8.1 IP, 15 H, 6 K/5 BB
2013 season stats: 11 G/10 GS, 2-8, 7.50 ERA, 48 IP, 70 H, 35 K/29 BB
Daniel Corcino entered 2013 as a pitcher who could find himself being brought up to the majors in September. Based on his performance this season, however, he has not shown that he is ready yet.
The right-hander had averaged around one strikeout per inning before 2013, but with 30 strikeouts through 44 innings this season, he is well behind that pace. He has struck out five batters in a game only twice this season.
Meanwhile, he has allowed at least five runs in five of six starts and has allowed nine earned runs in his last two starts. Hitters are hitting .338 against him this season with both lefties and right-handers hitting over .300 against him.
Corcino has been roughed up a lot this season, but luckily for the Reds, they have a full rotation and Tony Cingrani ready in the minors. Corcino needs to show signs of improvement as the year progresses or he could find himself buried in the depth chart.
Stock: Down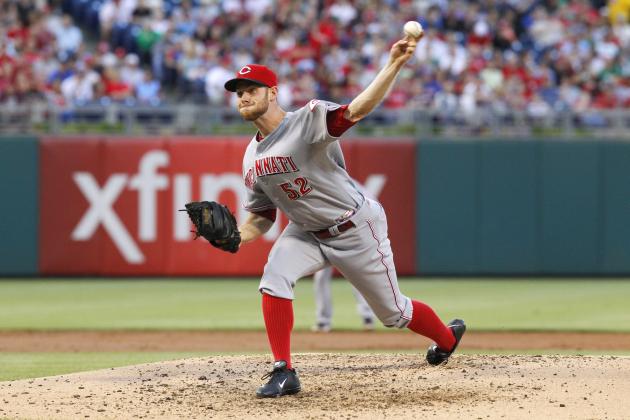 Hunter Martin/Getty Images

Level: Triple-A (Louisville)
Last 10 days:
2013 season stats: 3 GS, 2-0, 2.12 ERA, 17 IP, 11 H, 23 K/9 BB
Triple-A (Louisville): 6 GS, 3-0, 1.15 ERA, 31.1 IP, 14 H, 49 K/11 BB
MLB (Cincinnati): 6 GS, 2-0, 3.27 ERA, 33 IP, 25 H, 41 K/9 BB
Now that Tony Cingrani finally allowed a run in Triple-A, maybe his stock should be down.
Probably not.
Cingrani was sent down in order to work on his secondary pitches and has continued to keep opponents off the board, but he's allowing more runners than usual.
The southpaw allowed five runners in his first three starts in Louisville this year, but he has allowed 14 in 10 innings since returning to the minors. The biggest concern is the nine walks he has issued—all in his first 10 innings back with the Bats. He walked two in his first two starts and nine overall in the majors, so it's a bit of a surprise to see him issuing so many free passes.
Jamie Ramsey gave an update on the youngster's progression as a starter after he was sent down:
Tony Cingrani threw 4 different pitches in last night's 10-0 win for @louisvillebats #Reds

— Jamie Ramsey (@Jamieblog) May 24, 2013
It looks like Cingrani is using more pitches, which could explain his increase in walks. The Reds are high on him and can rely on him if a starter goes down.
Cingrani will be back in the majors, barring an injury, by September at the latest. He has the stuff to be a dominant pitcher, but he's still trying to figure out his secondary pitches.
Stock: Steady
2013 season stats: 3 GS, 2-0, 2.12 ERA, 17 IP, 11 H, 23 K/9 BB
Level: Low-A (Dayton)
Last 10 days: 2 GS, 2-0, 0.71 ERA, 12.2 IP, 7 H, 17 K/3 BB
2013 season stats: 11 GS, 5-3, 3.32 ERA, 59.2 IP, 49 H, 77 K/16 BB
Like Jesse Winker, Robert Stephenson is impressing down in Dayton.
Stephenson's stock was already high, but it's still rising. He went at least six innings in five of his six starts in May and struck out at least seven batters in each of those starts.
The right-hander allowed one run on seven hits in his final two starts of the month, showing that he has serious control and can overpower hitters. He has 77 strikeouts in only 59.2 innings and has walked only 16 batters. While opposing teams are batting .224 against him, he is also keeping runners off the bases.
His 46 strikeouts in May led the minor leagues. He can throw his fastball up to 98 mphand he is throwing his changeup and curveball for strikes.
That will be a lethal combination if he continues to locate his pitches. He has the edge on Cingrani right now because of his ability to locate his pitches, but Cingrani is much farther along in the process.
Stephenson's future is very bright. It's just a matter of time before the Reds decide to move him up to the next level.
Stock: Up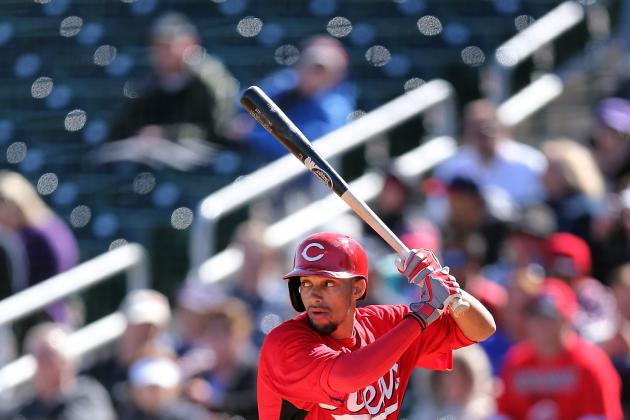 Christian Petersen/Getty Images

Level: Triple-A (Louisville)
Last 10 games: .244/.347/.268, 0 HR, 1 2B, 4 RBI, 7 SB
2013 season stats: .243/.312/.327, 2 HR, 8 2B, 2 3B, 17 RBI, 30 SB
It's a tough call with Billy Hamilton, but his stock has got to be slightly up. There is so much pressure on this speedster that anything but huge numbers are seen as a disappointment.
Looking at his season in pieces, his stock continues to rise.
Spring training was rough for Hamilton, and it was clear that he was at least a season away from making an impact in the majors. He hit only .192 and struck out nine times in 26 at-bats.
April wasn't much better as he hit .205 in the opening month and struggled to get going. He did have seven extra-base hits, but he had only 11 singles. That led to 15 stolen bases in 16 attempts.
Once May came around, Hamilton looked better at the plate. He hit .279 for the month with two home runs. He had only three doubles and no triples in May, but he did collect 29 singles. He again finished with 15 stolen bases in the month, but was also thrown out four times.
As his spring numbers indicated, strikeouts were becoming a concern for Hamilton. However, he has only seven strikeouts in his last 10 games. He has hit in seven of those games and has reached base in all but one of his last 10 games. Not only is he hitting well, but he also drew seven walks over that 10-game stretch.
It doesn't matter how he gets on base, the Reds needed Hamilton to improve his on-base percentage from .278 in April, and he has done a terrific job of doing so.
Hamilton is eight-for-his-last-11 in stolen base attempts—all in the last 11 games. He can change the game with his speed, so it's important for the Reds to let him develop in the minors.
Cincinnati fans are hoping that Hamilton can continue to grow as a hitter. He is trending upward at the plate, so it looks like he is starting to figure things out.
Stock: Up