10 Big-Name Rookies Who Could Ride the Pine to Begin Their NFL Careers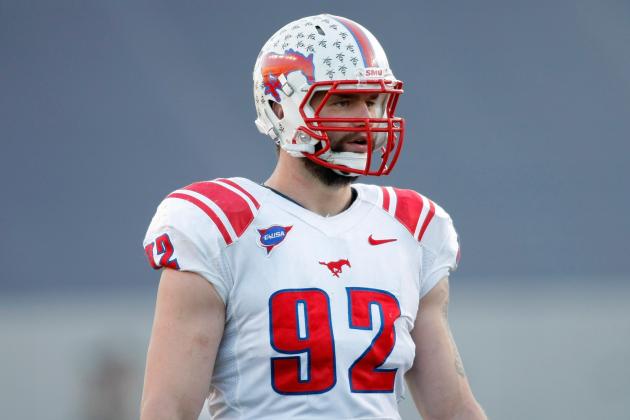 Brett Davis-USA TODAY Sports
Margus Hunt may not see the field much as a rookie for the Cincinnati Bengals this season.
Early NFL draft picks are expected to make an immediate impact as rookies. This has become especially true under the league's new collective bargaining agreement, with rookie contracts only lasting for four years before unrestricted free agency.
Not all rookies will meet that expectation. Whether because of a need to develop their skills or incumbent players at their position standing in their way to a starting spot, even some of the most well-known rookies could spend most of their time on the bench in their first years in the league.
The following 10 players meet those criteria. All of these players were drafted by teams who made significant investments in them, and all have the potential to make an immediate impact. They all, however, must progress quickly this preseason to win depth chart competitions and earn significant playing time.
Players are listed in order of their selection in the 2013 NFL Draft.
Begin Slideshow

»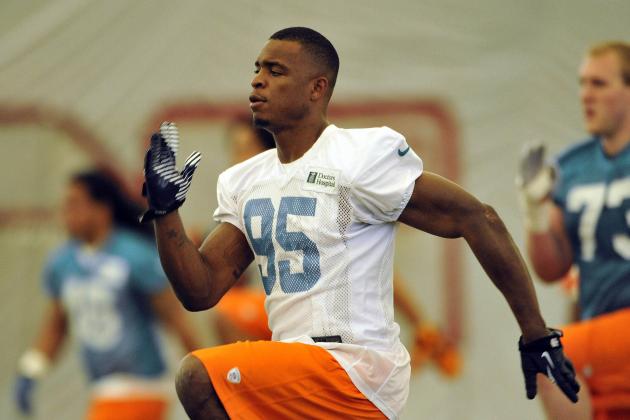 Steve Mitchell-USA TODAY Sports

In a draft class full of boom-or-bust selections among its early picks, no player fits that description better or was drafted earlier than No. 3 overall pick and Oregon product Dion Jordan.
Jordan is a rare athletic specimen with star potential as a rush defensive end with the speed to make plays all over the field and the ability to drop back into coverage. But to succeed as a three-down lineman in the Dolphins' four-man front, he needs to significantly develop his pass-rush technique and become physically stronger.
Jordan and the Dolphins would both benefit greatly from Jordan having as many opportunities as possible to develop in practices this offseason. Unfortunately, his progression is slowed by his absence from OTAs due to Oregon's late graduation. Jordan is also recovering from shoulder surgery, which limited his participation in the Dolphins' rookie mini camp.
Jordan is expected to be "brought along slowly as a third-down pass rusher" in his rookie season, according to a report from the Palm Beach Post earlier this month. While his rush moves need to develop for him to consistently bring pressure against NFL offensive lines, he is most likely to make a rookie impact in that area.
Jordan should have every opportunity to earn the starting right defensive end job in Miami, with his top competition will come from second-year defensive end Olivier Vernon. He could end up winning the starting job with his upside, but the previously-reported slow approach would be the best plan for Jordan's rookie season.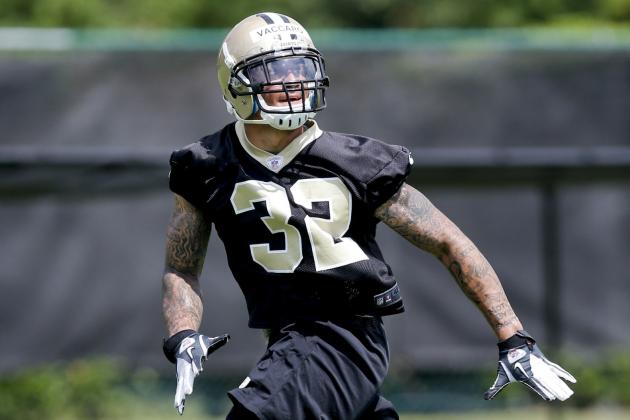 Derick Hingle-USA TODAY Sports

Kenny Vaccaro was the first safety selected in the 2013 NFL draft with the No. 15 overall pick, and he joins the New Orleans Saints in an area where the team's play must improve this season. But in order to start for the Saints this season, Vaccaro must improve his own game while unseating one of the incumbent starters in competition.
The Saints are expected to have a three-way competition at safety between Vaccaro, free safety Malcolm Jenkins and strong safety Roman Harper.
Pro Football Focus (subscription required) graded Jenkins and Harper as the NFL's two worst safeties last season, so Vaccaro will certainly have a legitimate shot of winning a starting job as a rookie. The odds are in Vaccaro's favor to unseat Harper, who struggled mightily in pass coverage last season and recently restructured his contract.
Still, winning the job won't come easy. Jenkins and Harper are experienced veterans who have a history of playing much better than they did in 2012, and have years of starting experience. Vaccaro needs to become a more consistent tackler and disciplined player than he was at Texas to be an upgrade.
Even if Vaccaro does not win the starting job outright as a rookie, he should at least see the field in many nickel/dime packages as a third safety or slot cornerback. Still, he has a relatively high level of playing time uncertainty for a top-15 draft selection.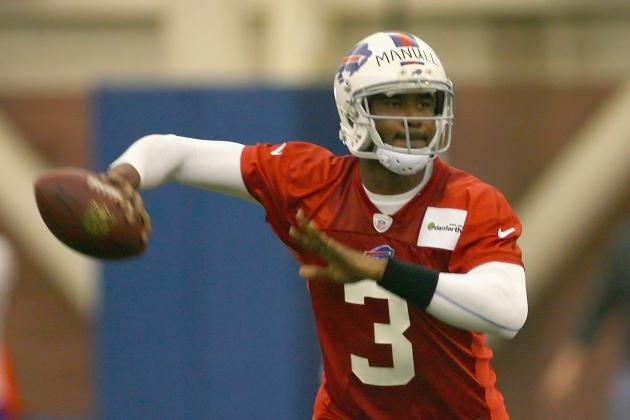 Rick Stewart/Getty Images

Recent odds are in favor of EJ Manuel, as a first-round quarterback selection, of being the Buffalo Bills' Week 1 starting quarterback. Since 2008, 10 of 15 quarterbacks drafted in Round 1 have started during the first week of their rookie season.
But although Florida State's Manuel was the only quarterback selected in the first round of the 2013 NFL draft, he may not have been in a quarterback draft class with at least one bona fide first-round quarterback prospect. He still must make significant development this summer to prove himself worthy of starting as a rookie.
Manuel must learn the Bills' offensive system, improve his downfield accuracy and become a better decision-maker under pressure. He will also face competition from veterans Kevin Kolb and Tarvaris Jackson.
When Manuel becomes the starting quarterback will primarily depend upon his personal development. That said, if Manuel is unable to emerge as the trio's best quarterback this summer, he may end up holding the clipboard until 2014.
A big wideout with explosive athleticism and big-play ability, No. 34 overall pick Justin Hunter out of Tennessee could emerge as an impact playmaker in the Tennessee Titans' passing offense. That impact, however, may not occur in his rookie season.
Hunter will have to move ahead of an established veteran in Kenny Britt, Nate Washington or 2012 first-round pick Kendall Wright on the wide receiver depth chart to consistently see the field this season. Hunter also needs to develop his game by catching passes more consistently and becoming a better route-runner.
Hunter will likely be groomed to take over the role of "X" receiver, currently occupied by Britt, when Britt becomes an unrestricted free agent in 2014.
Unless injures or off-field issues hit the Titans' receiving corps this season, the best plan may to be groom Hunter slowly as the No. 4 receiver. The Titans should utilize him situationally as a deep threat, but he will have to make significant progress this offseason to steal a spot among the top three wideouts.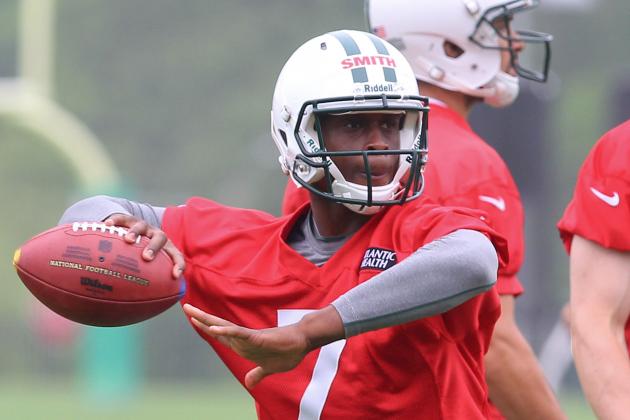 Ed Mulholland-USA TODAY Sports

No. 39 overall selection Geno Smith was drafted into arguably the NFL's messiest quarterback situation, so he will certainly have a chance to win the New York Jets' starting job outright as a rookie. His play down the stretch at West Virginia last season, however, suggests that his rookie season would be better spent developing and learning the nuances of an NFL offense.
First of all, Smith needs to learn how to play in offensive coordinator Marty Mornhinweg's system, after playing in a non-pro-style spread offense at West Virginia. Additionally, Smith has to become significantly better at playing under pressure, especially with his decision-making and pocket presence.
Incumbent starter Mark Sanchez is coming off of a horrendous 2012 season in which he completed just 54.3 percent of his passes and threw 18 interceptions to only 13 touchdowns. Third-year quarterback Greg McElroy is a smart pocket passer, but he is not a big-play quarterback and is considered to be a career backup and game manager.
Given his competition, Smith could easily prove as a rookie to be the Jets' best option at quarterback, and he is expected to be the team's starter sooner rather than later. But until Smith becomes a more polished quarterback, the Jets would likely be better off with starting Sanchez or McElroy.
Cornellius "Tank" Carradine is a big, athletic defensive end who has huge potential as both a run-stopper and an inside-outside pass-rusher. That said, the No. 40 overall pick is unlikely to see much playing time for the San Francisco 49ers, who boast one of the NFL's strongest and deepest rosters, as a rookie.
Chances are good that Carradine could spend training camp and the first portion of his rookie season on the Physically Unable to Perform list, as the Florida State product continues to recover from a torn ACL suffered last November. The 49ers should not be in any position to rush Carradine back, and even when he is fully healthy, they can afford to keep him in developmental mode for his rookie season.
The 49ers already have a terrific pair of starting defensive ends in Justin Smith and Ray McDonald, and signed free-agent Glenn Dorsey this offseason to provide depth at the position (though Dorsey could end up inside at nose tackle).
The 49ers have enough talent on the defensive line that they do not need Carradine to play frequently this offseason. The team's focus with Carradine should be preparing him to potentially take over as Justin Smith's replacement in 2014, when Smith becomes an unrestricted free agent.
Carradine has star potential, and his combination of size, power, inside rush ability and athleticism make him a good fit to play 5-technique defensive end in the 49ers' 3-4 defense. That said, his game needs development and he needs to be healthy, which means he is unlikely to play frequently in 2013.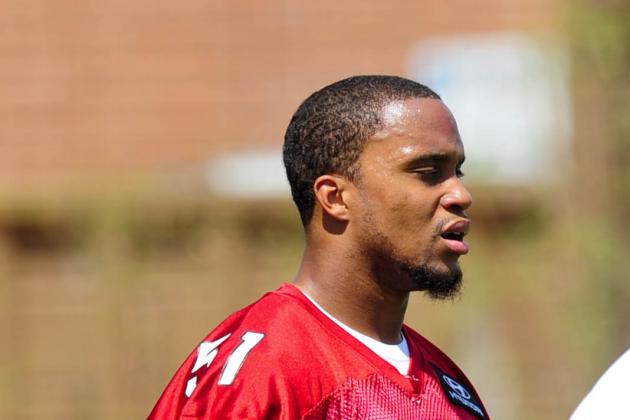 Matt Kartozian-USA TODAY Sports

LSU's Kevin Minter is a well-rounded inside linebacker who may be one of the 2013 draft class' most ready-to-play prospects. A talented group of veteran inside linebackers, however, stands in the No. 45 overall pick's path to a starting spot.
The Cardinals already have one of the NFL's elite inside linebackers in Daryl Washington. They also added two potential starters at the position in free-agent signings Karlos Dansby and Jasper Brinkley.
Washington and Dansby had 134 tackles apiece last season, while Brinkley had 99. Dansby is the odds-on favorite to start alongside Washington, but Minter will have to beat out both Dansby and Brinkley to crack the starting lineup.
Fortunately for Minter, he will have a significant opportunity at the start of his rookie season. Washington is suspended for the NFL's first four games for violating the league's substance-abuse policy.
Washington's starting spot could potentially be up for grabs even longer, as he could face additional discipline for an assault charge. But if Washington returns for the Cardinals' fifth game, it is imperative for Minter to seize his opportunity early or risk spending the majority of his rookie season on the bench.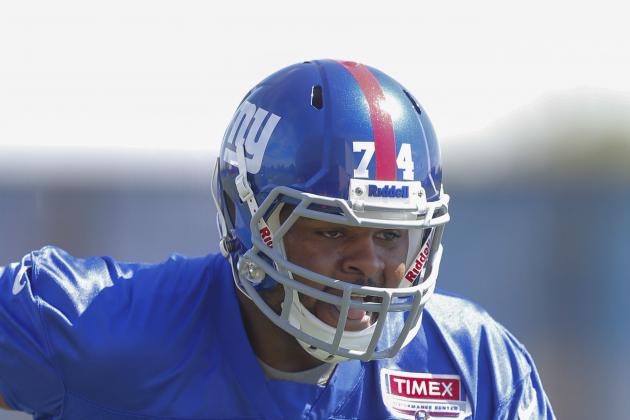 Jim O'Connor-USA TODAY Sports

Competition will be heavy at the defensive tackle position this offseason for the New York Giants. Second-round draft selection (No. 49 overall) Johnathan Hankins is a big, athletic and powerful run-stopper from Ohio State with starting potential, but he will have to make a strong impression quickly to crack the lineup.
Linval Joseph is likely to be one of the Giants' two starting defensive tackles. That would leave Hankins competing with free-agent additions Cullen Jenkins and Mike Patterson and returning veterans Shaun Rogers and Marvin Austin for not only a starting spot, but playing time in the rotation.
The Giants will likely rotate frequently at defensive tackle, but they also often kick defensive end Justin Tuck inside on passing downs. Hankins is best suited to play against the run, but will have to beat out heavy competition to get significant playing time.
Jenkins is likely to start alongside Joseph in 2013, and there will likely only be room for one more defensive tackle to be a significant part of the rotation. Hankins is the best player of the rest, but his talent will have to prevail over the experience that Patterson and Rogers bring to the table.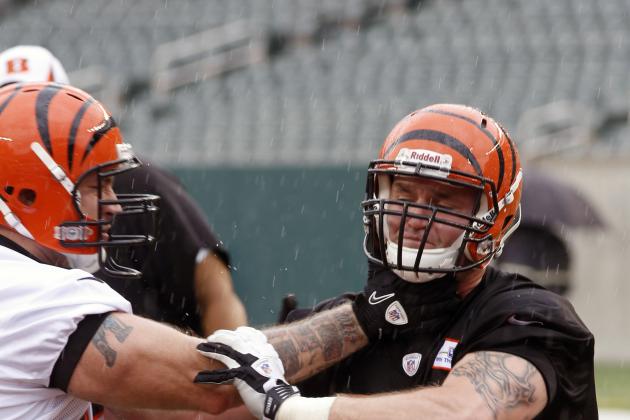 David Kohl-USA TODAY Sports

With outstanding athleticism for a 6'8" defensive end, Estonian-born SMU product Margus Hunt has huge upside as both an outside and inside pass-rusher. That said, the No. 53 overall pick is a raw talent who needs to develop significantly and joins a team that already has solid depth at the defensive end position.
Hunt is an explosive athlete who has flashed the ability to be a dynamic pass-rushing talent both rushing inside and around the edge. In order to do so consistently at the next level, he must become a much more technically-sound player.
The Bengals already have a strong two-deep of pass-rushing defensive ends. They have two very good starters in Michael Johnson and Carlos Dunlap, and two solid rotational players in Robert Geathers and Wallace Gilberry.
With so much depth at defensive end, the most-likely role for Hunt as a rookie would be as a situational inside rusher on passing downs at defensive tackle. His game may be too raw at this point, however, for him to make a significant impact in his first NFL season.
Johnson and Dunlap are both unrestricted free agents in 2014, as is the team's superstar defensive tackle, Geno Atkins. The Bengals are unlikely to be able to afford re-signing all three of them, so Hunt will be developed in 2013 for playing a significant role in his sophomore season.
Kent Horner/Getty Images

Keenan Allen is one of the 2013 draft class' most well-rounded and polished wide receiver prospects. The California product has the skill set to immediately be a starting-caliber possession receiver in the NFL, and was viewed by many to be a steal as the No. 76 overall selection.
Playing time, however, won't be easy to come by in his rookie season.
The Chargers have a deep roster of wide receiver that also includes Malcom Floyd, Danario Alexander, Vincent Brown, Robert Meachem and Eddie Royal. Allen's receiving skills project him to eventually be a No. 2 starter in the NFL, and he could end up that high on the depth chart, but he could also have trouble cracking the top four.
Floyd should have the No. 1 spot locked up and Brown should be back in the slot if healthy, which would leave Alexander, Meachem, Royal and Allen all competing for the No. 2 spot.
Alexander is coming off of a career year in 2012. Meachem and Royal are coming off disappointing seasons last year, but the team has a combined $11.375 million committed to them in 2013.
Allen's size, strength, body control and route-running may make him the best wideout of that entire group. Nonetheless, he is going to have to make a strong impression quickly to earn a significant spot in the lineup as a rookie.
Dan Hope is an NFL draft featured columnist for Bleacher Report.