10 Sleeper MVP Candidates for the 2013-14 NFL Season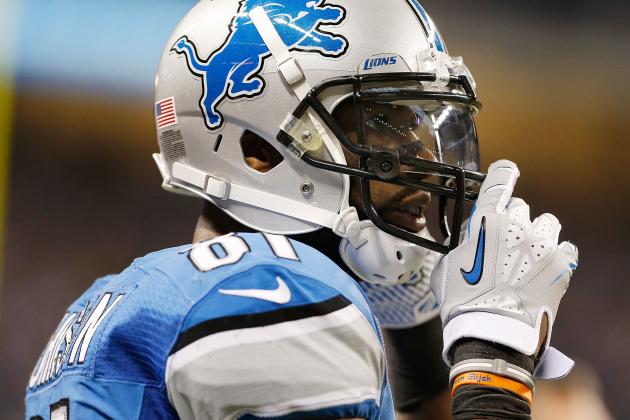 Gregory Shamus/Getty Images

We are still over three months away from the NFL's opening day, but it's never too early to start talking about MVP candidates.
There are plenty of obvious favorites for the award. From Adrian Peterson to Aaron Rodgers, there is no shortage of big-name candidates with an obvious shot at the award. So, who are some less-conventional players we might see in the hunt?
Click through to find out.
Begin Slideshow

»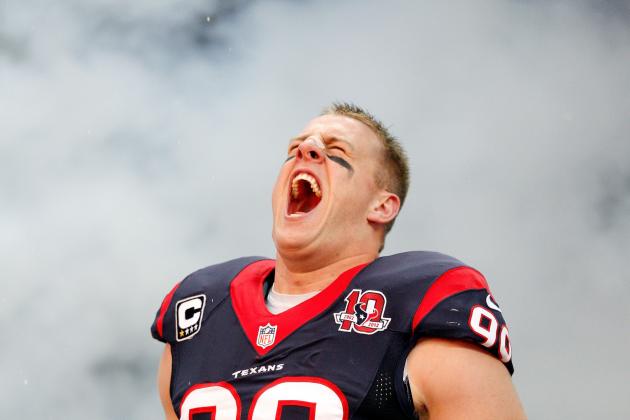 Bob Levey/Getty Images

As noted in the introductory slide, there are plenty of guys who are more obvious choices to be in the MVP discussion at the end of the year. Here are those guys.
Aaron Rodgers
Andrew Luck
Russell Wilson
Robert Griffin III
Adrian Peterson
J.J. Watt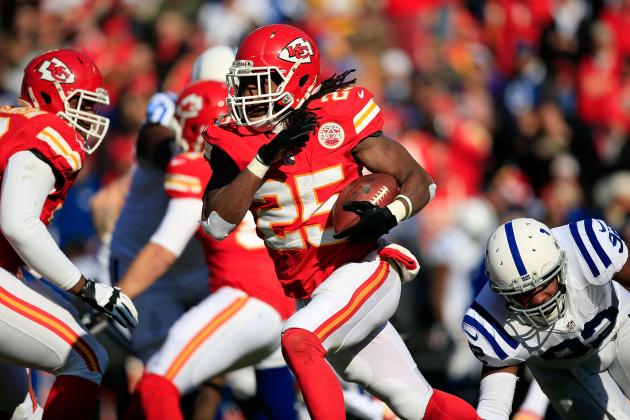 Jamie Squire/Getty Images

The last time a running back won the MVP award before Adrian Peterson, he was following up another MVP performance at the position. LaDainian Tomlinson won it in 2006, immediately following Shaun Alexander's MVP campaign of 2005.
Could we see something like that happen again this year?
It took Peterson an other-worldly effort to win the award, so it might be easier said than done. But it is certainly still possible.
Jamaal Charles is not the first name that might come to mind when thinking this through, but he has a chance to be special this year.
Some will point to Andy Reid and say he will be a detriment to Charles, but the opposite is true if you look at his history with running backs. From Duce Staley to Brian Westbrook to LeSean McCoy, tailbacks have enjoyed great success under Reid over the years.
Charles might just be the most talented of that bunch, and the Chiefs would be smart to maximize his potential.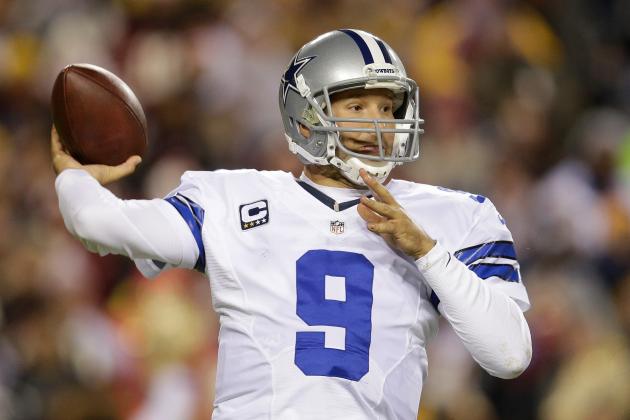 Rob Carr/Getty Images

Get your chuckles in, but look deeper and you will see Tony Romo is not far off from MVP levels. At least statistically.
Romo's problem has been the overrated "win" statistic. The Dallas Cowboys have been a model of mediocrity in recent years, and Romo's reputation has suffered for it. But what if they were finally able to get in gear and make the playoffs this season?
Consider this: Romo was on pace for 5,018 yards and 36 touchdowns while completing 68.3 percent of his passes during the final eight games of the 2012 season. Those are attention-grabbing numbers.
Given the emergence of Dez Bryant and an offensive line that has presumably been shored up, it is not a stretch to think Romo could come close to matching that offensive output on the year.
If he goes off for 4,800 yards and 40 touchdowns while leading his team into the playoffs, he will be in the MVP conversation. Of course, that is one big "if."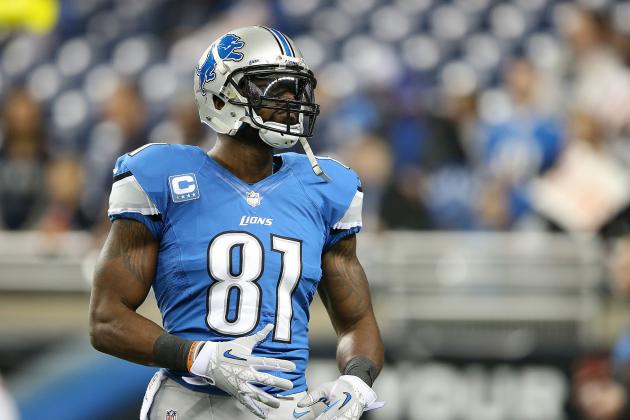 Leon Halip/Getty Images

Why would the best receiver in the NFL be considered a "sleeper" candidate for MVP? Because, simply put, receivers don't win MVP awards.
Jerry Rice is the only receiver of the modern era to win a regular-season MVP award, winning it in 1987 from Pro Football Writers of America (PFWA) and The Sporting News. He would add another from The Sporting News in 1990, but neither award is considered the real MVP.
That one is doled out by the Associated Press.
If anyone can break that barrier, however, it's Calvin Johnson.
Despite a seemingly down year, Megatron nearly broke the 2,000-yard barrier. It took a ton of targets to get there, but that was a harbinger of greatness from the stud receiver. If he had scored double-digit touchdowns and the Lions made the playoffs, he would have certainly been in the MVP discussion.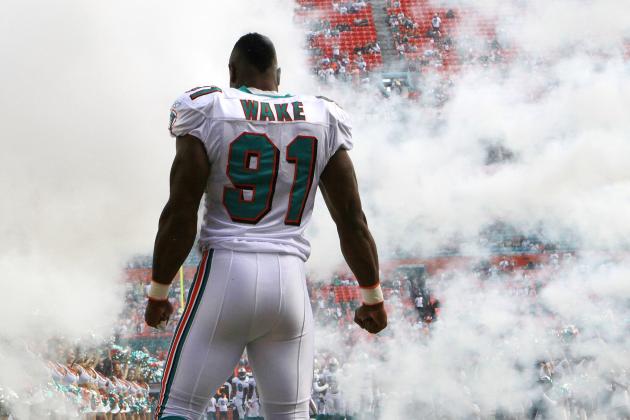 Marc Serota/Getty Images

Much like the receiver position, there has only been one modern era defensive player to ever win the NFL MVP award: Lawrence Taylor.
In the same vein as Jerry Rice, Taylor was not given the honor by the Associated Press.
Defensive players have a bigger hill to climb than even non-traditional offensive winners. It would take a monster season of record-breaking proportions to catch the eye.
Just look at J.J. Watt last season, who had a serious claim to the award after his dominance at defensive end.
There is one player who was simply a terror to opposing quarterbacks all season long, and he could benefit from improved personnel. His name is Cameron Wake.
Miami's pass-rusher extraordinaire quietly logged 15 sacks last season, good for fourth in the league. Per Pro Football Focus, Wake far and away led the league in pass-rusher efficiency, notching 86 total quarterback pressures on 530 pass-rushing snaps.
Just imagine what he might be able to do with a defense that can actually get to the quarterback in other ways. Opposing offenses are going to have issues when forced to reckon with Philip Wheeler and Dannell Ellerbe—two of the league's best blitzing linebackers—and perhaps rookie Dion Jordan on the other side.
If Wake winds up threatening the all-time sack record, he could also threaten to win the MVP.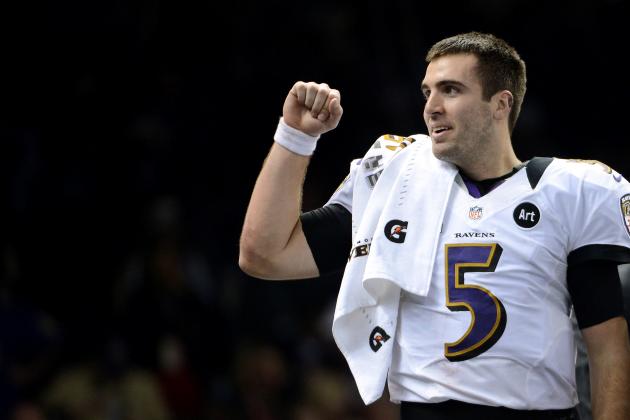 Harry How/Getty Images

Stop your cackling. After all, did you expect Joe Flacco to win the Super Bowl MVP as the playoffs got underway last season?
The Ravens quarterback parlayed a historic postseason run into the richest contract in NFL history—for a couple of months, until Aaron Rodgers overtook him anyway—and he looks to continue that momentum into the 2013 season.
In truth, Flacco has never done much during the regular season to warrant MVP attention. But that doesn't mean he can't get there.
His self-proclaimed elite status might extend to the regular season if his playoff run is any indicator. The Ravens got excellent offensive line play throughout their Super Bowl run, and the line is intact for this season.
Flacco did lose Anquan Boldin, throwing into question who will step up as the No. 2 receiver, but Jacoby Jones is the 88th-best player in the entire NFL, after all.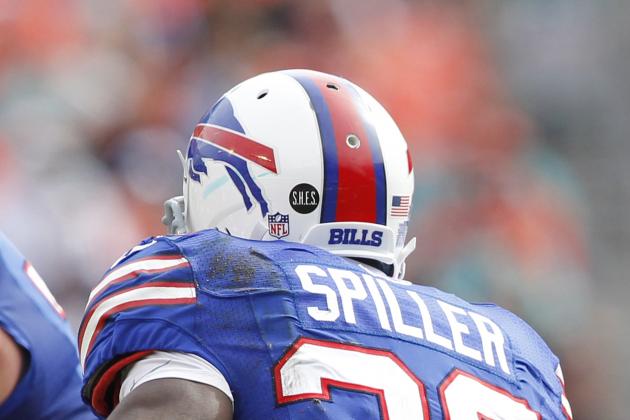 Joel Auerbach/Getty Images

The Buffalo Bills have yet to unleash C.J. Spiller. There were flashes last season, sure—he lit the league on fire for the first couple of games before injuries and Fred Jackson doused things—but we have yet to witness his full potential.
That changes in 2013.
Jackson is still around, but he is a shell of his former self. There is new management in town, and it is difficult to believe Doug Marrone and Co. won't lean on their best offensive player.
Spiller was on pace for over 2,900 yards and 24 touchdowns through the first two games last year before he hurt himself in Week 3 and Jackson came back to force a timeshare.
Of course, it would be unreasonable to think he could keep that pace up, but did we think Peterson would crack 2,000 yards last season?
Peter Aiken/Getty Images

Von Miller might not be much of a sleeper on the defensive end. After all, he was on the MVP watch list for a brief time last season. He wound up with 18.5 sacks, second only to Aldon Smith of the 49ers.
Miller is simply a terror on the outside for the Denver Broncos, more well-rounded than many of the top pass-rushers in the league.
The talented linebacker had 68 total tackles last season, more than every other sack leader save J.J. Watt. It was only his second season in the league.
Like Cameron Wake, Miller could threaten the sack record and find himself in the thick of the MVP discussion again. It might be nearly impossible for a defender to win the MVP award, but Miller is one of those special players who could make some noise.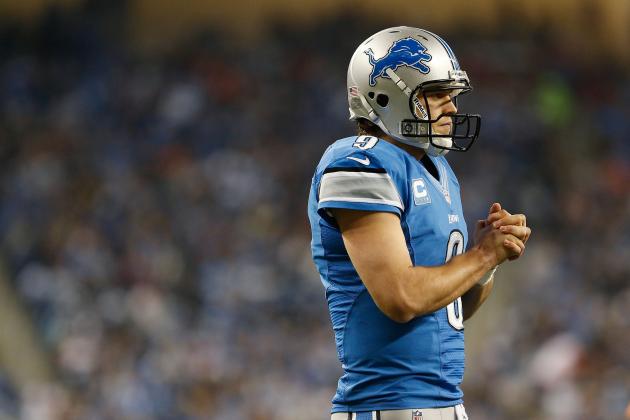 Gregory Shamus/Getty Images

True, a huge season from Calvin Johnson could catapult him into the MVP discussion. It is more likely, however, that it puts Matthew Stafford on that short list.
Stafford was primed for a big year in 2012, having tossed 41 touchdowns and thrown for over 5,000 yards the previous year. Things didn't go as planned for Stafford and the Lions.
He did nearly crack 5,000 yards again, but his touchdown total fell by more than half. Part of that had to do with Johnson's penchant for getting tackled inside the 5-yard line, but the Lions had trouble punching the ball into the end zone all year long.
The Lions quarterback just turned 25, and Johnson is heading into his prime. A bounce-back season is in store, which could thrust him into the MVP conversation should the Lions bounce back as a whole.
USA TODAY Sports

Calvin Johnson might be the best receiver in the league, but A.J. Green is not far behind. He also might be more valuable to his team.
Make no mistake, the Lions would look more like the New York Jets on offense were it not for Megatron, but how good do you think the Cincinnati Bengals would look sans Green?
He is the Bengals offense, keeping Andy Dalton from turning into John Skelton. At one point, Green scored a touchdown in nine consecutive games last year. He crashed back down to earth, finishing with 11 touchdowns on the year, but that kind of consistent production is rare.
Cincinnati has been an unexpected playoff participant in recent years thanks largely in part to Green. If he gets to 15-plus touchdowns and leads the league in receiving, it wouldn't be a stretch to see him in the MVP race.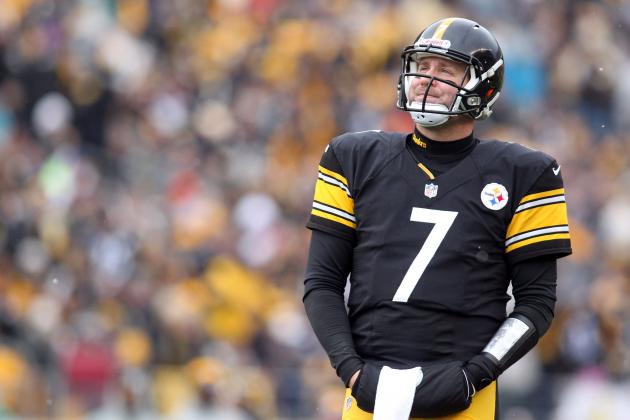 USA TODAY Sports

Like the Spanish Inquisition, nobody expects Ben Roethlisberger.
Pittsburgh's grizzled veteran has dealt with a number of injuries over the years, and he lost his speedster receiver when Mike Wallace followed the money trail to Miami.
So why, exactly, would he be MVP candidate for 2013?
Well, for starters, we should never count the Pittsburgh Steelers out. Last season was down for the proud franchise, but it was also marred by injuries. Many of those players are back.
More importantly for Big Ben, the offensive line might actually be decent for once. Mike Adams needs to step up in his second season and David DeCastro must prove he was worth his first-round status after losing his rookie year to injury, but the line is better on paper.
As for Roethlisberger's receivers, losing Wallace might not hurt as much as we think, if at all. Antonio Brown is primed to take over as the team's top receiver, and Emmanuel Sanders is back. Markus Wheaton will fill in nicely for the departed Wallace.
With a running game no longer anchored by the likes of Jerome Bettis or even Rashard Mendenhall, Pittsburgh will rely on Roethlisberger more than ever. A great season is in store if he can stay healthy, and that could lead to MVP chatter.