Fantasy Baseball 2013: Week 7's Buy-Low, Sell-High Trade Advice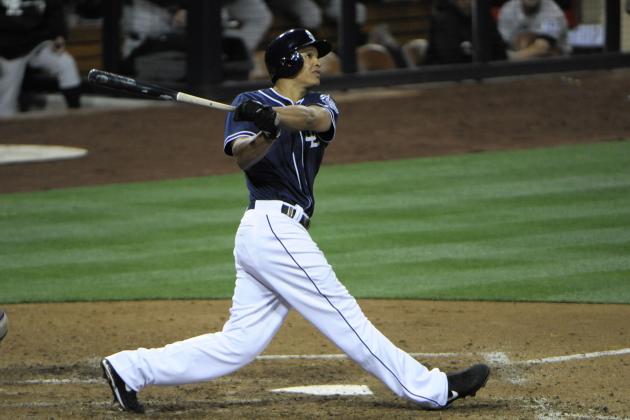 Denis Poroy/Getty Images
The streaky Venable is starting to heat up with six hits in his last eleven at-bats.
As the owner of a fantasy baseball team, you've had about six weeks to figure out if you have enough talent to win your league. Like many real-life teams, you're probably dealing with injuries and certain players not living up to expectations. Even if you're in good shape and near or at the top of your division, remember that it's a long season and things can change quickly.
Looking ahead and making roster moves based on what might happen can give you a leg up on the competition. If you listened to my advice back on April 12 or just had the same thoughts as I did regarding Brewers center fielder Carlos Gomez, you bought low on a guy with a dismal .378 OPS and have since reaped the rewards while he's been one of the best hitters in all of baseball.
I might not give you a better "buy-low" pick the rest of the season than Gomez, but I'll certainly do my best. Here are five of those "buy low's" and five "sell-high" picks for week seven.
Begin Slideshow

»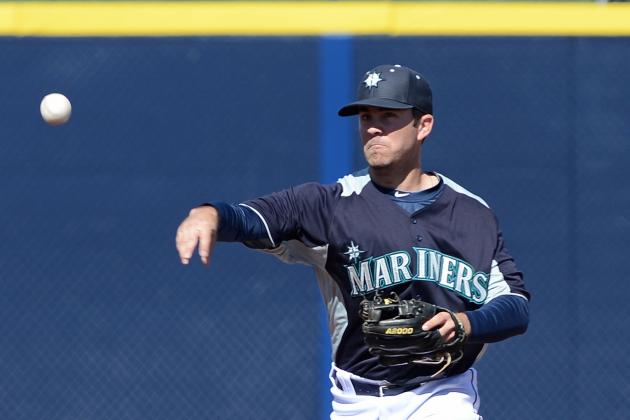 Jennifer Stewart/Getty Images

Buy Low
The 22-year-old switch-hitter is mashing at Triple-A (.340 BA, 3 HR, 7 2B, 14 RBI, 5 SB in 26 games). Big league second baseman Dustin Ackley is not (.239 BA, HR, 5 BB, 20 K).
Shortstops Robert Andino (.169 BA, zero HR) and Brendan Ryan (.137 BA, zero HR) might be the most unproductive hitting duo in baseball. I'm guessing that it's only a matter of time before the Seattle Mariners give Franklin a shot at one of those two spots.
If they think he can handle the shortstop position, they sure are exhibiting a lot of patience as they continue to go with Andino and Ryan.
It's more likely Franklin's bound for second base, where he's played in 14 of his 25 games this season. In that case, they're being extremely patient with Ackley, who has a .614 OPS since the start of the 2012 season.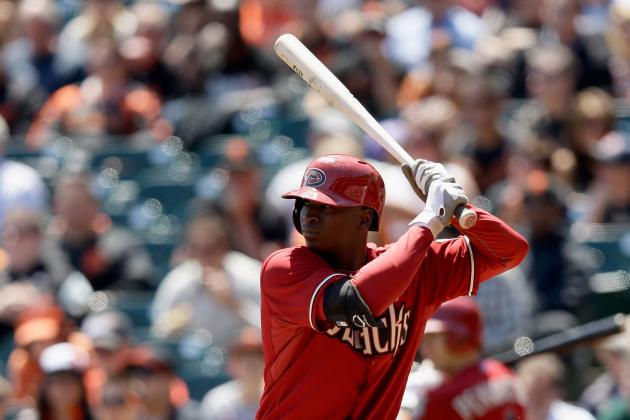 Ezra Shaw/Getty Images

Buy Low
When the Arizona Diamondbacks acquired Didi Gregorius this offseason in a deal that cost them top pitching prospect Trevor Bauer, general manager Kevin Towers compared him to a young Derek Jeter. This left the baseball world scratching their heads as they looked at Gregorius' stats over his five-year, minor league career.
While the reports on his defense were excellent, there were questions about his ability at the plate, and he had yet to exhibit any sort of power or on-base ability. But just 12 games into his big league career, small sample size or not, it's starting to look like Towers wasn't far off with his Jeter comp.
The 23-year-old has at least one hit in 11 of those games, including seven multi-hit games, three homers and five doubles. He's having terrific at-bats and, as expected, is providing great defense. It also appears he's in the lineup for good.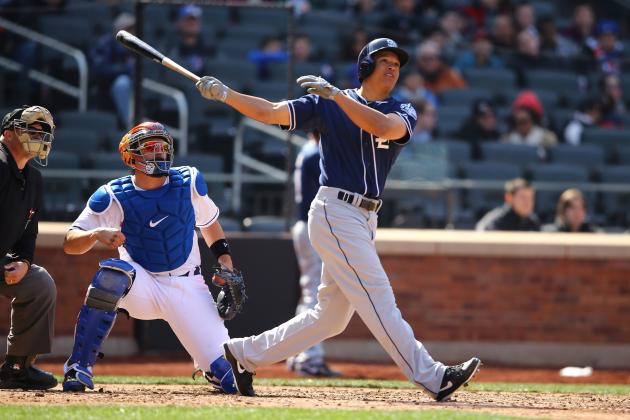 Al Bello/Getty Images

Buy Low
In 2012, San Diego Padres outfielder Will Venable had a .940 OPS in May and a .923 OPS in August.
The other months? Not so good.
He had a .644 OPS in his next best month. The 30-year-old has a unique combination of power and speed. Unfortunately, it's only on full display the two-to-three months out of the year when he's comfortable at the plate.
Of course, there's always a chance he can have a more consistent year, which could put him in the 20 home run and 40 stolen base range. Since he's already had one bad month (.633 OPS), let's assume it's not happening in 2013.
Since he's 6-for-11 with two homers and only one strikeout over his last four games, I think it's safe to assume one of his hot streaks is underway.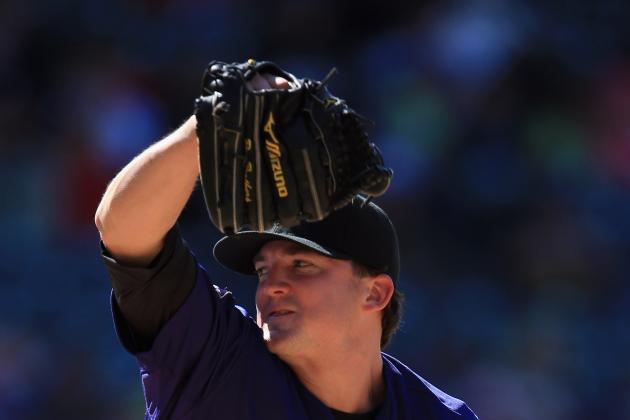 Doug Pensinger/Getty Images

Buy Low
If you're in a league where holds and strikeouts have value, then Colorado Rockies reliever Rex Brothers is a good pickup whether you think he'll get saves or not.
Now, if you're in a league where he has zero value as long as he's not getting save opportunities, it's still a good idea to keep close tabs on the Rockies' closer situation.
While current closer Rafael Betancourt is 9-for-9 in save opportunities, he's already had a few shaky outings. The 37-year-old has already walked eight hitters in 14.1 innings, the same amount he walked in 62.1 innings back in 2011 and four less than he walked in all of 2012 in 57.2 innings.
Brothers, on the other hand, has been nearly unhittable this season (16.1 IP, ER, 11 H, 7 BB, 18 K) and could be viewed as Betancourt's heir apparent. I'm not saying that time will come anytime soon, but I wouldn't be surprised.
#Rockies Lefty Rex Brothers has the repertoire and velocity to close. Especially tough on left-handed hitters. Can command his pitches.

— Bernie Pleskoff (@BerniePleskoff) April 27, 2013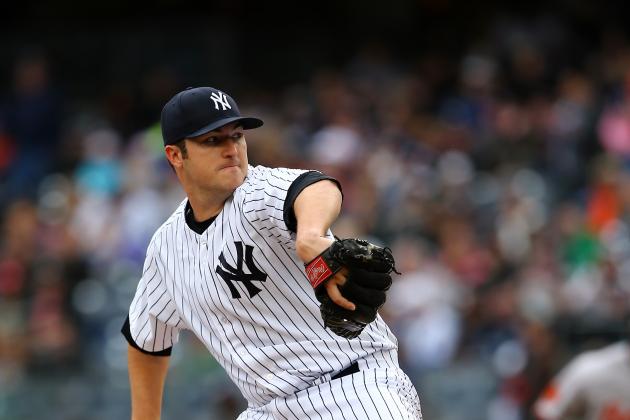 Elsa/Getty Images

Buy Low
Just in case you haven't jumped on the Phil Hughes bandwagon yet, I'll remind you that he's been really good over his last four starts (28 IP, 6 ER, 23 H, 5 BB, 30K). The 26-year-old, New York Yankees' starting pitcher still could have some upside that pushes him beyond the guy he's been when healthy the last few year—a decent mid-rotation starter.
Join the club if you thought he was much older than 26. He made his major league debut at age 20 and has battled numerous injuries throughout his career.
Now completely healthy, Hughes is pitching like a top-of-the-rotation starter, which is hard to find on the waiver wire or via trade this time of the year.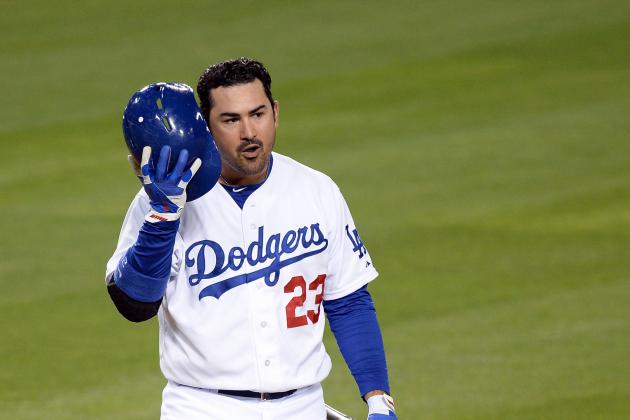 Harry How/Getty Images

Sell High
I'm going to let you in on a little secret I heard through the Twitter-verse. Los Angeles Dodgers first baseman Adrian Gonzalez has lost some of his power since offseason shoulder surgery before his first season in Boston back in 2011.
Adrian Gonzalez tells @billshaikin he never regained his power after undergoing shoulder surgery before 2011 season: lat.ms/13jRvku

— Dylan Hernandez (@dylanohernandez) May 6, 2013
OK, so that's not really much of a secret since he's only homered 48 times in 349 games since the surgery. Prior to the 2011 season, he had 161 homers in five seasons with the Padres, who were playing in one of the most pitcher-friendly ballparks in the league.
Don't get me wrong. The 31-year-old Gonzalez is still a really good hitter (.898 OPS in 31 games). He's just not a 30-homer threat as he was with the Padres.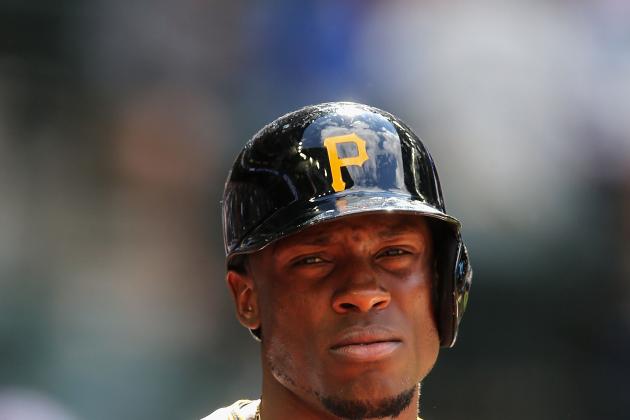 Christian Petersen/Getty Images

Sell High
B/R columnist Andrew Gould, who wrote this column last week, also had Pittsburgh Pirates outfielder Starling Marte as a "sell-high" candidate so maybe there's something to it.
Marte's been a fantasy stud during his short big league career but he's doing it despite showing any sort of plate discipline (7 BB, 34 K in 2013; 8 BB, 50 K in 2012), which is almost always necessary to maintain this type of success.
The 24-year-old has some weaknesses to his game and big league pitchers will most likely be able to exploit that at some point.
Maybe he fools us by making the adjustments and continuing on his amazing 200-hit, 24-homer and 48-stolen base pace. I just don't see him going through the season without going in an extended slump that has fantasy owners extremely frustrated.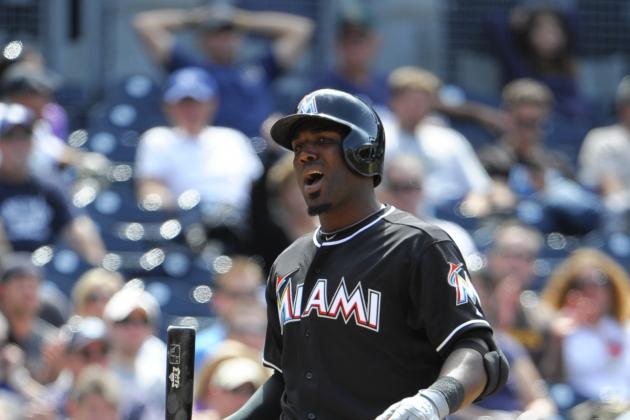 Denis Poroy/Getty Images

Sell High
Baseball is full of success stories involving prospects making the jump to the big leagues after just a handful of Double-A games, right? Wrong.
The Miami Marlins' 22-year-old outfielder Marcell Ozuna is riding out a hot streak (13-for-35, HR, 5 2B) after an unexpected call to the majors.
But let's face it: He didn't exactly have an easy time of things in High-A in 2012 (44 BB, 116 K in 129 games) so why would anyone think big league pitchers won't eventually start working him over before he's sent back to Double-A to continue his development?
I'll tell you who. At least a couple of your league mates think he'd be a steal of a deal if you traded him now.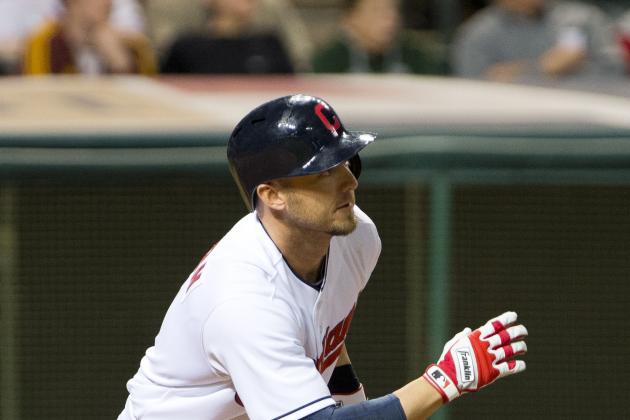 Jason Miller/Getty Images

Sell High
In a part-time role with the Cleveland Indians, the 32-year-old Ryan Raburn was 7-for-33 with no homers through April 24. He started both ends of a double-header a few days later and has been a lineup regular since. During that stretch, he's 17-for-39 with four homers and three doubles.
With Michael Bourn back in the lineup Friday, there aren't likely to be enough at-bats to go around for Raburn to stay in the lineup. So it's back to a part-time role and quite possibly the kind of production he had earlier in the season and in 2012 (.480 OPS in 66 games) before the Tigers released him.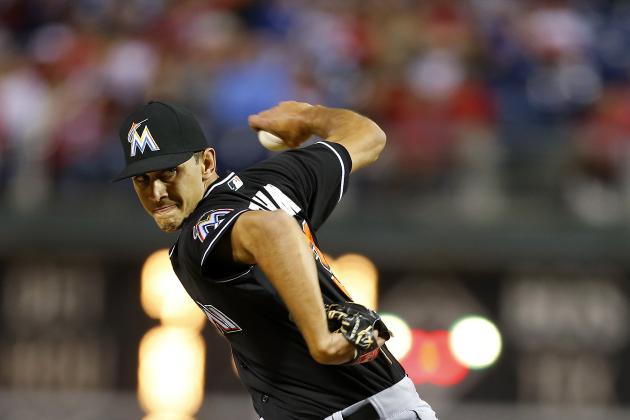 Rich Schultz/Getty Images

Sell High
With only five save opportunities on the season on possibly the worst team in the majors, it's a shock that Miami Marlins reliever Steve Cishek is owned by 70 percent of fantasy owners in ESPN leagues. He's not even pitching that well when he does get into games (3 losses, blown save, 4.85 ERA).
So if he's on your team, do yourself a favor and trade him or just flat-out drop him in favor of a guy like Heath Bell, the guy who lost his job to Cishek last season. At least he'll have plenty of chances to save games on a very good Arizona Diamondbacks team.