Fantasy Baseball 2013: Best Buy-Low, Sell-High Options After the First Month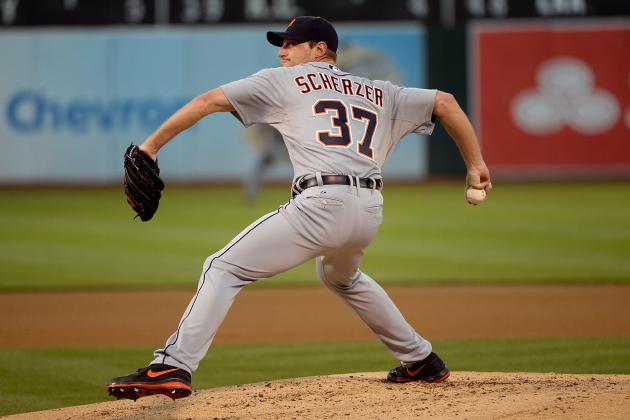 Thearon W. Henderson/Getty Images
Detroit Tigers starter Max Scherzer has pitched better than the surface numbers suggest.
With the first month of baseball in the books, fantasy baseball owners should attack the trade market now.
The small sample size is a treacherous thing when placed in the wrong hands. Not everything is as it appears with few games fueling the data.
At this time last year, Joe Saunders led the MLB in ERA, Giancarlo Stanton had two homers to his name and everyone was buzzing over Johan Santana's return to vintage form.
Things change when you play 162 games.
This early in the season, perceptions of a player could alter in a day. Had this article been published on Monday, it could have contained a rousing review of the rejuvenated Andy Pettitte, who entered the night with a 2.22 ERA and 1.13 WHIP. By the end of his outing against the Houston Astros, those numbers torpedoed to a 3.86 ERA and 1.32 WHIP.
These uncertain times give the savvy fantasy owner the perfect opportunity to pounce on weaker prey. Grab proven stars for a discount due to a subpar April while dealing away lesser-proven commodities that have mesmerized out of the gates.
Note: All statistics courtesy of FanGraphs.com
Begin Slideshow

»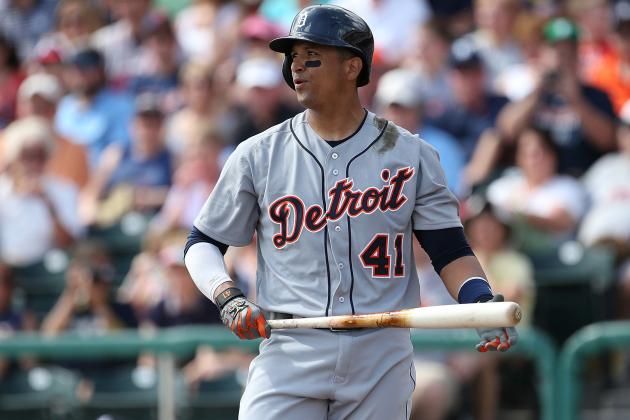 Leon Halip/Getty Images
Victor Martinez is taking a while to recover his touch.
Give Victor Martinez some time to find his swing.
He's hitting a brutal .212/.279/.263 and has yet to go deep after a full month.
The power—which began to deteriorate before his injury—may never recover, but that low average should bounce back to normal. Martinez's .236 BABIP is well below his career .314 mark, and he is hitting less ground balls than ever.
As more balls find open grass, his counting numbers will pick up in Detroit's formidable lineup. Slotting a full-time designated hitter into your catcher spot still stands as a major plus.
Since he is a 34-year-old who missed all of 2012, Martinez could come for scraps. It's worth a shot as long as you don't ship off any vital parts of your squad. Replacing a catcher in a league that starts one isn't that tough.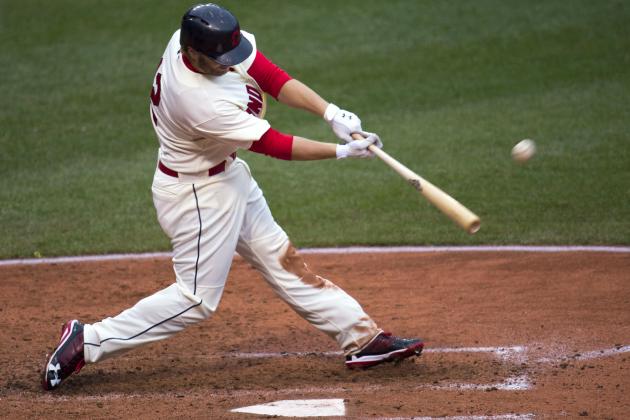 Jason Miller/Getty Images
Mark Reynolds will cool down soon.
Don't let him fool you; he's still Mark Reynolds.
Yes, he's batting .295 now with eight home runs and a .625 slugging percentage. He's offered daunting production while replacing a cavalcade of third basemen who succumbed to injuries in April.
And for that, we all owe our gratitude to Reynolds, who filled in amicably with Brett Lawrie, Aramis Ramirez, David Freese, Chase Headley and Ryan Zimmerman sitting on the sideline. As a reward for his commendable service, it's time to cut him loose.
Reynolds, a career .237 hitter, will not sustain this high average. Ever since hitting .260 in a breakthrough 2009 season, he has failed to climb over .221.
Use Reynolds' hot start and the slew of battered third basemen to swap him for someone who can contribute consistently long term. You won't regret it when he's trying to avoid another 200-strikeout season.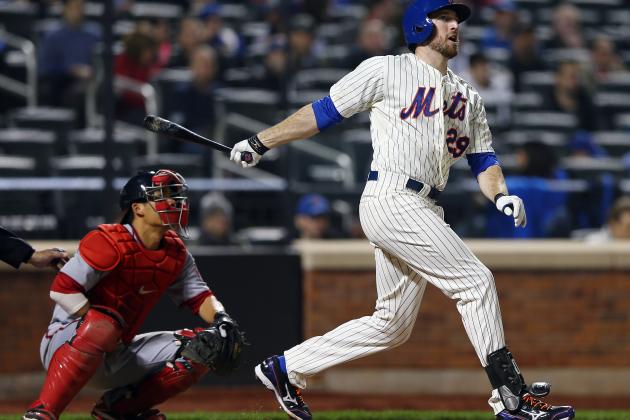 Elsa/Getty Images
Ike Davis does not like April.
Well this sure seems familiar.
Another April has brought another abysmal start from Ike Davis, who is hitting .169/.272/.315.
If it's any consolation, Ike Davis is right on track compared to his early struggles last season. He entered last June hitting .170, but take a chance on him kicking it into gear sooner this time around.
Such a potent young bat should not fall victim to such jarring cold streaks, but Davis showed last year that it's worth displaying patience. Despite his terrible opening to 2012, he finished with 32 homers and 90 RBI, slugging .542 after the All-Star break.
While his 29.1 percent strikeout rate raises some concern, he's also battled through a .196 BABIP. Like last year, Davis should break out of his funk before it's too late.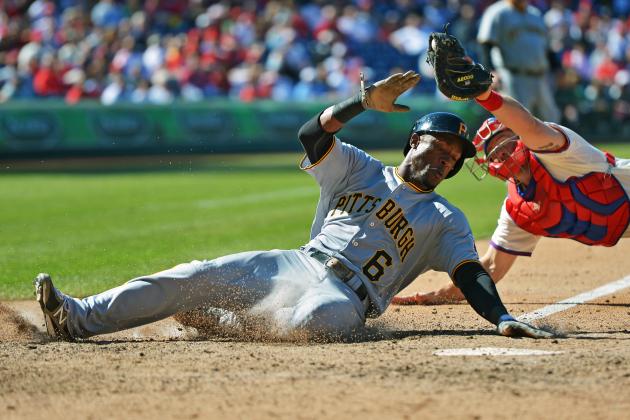 Drew Hallowell/Getty Images
Starling Marte is good, but probably not this good.
Letting the Pittsburgh Pirates enjoy a good month would probably be the nice thing to do. Oh well…
Starling Marte showed an appealing mix of power and speed in limited action last year, which has carried over into 2013. The 24-year-old is hitting .327 with three homers and seven steals.
He can still finish his rookie campaign as a 10-homer outfielder with between 20-30 swipes. While that is certainly usable in most fantasy formats, the batting average is not here to stay.
Marte has worked just seven walks in 114 plate appearances while striking out 26 times. His 5.5 percent walk rate and 23.6 strikeout percentage are actually improved from last year, but those are still mighty bad.
With those numbers, a .407 BABIP is the only way Marte can hit above .300. That won't last, which also provides him with fewer opportunities to run.
If somebody thinks Marte is on the express path to stardom this season, trade him now before the youngster starts to struggle.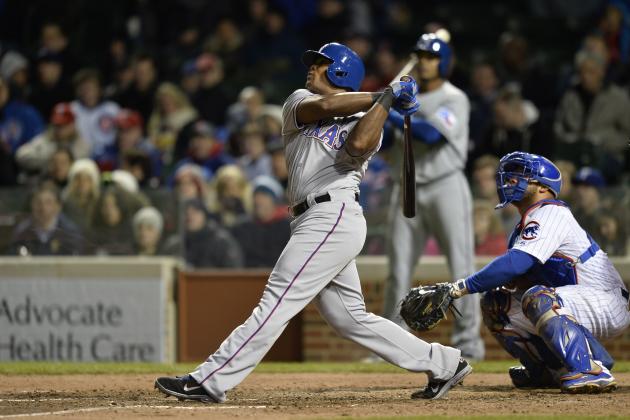 Brian Kersey/Getty Images
Adrian Beltre will still warrant that second-round selection by the season's end.
They said he's the safest bet you can find in the second round. They said you won't go wrong taking the sturdy, dependable Adrian Beltre.
Did they lie to us? Beltre, the same man who hit .321 twice in the past three years, currently possesses a robust .214 average.
There's no need to panic here. He's striking out less so far after April, and with five homers the power has not vanished.
A .195 BABIP has not done any favors in the batting department, so don't get carried away into thinking Father Time has finally caught up to the 34-year-old.
At this point of the season, all it takes to catapult Beltre's average back to the norm is a couple of multi-hit games. Try to snatch him from his current owner before that hot streak happens.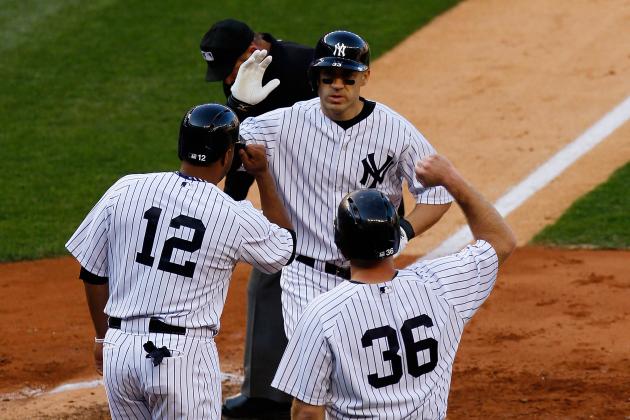 Mike Stobe/Getty Images
Travis Hafner and Vernon Wells stepped up for the Yankees last month.
No, this wasn't supposed to happen.
With Alex Rodriguez, Derek Jeter, Mark Teixeira and Curtis Granderson all starting the season on the disabled list, this was supposed to be the year the New York Yankees faltered and missed the playoffs. The empire was supposed to start crumbling, little by little.
Then Vernon Wells and Travis Hafner found a time machine.
Wells, whom some may know as the guy who hit .230 last year, is raking with a .300/.366/.554 slash line. Hafner, the dude who hasn't logged a full season since 2007, is slugging .638.
Have the Yankees pinstripes rejuvenated these veterans? Maybe for now, but don't expect this to last through September.
Wells is coming off two seasons with on-base percentages lower than .300. Hafner has found the perfect spot to morph into Pronk again while healthy, but remember that part about him not playing a full season in over five years?
Kevin Youkilis' achy back took center stage after a scorching start. Don't be surprised if Wells and Hafner suffer a similar fate.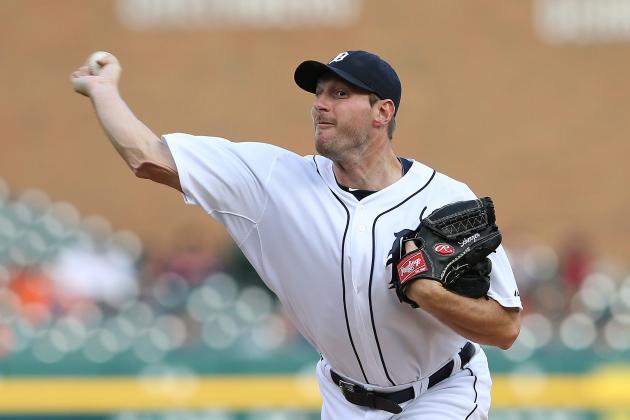 Leon Halip/Getty Images
Scherzer could still finish as a top-10 starting pitcher.
Max Scherzer's season looks bland when reading the surface numbers, but he's actually killing it.
The 4.06 ERA and 1.26 WHIP are not pretty, but everything else sure is beautiful. Scherzer has struck out 45 batters through 31 innings, putting him in prime position to again finish among the league's strikeout leaders, while walking only seven.
Detroit's defense has done Scherzer no favors; Mad Max has posted a 1.71 FIP and .380 BABIP. That's especially confounding considering that he has generated a 46.5 percent ground-ball rate that would represent a career-high if maintained.
Owners who expected Scherzer to unleash his ace upside might get antsy about his unappetizing ERA and WHIP. If they're willing to pawn him off, grab him before he embarks on another monster run akin to his stretch late last year.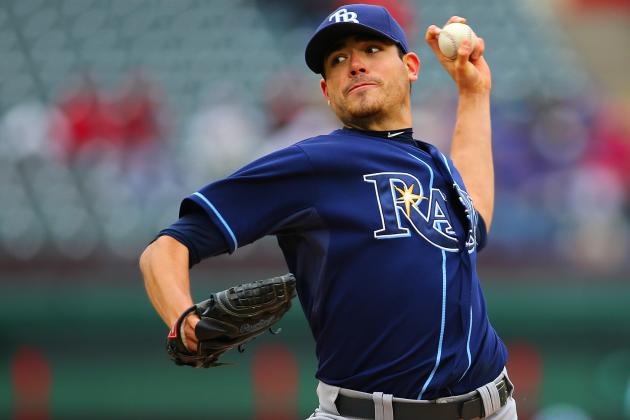 Rick Yeatts/Getty Images
Matt Moore could net a huge return on the trade market.
This is blasphemy. A 23-year-old who entered the season armed with ace upside is pitching like an ace, and I want you to trade him?
After winning his first five starts with a 1.13 ERA, 0.88 WHIP and 10.69 K/9 ratio, the only sensible step is to hold on tight to Matt Moore and never let go.
That sentiment absolutely bears credence in a keeper or dynasty league, but it's worth testing the market on Moore in a re-draft league.
The main reason drafters shied away from him in the first place still exists: Moore walks too many batters to stay on top as a legitimate ace.
He has already allotted 15 free passes in 32 innings, but none of them have come back to haunt him. In fact, Moore has resoundingly stranded every single baserunner, with his only runs resulting from homers.
He's needed an unsustainable .149 BABIP to work that magic, so expect some natural regression going forward. Moore still boasts ace potential, but see if a leaguemate goes overboard and values him as a top-five hurler.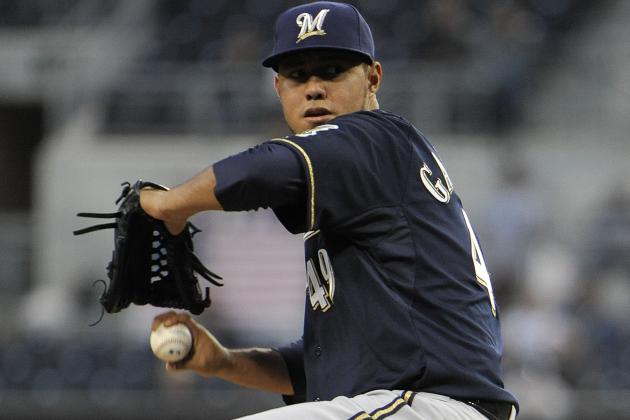 Denis Poroy/Getty Images
Pitching well in April has never been Yovani Gallardo's thing.
The dip in strikeouts makes this recommendation a tough pill to swallow, but now is the time to acquire Yovani Gallardo.
Usually money in the bank to tally 200 punchouts a year, Gallardo has fanned a disappointing 22 strikeouts in 36 innings. That's scary, and his owners cannot be blamed for breaking into panic mode.
Then again, when was the last time Gallardo didn't stink up the joint in April? He kicked off 2012 by posting a 6.08 ERA and 1.65 WHIP during the opening month. In 2011, he registered a 6.23 ERA and 1.55 WHIP while striking out 19 batters through 30.1 innings.
Besides the strikeouts, he has not pitched nearly as poorly. Gallardo has generated a 3.50 FIP with an improved 2.75 BB/9 rate. A .363 BABIP (he has a career .298 mark) paved the way for him allowing an inordinate amount of hits.
Gallardo usually figures it out after April, so take him now after someone else endured his rough patch.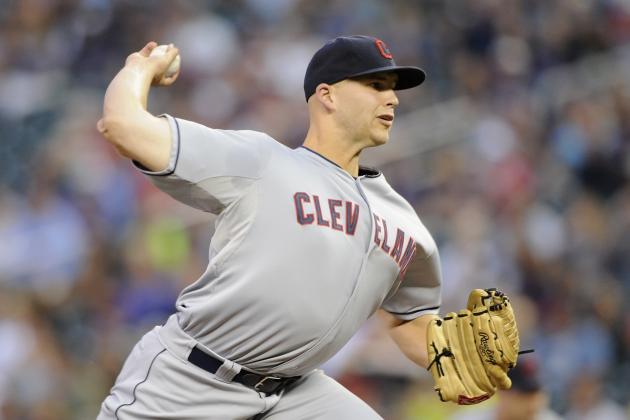 Hannah Foslien/Getty Images
This is as good as it will get for Justin Masterson.
My main gripe with Justin Masterson has been his inability to produce considerable strikeouts. He has struck out 39 batters in 40.1 innings, so what gives?
For starters, it remains to be seen if this represents a jump in skills or four weeks of admirable work that will fail to persist for five more months. Masterson has only exceeded a 7.0 K/9 once, and that occurred four years ago.
Although Masterson has sent more batters to the dugout, his 7.7 percent swinging-strike percentage is lower than 2012's 8.0 percent.
The walk problem also lives on, as he has already handed out 17 base-on-balls. If he keeps playing with fire, a potent offense will burn him.
Four wins, a 3.12 ERA and 39 strikeouts could yield a sizable return for Masterson, who began the season as a spot starter, on the open market.