Tennessee Football: 2013 NFL Draft Recap for Former Volunteers
Bruce Kluckhohn-USA TODAY Sports
The Tennessee Volunteers have the seventh-most NFL draft picks of all college football programs and were even able to add to that total this year after a rough 2012. A total of eight Vols have found new NFL homes whether via the draft or free agency.
There were some big surprises with where Tennessee players were drafted (or not drafted), but as soon as Mr. Irrelevant was picked, those details became meaningless.
Here is a quick breakdown and recap on where each of these VFLs will be this fall.
Cordarrelle Patterson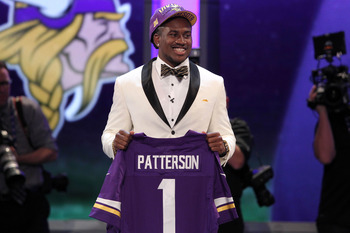 Brad Penner-USA TODAY Sports
Drafted first round, 29th overall by the Minnesota Vikings
Of all the newest Vols in the NFL, Cordarrelle Patterson has the best chance of earning Rookie of the Year honors.
His career isn't guaranteed to be the best of the bunch, but Patterson's ability to come in and immediately impact kickoff and punt returns will give him many opportunities to wow fans, land on ESPN's Top 10 and ultimately, score lots of touchdowns.
It was a fun year with CP, wasn't it, Tennessee fans?
Greg Jennings will be a nice veteran to mentor Patterson and provide steady hands while the rookie learns his way.
Justin Hunter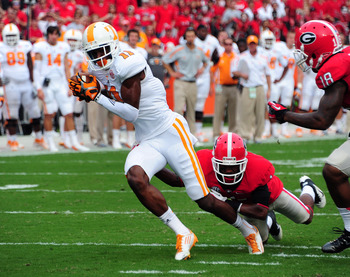 Scott Cunningham/Getty Images
Drafted second round, 34th overall by the Tennessee Titans
Once thought to be a lock in the first round, Justin Hunter wasn't selected on the draft's opening night. The home-state team didn't let him fall much further on day two, however.
The Titans swapped 2013 third-round picks and traded picks in the 2013 seventh round and 2014 third round with the San Francisco 49ers to move from 40th to 34th so they could select the in-state talent.
Hunter will line up opposite Kenny Britt, providing the Titans a trio of receivers all taken before the 35th pick in their respective drafts. Jake Locker and Chris Johnson have no excuses!
If (and when) Britt leaves after the 2013 NFL season, Hunter is poised to become the Titans' premier downfield threat.
Dallas Thomas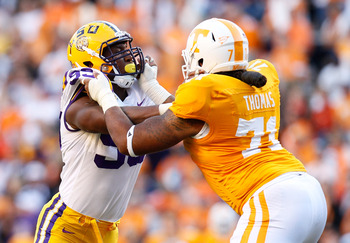 Kevin C. Cox/Getty Images
Drafted third round, 77th overall by the Miami Dolphins
Dallas Thomas showed tremendous resilience, leadership and team-first attitude during his career as a Volunteer.
After starting two consecutive years at left tackle, Thomas slid to left guard (costing him money in the draft) because it was best for Tennessee. Miami got a great teammate, if nothing else.
Dolphins Featured Columnist Mario Cuadros believes Thomas will compete for a 2013 starting job. Blocking for Daniel Thomas will be a welcome relief after opening holes for the Volunteers' crew of subpar backs.
Mychal Rivera
Scott Cunningham/Getty Images
Drafted sixth round, 184th overall by the Oakland Raiders
The last Tennessee Vol selected in the 2013 NFL draft was Mychal Rivera. Oakland also took Tyler Wilson of Arkansas, who rivaled Tyler Bray's cannon arm last year.
That bodes well for Rivera, who set the school's tight end receiving yards record in 2012.
The Raiders' leading receiver for 2012, tight end Brandon Myers, is now with the New York Giants, so the door is open for Rivera to come in, start and contribute alongside fellow VFL Denarius Moore.
Tyler Bray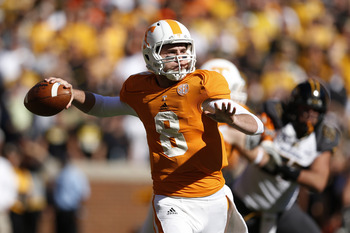 Joe Robbins/Getty Images
Undrafted, signed by the Kansas City Chiefs
The big story for the Tennessee Volunteers was the non-selection of quarterback Tyler Bray, who left school early for the draft.
Many are calling it a big mistake, but I'm not so sure. Bray may have just been ready to be out of school and get paid to gun-sling. The minimum rookie salary for 2013 is $405,000 per year. Still think he should've come back?
If Bray can hit the books and really develop the finer aspects of the position, his physical attributes are second to none. Polished quarterback Alex Smith should be a good role model.
Zach Rogers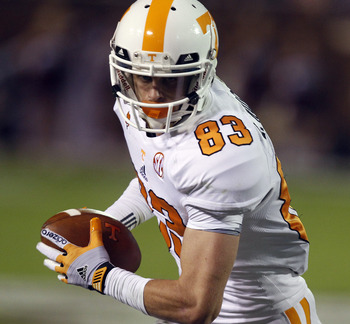 Butch Dill/Getty Images
Undrafted, signed by the New York Jets
I wish Zach Rogers had been able to land with the New England Patriots. They seem to develop the small, quick and underappreciated wide receivers better than anyone.
The Jets currently have five quarterbacks on the roster, so Rogers will see a lot of different types of throws, which should help his development. Rogers is a hard worker whose speed and pass-catching abilities were easily missed amid the shadow of Cordarrelle Patterson and Justin Hunter.
Prentiss Waggner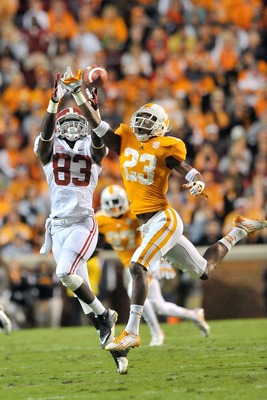 Jim Brown-USA TODAY Sports
Undrafted, signed by the Arizona Cardinals
A few years ago, a former SEC defensive back lit up the world in Arizona. Prentiss Waggner is no Patrick Peterson, but he has similar versatility, having played all of the secondary positions while he was a Vol.
Waggner will join a strong pass defense which ranked fifth in the NFL last season.
Ben Bartholomew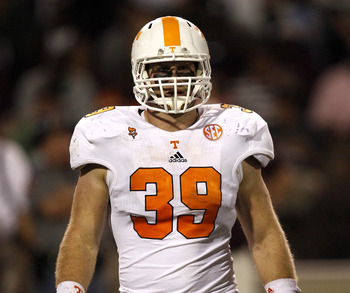 Butch Dill/Getty Images
Undrafted, signed by the New England Patriots
In the NFL, there is also room for smart, committed players like Ben Bartholomew, who showed his skills as both a fullback and tight end while at Tennessee.
He's lucky to be with such a strong franchise in New England. They're rich with tight ends that Bartholomew can learn from, while also relatively thin at fullback. He could find his way on the field, especially in the Patriots' precision offense.
Former Vols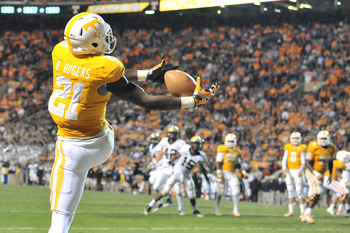 Jim Brown-USA TODAY Sports
Montori Hughes
"There was really no history of Montori playing well."
That quote was from former coach Derek Dooley in November of 2010. His record was 15-21 at Tennessee.
Hughes had academic problems as a Vol and was rightfully suspended, but it was evident that he had great talent that was never completely developed. The Indianapolis Colts showed their faith in him with a fifth-round selection.
Da'Rick Rogers
He went from best receiver in a stacked wide receiver corp to undrafted free agent. He signed with the Buffalo Bills and hopes to regain his footing in the sub-zero temperatures of Ralph Wilson Stadium.
Keep Reading

Tennessee Volunteers Football: Like this team?