2013 Detroit Lions NFL Draft: Draft Grades and Rookie Roles and Predictions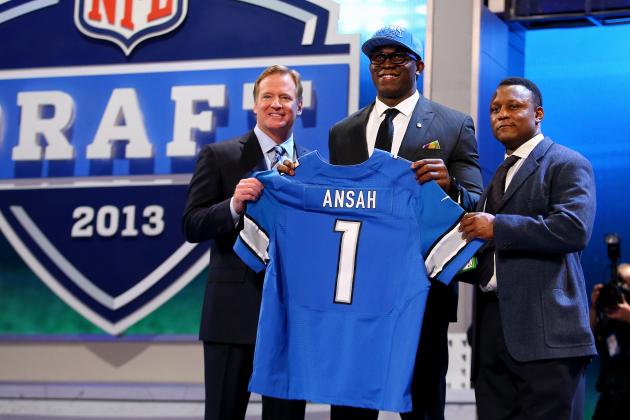 Al Bello/Getty Images

With the 2013 draft in the rear-view mirror, the dust has finally settled on the NFL offseason. However, I think there is still time for one more draft-related article breaking down the fruits off the Lions' haul.
This will focus on each player that the Lions took in the draft, grade the pick, give an idea of what their role will be in the upcoming season and predict some of their stats.
Enjoy.
Begin Slideshow

»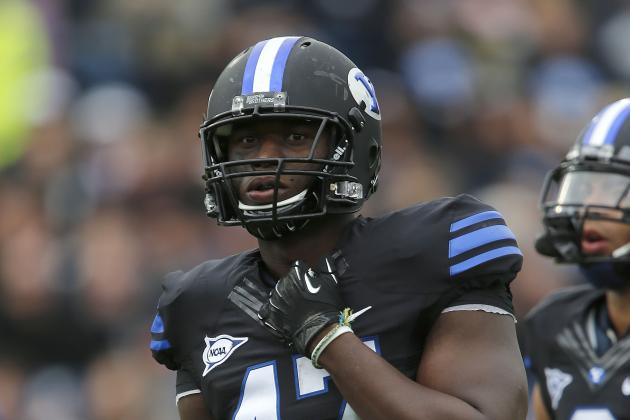 George Frey/Getty Images

This is a pick that looks much better in hindsight.
While at the time I was worried about the boom-or-bust nature of Ezekiel Ansah, his potential is so great that it is a good pick, despite being a top-five 2013 NFL draft selecton. Ansah has the physical skills to play in his first season and the upside to be an All-Pro in a couple of years if things work out.
After thinking about the pick, the Lions were in as good a position as any to take a risk on a defensive lineman. Detroit's coaching staff already has a good track record in developing and bringing out the best in defensive linemen. Just look at Nick Fairley, Ndamukong Suh, Cliff Avril, Lawrence Jackson, Turk McBride, Sammie Lee Hill and Willie Young.
They have, at the very least, lived up to their potential and McBride and Jackson were much better in Detroit than elsewhere. What's more, the Lions added defensive line guru Jim Washburn to the staff for 2013.
Needless to say, they should get the most out of Ansah. However, there is a lot of risk in this pick for a top-five selection.
Grade: B+
While Ansah is the sort of player a team would ideally like to bring along slowly and probably just use as a pass-rushing specialist in his first season, the Lions' shortage of depth at defensive end means that Ansah is almost certain to be the 'ansah' at left defensive end. While this is not ideal, the Lions Wide-9 scheme will make the NFL adjustment easier for him since he only has to beat his man rather than read the run as much.
2013 Statistical Prediction: Five sacks, 39 tackles, one forced fumble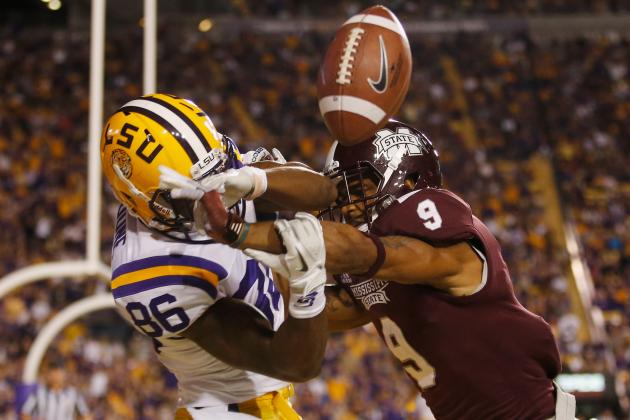 Chris Graythen/Getty Images

This is another pick that looks better in hindsight.
While I was disappointed that the Lions did not add an offensive lineman at the time with their second pick, when they got Larry Warford in the third round, it made the Darius Slay selection much better.
Slay is a phenomenal athlete with limited playing time in an FBS college. However, he was in the SEC, so while not extensively battle-tested, he was in the hottest crucible at the college level.
He has great ball skill, which is a perfect skill set for the scheme that the Lions run. They play a lot of press coverage on the outsides and the majority of snaps in full zone coverage, making Slay's length, quickness, recovery speed and ball skills ideal.
Slay also has the quickness and fluidity to become a very good man-to-man cornerback, and with the trend of big wide receivers becoming a big part of all offenses in the NFL, a tall corner will become essential for shutdown defenses.
The top of the second round was exactly where Slay should have gone, according to most pre-draft grades. However, due to the Lions' big-time need at cornerback, this is a pretty good value pick.
Grade: B+
Slay may be a day one starter, but due to his limited experience like Ezekial Ansah, he shouldn't. He needs to develop better fundamentals and gain experience before he has the skills to be a quality NFL starter. However, since he will be competing with Bill Bentley and Jacob Lacey for the second cornerback position, it would not surprise me if he beats them out in training camp.
2012 Statistical Prediction: 35 tackles, three interceptions, nine passes defended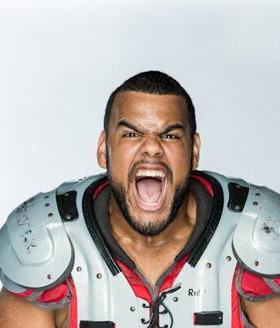 This was by far the best pick of the Lions' draft. Larry Warford would have been good value in the second round, so getting him in the third round was one of the best steals in the draft.
Warford is a mauler who uses his size, length and power to dominate his opponents in the run game. He is also a very solid pass protector who has enough quickness to keep in front of defensive tackles and shut them down most of the time.
Warford is also a perfect fit for the Lions' blocking scheme. Detroit runs a man/power scheme, which relies on big offensive linemen who can overpower defenders one-on-one and drive defensive linemen off the line of scrimmage. Warford is just a prototypical man/power guard, and is pretty much just as good a guard prospect as Chance Warmack and Jonathan Cooper for Detroit.
Grade: A+
Warford will also be a a day one starter for the Lions, and not because of the Lions' lack of talent at the position (although they do not have talent at right guard). He has starter quality already and will be the starting right guard for every snap of the season barring injury.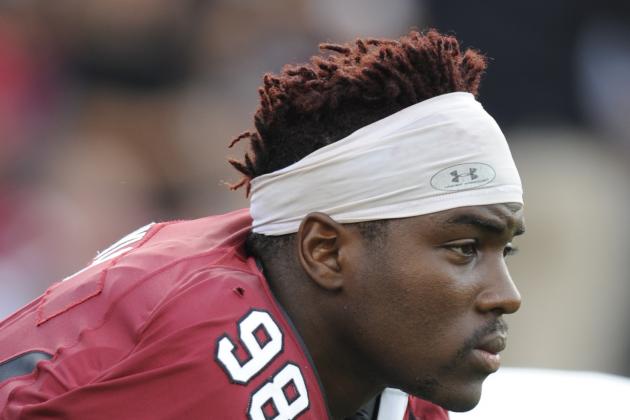 Mary Ann Chastain/Getty Images

This is the first Lions' pick that I am not fully behind, but even then, it is not a bad one.
I would have preferred to see Detroit take Cornelius Washington from Georgia, who, I believe, will be a better defensive end. However, Taylor is still a very intriguing prospect who has the athleticism and frame to be a scary defensive end.
Taylor is a long and linear defensive end with great length, fluidity, speed and burst off the line. However, despite having the body of a first-rounder, his technique leaves a lot to be desired.
He was never a good pass-rusher for the Gamecocks, despite playing opposite Melvin Ingram and Jadeveon Clowney. This was entirely due to his poor leverage and lack of pass-rushing moves. However, he was a pretty effective run-stopper and he used his length and quickness well to get off blocks and make plays behind the line of scrimmage.
Taylor was a good fourth-round pick. He has the upside to become a Pro Bowler if he can develop his potential and even if not, he should be a solid running down defensive end.
Grade: B
Taylor will have a limited role in his first season. He will see the field due to the Lions' lack of depth at defensive end, but it will probably be only to give smaller players like Willie Young breathers. Taylor will also be a member on special teams, as he has all the skills to be an elite field goal-blocker and wedge-buster.
2012 Statistical Prediction: 15 tackles, two sacks, two forced fumbles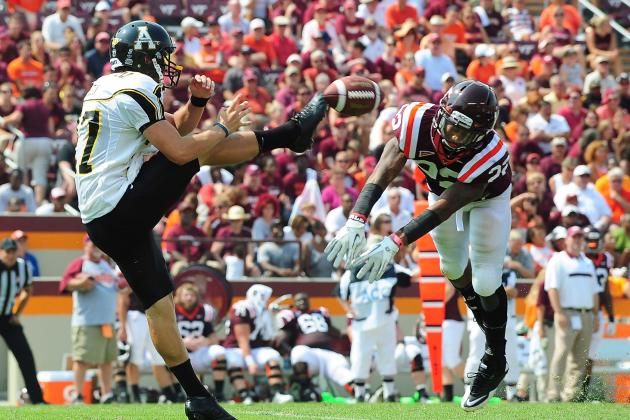 Andrew Weber-USA TODAY Sports

I'll make this brief. To take a kicker or punter anytime before the seventh round, he must be a once-in-a-generation stud like Sebastian Janikowski or Ray Guy. Even then, a kicker or punter should only be taken earlier if there are not any other players with good value to take.
Regardless of how Sam Martin turns out as a pro, unless he can become a Hall of Fame candidate, this was not a good pick, especially with players like Kenjon Barner still on the board.
Grade: F
Martin will be the starting punter next season, as there is no way the Lions would invest a draft pick in him unless they think he can step in immediately. He will probably also take kickoffs since he has shown he has the leg strength.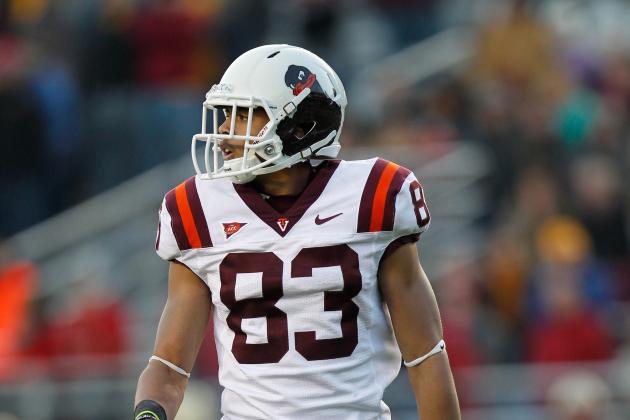 Greg M. Cooper-USA TODAY Sports

While I do not think that Corey Fuller will ever become a great wide receiver, it was worth a shot this late in the draft given his physical tools.
Fuller is a poor route-runner and pass-catcher, but he has size, speed and explosiveness to get open downfield on simple routes. He is an absolute developmental prospect since his game needs a lot of work to translate into the NFL, but if he does, he would be a great player to put opposite Calvin Johnson.
This all makes Fuller a solid value pick. There were not many better wide receivers taken later in the draftand the Lions did need more young talent at the position.
Grade: B-
Fuller will not see the field in his rookie season and may wind up on the practice squad since he does not project to be much of a special-teamer.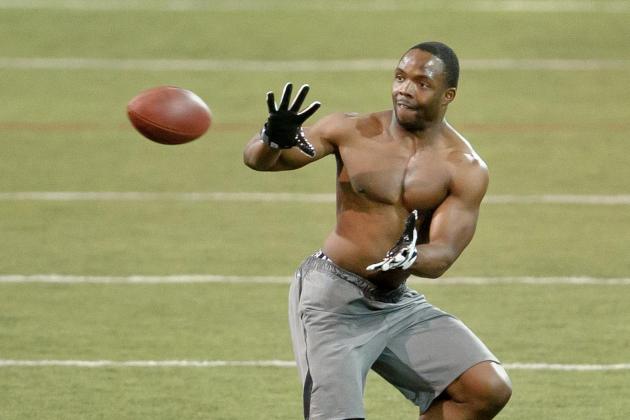 USA TODAY Sports

Theo Riddick is a player I like. Getting him in the sixth round is a good value pick as you know exactly what you will get from him.
Riddick spent time at running back and wide receiver in college and it shows in his game.
He is a very natural receiver who catches the ball well and runs decent routes. He also has the hard-nosed running style of a back who can force arm tackles with his elusiveness and finish runs.
However, he will never be an elite inside runner, and projects more as a third-down specialist who can pass-protect, catch passes out of the backfield and return kicks. While this spot appears to be filled by Reggie Bush at the moment, Riddick could become a very valuable contributor in a few years.
Grade: B+
Riddick will see the field this season, primarily as a kick returner. The Lions are short of decent return men and would rather not expose Bush to the pounding that it elicits. If injuries strike Detroit's running backs, he could also see snaps as a third-down back.
2013 Statistical Prediction: 15 carries, 40 yards, eight catches, 65 yards, 8.2 yards per punt return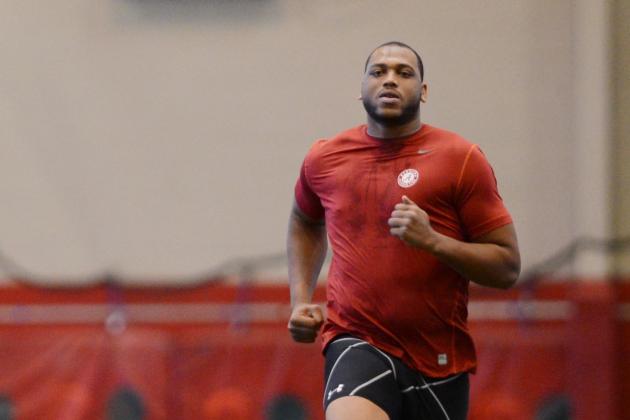 Kelly Lambert-USA TODAY Sports

Michael Williams was a good pick, primarily because he will have one role in the NFL and he will be good at it.
Williams has no speed or quickness, but has pretty safe hands and a huge frame to shield the ball away from defenders. His calling card, however, is his blocking. He plays like an offensive tackle and is an ffective edge-blocker in the run game and pass game.
Williams is not going to develop too much as a player, but that means he will be ready to contribute in his rookie season.
Grade: B
Williams will be as a blocking and red-zone tight end. His ability to help out offensive tackles and make a difference in the run game will help out the Lions' offensive line and his ability to catch touchdowns will give Matthew Stafford a second red-zone target when Megatron is triple-covered.
2013 Statistical Prediction: Six catches, 44 yards, two touchdowns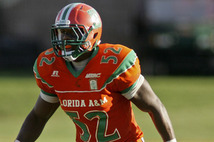 As the Lions' last pick, any production at all from Brandon Hepburn would be a bonus.
Even playing a position with as little quality depth as linebacker, Hepburn will have to fight to win a roster spot. He is a solid linebacker with good speed and power, but he is very limited in coverage. If he makes it in the NFL, it will probably be on special teams, where his speed will come in handy running down return men.
It is really hard to grade such low picks. Most of the time they never pan out, so a team cannot make a bad decision unless it passes on a talented player. While wide receiver Da'Rick Rogers was on the board, the Lions have obviously decided that they want nothing to do with his character problems.
Grade: C+
Hepburn is likely to be a practise squad body or a potential special-teamer at best in his rookie season. If he was cut during training camp, it would not be a shock.