Subject to much controversy, criticism and complaint, the Tim Tebow era in New York is seemingly over after the Jets drafted Geno Smith in the 2013 NFL draft.
The Jets picked up the quarterback—largely expected to go inside the top 10—with their second-round selection (No. 39 overall), and in doing so, created a quarterback conundrum in New York that will surely see the end of the former phenom's time with them.
Having reportedly been on the trade block for months (per ESPN), Tebow is now seemingly even more on the outs, with the Jets bringing in another good alternative to Mark Sanchez in Smith. And as The New York Daily News' Manish Mehta reports, that could well spell the end of Tebowmania.
Tim Tebow is still not on firm footing with the Jets. What's his future with #NYJ? "Probably gone," a team official told me

— Manish Mehta(@MMehtaNYDN) April 27, 2013
Having drafted Smith, the reality is that there is no alternative other than letting go of Tebow, and potentially even an under-performing Sanchez as well.
Tebow last year, Geno this year. I'm guessing Sanchez has gotten the message at this point.

— Don Banks (@DonBanks) April 26, 2013
Tebow attempted just eight passes in 2012 and played such a minuscule role in the Jets' plans. Even when Sanchez was struggling, he couldn't get the starting spot, and he now finds himself at least third in the depth chart with no real chance to work his way up to a starting spot under center.
The Jets clearly believe that Smith can be their starting quarterback one day, for they would not have wasted such a high pick on him otherwise. They knew it would create chaos, and yet they pursued Smith anyway—showing exactly what they think of Smith and exactly what they think of Tebow.
Even with his draft-day slide, the reports on Smith are very promising.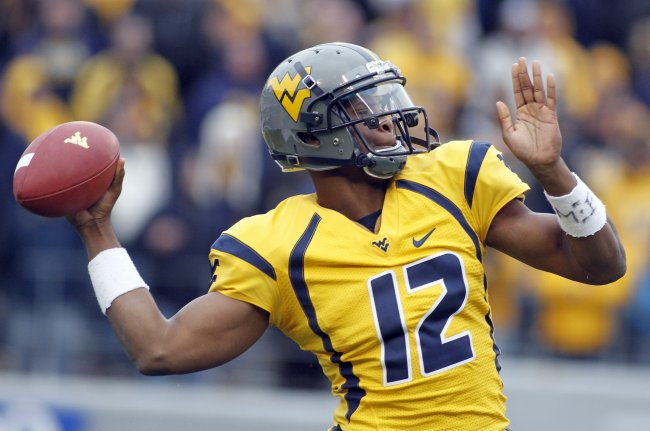 Justin K. Aller/Getty Images
He is a talented quarterback with an excellent throwing motion and athleticism. He has great arm strength and can develop a great connection with his receivers, and is passionate about winning in NY. That's not to say that Tebow isn't; it's just a statement about Smith's determination.
Jets QB Geno Smith: "My goal is to be a franchise quarterback." #nyj

— Manish Mehta(@MMehtaNYDN) April 27, 2013
Whether they end up trading Tebow or simply cutting him from their roster still remains to be seen, but he doesn't have a starting future in New York anymore.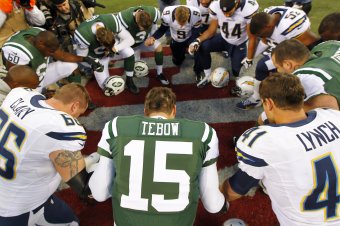 Rich Schultz/Getty Images
If the quarterback was smart, he would recognize this and do everything he could to get out of the Big Apple. For regardless of what Tebow might show in training or claim to have achieved in the past, the reality is that Geno Smith is the guy that the Jets want leading them in the future, and that's the reason why they chose him with their second-round pick this year.
Chris Strauss at USA Today recently wrote about the many reasons why Tebow won't succeed in New York this year. And he's right—especially now that you consider the biggest reason of them all just was announced as the new franchise QB.
The Tebow era in New York has ended, and a new home must be found before the start of the season begins. Otherwise he might as well be JaMarcus Russell.
Hit me up on Twitter for more sports goodness: Follow @dantalintyre