Rick Ankiel and 5 Bizarre MLB Stat Lines You Wouldn't Believe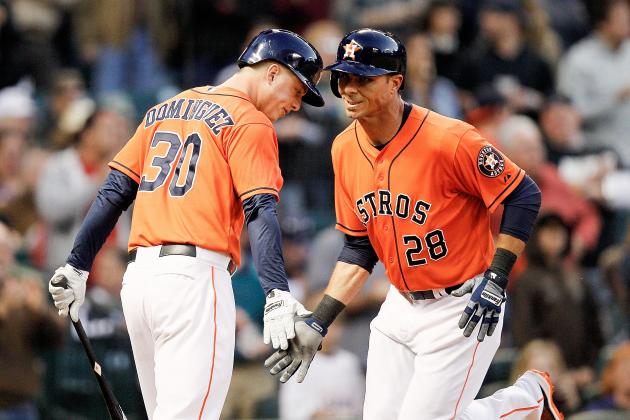 Bob Levey/Getty Images
Most of Rick Ankiel's base hits fly over the fence, but he's rarely making contact so far in 2013.
MLB stat lines distort in bizarre directions while the season is young. Due to small sample sizes, slugger Rick Ankiel and several other prominent players have posted fascinating numbers in 2013 that you wouldn't believe.
Is it possible, for example, that a starting infielder literally never walks? And can a veteran pitcher ride his unsightly walk total to an All-Star selection?
Inevitably, these outliers will normalize, thus making our experience a bit less enjoyable.
Let's have fun while we can and tease five unusual individuals.
*All stats provided by Baseball-Reference.com and are current as of April 26.
Begin Slideshow

»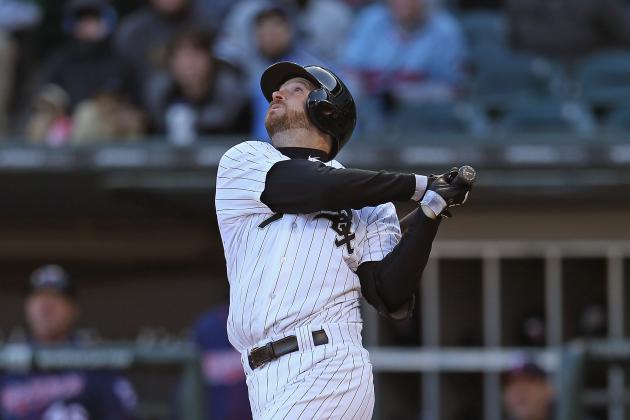 Jonathan Daniel/Getty Images
Jeff Keppinger.
Bizarre 2013 stats: .202/.198/.226, 0 HR, 6 RBI, 0 BB in 86 PA.
That's no typo: Jeff Keppinger's on-base percentage is actually lower than his batting average.
The journeyman infielder has just begun the first year of a $12 million deal, so his early season ineptitude is understandable. Unlike his six previous teams, the Chicago White Sox value him as an everyday contributor, and Keppinger has let the pressure affect him.
Nonetheless, we seldom see major league players deemed worthy of starting duty exhibit no power or patience for an extended period. Keppinger's plate appearances have lasted an average of 3.36 pitches.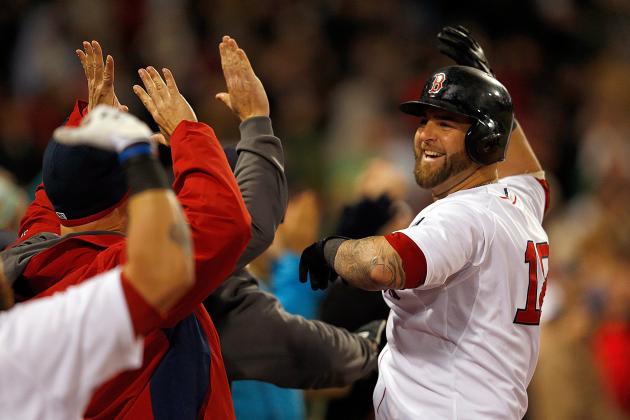 Jim Rogash/Getty Images
Mike Napoli.
Bizarre 2013 stats: .282/.338/.606, 4 HR, 25 RBI vs. RHP; .235/.278/.353, 0 HR, 1 RBI vs. LHP.
In this picture, we see Mike Napoli winding up his right arm to give out enthusiastic high fives. He is, after all, right-handed and productive from the right side of the plate.
So what explains his 2013 dominance against pitchers of the same handedness? And his struggles versus southpaws?
Prior to this season, Napoli's platoon splits were pretty typical. He had fared slightly better in each of the triple-slash categories when opposing left-handed pitching.
But this 31-year-old is leading the majors in runs batted in despite the inexplicable reversal.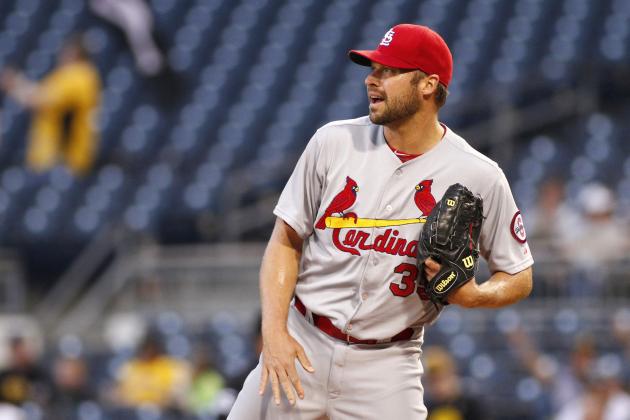 Justin K. Aller/Getty Images
Jake Westbrook.
Bizarre 2013 stats: 1-1, 1.25 ERA, 1.48 WHIP, 14/8 SO/BB IN 21.2 IP.
In terms of walks per nine innings, Jake Westbrook ranks dead last among MLB qualifiers (5.82). Yet his earned run average is second-best in the National League?
It doesn't make any sense!
The right-hander has thrown fewer total strikes than at any other point in his career. A mere 10 percent of those have been of the swing-and-miss variety.
What's the secret to his success? Quality sinkers and overaggressive competition.
The St. Louis Cardinals certainly aren't complaining.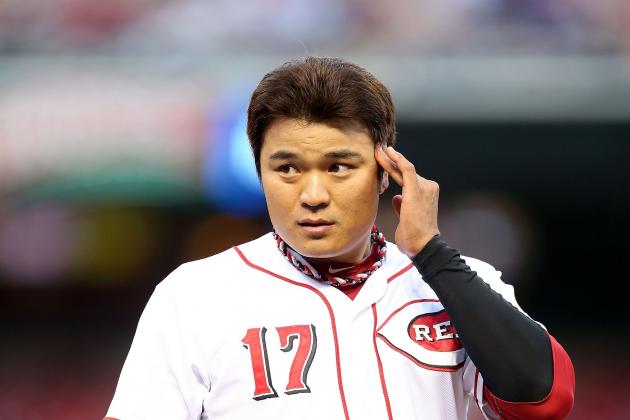 Andy Lyons/Getty Images
Choo can't understand why he's getting plunked every other day.
Bizarre 2013 stats: .378/.523/.585, 3 HR, 9 RBI, 10 HBP in 108 PA.
Shin-Soo Choo leads the senior circuit in hits as well as times drilled in the batter's box. Craig Biggio, Joe DiMaggio and others have come close to finishing a season as the No. 1 player in both stats.
But the rate at which Choo has taken abuse is unprecedented, and Aaron Gleeman of HardballTalk makes a good point. "It would probably be impossible to keep up that pace without winding up on the disabled list," he wrote on April 22.
The only player in recent memory with a comparable batting line and WAR projection was juiced-up Barry Bonds at the turn of the millennium.
However, maintaining these stats would boost Choo's free-agent stock...so long as he can still move by summer's end.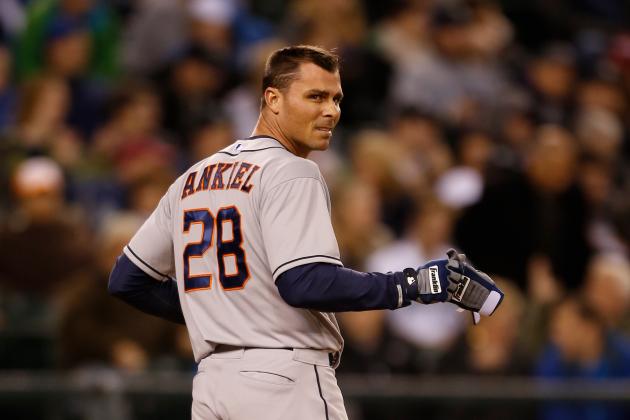 Otto Greule Jr/Getty Images
Ankiel is MLB's quintessential "all-or-nothing" hitter this season.
Bizarre 2013 stats: .205/.222/.591, 5 HR, 11 RBI, 28 SO in 45 PA.
And here's our poster child for wacky stat lines, pitcher-turned-whiffer Rick Ankiel.
Strikeouts weren't a huge issue when he initially converted into an outfielder. Ankiel actually spent the 2007 and 2008 seasons as a legitimate power threat.
He has gradually declined, unfortunately, and reached a point where even the lowly Houston Astros limit him to a platoon role.
Embarrassingly, balls put in play account for just 13 percent of all strikes against him in 2013 (MLB average is 31 percent). On the other hand, the 33-year-old is tied for the team lead in homers and runs batted in.
Ankiel often goes down swinging or delivers an extra-base hit—there's rarely anything in between. He has recorded two singles and one walk through 17 games.
Bizarreness and baseball also co-exist on Ely's Twitter account.