Kansas City Chiefs 2013 Mock Draft: Predictions for Day 2 and Beyond
Al Bello/Getty Images

The 2013 NFL draft is underway, and the Kansas City Chiefs kicked things off with the selection of Central Michigan offensive tackle Eric Fisher.
Now that the first round is in the books, it's time to reassess things, both in regards to the players still available and where the Chiefs will go from here.
That also means it's time for me to take another pass at a mock draft for the Chiefs, and you'll notice a couple of significant differences between this one and my mock draft from earlier on Thursday.
First, it took me all of one pick to be completely wrong, which ties a personal best. Score!
Second, unlike my first mock, I have not included a trade involving left tackle Branden Albert here.
There's still a good chance a deal gets done, but the odds have dropped with Miami trading up to select Oregon defensive end Dion Jordan.
So, with Kansas City's next pick (that we know of) kicking off the third round, let's take a look at how the rest of the 2013 draft could unfold for the Chiefs.
Begin Slideshow

»
I'm going to stick to my guns with this pick, although the Day 1 run on offensive linemen decreases the chances that Barrett Jones will make it to the third round.
If he does though, this should be an easy call for the Chiefs.
The 2011 Outland Trophy winner is the most versatile lineman in this year's draft, having played all over the offensive front for the Crimson Tide.
The 6'4", 306-pounder would provide the Chiefs with an immediate upgrade over Jeff Allen at left guard.
Jones would also offer some badly needed depth behind Rodney Hudson, who missed 13 games in 2012, at center.
The 2013 NFL draft has demonstrated just how valuable the big uglies are to NFL teams, and the combo of Jones and Eric Fisher would be a very nice boost to the Chiefs' line, especially if they retain Branden Albert.
Time to shake things up a little.
There have been conflicting reports as to where the Chiefs plan to line up the newly-acquired Dunta Robinson, but at the team's recent minicamp Robinson slotted at cornerback, with Brandon Flowers joining him outside and Sean Smith in the slot.
Granted, that could just be Andy Reid "tinkering" to see what he has, but if Kansas City keeps Robinson at corner, then free safety is a need, as Kendrick Lewis is serviceable at best.
North Carolina State's Earl Wolff led the Wolfpack with 119 tackles in 2012, and Wolff's 4.4 speed would seem to indicate that he's more than capable of holding his own against the new breed of athletic tight ends in the NFL.
Bleacher Report's Marques Eversoll called Wolff "an elite athlete" who is "assignment-sure against the pass," and in Eric Berry and Wolff the Chiefs could have a solid safety tandem for many years to come.
In my first mock draft I had Kansas City using this pick to roll the dice on LSU cornerback Tyrann Mathieu.
I'm sticking with a very talented player who was kicked off an SEC team for failing drug tests, but this time the gamble is on the offensive side of the ball.
Wide receiver Da'Rick Rogers is a 6'2", sure-handed target who is arguably a first-round talent, but after being dismissed at the University of Tennessee Rogers' stock has fallen into the draft's middle rounds.
The Chiefs added Donnie Avery in free agency and are hoping that this is the year Jonathan Baldwin's production finally meets his potential, but upgrading the wide receiver depth around Dwayne Bowe is still a need.
In Rogers, a player that Rob Rang of CBS Sports calls "a virtual Julio Jones clone," Kansas City could do just that.
If there's one area on the Kansas City Chiefs defense that most needs an infusion of talent, it's at defensive end.
Tyson Jackson has been a colossal bust since being drafted third overall in 2009, and while free-agent acquisition Mike Devito is a decent player, that's all he is.
Granted, Michigan State defensive end William Gholston isn't going to fix those problems single-handedly, especially after a 2012 season in which he managed only 4.5 sacks.
However, what Gholston would provide Kansas City with is at least a solid rotational end who is stout against the run and could occupy blockers, allowing Tamba Hali and/or Justin Houston to get after the passer.
The 6'6", 281-pounder also isn't without upside, with NFL.com stating that Gholston "flashes the agility, and understanding of leverage to be an impactful player."
Running back Jamaal Charles looked like his old self last year in tallying over 1,500 yards on the ground.
However, Charles also racked up over 280 carries one year after tearing his ACL, so the Chiefs should at least look to add some depth in the backfield.
Luckily, the running back position has become somewhat devalued in the NFL draft (no backs were selected in the first round this year), and as the Washington Redskins showed a year ago it's possible to find gems at the position late in the draft.
Nevada's Stephan Jefferson could be just such a gem, an under-the-radar prospect who gained nearly 1,900 yards on the ground for the Wolfpack in 2012.
Jefferson, who NFL.com states has "great patience and vision" and a "good initial burst," isn't the home run threat that Charles is, but he's a reliable runner who could serve Kansas City well in a reserve role.
In Derrick Johnson, Tamba Hali and Justin Houston the Kansas City Chiefs have three very good linebackers, but the team could use a battery mate for Johnson on the inside of their 3-4 defense.
There's no real guarantee that Michael Mauti could be that battery mate, especially after three ACL injuries during his time at Penn State.
However, Mauti is also a hard-nosed player with phenomenal football instincts who was the Butkus-Fitzgerald Award winner in 2012 as the Big Ten's top linebacker.
Were it not for those knee injuries, the 243-pound Mauti would easily be a Day 2 pick, and if the ESPN All American falls this far (a distinct possibility) than the possibility of getting a starter for pennies on the dollar is more than worth the minimal investment of a sixth-round compensatory pick.
It's like buying a Powerball ticket with a dollar you found on the sidewalk.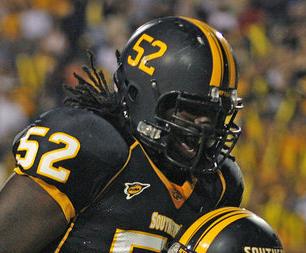 Photo Courtesy of Gulflive,com
Regardless of what happens with Branden Albert, the fact remains that you can never have too many offensive linemen in the NFL, as injuries test the depth of many rosters every season.
Jason Weaver of Southern Miss is a two-time All-Conference USA performer who has extensive experience starting at right tackle, although he likely projects best at guard in the NFL.
Sure, Weaver isn't the type of player that you want starting 16 games for your team, but the 6'4" 314-pounder is versatile enough to at the very least provide the Chiefs with some depth on the offensive front at both tackle and guard.