Redskins 2013 Mock Draft: Final 6-Round Predictions for Washington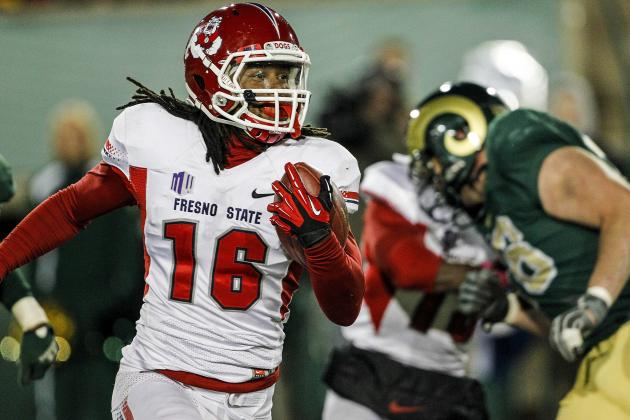 Troy Babbitt-USA TODAY Sports

Fixing a weak secondary should be the main focus for the Washington Redskins in the 2013 NFL draft. Finding a starting-caliber safety and a potential slot cornerback would represent a major success.
However, the Redskins can't ignore the need to supplement last season's fourth-ranked scoring offense. Mike Shanahan and Bruce Allen can use careful selections to add useful weapons in key areas.
These weapons include a versatile running back who can pose a dual-threat on third downs. There should also be room for a tight end as a potential successor to Fred Davis.
The Redskins' brain trust would also be wise to make room for an offensive line prospect and linebacker depth. That's a big menu to take into the draft, but the Redskins have room to work.
They are without a first-round choice, but still boast seven picks. Here's a final mock draft, assessing which players could fill those picks.
Begin Slideshow

»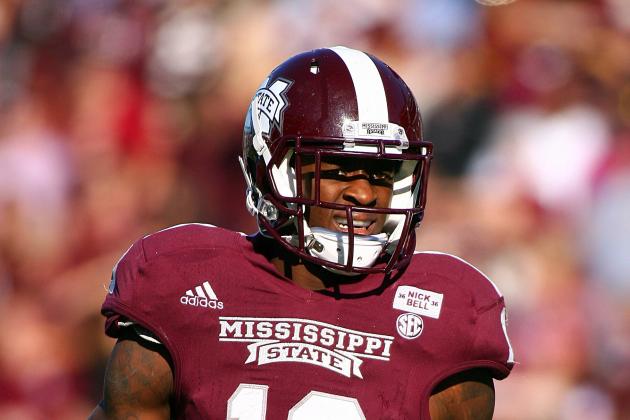 Spruce Derden-USA TODAY Sports
Johnthan Banks could be the perfect fit in round 2.
The Redskins will overlook Johnthan Banks' poor speed at the combine and take him 51st overall. He's an excellent fit for the Redskins' most obvious needs.
Banks has the height to be effective in underneath man coverage. He's also got good blitz skills. Those two attributes make Banks an obvious choice to play in the slot.
The Redskins used DeAngelo Hall in that key role in 2012. While Hall was a willing worker for most of the season, he doesn't boast the physical requirements for the position.
Banks does and he also offers the ability to switch to safety. He played that role early in his collegiate career.
Moving him to a free safety role might be the best way for the Redskins to offset concerns about Banks' speed. Banks has the skill set to be an asset either in coverage or as a blitzer in the Redskins' fire-zone pressure schemes.
He's also been mocked to the Redskins with this pick by Walterfootball.com and Footballfanside.com. Snaring Banks would be something of a coup for the Redskins and a great way to start their draft in style.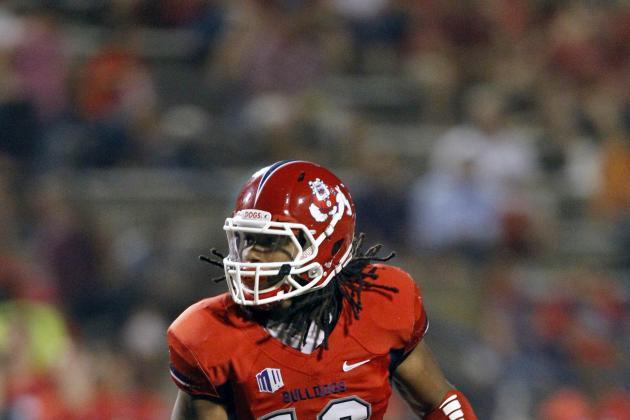 Cary Edmondson-USA TODAY Sports
Phillip Thomas is an opportunistic safety too good to ignore.
After selecting Banks, the Redskins can further boost their defensive backfield with Phillip Thomas. A dynamic safety, Thomas is an opportunistic defender with a real instinct for the ball.
He intercepted eight passes in 2012 and returned three for touchdowns, according to Cfbstats.com. Yet Thomas also showed his worth as a hitter close to the line.
He made 12 tackles for loss. He is a true playmaker both in deep coverage and down in the box. His NFL.com draft profile highlights the hybrid skills Thomas offers:
Nice ball skills to extend away from his frame to make the moderate-to-difficult interception. Sticks his nose in against the run when making that read, fills a hole, flows through traffic to find the ball, or adds himself into piles with reckless abandon. Comes downhill from two-deep look with speed. Adept blitzer off the edge, makes ballcarrier pay in the backfield if not accounted for.
Those traits make Thomas a good fit for a defense that demands production at both ends of the field from its safeties. The Redskins did show some pre-draft interest, according to The Washington Post's Mike Jones.
Thomas has fought back from a horrific leg injury that kept him off the field for all of 2011. He has rebounded strongly and would quickly make a difference to the Redskins' pass defense.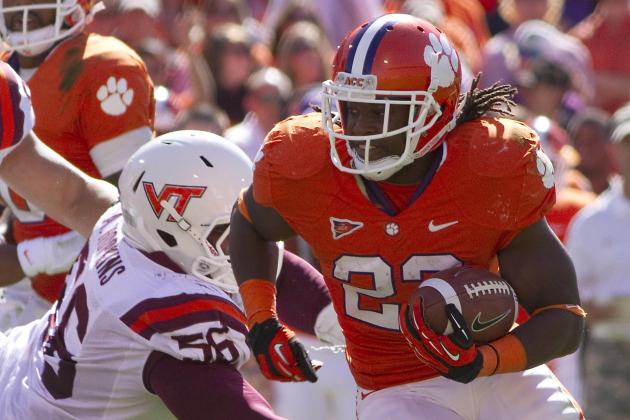 Joshua S. Kelly-USA TODAY Sports
The Redskins need Andre Ellington's quickness in the backfield.
If Andre Ellington is still on the board at 119, the Redskins simply have to take him. They need the quickness and elusiveness he offers from the backfield.
Shanahan's offense also needs Ellington's pass-blocking and receiving skills. Starter Alfred Morris is only an average blocker and aside from Roy Helu Jr., there isn't a natural pass-catcher in the rotation.
Helu Jr. is recovering from foot surgery and has had injury issues. Ellington fits well with what the Redskins like to do in the running game.
His Cbssports.com draft profile notes he's "best suited for a zone-blocking scheme." Ellington would give the Redskins a diminutive, quick-cutting complement to Morris, along with legitimate third-down versatility.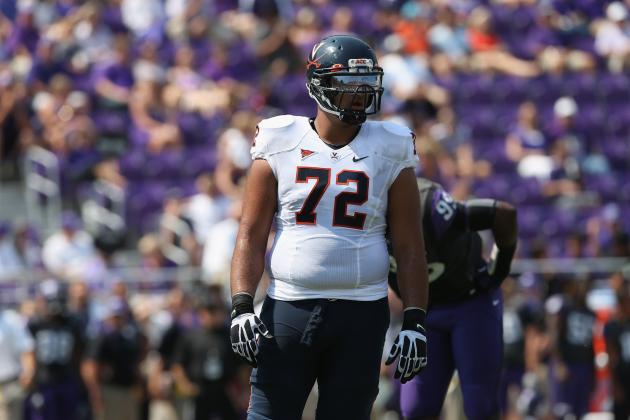 Ronald Martinez/Getty Images
Oday Aboushi would add depth to the offensive line.
Oday Aboushi is a late-round offensive line prospect the Redskins should strongly consider taking. The team did bring him in for a pre-draft visit, according to Walterfootball.com.
He's a good fit for the zone-blocking scheme the Redskins run. Aboushi has above-average movement skills and quickly locks down the edge of a defense.
He'd be a good asset on the stretch plays that are a feature of Washington's offense. Aboushi is powerfully built and is a left tackle with considerable potential.
Working in the Redskins' specific blocking schemes could be the best way to unleash that potential. Normally a left-sided player, Aboushi would provide excellent depth at either tackle position.
Aboushi would fill the need for adequate cover behind Trent Williams and Tyler Polumbus. Good coaching could translate Aboushi's raw skills into polished technique and eventually help him challenge for a starting role.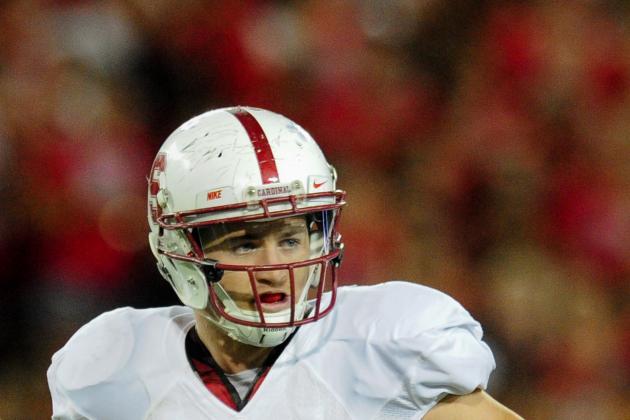 Matt Kartozian-USA TODAY Sports
Chase Thomas could be a late-round steal for the Redskins.
NFL.com's draft analyst Josh Norris has Chase Thomas lasting until the 165th pick. If Norris is right and Thomas is still available at 162, the Redskins would be foolish to pass on him.
The former Stanford ace could be a late-round steal for coordinator Jim Haslett's 3-4 defense. He's a versatile 3-4 linebacker who can create pressure from multiple angles.
Despite less than elite size, Thomas caused plenty of havoc from the edges of the Cardinals defense. In 2012 Thomas got to quarterbacks for 7.5 sacks, according to Cfbstats.com.
He also made 15.5 stops behind the line of scrimmage. However, it's not just rush skills that define Thomas and his game.
He's active against the run and a smart player in underneath coverage. The Redskins need multipurpose linebackers to make their 3-4 scheme work.
Thomas is certainly that and would improve depth at a key area. Starter Brian Orakpo is coming back from a pectoral injury and entering a contract year.
Orakpo's main deputy, Rob Jackson, will miss four games thanks to a suspension for drug violations. Veteran recruit Darryl Tapp seems more like a classic stop-gap signing.
Coming from Stanford, Thomas is a well-coached player, familiar with the kind of multiple defense the Redskins play.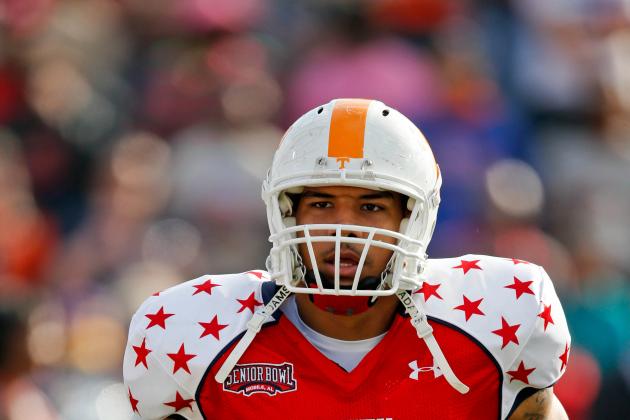 Derick E. Hingle-USA TODAY Sports
Mychal Rivera fits the mold for a Shanahan tight end.
The Redskins can find good value in the sixth round by selecting tight end Mychal Rivera. He fits the mold for a Shanahan-style tight end.
Rivera isn't a bruising, in-line type like Rob Gronkowski or Heath Miller. Instead he's more reminiscent of Shannon Sharpe or Owen Daniels.
Shanahan has often favored a lean player at the position. He likes a tight end to possess wide receiver-like skills. According to Walterfootball.com, the Redskins met Rivera prior to the draft.
He is a long-striding receiver who won't miss catches once he gets open. Rivera can also block well out in space.
He'd be a good fit deputizing for Fred Davis. Even though he re-signed this offseason, Davis still only agreed to a one-year contract.
He's had his problems with the league, serving a suspension for drug use in 2011. There have also been injury concerns.
Davis missed nine games last season with an injured Achilles' tendon. The passing game suffered without him, despite the best efforts of natural blocker Logan Paulsen.
Drafting Rivera would give the Redskins some leverage in next offseason's negotiations. It would also provide insurance against Davis suffering further injury, or again incurring the wrath of the commissioner.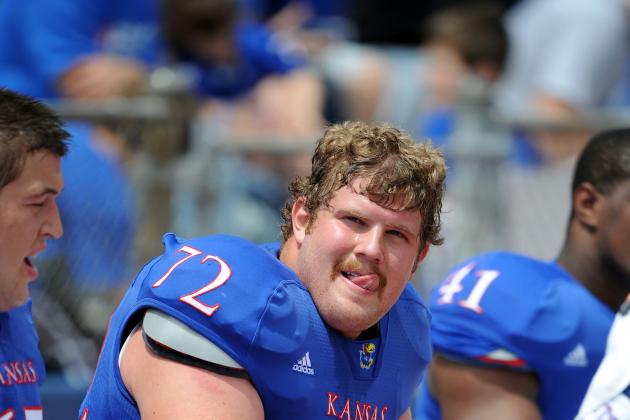 John Rieger-USA TODAY Sports
Tanner Hawkinson fits Shanahan's zone-blocking system.
Taking a chance on a scheme-suitable prospect like Tanner Hawkinson would be a good way for the Redskins to close out this draft.
Shanahan should be enticed by Hawkinson's mobility. He converted from tight end, so he's nimble enough to move and block out in space.
Hawkinson also displays good hands technique. He's a savvy blocker and while he won't physically dominate opponents, Hawkinson won't make stupid mistakes.
He'll also give maximum effort on every play and improve the Redskins' options at both tackle and guard.
Win McNamee/Getty Images
The Redskins shouldn't fall into the "best available" trap.
With their draft picks somewhat limited after the trade for Robert Griffin III in 2012, many might feel the Redskins should simply target the "best player available" in each round.
However, that would be a mistake. The 2012 NFC East champions do have key needs to address. That's precisely why they must be discerning and target only those who specifically fit their schemes.
That's the best way for Shanahan and Allen to ensure they come away with value at every position of need.