2013 NFL Mock Draft: The Final Redskins Edition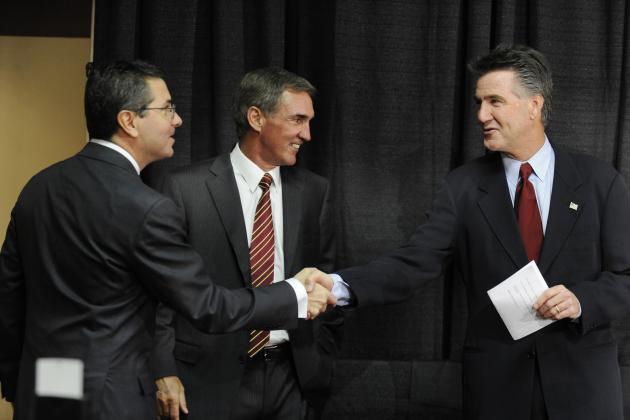 Mitchell Layton/Getty Images
The Redskins' Big Three Must Patch the Holes in this Draft
Despite not having a first-round draft pick, the Redskins have seven picks in the upcoming 2013 NFL draft. Their biggest needs are at safety, cornerback, inside linebacker and offensive tackle.
Bruce Allen and Coach Shanahan must draft wisely to improve a defense that ranked 27th in the NFL last year in yardage allowed (377.7 yards per game). The defense will get a boost with the return of pass-rusher Brian Orakpo but the secondary needs a make-over. Last season, it was too old and too slow. The NFL is pass-heavy and the Redskins need to better their secondary to compete.
The offense is eagerly awaiting the return of the dynamic RG3, but with Alfred Morris running the ball, Kirk Cousins should be able to man the ship until his return. Adding depth to the offensive line is also a must if the Redskins want to continue to be productive in their run game.
Expect the Redskins to address their secondary concerns early and add valuable depth late.
Begin Slideshow

»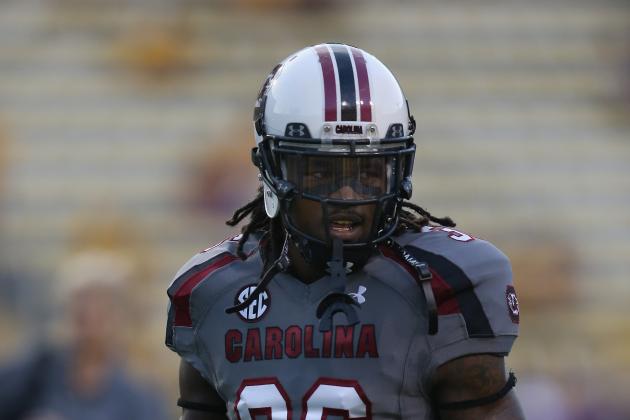 Ronald Martinez/Getty Images

The Redskins' biggest need is at safety. Strong safety Brandon Meriweather is recovering from a torn ACL and free safety Madieu Williams has not been re-signed. Reed Doughty is better served as a backup than a starter.
Enter D.J. Swearinger, a menacing safety that lays a wallop on opposing players. He has good speed, is a sure tackler and is ready to start as a rookie. His meanness and toughness is what the Redskins secondary lacked all season. Swearinger could be the long-term answer at safety that the Redskins desperately need.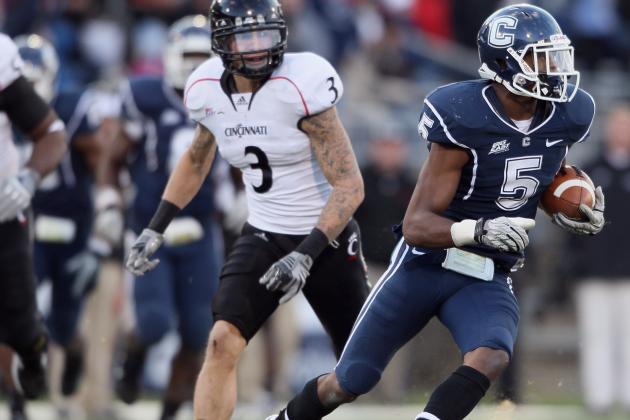 Elsa/Getty Images

After safety, the Redskins' biggest need is at cornerback. DeAngelo Hall is back and free-agent signee E.J. Biggers should compete with Josh Wilson for the spot opposite him, but the Redskins need help. The secondary struggled all last season and the Redskins need to add a corner for the future.
Blidi Wreh-Wilson possesses good size, speed and athleticism and was a four-year starter. He plays well in coverage and has decent ball skills. Hall is signed to only a one-year contract and Wilson enters the season in the final year of his contract, so it's important that the Redskins add a cornerback to the roster in this draft.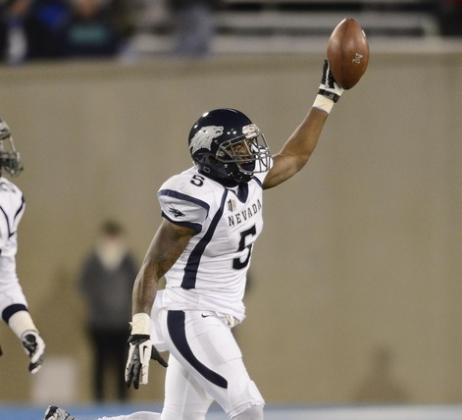 Courtesy Getty images
The Redskins would be judicious in drafting two safeties. Brandon Meriweather is coming off a torn ACL and Reed Doughty is 30 years old. The Redskins secondary needs to undergo the youth movement.
Duke Williams is a physical safety with great speed that can also play cornerback. He is a very fluid athlete and can play close to the line of scrimmage. Williams' aggressive play is suited for a 3-4 defense and pairing him alongside Swearinger would give the Redskins secondary a scary tandem for years to come.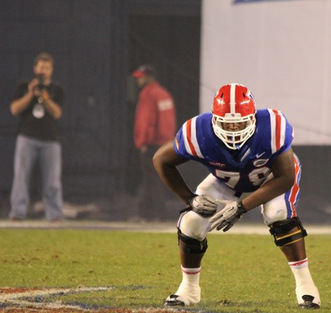 Even with the addition of Jeremy Trueblood and Tony Pashos, the Redskins need to add depth and youth to the offensive line, especially the right side. At 6-5, 316 pounds, Jordan Mills has the NFL body of a right tackle. He's a two-year starter and possesses good strength and decent quickness. He can contribute this season and compete for a starting position by year two or three. Mills has potential and is a good value pick in the fifth round.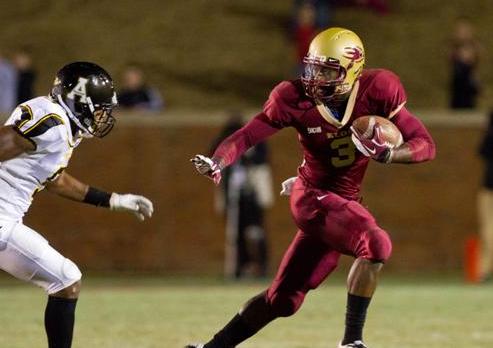 Aaron Mellette possesses good size (6-3, 217) and good speed (4.45). He played at a small school in the FCS but churned out great production. He recorded 97 receptions for 1,398 yards and 18 touchdowns in 2012.
Mellette averaged 86 receptions over the past three seasons. Neither Aldrick Robinson nor Dezmon Briscoe was impressive last year so the fourth receiver spot should be open. Mellette would add speed and height to the offense and could vie for a starting spot in a year or so.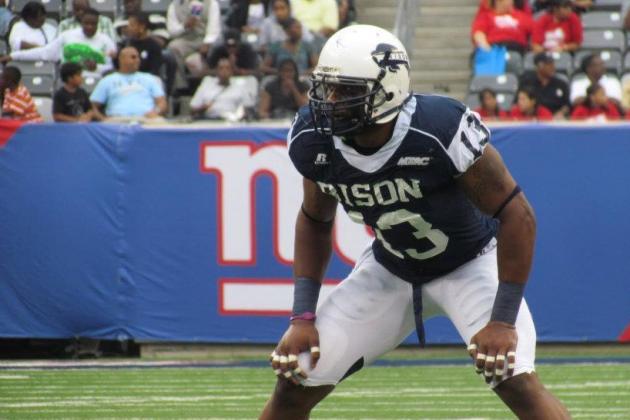 Meet London Fletcher 2.0. Pough is a small-school prospect that is a tackling machine. The 6-3, 235-pound Pough recorded 349 tackles during his career and he set a new NCAA, FCS career record for tackles for losses with 71. He has a great motor and is very physical. Ideally, he sits behind Fletcher this season as a rookie before grabbing the reins next season. Redskins receive extra points for Pough being a local school prospect.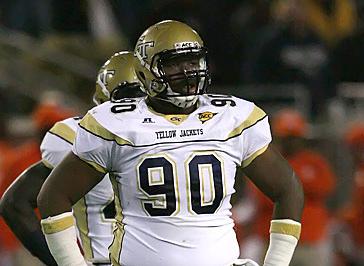 Courtesy espn.com
Mount Barnes stands at 6'6" and pushes 370 pounds. T.J. Barnes has the size and strength to be an NFL nose tackle in a 3-4 defense. A year or two of development and he could anchor the middle of the Redskins defensive line. Good value in the seventh round.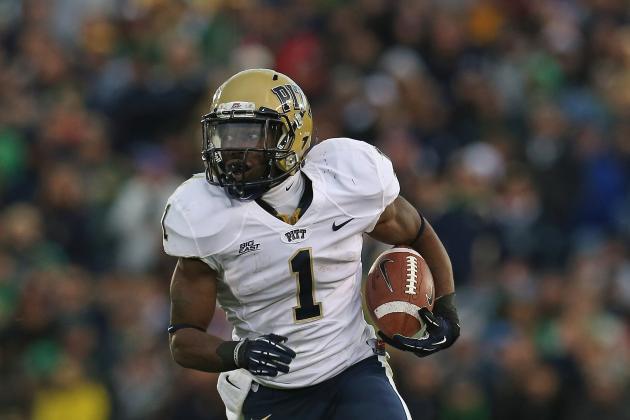 Jonathan Daniel/Getty Images



Onterio McCalebb, RB, Auburn: His 4.28 speed could make him a special teams spark.
Ray Graham, RB, Pitt: Shanahan loves a project running back. Worth a camp try out.
Rodney Smith, WR, Florida State: Great size (6'5") and decent speed (4.43) but needs development.
Ray-Ray Armstrong, SS, Miami: Trouble player with lots of potential. Missed 2012 season for dealings with a booster. Looking for redemption and Redskins' dearth of talent at safety might provide for it.
Michael Mauti, OLB, Penn State: Recovering from torn ACL, his third one in college. Tough leader that returned from a torn ACL to be an All-America in 2012. A long shot but if healthy, can contribute on special teams.
Joseph Fauria, TE, UCLA: At 6'7", 255 pounds, he is a red-zone threat. Fred Davis is returning but his health is still a concern.
Sam Brenner, G, Utah: Nasty, hard nosed mauler only allowed two sacks over the past two seasons. Can compete for a roster spot.