7 Cornerbacks the Minnesota Vikings Can Add in Each Round of the NFL Draft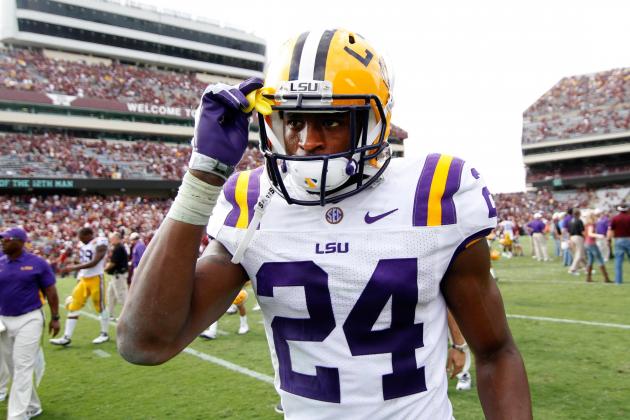 Brett Davis-USA TODAY Sports

The Minnesota Vikings have several position needs entering the upcoming NFL draft, which takes place April 25-27. With the recent signing of Antoine Winfield by the Seattle Seahawks, general manager Rick Spielman should target cornerback in multiple rounds of the draft.
The team's current depth chart includes Chris Cook, Josh Robinson, A.J. Jefferson, Brandon Burton and Marcus Sherels. The oft-injured Cook has shown flashes of success but needs to stay healthy in order to be considered a viable option.
Robinson continues to develop in the Vikings defense after his rookie campaign, and Jefferson impressed the team enough to sign him to a one-year contract as a restricted free agent.
Burton and Sherels both provided depth for the Vikings in 2012 but are best suited exclusively for dime defenses or on special teams. Sherels recorded his first career touchdown in Week 4 against the Detroit Lions on a 77-yard punt return.
The Vikings have 11 total selections in this year's event, including at least one in each of the seven rounds of the draft. With that much ammunition, Minnesota could choose to target cornerback early in the draft, but will have opportunities to also add great value at the position in later rounds.
In this third edition addressing positions of need, I have highlighted seven cornerbacks the Vikings can target in each round of the draft. Honorable mentions are included as an alternative if the player has already been selected.
If you missed the earlier two editions, make sure to check out a similar preview at both wide receiver and linebacker.
All combine statistics courtesy of NFL.com.
Begin Slideshow

»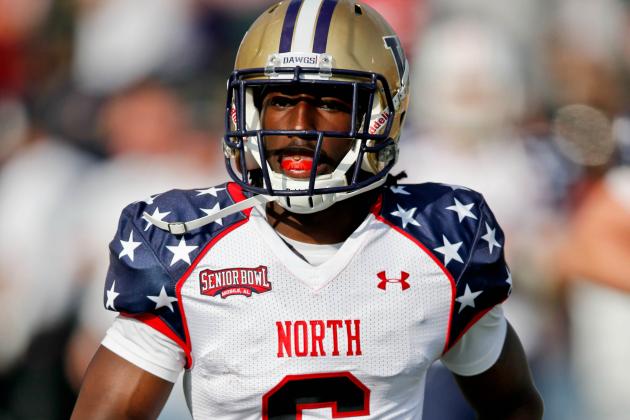 Derick E. Hingle-USA TODAY Sports

Desmond Trufant projects as an instant starter in the Vikings defense, combining physical play with excellent footwork against receivers. He has the ability to play on the outside and in the slot, with a quick backpedal and great reaction time to close on ball-carriers.
The 6'0", 190-pound Trufant posted a 4.38 in the 40-yard dash and 37.5 vertical jump at the NFL Scouting Combine.
The younger brother of current NFL players Marcus and Isaiah, Trufant was a four-year starter and earned first-team All-Pac-12 honors last year. Although he will need to add strength at the next level, his athleticism and competitive play fit well in the Vikings system.
Honorable Mention
Xavier Rhodes, Florida State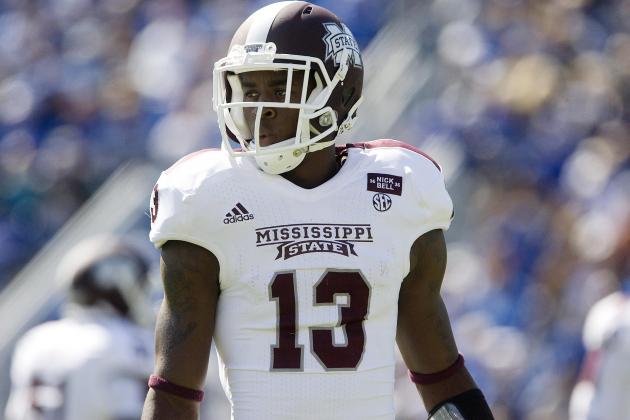 Mark Zerof-USA TODAY Sports

A converted safety, Johnthan Banks has impressed scouts over the last year, moving from a mid- to late-round prospect to a potential Day 2 selection. His 2012 campaign included four interceptions and 11 passes defended, earning Banks the Jim Thorpe Award for the top defensive back in college football.
The senior out of Mississippi State has great ball skills and tackling technique. He displayed a knack for contact in a blitz-heavy defense for the Bulldogs, shedding blockers and attacking ball-carriers.
Banks will need to bulk up his lean frame (6'2", 185 lbs) and improve his footwork but offers solid upside in the second round for an experienced corner.
Honorable Mention
Jordan Poyer, Oregon State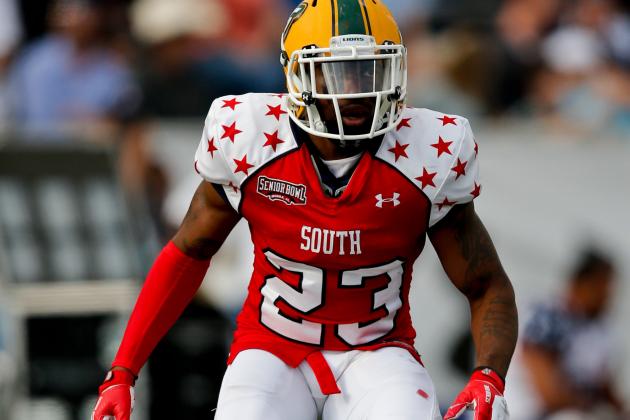 Derick E. Hingle-USA TODAY Sports

Robert Alford came to Southeastern Louisiana as a star wide receiver and track athlete in high school. He made the switch to cornerback and started nine games in his second year of college. He progressed over his final two years following a shoulder injury, earning first-team All-Conference honors in 2012.
Alford demonstrated his track speed at the combine with a 4.39 in the 40-yard dash. He supported that with a 40-inch vertical and 11-foot broad jump.
Similar to Desmond Trufant, the SLU senior follows the footsteps of an older brother into the NFL. Fred Booker played 12 games for the New Orleans Saints in 2005.
Alford is a physical specimen the Vikings would covet on the third day of the draft. His closing speed in zone coverage and ability to compete against jump balls will attract the attention of many teams. If the Vikings are fortunate, his name will still be on the board when the team selects No. 83 overall.
Honorable Mention
Blidi Wreh-Wilson, Connecticut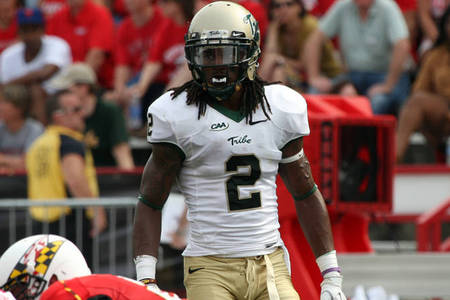 www.tribeathletics.com
Small-school prospect B.W. Webb plays at a level that deserves national attention. The 5'10", 184-pound senior excels is zone coverage and making tackles in the open field.
Webb posted similar numbers to Robert Alford at the combine in the vertical and broad jump—40.5 inches and 11 feet, respectively. He has excellent hands to attack the ball at its highest point and defend over-the-shoulder passes to taller receivers.
With limited experience against top competition, Webb may have an adjustment period at the next level. However, he played well at the Senior Bowl and posted the type of combine numbers that the Vikings may take a chance on this athletic four-year starter.
Honorable Mention
Logan Ryan, Rutgers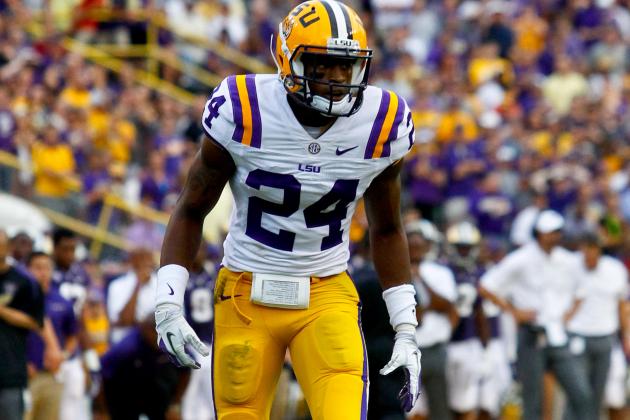 Derick E. Hingle-USA TODAY Sports

Tharold Simon has the length and athletic build that should translate well to the next level. At 6'2", 202 pounds, the LSU junior recorded 45 tackles and four interceptions in 2012.
Simon uses his physical nature to press receivers and fight through blocks to make a play on the ball. His long arms make life difficult for quarterbacks, and he has solid tackling skills to limit big plays.
The former Tiger will need to improve his technique if the Vikings select him, especially in the backpedal and changing directions. Overall, Simon has the physical gifts that make for a solid late-round selection with the intent to develop for the future.
Honorable Mention
Josh Johnson, Purdue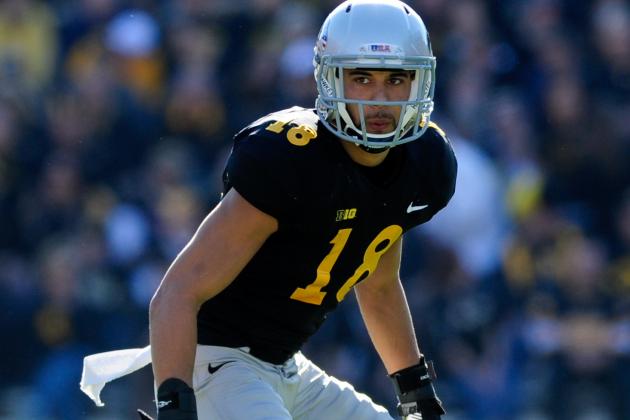 Byron Hetzler-USA TODAY Sports

Iowa Hawkeye fans have watched first-hand the success of Micah Hyde over the past four seasons. Although playing briefly at safety in 2011, he projects as a reliable zone cornerback that fits well in the Vikings defense.
Hyde started as a true freshman in 2009 and kept that momentum going into his sophomore season in 2010. He recorded 82 tackles, seven passes defended and four interceptions. As a senior, Hyde added 78 tackles, 14 passes defended and one interception, en route to first-team All-Big Ten honors.
The former Hawkeye ran a 4.56 in the 40-yard dash at the combine and defends against the run with instinctual closing ability. While his technique and hip release need improvement, Hyde could make a difference for Minnesota both in dime defenses and special teams in 2013.
Honorable Mention
Demetrius McCray, Appalachian State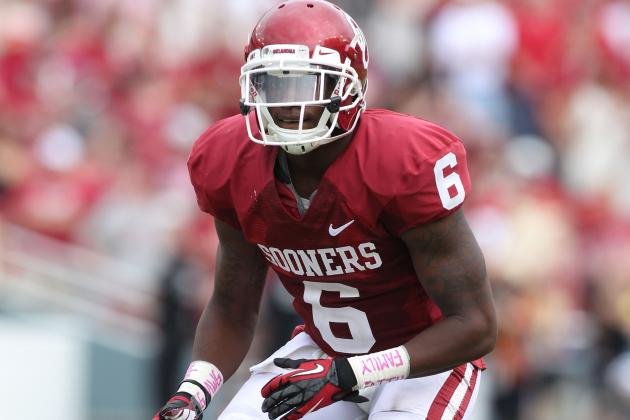 Tim Heitman-USA TODAY Sports

The seventh round of the NFL draft certainly doesn't receive the attention of earlier rounds, but there is value to be had and the Vikings currently have three selections.
Demontre Hurst received second-team All-Big 12 honors his past two seasons, posting a combined 114 tackles and 20 passes defended.
Hurst has a strong work ethic and constant motor, which the Vikings would welcome to the team. He needs to improve his strength and open-field tackling but would contend for special teams play and add depth as a slot corner.
Honorable Mention
Aaron Hester, UCLA
Follow me on Twitter and Google+