7 Linebackers the Minnesota Vikings Can Add in Each Round of the NFL Draft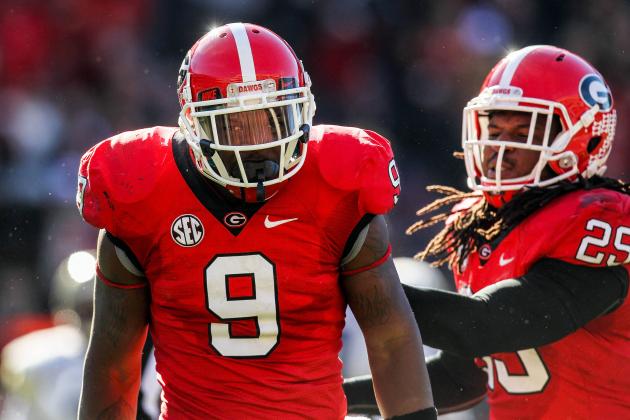 Daniel Shirey-USA TODAY Sports

The Minnesota Vikings entered free agency with a purpose—manage the in-house players and only make a splash in the external market if justified. After trading embattled receiver Percy Harvin, the team did just that by signing Greg Jennings to a five-year, $45 million contract.
With inside linebacker Jasper Brinkley signing a two-year deal with the Arizona Cardinals, rumors are spiraling whether the Vikings will make an exuberant play for Brian Urlacher.
Rick Spielman has already signed Erin Henderson to a two-year, $4 million contract. However, questions still surround the linebacker position in determining who can best complement linebacker Chad Greenway. The seven-year veteran finished tied for second in the NFL in tackles last year with 148.
Assuming Urlacher is a long shot to suit up in purple and gold this year, the team will look to the NFL draft to address both inside and outside linebacker.
In this second edition of players of need, I've addressed linebackers the team can add in each round of the upcoming draft. If you missed the first edition, make sure to check out the breakdown at wide receiver in all seven rounds of the draft.
All combine statistics courtesy of NFL.com.
Begin Slideshow

»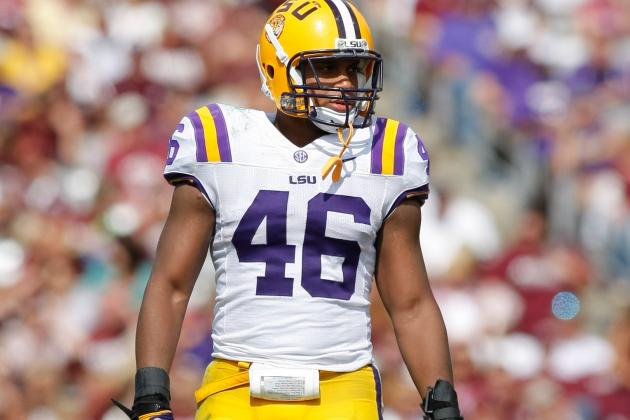 Brett Davis-USA TODAY Sports

Junior, 6'0", 246 lbs

Kevin Minter projects as an instant starter to replace Jasper Brinkley in the middle of the Vikings defense. Possessing excellent run-stopping ability, the junior out of LSU has a constant motor and attacks the ball-carrier with good angles and vision.
As a starter in all 13 games last season, Minter recorded 130 tackles (15 for loss) and four sacks on his way to earning first-team All-SEC honors.
Minter has above-average coverage skills against the pass and would be an upgrade over Brinkley but lacks top-end speed against faster receivers. Although running a conservative 4.81 40-yard dash at the combine, Minter has an advantage against faster straight-line runners with his ability to weave through traffic and make plays in crowded spaces.
Whether Rick Spielman decides to go defense with the 23rd or 25th selection in this year's draft, Kevin Minter is the perfect complement in the middle to Chad Greenway.
Honorable Mention
OLB Alec Ogletree, Georgia
Peter G. Aiken-USA TODAY Sports

Senior, 6'0", 241 lbs

The draft class at outside linebacker is relatively deep, and the Vikings have an opportunity to select top value in the second round of the draft.
With Jarvis Jones and hybrids Dion Jordan and Barkevious Mingo already off the board, Arthur Brown may easily fall to Minnesota at No. 52 and would be a steal at this selection.
Brown started all 13 games in 2012 and collected 100 tackles (seven for loss) with one sack. He did not participate at the NFL combine due to a shoulder injury but ran a 4.67 at the Kansas State pro day.
The former Wildcat would bring a physical presence to the Vikings defense with sure tackling and an ability to stop running backs in their tracks. He plays well against receivers over the middle and can change directions with excellent instincts on either side of the ball.
Honorable Mention
OLB Khaseem Greene, Rutgers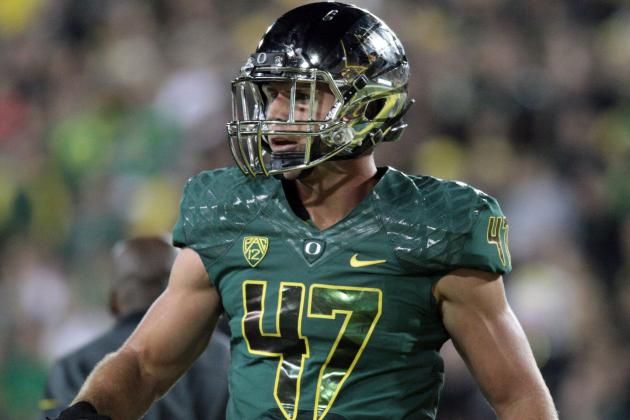 Scott Olmos-USA TODAY Sports

Senior, 6'3", 238 lbs

Kiko Alonso provides the type of playmaking ability that would add great depth at linebacker with the potential to contend for a starting position.
In 2012, the linebacker out of Oregon recorded 81 tackles (14 for loss) and one sack. Alonso added four interceptions, demonstrating good hands as a defender and enough quickness to contend with running backs and receivers in the passing game.
Although missing the combine due to a wrist injury, Alonso bounced back with a strong pro day and ran a 4.74 in the 40-yard dash and showed good burst with a 4.18 in the 20-yard shuttle.
Alonso comes with a fair share of off-the-field problems, including two alcohol-related incidents. He was arrested in 2010 for DUI and in 2011 for passing out in a someone's apartment.
If the Vikings can put the non-football issues aside, the team can score a huge talent in the middle of the draft with excellent upside for the future.
Honorable Mention
OLB DeVonte Holloman, South Carolina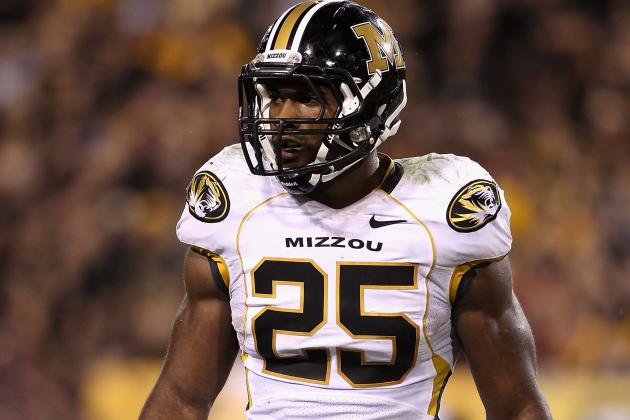 Christian Petersen/Getty Images

Senior, 6'1", 234 lbs

Zaviar Gooden continues to climb up my draft board. After selecting him in the fifth round of a Minnesota Vikings mock draft following the Percy Harvin trade, the team may need to pull the trigger in round four of the three-day event.
Gooden ran the fastest 40-yard dash time among linebackers at the combine with a 4.47. He was first at his position in the 20-yard shuttle at 4.18, second in the broad jump with 131 inches and fourth in the bench press with 27 reps.
In addition to those numbers, Gooden has the on-field ability to provide top value in the later rounds of the draft. He is a strong tackler who maintains good leverage against blockers. Gooden's speed helps him defend against crossing receivers, and his fluid movement prevents missteps.
If the Vikings want to add a solid athlete who can also contribute on special teams, Rick Spielman would be best served circling this senior out of Missouri when the Vikings are on the clock.
Honorable Mention
ILB Kevin Reddick, North Carolina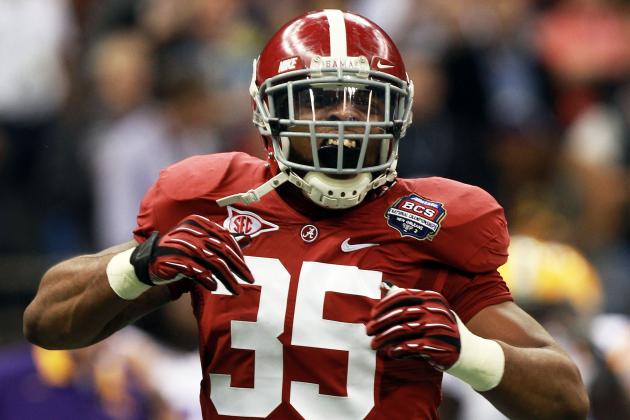 Ronald Martinez/Getty Images

Senior, 6'2", 248 lbs

Nico Johnson plays smart at the inside position and maintains his assignments. He fills gaps against the run and attacks blockers with aggression and good leverage.
The Alabama senior didn't work out at the combine but ran a 4.74 at the Crimson Tide's pro day. During his final season, Johnson played in all 13 games (five starts) and recorded 54 tackles and two forced fumbles.
Johnson would fit in Minnesota's defense best as a run-stopper with enough speed to blitz the quarterback and chase down ball-carriers in the open field.
Honorable Mention
OLB Gerald Hodges, Penn State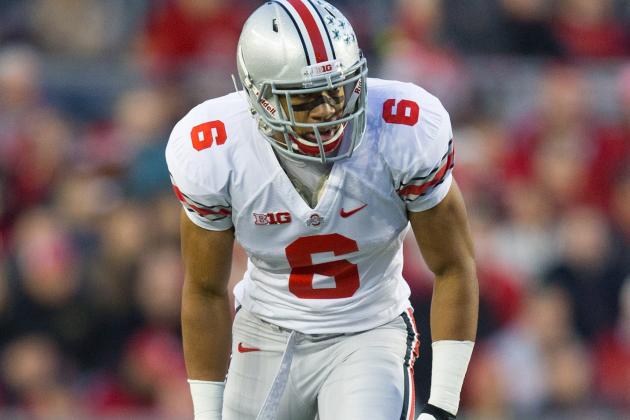 Jeff Hanisch-USA TODAY Sports

Senior, 6'2", 247 lbs

Etienne Sabino has an interesting connection to Vikings general manager Rick Spielman, whose father Charles "Sonny" Spielman was an assistant coach to Sabino during his high school days in Miami.
The former Buckeye had a standout year as a junior in 2011, recording 62 tackles (6.5 for loss) and two sacks. Although breaking his fibula in 2012, Sabino still managed 45 tackles (3.5 for loss) and two sacks in eight games played.
Sabino ran a 4.75 40-yard dash at the combine and has demonstrated versatility when healthy at Ohio State. He will need to improve in leverage against blockers and lowering his pads when tackling.
Honorable Mention
OLB Brandon Magee, Arizona State
Brett Davis-USA TODAY Sports

Senior, 6'4", 242 lbs

Jonathan Stewart immediately stands out with his height in the middle, presenting a significant challenge for quarterbacks threading passes in tight spaces.
The senior linebacker ran a 4.68 40-yard dash at the combine, demonstrating good quickness for such a towering force on defense. Stewart posted 179 tackles (eight for loss) and 5.5 sacks in his final two seasons at Texas A&M.
Stewart will need to work on his vision at the next level and play less on his heels, but he has the athletic makeup and experience to add depth to the Vikings defense and play special teams.
Honorable Mention
OLB Nick Moody, Florida State
Follow me on Twitter and Google+