There's a difference between drafting best available and drafting smart, which you'll see as you scroll through my most recent 2013 NFL mock draft.
When the 2013 NFL draft rolls around on Apr. 25, these are the smartest picks teams can make in the first round.
*Players who I feel are extremely wise picks for certain teams are denoted in italics.
1. Kansas City Chiefs: Luke Joeckel, OT, Texas A&M
I think there's a slight chance the Kansas City Chiefs go after Dion Jordan with the No. 1 pick, but I have them sticking with Luke Joeckel to bolster the offensive line and help Alex Smith begin his career in Kansas City.
2. Jacksonville Jaguars: Dion Jordan, DE, Oregon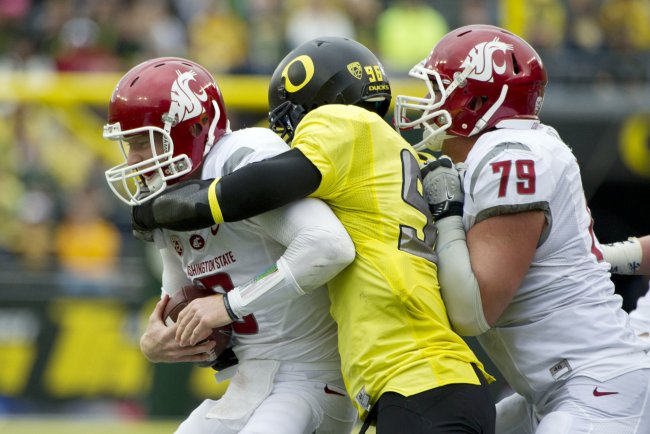 Jim Z. Rider-USA TODAY Sports
To say the Jacksonville Jaguars need help on defense would be an immense understatement, but if they play their cards right, they could end up with arguably the best defender in the draft in Dion Jordan.
Jacksonville recorded the least amount of sacks in the NFL in 2012 (20) and would benefit from selecting Jordan, who's a DE/OLB hybrid with a nose for the football.
The 6'6" defender may be better served as a linebacker, but that's ultimately up to the Jags how they want to employ his services.
For a defense that ranked 30th in the NFL last season, Jordan is easily the smartest pick at No. 2 for the Jaguars.
3. Oakland Raiders: Sharrif Floyd, DT, Florida
Sharrif Floyd is a guy who can swallow up rushers as soon as they reach the offensive line, which is exactly what the doctor ordered for the Oakland Raiders with the third pick in the draft, as the interior of their defensive line has been weak for sometime now.
4. Philadelphia Eagles: Geno Smith, QB, West Virginia
There are a few teams within the top 10 picks that could draft Geno Smith, but I'm going with the Philadelphia Eagles. Smith is the type of quarterback Chip Kelly's spread offense needs and I don't think Philly believes in Michael Vick long-term.
5. Detroit Lions: Ezekiel Ansah, DE, BYU
Pairing Ezekiel Ansah with Ndamukong Suh could work wonders for a Detroit Lions defense that surrendered more than 27 points per game last season. Ansah proved his worth at the 2013 Senior Bowl and NFL combine and should be a strong defender in the NFL.
6. Cleveland Browns: Dee Milliner, CB, Alabama
Pairing a top cornerback pick like Dee Milliner with an NFL talent like Joe Haden could result in one of the best cover corner tandems in the NFL. Although the Cleveland Browns still have a long way to go toward a playoff spot, Milliner is the smartest pick at No. 6.
7. Arizona Cardinals: Lane Johnson, OT, Oklahoma
The Arizona Cardinals could be in the Geno Smith running, as they still haven't addressed the quarterback position through free agency and definitely shouldn't be complacent with their current QB depth. If they don't address QB though, offensive tackle Lane Johnson is the pick.
8. Buffalo Bills: Eric Fisher, OT, Central Michigan
Yet again, another team that may take a shot at Geno Smith even though Kevin Kolb is now a member of the Buffalo Bills. If Buffalo is satisfied with Kolb under center, it'll need an offensive tackle like Eric Fisher to keep him safe and buy him as much time as possible to make his reads.
9. New York Jets: Jarvis Jones, OLB, Georgia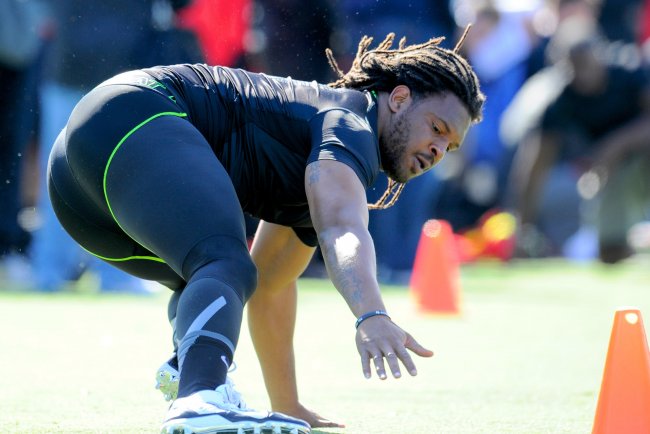 Dale Zanine-USA TODAY Sports
I don't think the New York Jets can afford to pass up on a talent like Jarvis Jones with the ninth pick if he's still on the board.
Rex Ryan is a defensive-minded coach at heart and I'm sure he wasn't pleased with his defense that allowed better than 23 points per game in 2012. The drafting of Jarvis Jones would bring a level of grittiness to the Jets' linebacking corps, especially in the absence of Bart Scott.
New York sported the 26th-worst rush defense last season—allowing 17 ground touchdowns—partly due to weak linebacker play.
Jones has the size, speed and tackling skills to be an immediate difference-maker for the Jets in 2013.
10. Tennessee Titans: Chance Warmack, OG, Alabama
With the addition of Shonn Greene, the Tennessee Titans will be looking to run the ball more often, which means they should be looking for a guard in the first round. The Titans owned the NFL's 31st-ranked run-blocking offensive line per Football Outsiders and saw an unhappy Chris Johnson call out the offensive line.
11. San Diego Chargers: Jonathan Cooper, OG, North Carolina
The San Diego Chargers should be looking to address the offensive line in the draft, as Football Outsiders shows that San Diego owned the NFL's worst O-line in terms of pass-protection, ultimately highlighting the need for a big-bodied guard like Jonathan Cooper.
12. Miami Dolphins: Xavier Rhodes, CB, FSU
If the Miami Dolphins can shore up their secondary, the playoffs could be on the horizon after the addition of Mike Wallace to the offense during the offseason.
Xavier Rhodes is the type of corner who can use his size and speed to stick with wide receivers and make plays for the Fins defense.
13. Tampa Bay Buccaneers: Sheldon Richardson, DT, Missouri
Tampa Bay undoubtedly needs help in the secondary, but the bolstering of the Buccaneers' defensive line should also be considered in the first round.
Sheldon Richardson would be a run-stopper up the middle and could help Tampa's defensive ends get into the backfield and make big plays.
14. Carolina Panthers: Star Lotulelei, DT, Utah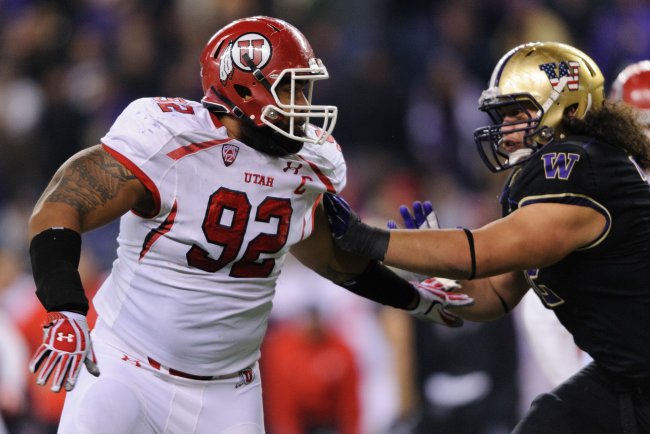 Steven Bisig-USA TODAY Sports
The explosiveness of Star Lotulelei along the defensive line may have him as a top-10 pick, but if he's still around at No. 14, it's a must for the Carolina Panthers to draft him and address their issues on the inside of that defensive line.
15. New Orleans Saints:

Barkevious

Mingo

, DE, LSU
For a defense that was the NFL's worst against the rush a season ago, the New Orleans Saints better be focusing on defense when the 15th pick of the draft rolls around.
Mingo is a versatile defender who can play along the defensive line or drop back into coverage as a linebacker and his explosive first step is what makes him dangerous to opposing offenses.
16. St. Louis Rams: Tavon Austin, WR, West Virginia
Tavon Austin will be the ultimate slot receiver in the NFL, and after the departure of Danny Amendola, this pick makes a ton of sense for the St. Louis Rams.
Austin can get the job in all facets of the game—receiving, rushing and kick returning—and should draw a ton of interest from GMs in the first round.
17. Pittsburgh Steelers: Cordarrelle Patterson, WR, Tennessee
The absence of Mike Wallace this season—and potentially Emmanuel Sanders—highlights the Pittsburgh Steelers' need for a wide receiver talent like Cordarrelle Patterson out of Tennessee.
Patterson has 6'3" height and decent speed to be a down-the-field threat for Ben Roethlisberger and the Steelers offense in 2013.
18. Dallas Cowboys: Kenny Vaccaro, SS, Texas
After a poor defensive showing in 2012 that led to the firing of defensive coordinator Rob Ryan, the Dallas Cowboys should be looking at safety Kenny Vaccaro in the draft to complement corners Brandon Carr and Morris Claiborne in the secondary.
19. New York Giants: Bjoern Werner, DE, FSU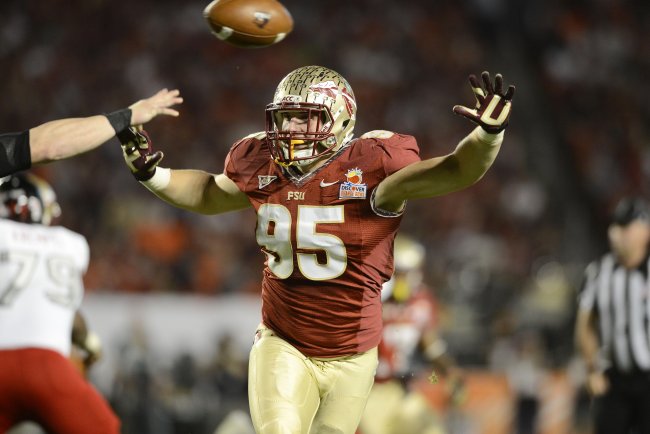 Ron Chenoy-USA TODAY Sports
The New York Giants have a slew of needs that must be addressed this offseason, but I don't see Jerry Reese passing on defensive end Bjoern Werner if he's still there at 19.
Werner racked up the sacks at Florida State and would be a solid feature along the defensive line with Justin Tuck and Jason Pierre-Paul.
20. Chicago Bears: Arthur Brown, ILB, Kansas State
With an empty spot at middle linebacker because of the Brian Urlacher situation, I think the Chicago Bears go out and get former K-State inside linebacker Arthur Brown.
Brown covers the field well and has the wrap-up tackling skills the heart of the Bears defense could use.
21. Cincinnati Bengals: D.J. Fluker, OT, Alabama
As the third-most sacked quarterback in the NFL last season, Andy Dalton is surely hoping for D.J. Fluker as a teammate with the Cincinnati Bengals in 2013. Fluker was successful at protecting A.J. McCarron at Alabama and has all the skills to be an NFL-ready tackle.
22. St. Louis Rams (via Washington): Matt Elam, FS, Florida
With no Quintin Mikell or Craig Dahl, the St. Louis Rams are in dire need of a playmaking safety like Matt Elam.
Elam covers the pass well in the secondary and pitches in against the run, making him a wise pick for the Rams with the 22nd pick.
23. Minnesota Vikings: Keenan Allen, WR, California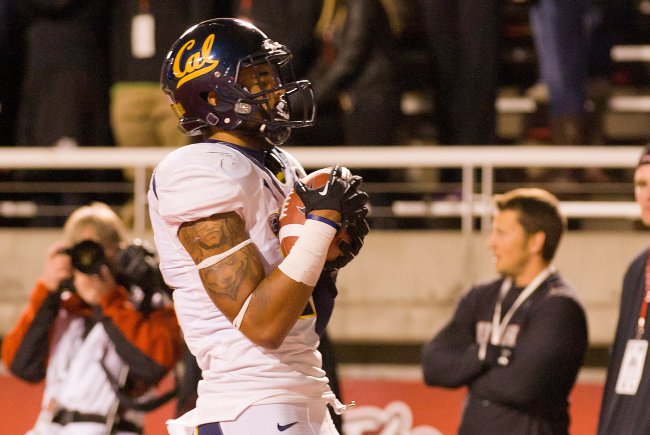 Russ Isabella-USA TODAY Sports
The Minnesota Vikings lost Percy Harvin, but gained Greg Jennings. Nevertheless, Minnesota still needs a wide receiver to complement Jennings on offense.
Christian Ponder is still trying to find himself in the NFL and would largely benefit from another dynamic wide receiver—someone like Keenan Allen out of California.
Allen has the height and physicality to win jump-ball battles and excels at running quick slants as well as vertical routes. Minnesota's offense clearly resolves around Adrian Peterson and the running game, but if the Vikings are going to make the playoffs and make a run at a Super Bowl, they have to be thinking wide receiver with one of their first two picks.
24. Indianapolis Colts: Damontre Moore, DE, Texas A&M
Nicknamed the "Damonster," former Texas A&M defensive end Damontre Moore can immediately step in and help an Indianapolis Colts defense that ranked 26th in the NFL last season.
Moore was a gritty defender with the Aggies, recording 81 tackles and 12.5 sacks while cementing his first-round worth.
25. Minnesota Vikings (via Seattle): Alec Ogletree, ILB, Georgia
After losing Jasper Brinkley to the Arizona Cardinals, the Minnesota Vikings have a strong need for a middle linebacker. Alec Ogletree is one of the best linebacking prospects in the draft and would be a steal for the Vikings at 25—maybe they take him at 23 to assure themselves of the pick.
26. Green Bay Packers: Eric Reid, FS, LSU
No one in Green Bay should be expecting a rookie to live up to the expectations set by Charles Woodson, but the fact remains that the Packers need a safety before the season starts.
Eric Reid has big-play ability and isn't afraid to make big hits over the middle, as he would add more toughness to the Packs' D.
27. Houston Texans: DeAndre Hopkins, WR, Clemson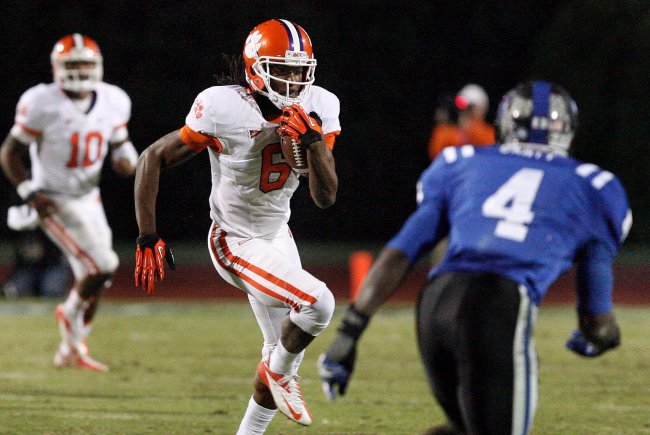 Mark Dolejs-USA TODAY Sports
The Houston Texans need a playmaker at wideout next to Andre Johnson and former Clemson wide receiver DeAndre Hopkins is the perfect candidate.
Hopkins had a memorable 2012 campaign with the Tigers and is already drawing comparisons to Roddy White, making him a great pick for Houston late in the first round.
28. Denver Broncos: Desmond Trufant, CB, Washington
After watching the Denver Broncos get beat downfield in the playoffs by Joe Flacco and the Baltimore Ravens, I'd like to think John Elway will be focused on the secondary in the upcoming draft. Desmond Trufant is a quick corner who could learn under Champ Bailey and eventually take the starting gig from him.
29. New England Patriots: Johnthan Banks, CB, Mississippi State
The New England Patriots have a knack for finding young players in the draft and developing them into Pro Bowl-type talents and the same can be done with corner Johnthan Banks. New England's owning of the 29th-ranked pass defense a season ago ultimately highlights the pick of Banks at No. 29.
30. Atlanta Falcons: Alex Okafor, DE, Texas
The Atlanta Falcons already added depth at the defensive end spot with the signing of Osi Umenyiora, but as teams have shown in the past, you can never be too athletic or deep at defensive end.
Alex Okafor was a beast at Texas and could help the Falcons take a step further in the playoffs come the 2013 postseason.
31. San Francisco 49ers: Jonathan Cyprien, FS, Florida International
The signing of Craig Dahl shouldn't deter the San Francisco 49ers from picking a safety in the NFL draft, as Dahl isn't an immediate fix and FIU's Jonathan Cyprien is a talented safety that shouldn't be passed up by a physical 49ers' defense.
32. Baltimore Ravens: Manti Te'o, ILB, Notre Dame
With a spot at middle linebacker to fill, I think the Baltimore Ravens go out and get Manti Te'o despite adding Rolando McClain in the offseason. Te'o's body of work during his 2012 season at Notre Dame will be enough to prove his first-round worth.
Follow me on Twitter: Follow @Pete_Schauer