Power Ranking Every NFL GM's Draft Prowess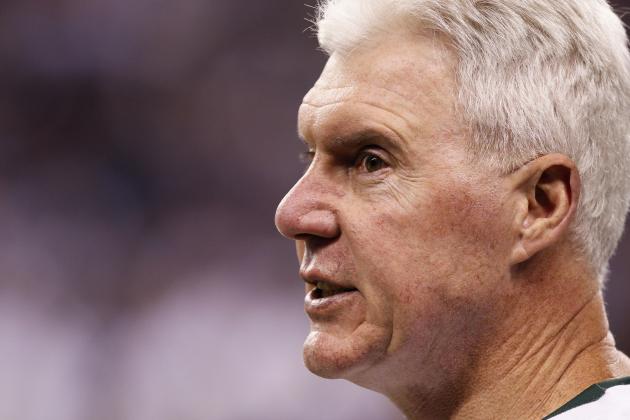 Joe Robbins/Getty Images
Ted Thompson has made his living in the draft.
Coaches and quarterbacks tend to get all of the credit and blame for the successes and failures of their teams. But what of general managers?
After all, they are charged with stocking the team with players for those coaches. There are, of course, different approaches, but the NFL draft is key.
How has each team's general manager performed in the draft through the years?
Begin Slideshow

»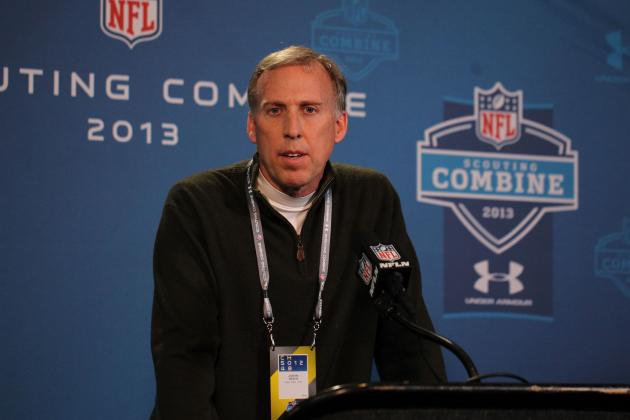 Brian Spurlock-USA TODAY Sports

The NFL got a lot of new blood in the general manager ranks this year. Though they all have plenty of experience—including some as scouts with input in draft decisions—a surprising number will be drafting as a general manager for the first time.
As such, they cannot be graded.
John Idzik
The Jets finally got rid of Mike Tannenbaum after a disastrous tenure at general manager. They replaced him with John Idzik, who will be conducting his first draft as a general manager this year.
Steve Keim
It was a long 14 years in the Arizona front office before Steve Keim got a crack at the general manager gig.
Dave Gettleman
Gettleman comes over from the Giants to run his first draft with the Panthers.
Howie Roseman
Roseman has actually been the general manager of the Eagles since 2010, but Andy Reid had the final say in the draft.
Tom Telesco
As a member of the Colts organization, Telesco played a big role in the draft. But this will be his first year calling the shots.
John Dorsey
The Packers keep churning out executives like a NFL farm team.
David Caldwell
After years in the scouting business, Caldwell gets his first crack at his own draft this year. Here's to hoping he won't take a kicker in the third round.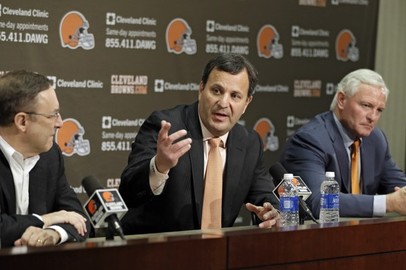 Photo courtesy of Brownsgab.com
Best Draft Picks
Derrick Alexander
Worst Draft Picks
Tommy Vardell, Steve Everett, Antonio Langham, Craig Powell
It has been a while since Lombardi was piloting a franchise during the NFL draft. The last time he was at the controls, he crashed and burned.
Lombardi has been an executive for several winning teams. He was a key cog in the machine that was a successful Browns franchise. But his drafts never panned out.
As fate would have it, he was with the Cleveland Browns at that time, shortly before Art Modell ripped the franchise from the city that loved them.
This time around, Lombardi will be working with Joe Banner and Rob Chudzinski. Lombardi has the benefit of nearly two decades of work in the Oakland front office and as a talent evaluator for various websites.
Lombardi actually has a tough act to follow. As bad as the Browns have been since their resurrection—more zombie walker than brilliant rebirth thus far—they are headed in the right direction largely thanks to good drafts by Tom Heckert, Brandon Weeden notwithstanding.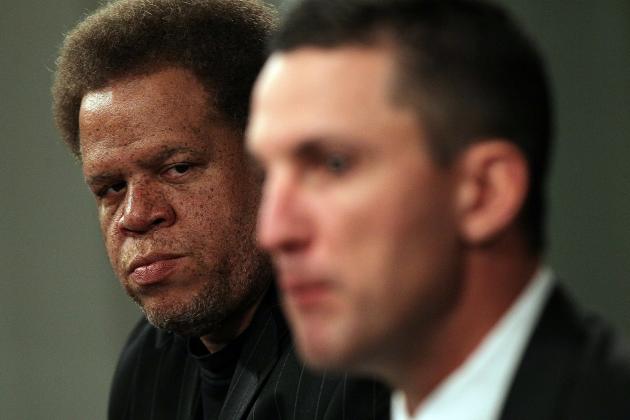 Justin Sullivan/Getty Images

Best Draft Picks
Juron Criner
Worst Draft Picks
Jack Crawford
The only reason McKenzie is ranked this low is because he was asked to play Harry Houdini when he was hired by the Raiders.
Hue Jackson's desperate attempt to save his job cost the Raiders precious draft picks, which, coupled with a terrible cap situation, has handicapped McKenzie.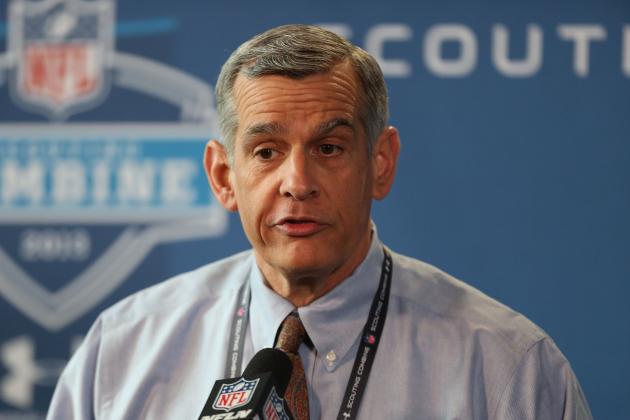 Brian Spurlock-USA TODAY Sports

Best Draft Picks
Alshon Jeffery
Worst Draft Picks
Shea McClellin
Bears rookies didn't do much last season. Outside of Alshon Jeffery when healthy, they didn't have much opportunity.
Shea McClellin is only listed as a "worst" pick because the Bears took him over much-needed offensive line help, and he couldn't get past Israel Idonije for playing time.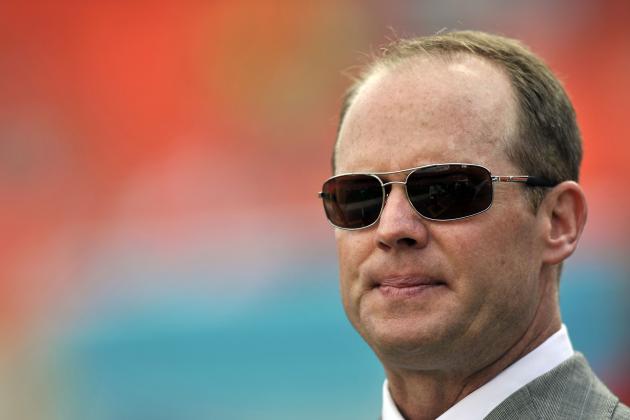 Steve Mitchell-USA TODAY Sports

Best Draft Picks
Mike Pouncey, Ryan Tannehill, Jimmy Wilson
Worst Draft Picks
Michael Egnew, Jonathan Martin, Daniel Thomas, Clyde Gates
Jeff Ireland has been with the Dolphins since 2008, but he didn't take over full control of operations until 2011. While he was certainly a big part of Miami's drafts from 2008 to 2010, it wouldn't be fair to grade him on those.
He has had mixed results since 2011, however.
To his credit, Ireland has made two good first-round picks. While a center at No. 15 overall might be a bit exorbitant, Mike Pouncey has become one of the best in the league.
Ireland "went against his principles" to draft Ryan Tannehill, a franchise quarterback, with the eighth pick in last year's draft. It's still too early to call, but Tannehill had a decent rookie year.
Then there is the infamous "prostitute question" imbroglio, where Ireland purportedly asked Dez Bryant if his mother worked in the world's oldest profession. That occurred before he took over in 2011, though, so it technically doesn't count.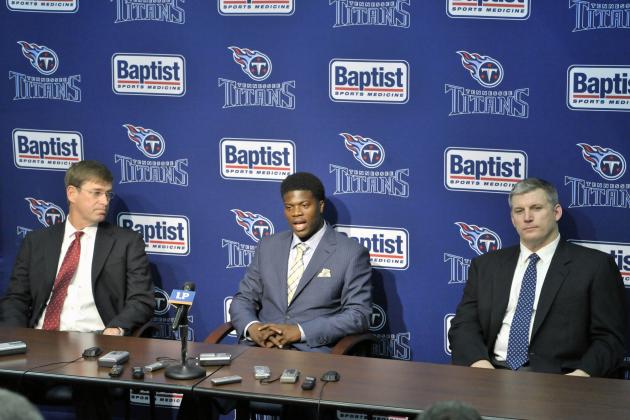 Jim Brown-USA TODAY Sports

Best Draft Picks
Zach Brown, Mike Martin
Worst Draft Picks
Kendall Wright
It is difficult to assess a general manager's drafting prowess after just one draft, but it looks like Webster had a good one based on first-year production.
Kendall Wright was a bit underwhelming—he is only the "worst" draft pick because I had to pick someone—but Zach Brown and Mike Martin were both rather good when given the opportunity.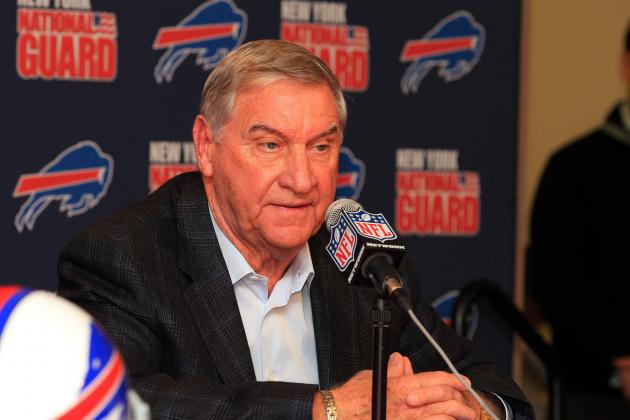 Kevin Hoffman-USA TODAY Sports

Best Draft Picks
C.J. Spiller, Marcell Dareus, Cordy Glenn
Worst Draft Picks
Aaron Williams
Buddy Nix has been with the Bills since 2010, and his drafts have been benign overall.
Despite glaring needs elsewhere, Nix took a shot on C.J. Spiller as the best player available in 2010. It looked like a terrible move at the outset, but Spiller has become Buffalo's best weapon.
Nix might have been better served by better coaching in recent years.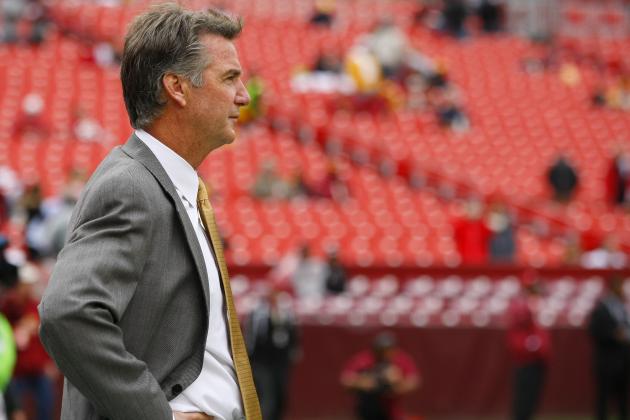 Geoff Burke-USA TODAY Sports

Best Draft Picks
Robert Griffin III, Alfred Morris, Trent Williams, Ryan Kerrigan
Worst Draft Picks
Michael Clayton, Cadillac Williams, Gaines Adams, Dexter Jackson
What does it say about Bruce Allen that all of his best draft picks have come as an employee of the Redskins?
Mostly, it says that Mike Shanahan has a big say in those decisions. Allen's tenure in Tampa Bay has been much maligned by Buccaneers fans.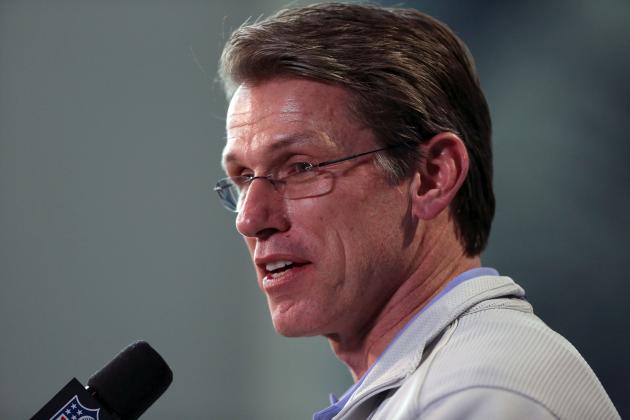 Brian Spurlock-USA TODAY Sports

Best Draft Picks
Adrian Peterson, Chad Greenway, Percy Harvin
Worst Draft Picks
Eddie Moore, Vernon Carey, Tyrell Johnson, Chris Cook, Christian Ponder
For better or for worse, Rick Spielman has hitched his horse to Christian Ponder. That might have worked out last season, unexpectedly, but he can thank MVP Adrian Peterson for that.
Spielman has had mixed results in the draft as general manager, but it's hard to argue with All Day.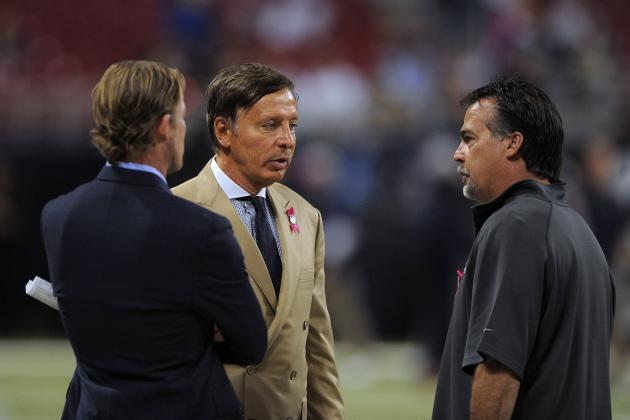 Jeff Curry-USA TODAY Sports

Best Draft Picks
Janoris Jenkins, Trumaine Johnson, Greg Zuerlein
Worst Draft Picks
Brian Quick, Isaiah Pead
It has been just one year for Les Snead—with help from Jeff Fisher—but the Rams had a nice 2012 draft. They made a couple of moves to add picks, and Snead's bold chance on Janoris Jenkins has worked out thus far.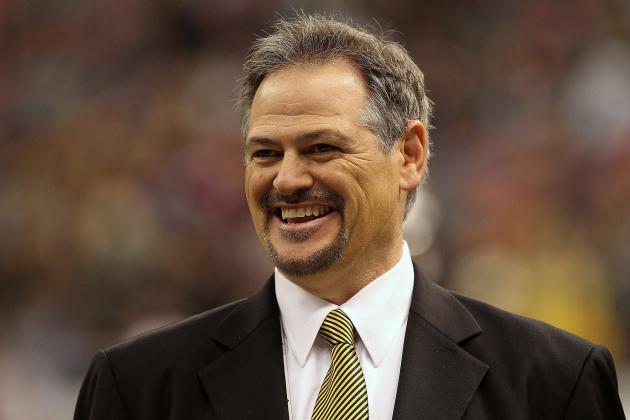 Matthew Sharpe/Getty Images

Best Draft Picks
Will Smith, Marques Colston, Roman Harper, Carl Nicks
Worst Draft Picks
Donte' Stallworth, Jonathan Sullivan, Reggie Bush, Robert Meachem, Mark Ingram
If only Mickey Loomis had twice as many mid-to-late-round picks.
Loomis has found some gems outside the first couple of rounds. Namely, Marques Colston and Carl Nicks were incredible steals in the seventh and fourth rounds respectively.
When tasked with finding first-round talent, however, Loomis has not been so good.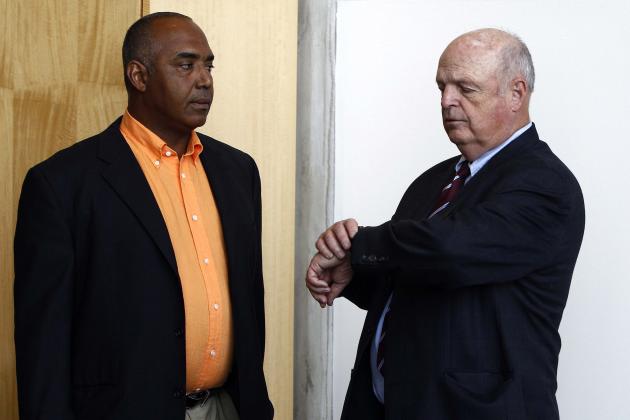 Frank Victores-USA TODAY Sports

Best Draft Picks
A.J. Green, Carlos Dunlap, Kevin Zeitler, Andre Smith, Andrew Whitworth
Worst Draft Picks
Keith Rivers, David Pollack, Chris Henry, Chris Perry
Cincinnati has gone from the Bungles to the Bengals since Marvin Lewis arrived, and good drafting has been a big reason why.
Lewis and Mike Brown have collaborated for some nice draft picks over the years, including building one of the league's best offensive lines.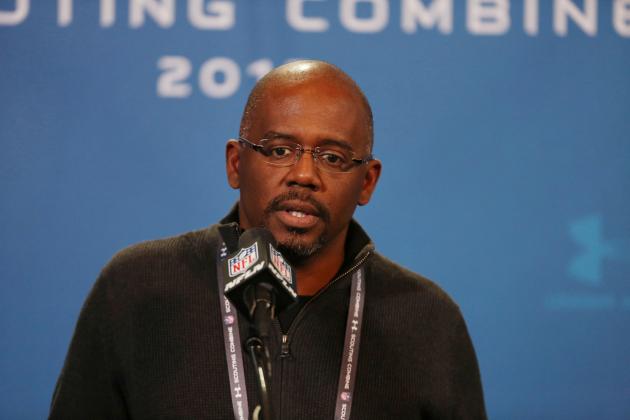 Brian Spurlock-USA TODAY Sports

Best Draft Picks
Gosder Cherlius, Matthew Stafford, Nick Fairley, Ndamukong Suh
Worst Draft Picks
Jahvid Best
Martin Mayhew has been at the helm for the Lions for five years now, with few big splashes in the draft to show for it either way.
The Lions certainly have great talent, thanks to Mayhew, though they took a step back last season after making the playoffs in 2011.
His best move was swindling Dallas out of several draft picks—including a first-round pick—for Roy Williams.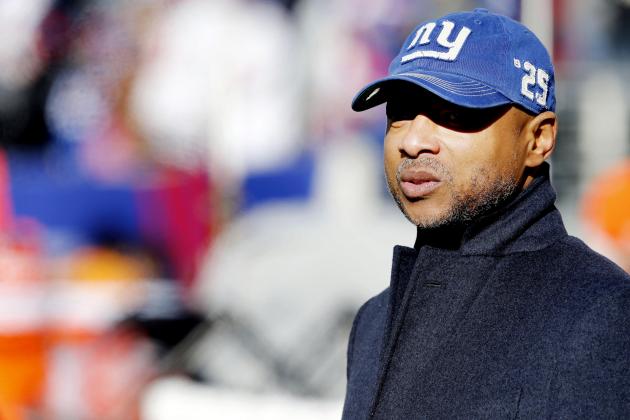 The Star-Ledger-USA TODAY Sports

Best Draft Picks
Jason Pierre-Paul, Kenny Phillips, William Beatty
Worst Draft Picks
Marvin Austin, Steve Smith
The Giants have won two Super Bowls since Jerry Reese arrived in 2007. Not a bad record, though he didn't have anything to do with drafting Eli Manning.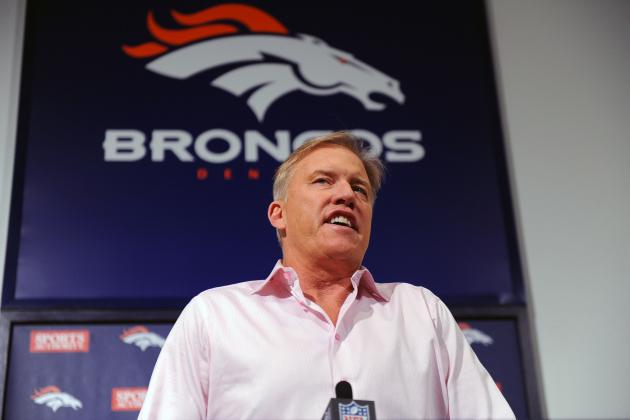 Ron Chenoy-USA TODAY Sports

Best Draft Picks
Von Miller, Orlando Franklin
Worst Draft Picks
Brock Osweiler, Ronnie Hillman
John Elway's biggest accomplishment has come outside of the draft, landing the big prize in free agency last year.
Von Miller comes in at a close second, though.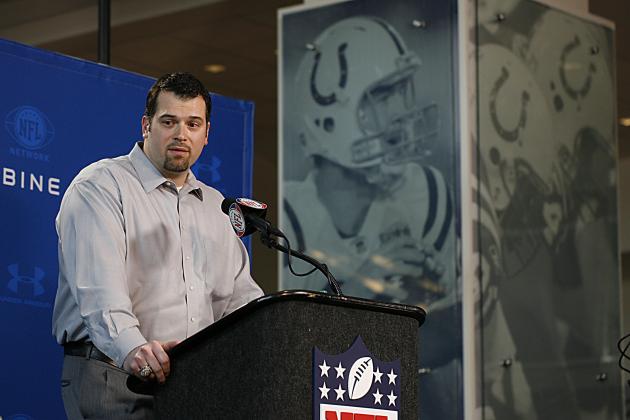 Brian Spurlock-USA TODAY Sports

Best Draft Picks
Andrew Luck, Dwayne Allen, T.Y. Hilton, Vick Ballard
Worst Draft Picks
Colby Fleener
Of all the sophomore GMs, Ryan Grigson had the best draft.
Of course, it helps that Grigson lucked into a once-in-a-generation player with the first overall pick last year. Those tend to boost draft grades, even if the general manager had little or nothing to do with getting them.
But Grigson did well throughout the draft. Coby Fleener was the worst pick—for now, given he was banged up last year—and Grigson did a fine job getting Luck some help on offense.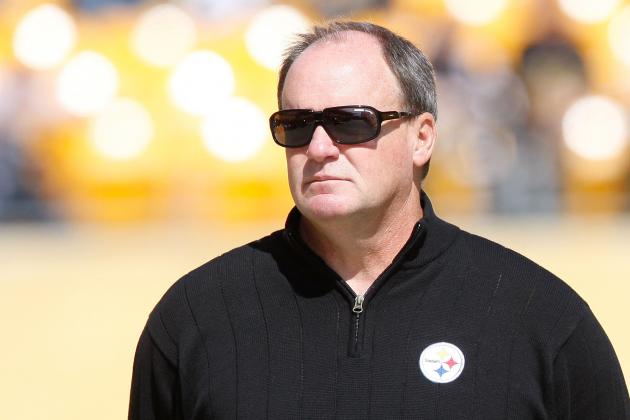 Jared Wickerham/Getty Images

Best Draft Picks
Casey Hampton, Larry Foote, Troy Polamalu, Ben Roethlisberger, Lamar Woodley, Brett Keisel
Worst Draft Picks
Kendall Simmons, Ricardo Colclough, Rashard Mendenhall, Cam Heyward
Kevin Colbert is a big reason why the Steelers have had so much success, despite losing Bill Cowher to retirement midway through his tenure.
Colbert has managed to keep a stout defense well stocked with great personnel, though Father Time and injuries might have finally caught up to them this year.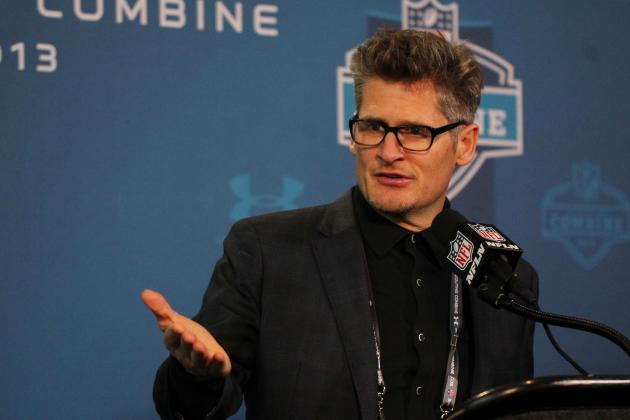 Brian Spurlock-USA TODAY Sports

Best Draft Picks
Matt Ryan, Julio Jones, William Moore, Sam Baker
Worst Draft Picks
Peria Jerry
Thomas Dimitroff's career as Atlanta's general manager got started with a bang when he took a shot on Matt Ryan.
The Falcons were contenders right away, and Dimitroff has done a solid job of keeping it that way with some savvy moves in the draft.
Most notably, Dimitroff took a bold gamble to move up for Julio Jones in 2011. The move has worked out rather well thus far.
Kim Klement-USA TODAY Sports

Best Draft Picks
Josh Freeman, Gerald McCoy, Doug Martin, Lavonte David
Worst Draft Picks
Roy Miller, Brian Price, Da'Quan Bowers
This is one general manager who has quietly performed well since taking over resides in the Tampa Bay-St. Petersburg bay area.
Mark Dominik is responsible for drafting some quality players for the Buccaneers, even if the coaching staff has not been able to turn that into victories in recent years.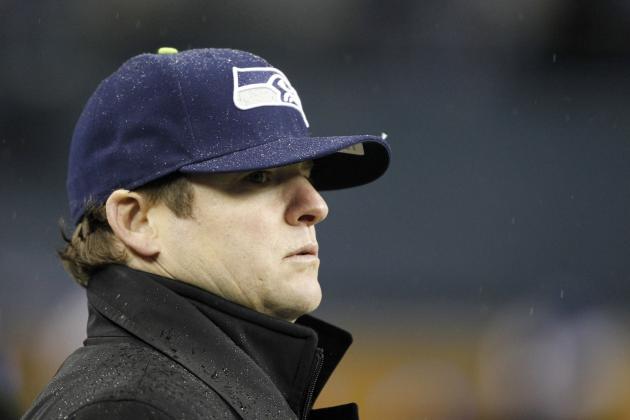 Joe Nicholson-USA TODAY Sports

Best Draft Picks
Russell Okung, Earl Thomas, Richard Sherman, Bobby Wagner, Russell WIlson
Worst Draft Picks
James Carpenter
What an incredible turnaround by the Seahawks.
On the heels of San Francisco's improbable NFC Championship Game run of 2011, the Seahawks made one of their own. That is thanks, largely, to John Schneider's draft day prowess.
Schneider has brought in many of Seattle's starters during his three years at the helm, including taking a shot on a diminutive quarterback that lit the NFL on fire last season.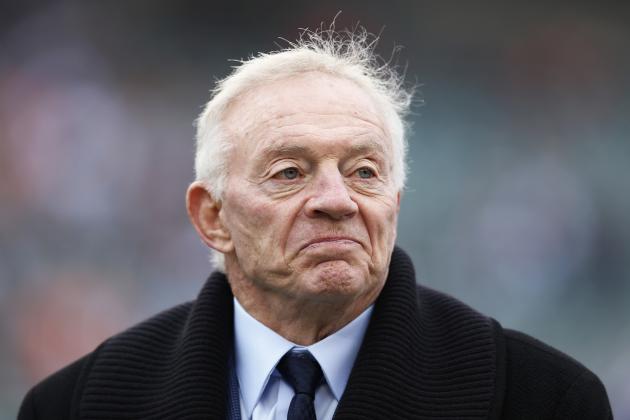 Joe Robbins/Getty Images

Best Draft Picks
Troy Aikman, Emmitt Smith, Michael Irvin, Dez Bryant, Daryl Johnston, Russell Maryland, Leon Lett, Larry Allen, Anthony Spencer, Demarcus Ware, Jason Witten
Worst Draft Picks
Kevin Smith, Shante Carver, David LaFleur, Quincy Carter, Felix Jones
How can we grade Jerry Jones? He has been the Cowboys general manager since 1989, with plenty of peaks and a few valleys since then for his team.
For starters, Jones took two Hall of Famers in consecutive years when he grabbed Troy Aikman and Emmitt Smith. He would add another one in Larry Allen a few years later.
Of course, his exact role in making those draft picks is a point of dispute, and Jones hasn't drafted any obvious Hall of Famers since the '90s. It is for those reasons he isn't ranked higher.
For all the flak Jones gets, he has actually had a good record in the draft. No general manager is without bad draft picks, especially one with a long tenure.
Jones might be a bombastic owner with a stubborn streak and recent mediocrity issues, but the draft got him to three Super Bowl titles in the '90s and it could get him there again with some time.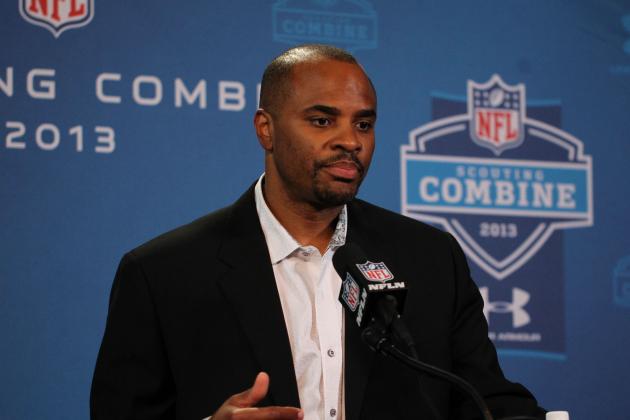 Brian Spurlock-USA TODAY Sports

Best Draft Picks
Mario Williams, Eric Winston, Duane Brown, Brian Cushing, J.J. Watt
Worst Draft Picks
Jacoby Jones, Amobi Okoye, Kareem Jackson, Brandon Harris
There is a reason the Houston Texans have risen to become an AFC power. They might still have a ways to go, but they will be there for years if Rick Smith has anything to say about it.
Smith has hit on plenty of picks, as you can see. Add to this Arian Foster, who was brought in as an undrafted free agent, and it is easy to see why Houston has taken over the AFC South.
Unfortunately, Smith is stuck between a rock and a hard place at the most important position of all, quarterback. Matt Schaub has been good enough to lead the Texans into the playoffs, but he might have reached his full potential.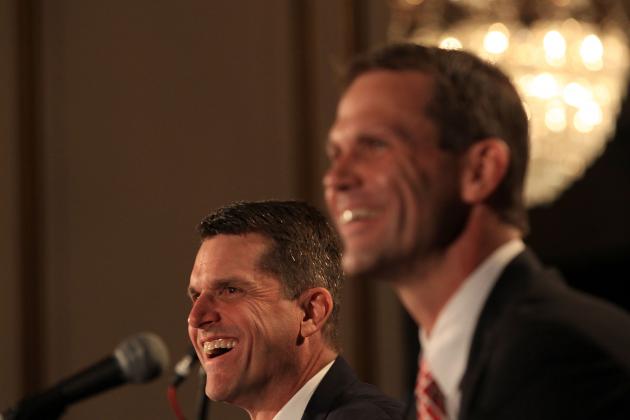 Ezra Shaw/Getty Images

Best Draft Picks
Navorro Bowman, Aldon Smith, Colin Kaepernick, Anthony Davis, Mike Iupati
Worst Draft Picks
Taylor Mays, A.J. Jenkins
On the surface, the 2012 draft was disastrous for Trent Baalke and the 49ers. After all, their first-round selection saw one target all season.
But the 49ers didn't exactly need their rookie class to contribute last season, did they?
In reality, Baalke has done an excellent job since 2010, positioning his team for a big turnaround when it finally hired the right coach.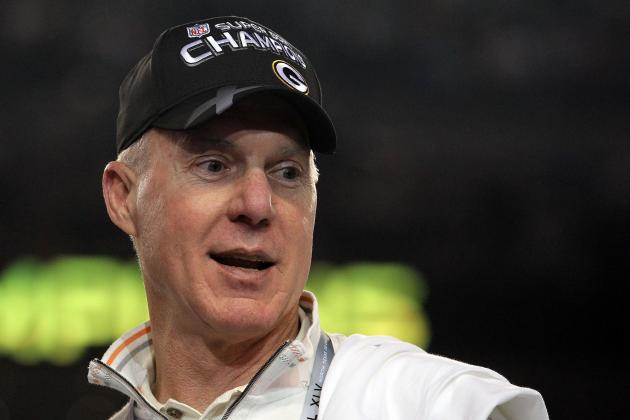 Ronald Martinez/Getty Images

Best Draft Picks
Aaron Rodgers, Clay Matthews, Casey Hayward, Greg Jennings, Randall Cobb, James Jones
Worst Draft Picks
Justin Harrell, Brian Brohm, Pat Lee
Ted Thompson makes his living in the NFL draft. He rarely uses free agency to fill needs, choosing to draft and develop, re-signing players of consequence.
Consider this: Aaron Rodgers was his first draft pick despite Brett Favre still in the saddle, a bold pick despite how good it looks in hindsight.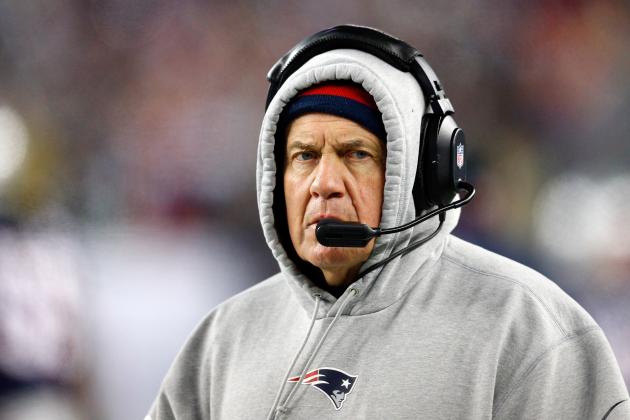 Jim Rogash/Getty Images

Best Draft Picks
Tom Brady, Richard Seymour, Ty Warren, Vince Wilfork, Logan Mankins, Rob Gronkowski
Worst Draft Picks
Adrian Klemm, Daniel Graham, Laurence Maroney, Brandon Meriweather
What a run for the hoodie in New England.
Could anyone have predicted Tom Brady would wind up being a Hall of Fame quarterback before he was drafted? Clearly not, as his famous sixth-round selection indicates, but Belichick wound up with a Hall of Famer.
That was only the beginning for Belichick, who has enjoyed unparalleled success since the dawn of the new millenium thanks to his prowess in the draft. Recent years have not been as kind, but he has still made solid moves.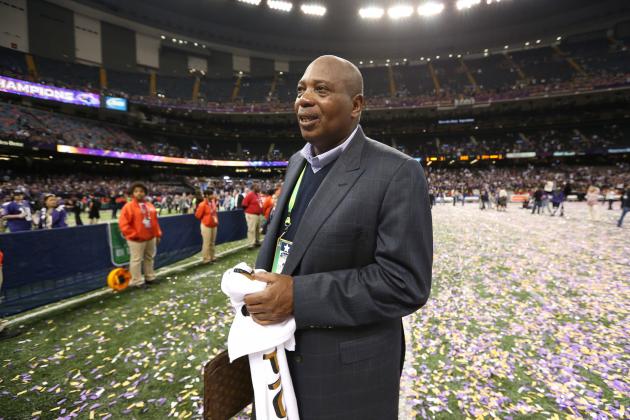 Matthew Emmons-USA TODAY Sports

Best Draft Picks
Ray Lewis, Jonathan Ogden, Ed Reed, Ray Rice, Terrell Suggs, Joe Flacco, Ben Grubbs, Marshal Yanda
Worst Draft Picks
Patrick Johnson, Kyle Boller, Dwan Edwards, Mark Clayton, Sergio Kindle
Bill Barnwell puts it best when he asked, "Can you drop the mic after a draft pick?"
He was referring to Ozzie Newsome's first ever draft, when the longtime Ravens executive maneuvered his way into drafting Hall of Famers Jonathan Ogden and Ray Lewis.
Barnwell goes on to extoll Newsome's fantastic record as a general manager, and it is easy to see from the list of great picks he has made over the years.