Collin Klein: 5 Things You Need to Know About the Kansas State Quarterback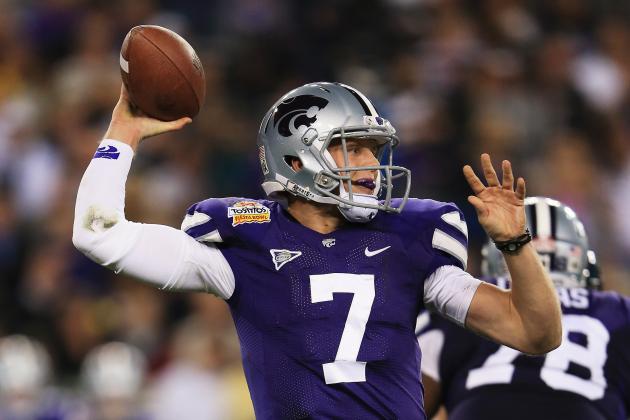 Doug Pensinger/Getty Images

Collin Klein was one of the most electric players in college football over the past two seasons, rushing for 50 touchdowns in that time span while passing for only 29. Those stats tell you most of what the knock on Klein is; that he is this year's Tim Tebow, a running quarterback with subpar throwing mechanics who will struggle to remain a quarterback as a pro.
While Klein did show improvement with his throwing motion in his senior year, scouts remain unsure of what his best fit will be in the pros. What's undeniable is that Klein is a beast with the ball in his hands. At 6'5", he also has better size than Tebow, and many scouts think he could make a leap to tight end.
Klein seems intent on trying to make it as a quarterback, but for him to stick in the league he might have to get by on special teams like he did to start his career at Kansas State.
Here's everything you need to know about Collin Klein.
Begin Slideshow

»
Full Name: Collin Klein
Birthday: September 19, 1989
Hometown: Loveland, Colorado
High School: Loveland High School
Major: Accounting and Finance
Year: 2012
Klein set Loveland High School records for completion percentage and all-purpose yards. His career at Kansas State began with him being redshirted in 2008, then playing wide receiver and special teams for his first season in 2009.
In 2010, Klein moved back to quarterback, earning his first start against Texas. He would go on to start the rest of his career at the position.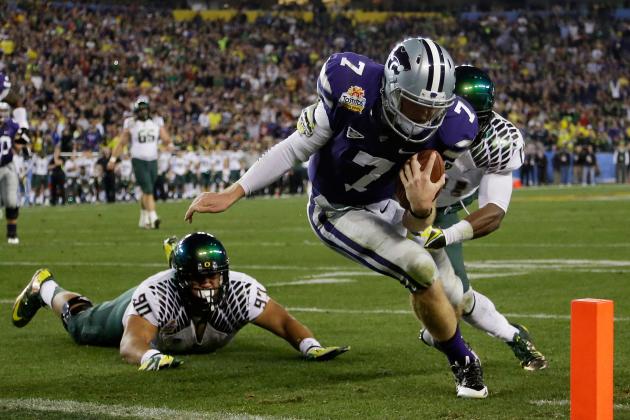 Ezra Shaw/Getty Images

2009: (WR): 12 games, 6 catches, 38 yards, 1 TD, 3.16 YPG
2010: (QB): 2 games, 18 attempts, 138 yards, 7.7 YPA, 1 TD, 0 INT
Rushing: 76 carries, 432 yards, 5.7 YPA, 6 TD
2011: 13 games, 281 attempts, 1,918 yards, 6.8 YPC, 13 TD, 6 INT
Rushing: 317 carries, 1,141 yards, 3.6 YPC, 27 TD
2012: 13 games, 304 attempts, 2,641 yards, 8.7 YPA, 16 TD, 9 INT
Rushing: 207 carries, 920 yards, 4.4 YPC, 23 TD
After starting his career as a wide receiver and on special teams, Klein broke onto the scene as a quarterback as a sophomore. In his first start against Texas, Klein rushed for 127 yards and two touchdowns.
Klein became the starting quarterback in 2011 and led the Wildcats to their first 7-0 start since 1999. Klein's season was one for the record books as far as individual accolades as well. His 27 touchdowns earned him most rushing touchdowns by a Big 12 player in a season, as well as most rushing touchdowns in a season for a quarterback in the Football Bowl Subdivison.
Klein entered 2012 as a Heisman Trophy favorite and did not disappoint. He led the Wildcats to a 10-0 record and K-State's first conference championship since 2003. Klein's career ended with a 35-17 loss to the Oregon Ducks in the Fiesta Bowl.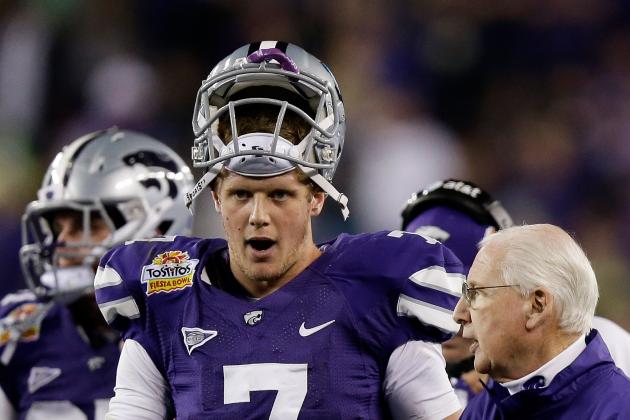 Ezra Shaw/Getty Images

Measurables
Height: 6'5"
Weight: 226 pounds
Arm Length: 33"
Hand Size: 9.25"
Combine Results
40-yard dash: 4.78 seconds
Broad jump: 111.0"
Vertical jump: 29.0"
3-cone Drill: 7.17 seconds
20-yard Shuttle: 4.40 seconds
Pro Day: Klein was invited to work out with the tight ends, but declined. He did improve on his vertical jump to 31.5 inches.
Klein's measurables are much closer to a receiving tight end than those of a quarterback. His strength with the ball in his hands is not easily measured, but his explosion and height are too good to be ignored. While he wasn't in the top-range at the combine for any of the measurables, his overall stats show a great athlete without a clear NFL fit.
All stats courtesy of NFL.com.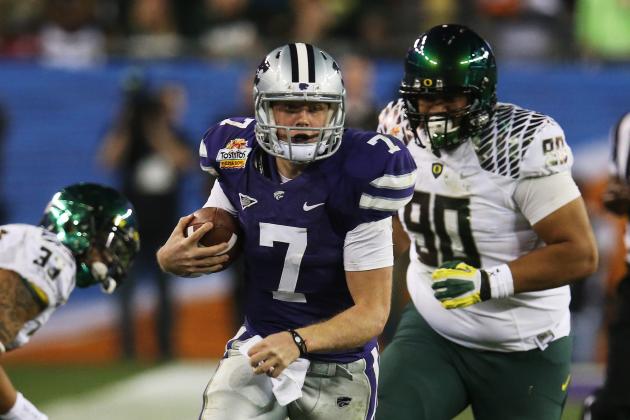 Stephen Dunn/Getty Images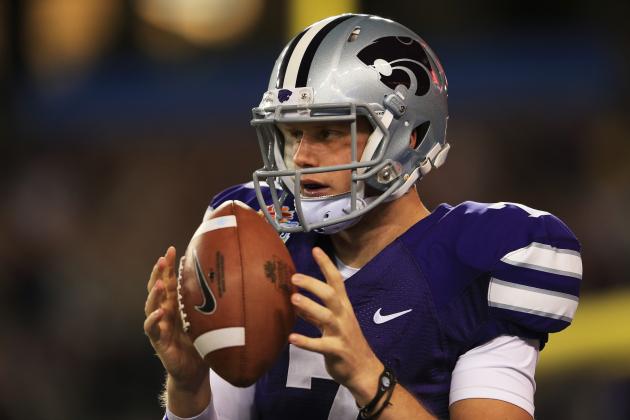 Doug Pensinger/Getty Images

Klein is universally praised for his leadership and ability with the football in his hands, but projecting him to the NFL is a difficult task. Though the comparisons to Tim Tebow are apt, Klein's size could translate into more opportunities in the pros, including at tight end.
NFL.com: Klein was a great college player, but is unlikely to have that same kind of success in the professional ranks. He will have to make serious changes to how he plays the quarterback position, or he will need to convert to running back or fullback. However, Klein is still a massive threat running the football, as he runs with great power and can break tackles. A creative offensive staff could potentially find a place for him.
CBSSports.com: Klein is a big athlete with a broad, thick frame to be a powerful north/south runner. He makes smart decisions with the football, working through his progressions while showing the mobility to move well within the pocket.Klein has a funky delivery with a hitch in his cocking motion, causing a longer delivery and inconsistent accuracy on passes downfield. Delivery and accuracy need word, as does his ability to throw to receivers as they make their breaks and turn toward the quarterback.
Matt Miller/Bleacher Report: Klein is a career 64.1 percent passer in games he's started. During that time he's also run the ball 439 times (compared to just 278 passes) and in each of the last two seasons he's run for more touchdowns than he's thrown. Equal parts runner and passer, Klein is exciting, but accurate is one thing he's not.