Picking the Early Breakout Stars of the NL Central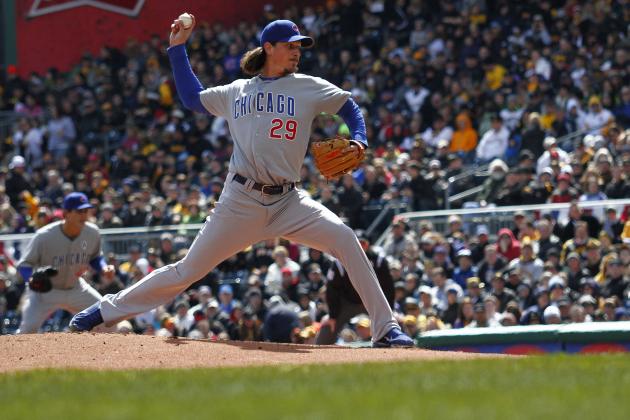 Justin K. Aller/Getty Images

The National League Central is filled with talent, and Chicago Cubs pitcher Jeff Samardzija leads the list of players who are going to have breakout seasons.
With the Houston Astros no longer in the division, teams in the NL Central will face each other 19 times this season.
Last season featured Andrew McCutchen of the Pittsburgh Pirates as the breakout star of the division. There probably won't be a performance like that from any of the players on this list, but these players will certainly make a name for themselves this season.
This division is filled with young players and it will be a division to watch out for in the future.
Who joins Samardzija on the list of 2013 breakout performers?
*All stats are from MLB.com
Begin Slideshow

»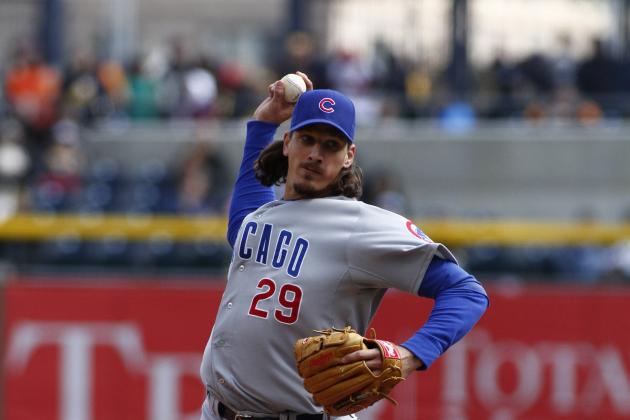 Justin K. Aller/Getty Images

Jeff Samardzija went 9-13 on a bad Cubs team last year, but he will have a much better season in his second year in the rotation.
The right-hander's record was the result of playing on a bad team, but the rest of his numbers were solid. His 3.81 ERA was the best on the staff and he struck out 180 batters in only 174.2 innings.
Had it not been for an awful June, his numbers would've been even better. He went 0-4 with a 10.41 ERA in five starts during the month of June, and he also lost seven games in which he recorded a quality start. After he was shut down in early September last year, he will be ready to go the full season in 2013.
According to FanGraphs, Samardzija's fastball has averaged 95.5 mph this season. With a split-finger fastball and a slider, he has hitters guessing.
Before a meltdown as he was nearing 100 pitches in his last start, Samardzija looked like an ace through two starts. He struck out 13 batters in only 5.2 innings in his last start, a feat that only three other pitchers have accomplished in the last 90 years, according to ESPN Stats & Information. The right-hander has 22 strikeouts while only allowing six hits in only 13.2 innings.
The Cubs may not make the postseason, but it's a good bet to say that Samardzija will be in position to make the All-Star team this summer.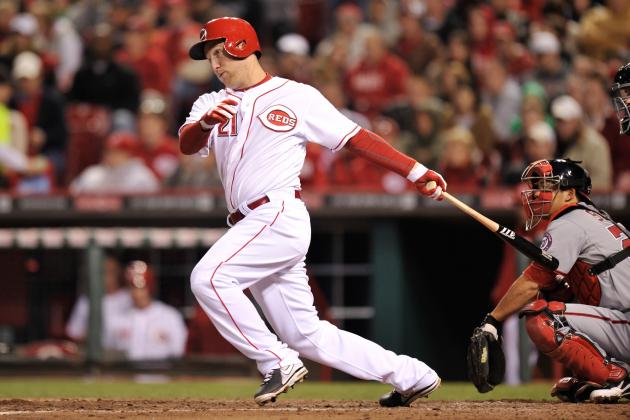 Jamie Sabau/Getty Images

Last year, the Cincinnati Reds needed someone to step in while third baseman Scott Rolen was ailing. Rookie Todd Frazier filled in for a while. When first baseman Joey Votto went down right after the All-Star break, the Reds looked like they were in trouble. Frazier stepped up and led the team to the playoffs.
After Votto went down, Frazier hit .269 and hit 10 home runs to go with 39 RBIs. He hit over .300 with at least five home runs in both July and August, which helped the Reds go on an absolute tear to take control of the division.
The rookie was asked to play first, third, left field and even some right field last season, but he will get to stay at third this season.
He didn't win NL Rookie of the Year in 2012, but he made a name for himself in Cincinnati.
How he didn't win NL Player of the Week last week is a mystery. He had a .480 average, a .519 on-base percentage, three home runs and drove in nine for a team that had two big series to start the season. He has at least one RBI in each of the last six games.
ESPN's Buster Olney tweeted last week that Frazier had made an impression on his first opponent of the season.
Spoke to some Angels today who were really impressed by the Reds' Todd Frazier; he's 11-for-22 so far this season. espn.go.com/mlb/player/_/i…

— Buster Olney (@Buster_ESPN) April 6, 2013
Frazier won't be able to maintain those ridiculous numbers for an entire season, but he's going to be a very good player.
Cincinnati needs a reliable bat behind All-Star Jay Bruce, and Frazier is showing he can provide protection. After left fielder Ryan Ludwick went down on Opening Day, Frazier stepped up his game yet again.
With the Reds looking like a legitimate World Series contender, Frazier has a chance to show the league what he can do.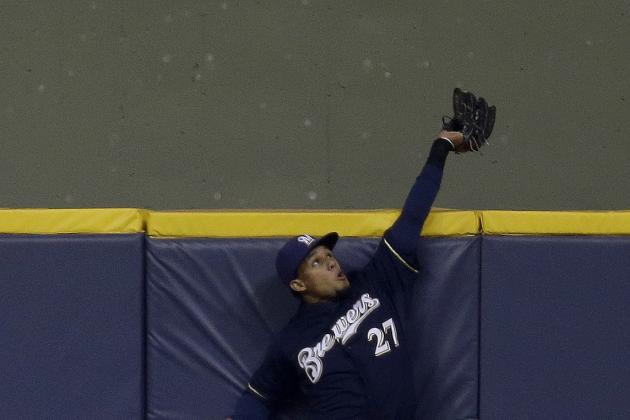 Mike McGinnis/Getty Images

Carlos Gomez has a ton of talent, but his inability to hit for average is keeping him from being a star in this league. Unlike the previous two players on this list, Gomez hasn't gotten off to a fast start this year.
The center fielder has only one multi-hit game through the first week, and that happened during an extra-inning game. He dug himself in an early hole by starting out 1-for-13.
With third baseman Aramis Ramirez on the disabled list and left fielder Ryan Braun battling a neck injury, the Brewers need someone to step up. That someone might be Gomez.
The 27 year old still has plenty of time to improve his hitting, especially since everything else is there. He hit 19 home runs, 19 doubles, four triples and stole 37 bases last season. His glove and speed are a big reason why he will continue to play even if he doesn't have a stellar average.
However, 2013 will be a breakout season for Gomez. He doesn't strike out a lot, and hits will start to fall in at some point for the speedster.
Gomez has been a slow starter in each of the past three seasons. His average before the All-Star break during those three years is .219, but he figures it out in the second half as he hits around .277 the rest of the season.
If Gomez can avoid waiting until July to get that average up, the center fielder will have a great all-around year.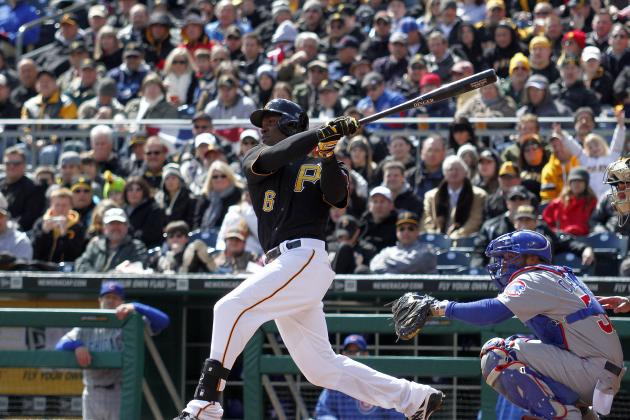 Justin K. Aller/Getty Images

If the Pittsburgh Pirates are finally going to finish above .500, Andrew McCutchen is going to need some help. Left fielder Starling Marte has the talent to have a breakout season, but nobody knows what to expect from him this early in his career.
Through seven games, he is hitting .296 and has a .345 OBP. He has only one extra-base hit, a triple, and he will need to use his speed to be aggressive on the bases.
Marte's defense is not an issue. He can cover a lot of ground and he has a great arm. With Marte in left and McCutchen in center, it will be tough for opponents to take an extra base when a ball goes in between them.
Once Marte learns to lay off breaking pitches out of the zone, he will begin to flourish. He has only 194 at-bats in the majors, but a .263 average isn't terrible for a young player.
The 24 year old will have some growing pains at the plate in his first full season, but he is going to have a good year in 2013. The Pirates need someone to help McCutchen, and Marte will rise to the occasion and show why the organization is so high on him.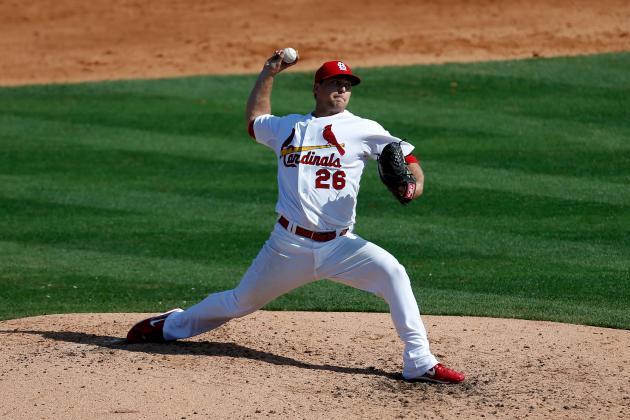 Chris Trotman/Getty Images

The St. Louis Cardinals are one of the only teams in the division with very few players to pick from. Their roster is stacked with All-Stars, but they do have some young talent coming through the system. Between Trevor Rosenthal, Shelby Miller and Pete Kozma, Rosenthal looks like the best bet to have a breakout season.
The right-hander was a part of the late-game meltdown against the Cincinnati Reds on Monday (game recap courtesy of MLB.com), but he has plenty of talent to be a big factor this season.
Closer Mitchel Boggs blew only three saves in 37 chances in 2012, but he failed to convert his first opportunity this season. He has also allowed at least one run in two of his four appearances. If he continues to struggle, the Cardinals could decide to make Rosenthal the closer.
In 22.2 innings last season, Rosenthal held hitters to a .175 average and walked only seven batters.
St. Louis needed solid pitching in the playoffs, and Rosenthal delivered despite only being with the team since July. In 8.2 innings in the postseason, he allowed two hits and walked only one while striking out 15 hitters without allowing a run. He went five consecutive appearances without allowing a hit and struck out at least one batter per appearance when he faced more than just one hitter.
Rosenthal has been charged with two blown saves already this season, but he hasn't been given the chance to close out a game. He has seven strikeouts to only one walk in five innings this season, so he is showing good command early in his career.
The 22 year old can hit 100 mph, and he has averaged 97.4 mph during his short career, according to FanGraphs. Once he can throw his breaking pitches for strikes more consistently, he will be tough to hit.
Rosenthal will probably be a starter at some point in the future, but he has a chance to be a shutdown reliever this season. If Boggs continues to struggle, Rosenthal could find himself getting a chance to close.
No matter what his role is, this hard-throwing youngster is going to have a big season in 2013.