Fantasy Baseball: Week 2 Buy Low/Sell High Trade Advice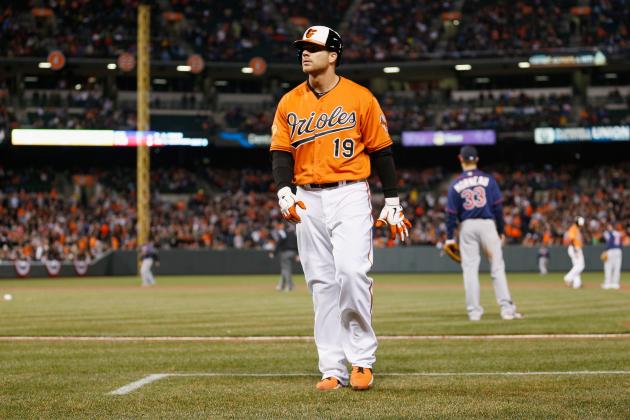 Rob Carr/Getty Images

One week of the season is gone, and already fantasy owners are panicking. Remember when Albert Pujols batted .217 without a home run in April 2012? Remember when Ubaldo Jimenez was 15-1 at the 2010 All-Star Break?
Of course, panicky owners present bargain opportunities. If your player is off to a hot start but you doubt his ability to keep it up, float him to other owners and see if anyone is buying the streak. On the other side, if you notice someone else's stud off to a slow start, there is no harm in inquiring as to that player's availability.
The best owners think this way from week one, through September. The players in the coming slides are just a few examples of the buy-low, sell-high chances after week one.
Begin Slideshow

»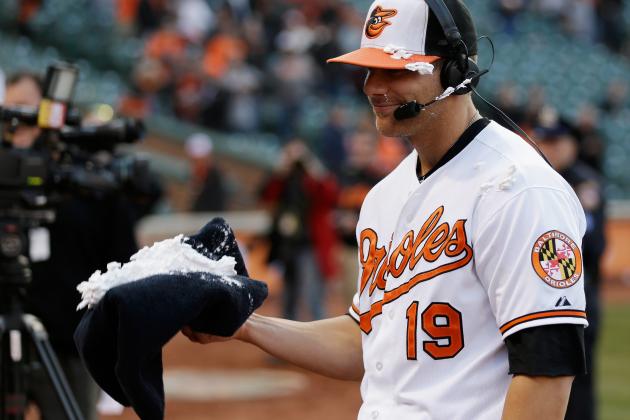 Rob Carr/Getty Images

Five games into the season, Chris Davis has a triple-slash line of .556/.591/1.398. Davis has 17 RBI despite only 18 official at-bats. Of course, it's five games. That being said, Davis hit 33 home runs in 2012, giving just enough credence to his torrid start to make him a prime sell-high chip.
You Davis owners want to believe, but he struck out 169 times in 139 games last season. He also only appeared in 104 games combined between 2010-2011. When he was healthy, Davis always hit for power, but he has 512 strikeouts in 1,538 official at-bats. Skepticism is warranted.
You have nothing to lose by floating the idea that Davis could be dealt if an impressive offer came in. That does not force you to trade him, but it lets the league know that, in case someone is buying a significant improvement on 2012, he could be had. Those 2012 numbers are probably his realistic ceiling, so if someone is willing to pay for more, let him go.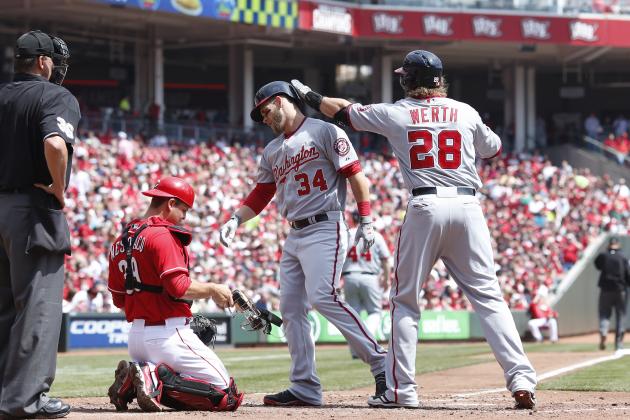 Joe Robbins/Getty Images

Bryce Harper is no Chris Davis. He is "only" batting .381 with three home runs in five games. He has not even stolen a base yet. Of course, Harper has been a sell-high since he was called up last season. It is hard to argue an MVP season is coming, but the odds are long it comes at 20 years old.
Instead, the current market allows Harper owners to seek proven, elite hitters in return for his upside, and owners in seasonal leagues should take full advantage (keeper league owners lock him in the closet and throw away the key).
Despite what Mike Trout would have people believe, 20-year-olds, even exceptional ones, do not regularly produce top-10 overall type seasons. If you can get such value in return, do not hesitate to let him go.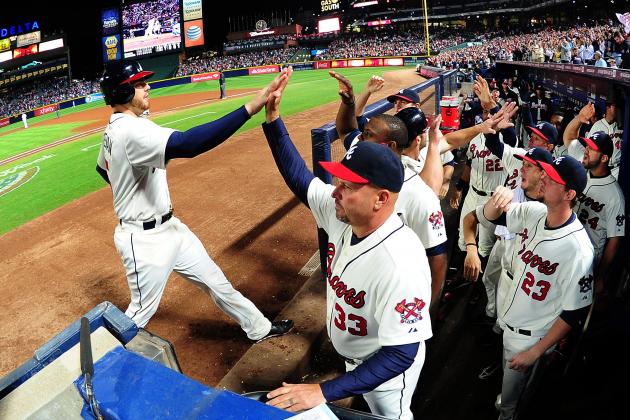 Scott Cunningham/Getty Images

Freddie Freeman just went on the disabled list, which means there is no better time to buy low. Granted, you will have to endure two weeks on your bench.
At 23 years old, Freeman is coming off a 2012 in which he increased his home runs, RBI and runs from the previous season despite playing in fewer games. He is still trending up and, upon returning from the DL, will once again be dropped into one of the most dangerous lineups in baseball.
Freeman is a run producer who bats behind Jason Heyward and Justin Upton. If his owner is concerned about lingering problems after Freeman's return, feel confident in snapping him up.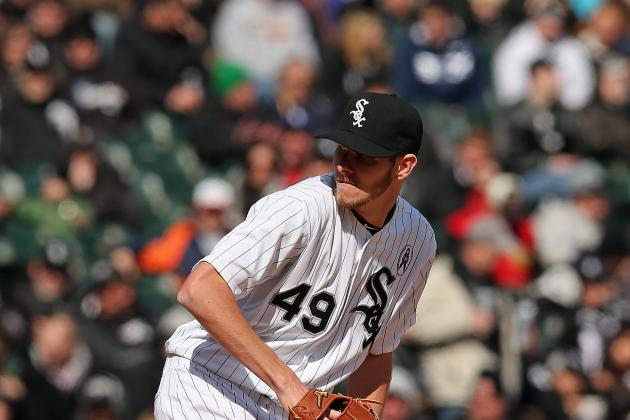 Jonathan Daniel/Getty Images

Sale was excellent in his first season as a starter in 2012 and had a dominating season-opener, but he is also 6'6", 180 lbs. Watching him pitch makes the casual viewer grab their own elbows. The torque necessary for his awkward delivery seems to hint at future injury concerns.
As long as Sale is pitching, his owner has to start him. He won 17 games and struck out 192 in 2012. He then struck out seven in 7.2 scoreless innings to start this season. But he did tire later in the season, taking a 2.19 ERA and 0.955 WHIP at the All-Star Break and posting 4.03 and 1.343 numbers after.
Sale will be excellent as long as he can stay healthy, but owners beware that he comes with risk—and it is not 15-day DL risk, it is Tommy John, season-ending risk. So keep your ears open for owners who may be willing to pay for Sale as if he was safe.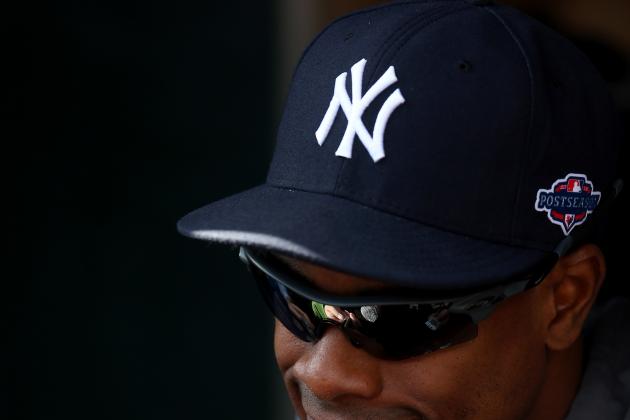 Jonathan Daniel/Getty Images

How many players have 40 home runs, 100 RBIs and 100 runs in each of the last two seasons? Just one, Mr. Curtis Granderson. May is not as far away as it feels, and fantasy owners might just feel like they can wait no longer. That is the time to jump.
Granderson has been a monster since arriving in the Bronx, and he will arrive with plenty of season left to hit 25-30 home runs in 2013. Whoever owns him in May will surely have gotten a bargain, and if his current owner loses the first couple matchups, he may be ready to ship him off for immediate help.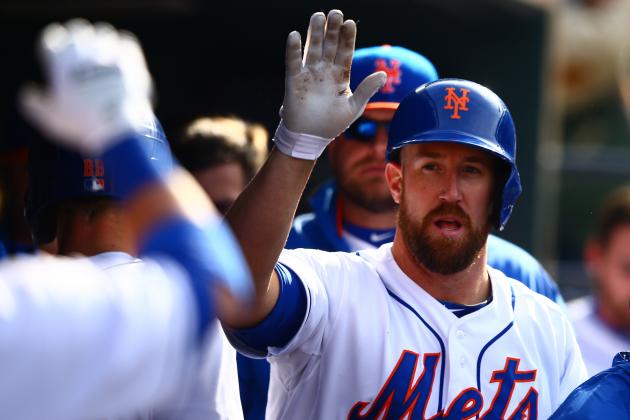 Al Bello/Getty Images

John Buck is batting .421 with nine RBI, which is second in baseball. Of course, Buck is also a career .237 hitter who batted .192 in 106 games in 2012.
Why would anyone let you sell high on Buck? He is a catcher, and catchers who can hit are extremely hard to come by in fantasy baseball (at least that is the perception). Fortunately for owners who would sell Buck, 2013 is actually the exception as there are over a dozen backstops who can be viable starters.
Shop Buck in your league, hyping his current stats, and see if anyone bites.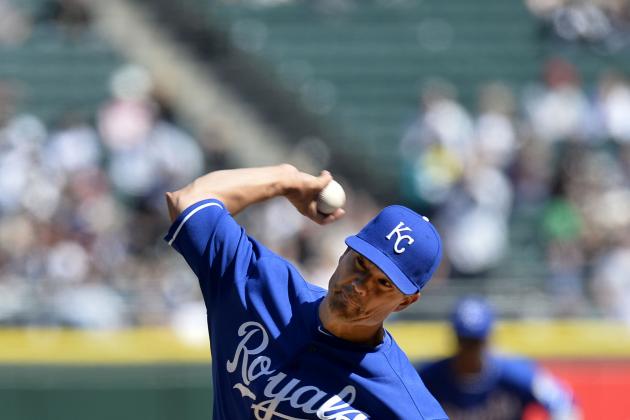 Brian Kersey/Getty Images

As long as you are looking to buy (very) low, take a long look at Jeremy Guthrie. Guthrie was 3-9 in 90.2 innings for Colorado in 2012. He had a 6.35 ERA and WHIP over 1.6. And then he was traded to Kansas City.
In 91 innings for KC, Guthrie was 5-3 with a 3.16 ERA and 1.132 WHIP. He then went out and started 2013 with a six-inning, nine-strikeout masterpiece, earning the win. Now, Guthrie has a career 5.5 K/9, so beware he relies heavily on good defense to make outs.
However, he has walked almost one less batter per nine since coming to the Royals, and if that improved control sticks around, Guthrie could be a sneaky spot starter in deeper leagues.