Five Dark Horse Contenders for Major MLB Awards in 2013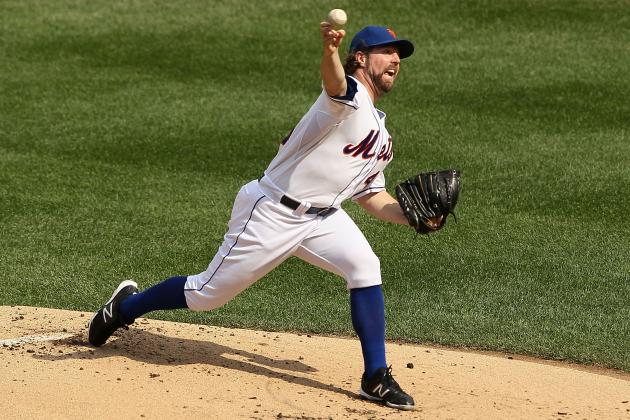 Alex Trautwig/Getty Images
The first Cy Young knuckleballer.
Every year, there's at least one surprise when it's time to dole out the hardware. Last year, R.A. Dickey was the first knuckleballer to ever win the Cy Young, but he's not alone when it comes to the seemingly out-of-nowhere greatness that we see on podiums every fall.
How about Neftali Feliz winning the Rookie of the Year in 2010? The duo of Andrew Bailey and Chris Coghlan winning rookie honors in 2009? To some extent, Cliff Lee winning the Cy Young in 2008 was a shock. The player vying for the MVP every year seem familiar, but Dustin Pedroia in 2008 could be considered a dark horse.
So that's what we're going to try to find today: players that have a legitimate shot at winning the MVP, the Cy Young, or the Rookie of the Year...but aren't yet in the news nightly.
Because in 2003, Eric Gagne won the National League Cy Young, and Angel Berroa and Dontrelle Willis won their respective Rookie of the Years. Crazy things happen all the time.
Begin Slideshow

»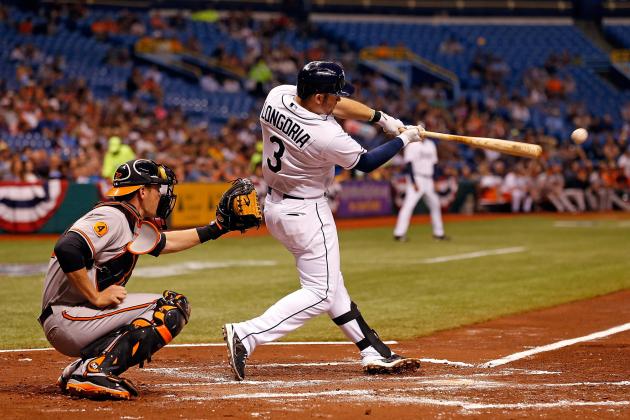 J. Meric/Getty Images
Longo goes long.
The MVP race doesn't typically produce winners that come out of left field entirely. To be the best player in baseball, you most likely were one of the best players in baseball going into the season.
That doesn't mean that you can't have mild surprises.
From 2009 to 2011, Evan Longoria used great power, patience and defense to be the most valuable player in the big leagues by wins above replacement. But after his injury-plagued 2012, in which he only managed about a half-season of work, it might count as a mild surprise for Longoria to return to his previous form.
But it wouldn't be fair to label Longoria as injury-prone yet. The 27-year-old is in his healthy prime, and in between two left thigh problems and an abdomen strain, he's been largely healthy over the course of his career. And when healthy, he provides enough power and patience to drive an offense—and a low enough strikeout rate to show a good batting average, which can sway MVP voters from time to time.
Evan Longoria is a stud. He just needs to stay on the field long enough to remind everyone how studly he actually is.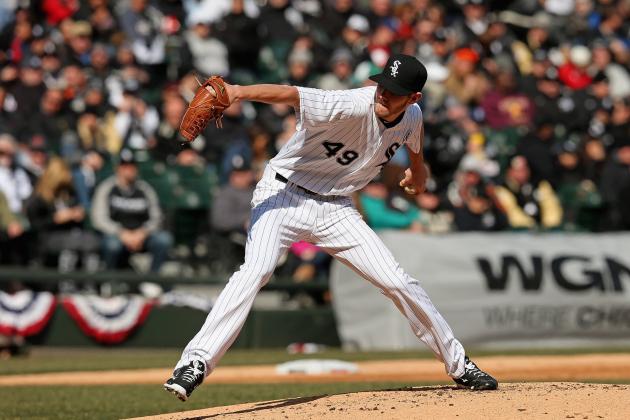 Jonathan Daniel/Getty Images
Here come the elbows!
This was going to be a blurb fawning about Yu Darvish, his velocity and stuff, and how he finally found the strike zone late last year. This was going to be a post telling you that Yu Darvish was going to be the American League Cy Young this year.
But then Yu Darvish went and threw a loud one-hitter and he's on everyone's Cy Young short list.
So let's turn our attention the the south side of Chicago, where a tall skinny drink of water is about to follow up on an outstanding season, and yet there's not a lot of buzz about his award chances.
Last year, Chris Sale had the seventh-best strikeout rate among baseball's qualified starters. Strikeouts minus walks is one of the best (and simplest) ways to evaluate a pitcher, and Sale's K%-BB% last season ranked seventh, right behind Clayton Kershaw, CC Sabathia and Justin Verlander. At 23, he was the youngest in the top 20 in either category.
That youth will serve him well. It will keep him from losing too much velocity—and at about 92 mph on his fastball, a tick here or there could be a big deal—and it may help him stay healthier. Which is important, since his arm slot, recoil on the follow-through and love of the slider may set Sale up for injury at some point in his career.
But for now, Chris Sale is 24 years old, has two excellent off-speed pitches that nobody can hit and has so far demonstrated impeccable control of all three of his pitches. That sounds like a Cy Young contender.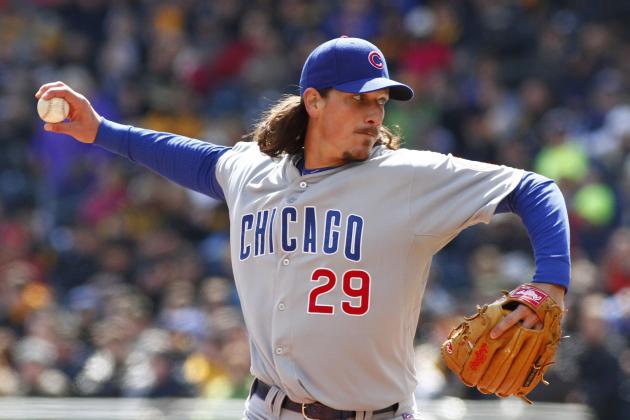 Justin K. Aller/Getty Images
Is that the splitter?
Some call the knuckleball a gimmick pitch. At other times in the history of baseball, the split-finger has been called names, too—Roger Angell called it a "super-toy" once in the late '80s.
But, just like the knuckler can make batters look silly, the splitter can be a nasty pitch. The tumbling action resembles that of a changeup, but somehow it's crisper and more frightening. It usually has more velocity.
The best part about the split-finger is that it produces a great combination of ground balls and whiffs. Across baseball, the pitch gets the most whiffs per swing and the second-most ground balls, even.
The pitch is also called a ball more often than any other pitch.
And that problem plagued Samardzija early in his career. He couldn't buy a strike the first few times he hit the big leagues, and as the walk rate ballooned, there was legit concern that he would never be anything more than a mid-inning reliever. Last year, he made real progress in that part of his game, but as his first two starts this year can attest, walks will appear in his box scores from time to time.
A walk is not just about keeping the ball in the zone, however. Getting strike one is hugely important. And getting batters to reach (and miss) can help turn balls into strikes.
The Shark is known for getting swings and misses. Batters reach all the time as the splitter tumbles under the strike zone. All he needs to do to be in the conversation for the Cy Young is focus on getting strike one.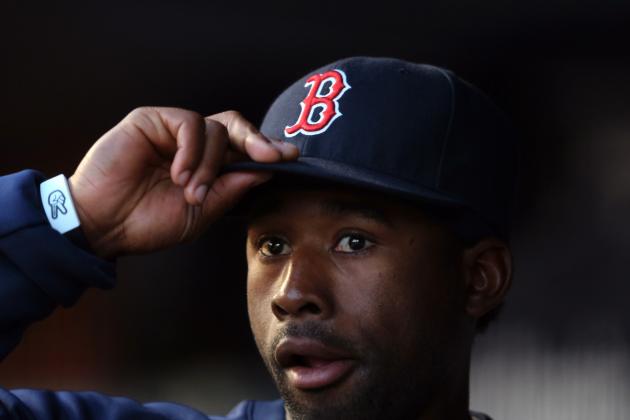 Elsa/Getty Images
Yessir.
Jackie Bradley Jr is not tall. He's a couple inches short of six feet, and that's short in baseball. Jackie Bradley Jr is not burly. He's 180 pounds and more stocky than powerful. Jackie Bradley Jr. does not come with prospect pedigree. Many prospect lists didn't even have him in the top 50 prospects coming into the season.
But Bradley has something that fellow well-hyped American League prospects Jurickson Profar, Wil Myers and Leonys Martin don't have—an everyday role on a major league team.
Opportunity always comes before production, and Bradley has all the opportunity in the world right now. David Ortiz is hurt, which pushes Jonny Gomes to the DH position and opens up left field for the rookie. Ryan Kalish ended up having another surgery on his shoulder, and Daniel Nava is needed to backup and platoon all around the outfield and infield.
Even when Ortiz comes back, Bradley has a shot at regular playing time. Gomes has been a platoon hitter for most of his career, rostered mostly for his ability to mash lefties. Since Bradley is lefty, he's a natural platoon mate—and he'll get the larger portion of the platoon, considering there are more righties than lefties.
Leonys Martin is playing regularly, but he's already in a platoon—and Bradley has better plate discipline and more speed. With a head start, the rookie Boston left fielder with power and speed could amass enough stolen bases to impress the voters in the fall.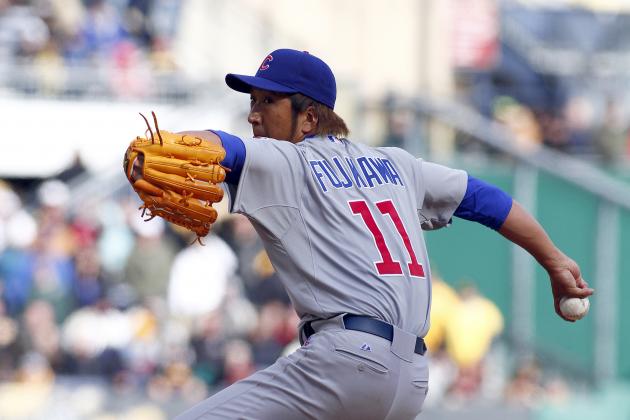 Justin K. Aller/Getty Images
Another cub, but this one's not young.
Kyuji Fujikawa, Cubs reliever, will turn 33 this July. If he won the Rookie of the Year award this year, he'd be the oldest to do so.
But there's reason to take this factoid as a strength, not a weakness. Currently, the oldest rookie of the year ever is Kaz Sasaki, the Japanese closer who came over and dominated in Seattle for three years.
There are other flaws to his candidacy. His fastball velocity has waned over the years, and it's down to about 90 mph. He's really a two-pitch guy with a fastball and a split-finger, and sometimes the split-finger is hard to get across the plate. And he's a reliever, so he'll have to close to get the attention of the voters.
On the other hand, the path is clear. Carlos Marmol is falling apart, and he never could find the plate to begin with. Management in Chicago has already informed his agent to expect a trade this season, and now it looks like they have made him the closer. The team paid Fujikawa to a two-year deal that vests based on games finished in 2014. The Cubs pen is devoid of real talent beyond Fujikawa. He could hold on to the role all year.
And beyond the situation on the Cubs, there's the situation among the rookies in the greater National League.
Oscar Taveras is the consensus top prospect, but the Cardinals are a stacked team at every position other than shortstop, and have seemingly shown a preference for seasoned, older players in the past.
Christian Yelich in Miami and Adam Eaton in Arizona are hurt, and you never know how long these things will take to resolve. Shelby Miller, Julio Teheran and Jose Fernandez all have roles to begin the season, but all are fresh-faced pitchers who could be sent down for more seasoning should they struggle.
Kyuji Fujikawa is not fresh-faced. There's no reason to send a 33-year-old down to the minors. The bullpen is terrible around him. He could easily win the hardware and set a record while doing it.