Small-School Prospects Ready to Burst onto the NFL Scene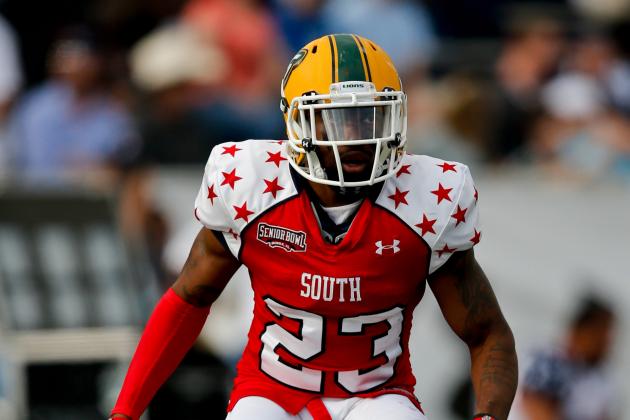 Derick E. Hingle-USA TODAY Sports

If you take a quick glance at your favorite NFL team's roster, you will realize that BCS conference teams are not the only schools capable of producing pro talent.
College football recruiting is a major enterprise nowadays, but much like forecasting the NFL draft, projecting high school football players' college potential is an inexact science.
Because of that, plenty of talented high school players end up playing their college ball at small FCS or Division II schools away from the bright lights of programs like Alabama, Florida, Georgia, USC, Ohio State and Texas.
Join me as I introduce you to 11 of my favorite small-school prospects in this year's draft. Every prospect here will have to deal with questions about the level of competition they faced in college, but I'll explain why each of them have the potential of making a name for themselves in the NFL.
Begin Slideshow

»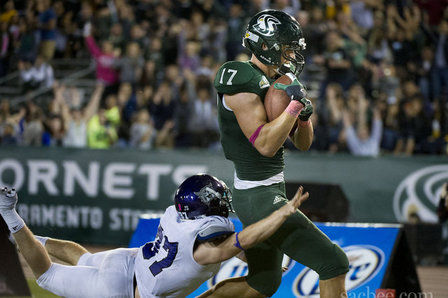 via sacbee.com
Until NFL defenses learn how to cover guys like Jimmy Graham, Rob Gronkowski and Aaron Hernandez, I wouldn't expect NFL talent evaluators to stop their quests for the next big thing at tight end anytime soon.
T.J. Knowles bounced around quite a bit in college, but he's worth late-round consideration for his size alone (6'8", 254 lbs).
Knowles wins his share of jump balls and does a nice job of catching with his hands. If he can work on and improve his blocking, Knowles may be able to make an impact sooner rather than later.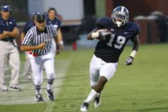 soconsports.com
J.J. Wilcox made a seamless transition to Georgia Southern's defensive backfield last season after spending his first three years as a slot back in the Eagles' triple-option offense.
Compact at 6'0" and 215 pounds, Wilcox plays run defense with an attitude, and he knows how to track the ball in the air.
Wilcox is an explosive athlete who has a high ceiling because he's still learning how to play safety. I'd expect him to find his way onto the field in a team's nickel or dime subpackage while contributing as a core special teams player as a rookie.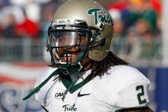 via tribeathletics.com
The 5'10", 185-pound B.W. Webb is one of most exciting small-school prospects in this draft. He's a big play waiting to happen when he gets the ball in hands whether he's returning a kick or taking back an interception.
My favorite thing about Webb is that when you turn on the film, you see what you would expect to see from an elite athlete playing at the FCS level. There's little doubt that he was the best pure athlete on the field during most of his time in school. That's not always the case with small-school prospects.
William & Mary has sent elite secondary talent to the NFL before (Darren Sharper), and Webb could very be next in line.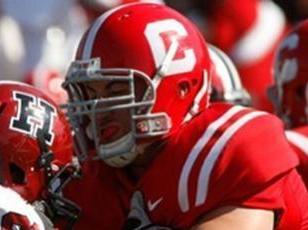 via ivyleaguesports.com
J.C. Tretter anchored the left side of Cornell's offensive line for two years after arriving on campus in Ithaca as a tight end. Although he grew to 6'4", 307 pounds, Tretter has scouts salivating because he didn't lose much of the athleticism that allowed him to play tight end early in his career.
I like that Tretter doesn't lose sight of his target when he's asked to pull and block on the perimeter. He also does a great job of keeping his feet moving after he makes contact. As a result, a lot of would-be tacklers end up on the turf after they engage him.
Most scouts believe that Tretter will eventually move inside to guard like fellow Cornell alum Kevin Boothe. If he can make the adjustment to the speed at the next level, Tretter could battle for major playing time in training camp.
Brandon Williams is a Division II prospect who turned some heads at the Senior Bowl, demonstrating excellent gap penetration and the ability to be a disruptive force on the interior defensive line.
Williams put up 38 reps of 225 pounds at the combine, so there are few questions about his upper-body strength. He looks like a 6'1", 335-pound ball of muscle. I like the way he works across his blocker's face when the offense runs away from him.
Williams should get a long look from 3-4 teams looking for a two-gap nose guard.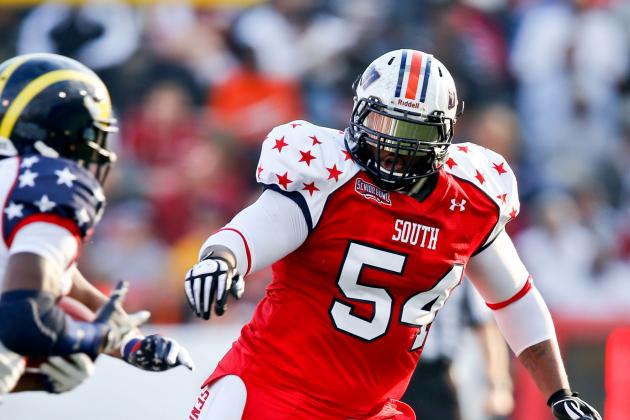 Derick E. Hingle-USA TODAY Sports

Montori Hughes is another active, big-bodied defensive tackle prospect from the FCS level. He runs well and carries 329 pounds on his 6'4" frame nicely.
During my film study, I saw him chasing two misdirection plays in backside pursuit. On both occasions, he was able to keep the ball-carrier from cutting back across the field.
Hughes will have to deal with questions about his dismissal from Tennessee, but he has enough ability to eventually earn some time on the field in the NFL.
Da'Rick Rogers was a 5-star prospect coming out of high school in 2010, so he's not your typical small-school NFL draft prospect.
During his stint in Knoxville with Derek Dooley's Volunteers, Rogers established himself as one of the best young receivers in the talent-rich SEC when he had over 1,000 yards receiving in 2011. If not for his subsequent dismissal from Tennessee, Rogers probably have warranted consideration in the first round.
At 6'3" and 215 pounds, Rogers has No. 1 receiver size, but he did struggle with drops at Tennessee and Tennessee Tech. Even still, he isn't afraid to make the tough catches over the middle and is usually good for some yards after the catch. He's a natural playmaker.
If you just go off film, Rogers is a future NFL star. The question is whether the issues that led to his dismissal in Knoxville will keep him from fulfilling his NFL potential.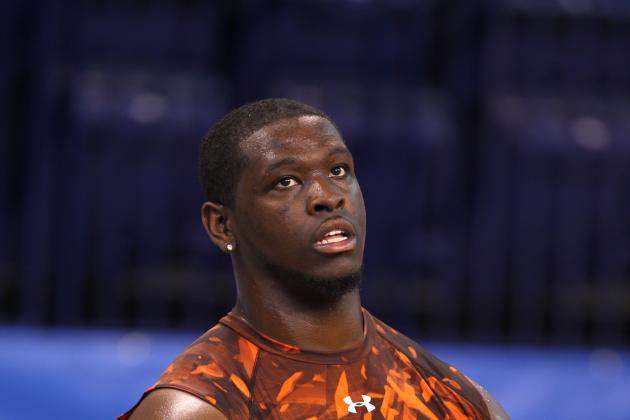 Brian Spurlock-USA TODAY Sports

Terron Armstead already formally introduced himself to NFL observers with his 4.7-second 40-yard dash at the combine.
His track background is well-documented, and his speed translates well on the field. NFL teams that run a lot of screens will find good use for him.
Since Armstead already has the size (6'5", 306 lbs) and athleticism to play left tackle in the NFL, the true test of whether he can develop into a Pro Bowl-caliber player will likely be whether he can handle the physicality that NFL defensive linemen bring to the table.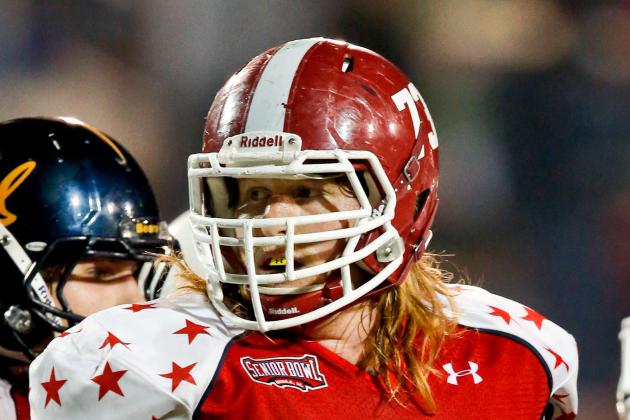 Derick E. Hingle-USA TODAY Sports

After watching Garrett Gilkey manhandle a few defensive linemen on his highlight reel, you'd never know that he was bullied as a kid.
The 6'6", 318-pound Chadron State product plays with a bit of a mean streak and does a great job of finishing off his blocks. Gilkey is light on his feet, and it's clear that he understands that football is played from the waist down.
His arms may be a too short for some teams to feel comfortable putting him at tackle, but he's also a little tall for some teams at guard.
Finding the right position may be what determines whether Gilkey develops into a starter or not.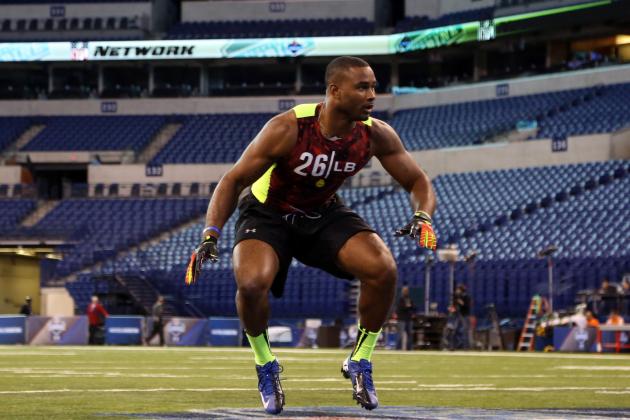 Brian Spurlock-USA TODAY Sports

Keith Pough is a vocal, physical linebacker who seemingly finds his way into every tackle when you turn on film of him playing in the MEAC conference.
Pough, 6'2", 240 pounds, is the all-time leader in tackles for loss in the FCS, and he appears to play with a lot of passion.
NFL teams will have to decide whether Pough is best suited to play as a traditional 4-3 outside linebacker or as an inside linebacker in a 3-4.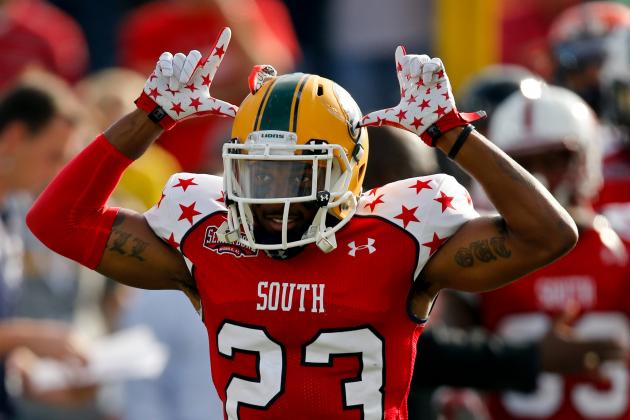 Derick E. Hingle-USA TODAY Sports

Like B.W. Webb, Robert Alford is a threat to score anytime he touches the ball. Whether he gets his hands on a pass on defense or is making an impact on special teams, he is an impact player.
At 5'10", 190 pounds, Alford brings 4.3 speed and a great deal of confidence to his position. That swagger will serve him well as a young corner in the league.
Robert Alford is a name you're going to want to remember come next season, because there's a good chance he's on the field Week 1 for whichever team ends up picking him.