Analysis of the Oakland Raiders' Most Realistic Options at QB for 2013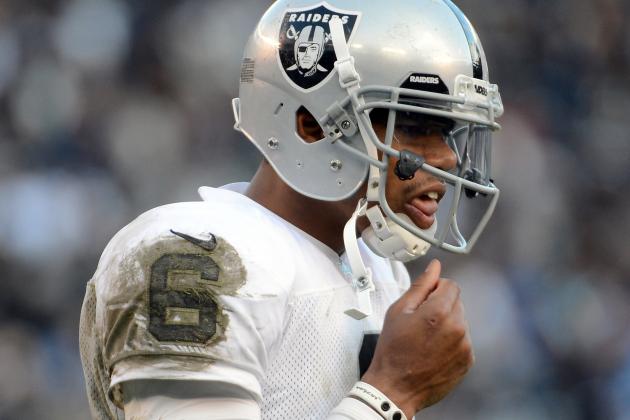 Harry How/Getty Images

Just about anytime there is talk of an available quarterback, whether it be a rookie or veteran free agent, there is almost an instant connection made to the Raiders.
Vince Young, Geno Smith, Kevin Kolb, Matt Flynn, Matt Barkley and others have been linked to Oakland one way or another. Meanwhile, Carson Palmer and Terrelle Pryor are the only quarterbacks under contract in Oakland.
Not all the links that have been made are realistic though. With that in mind, here is a look at the Raiders' most realistic options at quarterback for 2013.
Begin Slideshow

»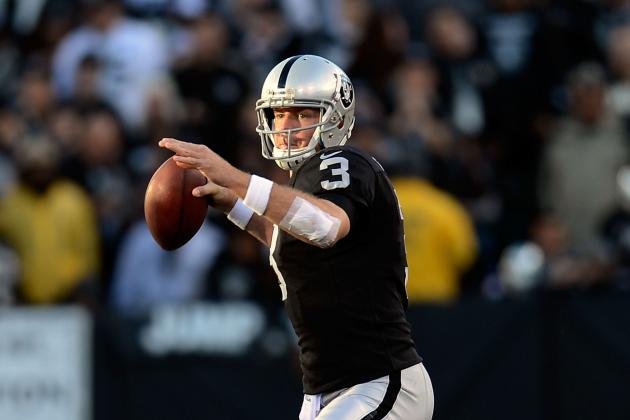 Thearon W. Henderson/Getty Images

To be the man, you gotta beat the man, and Palmer is the man right now in Oakland. He has been the starting quarterback since he was acquired in 2011 so it is his job to lose.
Palmer is coming off a 4,000 yard season with 22 TDs to just 14 INTs. Not a bad stat line, but the stats are inflated because of how much the Raiders' offense was playing against a prevent defense.
However, considering Greg Knapp was running the offense, those stats are impressive, garbage time or not.
Considering how much he had to deal with in 2012, I have been a supporter of Palmer throughout the offseason. Oakland has a lot of problems, but he hasn't been a big one. My support for Palmer has taken a nosedive with him reportedly declining a small pay cut in which he would still be making about $10 million in 2013.
I don't believe just anything I read, but that sounds believable. Raiders' GM Reggie McKenzie surely approached Palmer about a small pay cut for cap-relief but didn't want to hurt Palmer's trust in the organization with too much of a pay cut.
With that theory, a $3 million pay cut proposal sounds believable.
So if Palmer won't take a pay cut, Oakland has to decide what to do with him, and they have plenty of time to think. The Raiders are under the cap so there is no rush to trim more payroll. There aren't any trade deadlines looming either. McKenzie can think long and hard about this.
Right now, Palmer is the starter. However, a lot can happen between now and September.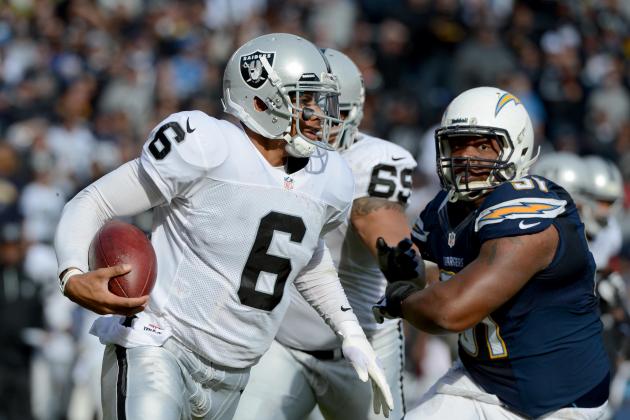 Donald Miralle/Getty Images

Pryor has a growing fan-following in Oakland.
Since being taken as a supplemental draft pick in 2011, there have been a number of fans anxious to see Pryor on the field. Whether it be as the starting quarterback or just having a package of plays he could run, fans have wanted to see Pryor play.
With the Raiders now entrenched in rebuilding mode, more and more fans are clamoring to see Pryor unseat Palmer as the starter. After all, Pryor can't do much worse than that 4-12 season under Palmer, right?
That would be true, but Palmer was not the reason the Raiders were 4-12 last year. Palmer is seen by many as the Raiders' best chance to win now.
Pryor showed that he is further along in his development than many people thought by playing well in the Raiders' season-ending loss at San Diego.
Dennis Allen said at the Senior Bowl that Pryor will have a chance to compete for the starting job that Palmer has held since 2011.
Pryor is the next, most realistic option for Oakland simply because he is already on the roster. It also helps that he showed promise and potential in his lone start last year.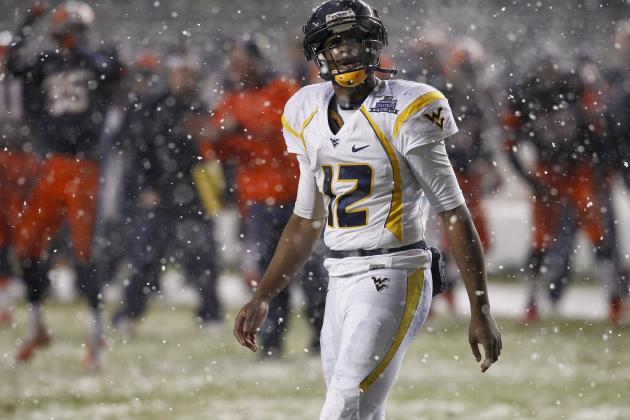 Jeff Zelevansky/Getty Images

Smith has become a polarizing figure to the Raider Nation ever since it became more and more possible that he could be taken with the third-overall pick in the 2013 NFL draft.
Looking at his college numbers, you can see how much of a threat he is to run and pass. Don't the Raiders already have a quarterback who did both those things well in college?
Oh yeah. Terrelle Pryor.
Because Pryor has been on the bench for so long, (the Raiders even had Matt Leinart play before him when Palmer got injured) it is looking like Reggie McKenzie and Dennis Allen aren't sold on him as the future of the franchise.
It is also possible that Smith is being used as trade bait by McKenzie to lure a team in need of a quarterback to trade with Oakland so the Raiders can acquire more picks.
On the other hand, McKenzie said he fired Hue Jackson and hired Dennis Allen because he wanted "to bring my (his) own guy in."
Does McKenzie also want his own guy as the franchise quarterback?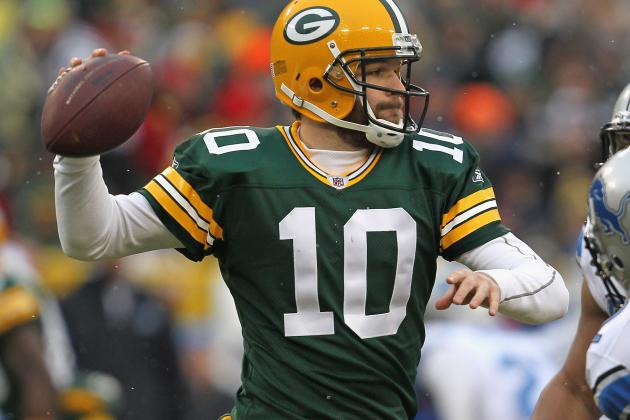 Jonathan Daniel/Getty Images

Speaking of McKenzie wanting his own guy, Matt Flynn is already McKenzie's guy.
McKenzie was a part of the Green Bay front office that drafted Matt Flynn in the seventh round in the 2008 NFL draft.
Then again, drafting a quarterback in the seventh round of the draft isn't exactly a ringing endorsement of the player.
Although the Raiders were hampered by the salary cap last year and already had Palmer and Pryor on the roster, McKenzie made no effort to recruit Flynn to Oakland as an unrestricted free agent.
Flynn found his lucrative contract in Seattle, but he also found himself benched in favor of a rookie. Of course, that rookie was the sensational Russell Wilson, and he led the Seahawks into the playoffs.
McKenzie has a deal in place for Flynn, but Flynn is giving McKenzie the Palmer treatment. Flynn is unwilling to take a pay cut to get the trade finalized.
The reason Flynn may not be Oakland's starter is because the Raiders aren't handing him the starting job, hence the pay cut stalemate. Flynn would come in to compete, presumably with Pryor, once Palmer is sent packing after Flynn is acquired.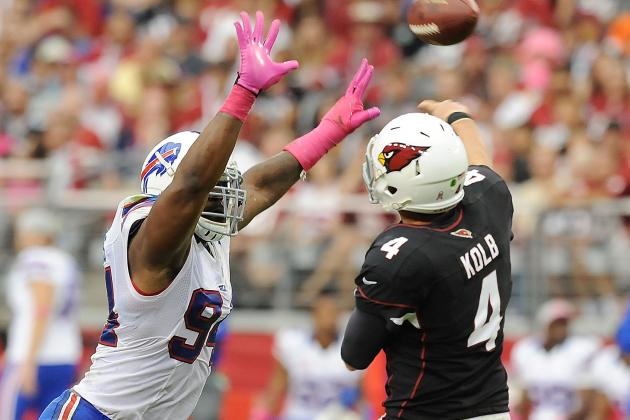 Norm Hall/Getty Images

Acquiring Kolb was a mistake that the Arizona Cardinals made that I hope the Raiders don't make as well.
Kolb was unable to succeed on a team where he could throw to Larry Fitzgerald. The Raiders don't have a receiver on the roster half as good as Fitzgerald.
The Raiders' offensive line, particularly right tackle, won't keep Kolb standing when going up against the pass-rushers of the AFC West. That is where the mobility of Pryor or Smith would come in handy.
On the plus side, the Raiders wouldn't lose draft picks for Kolb as they would for Flynn. Also, with Kolb being a free agent, the Raiders would have much more say on his salary than they do with Palmer and Flynn.
If the Raiders cut or trade Palmer and really don't believe in Pryor, then Kolb wouldn't be as bad of an idea.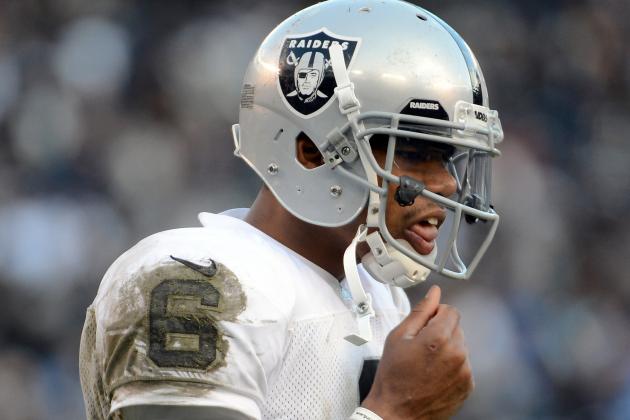 Harry How/Getty Images

Looking at these five options that the Raiders appear to have, my pick to be the starting quarterback in 2013 is Terrelle Pryor.
With Palmer and Flynn prioritizing money over the team's other needs, and with the uncertainty that comes with a quarterback taken with a top-five pick and the undesirable Kolb now being considered, Pryor wins this competition to me.
Pryor did enough in his one career start to show that he has promise and deserves a longer look. He is far less expensive than Palmer is or signing Kolb would be. He is already on the roster so he won't cost any picks like Flynn would via trade. The Raiders have far too many needs on defense to take Smith in the draft.
I don't want to say that Pryor is the default quarterback because he does have potential. But Pryor kind of is the default quarterback just because all the other aforementioned quarterbacks have taken themselves out of the running.