7 MLB Prospects Whose Power Will Jump the Furthest in 2013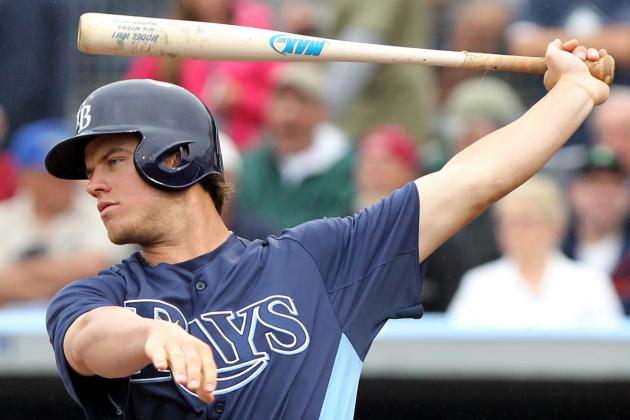 Kim Klement-USA TODAY Sports
Wil Myers exploded for 37 home runs last season across two levels.
After hitting 27 home runs over his first three minor league seasons, Wil Myers exploded for 37 home runs last year in 134 games between the Royals' Double-A and Triple-A affiliates. Although he had always showcased plus raw power to all fields with a quick, explosive swing and exceptional extension after contact, his mature plate discipline prevented its utilization.
However, by employing a more aggressive, free-swinging approach last season, Myers finally tapped into his power in a big way, though it did come at the cost of a career-high 140 strikeouts. Regardless, the 22-year-old has still established himself as one of the top power-hitting prospects in the game over the last year.
But which young hitters are poised to break out the boom stick in 2013?
Here's a look at seven prospects who should see a spike in their power numbers during the upcoming season.
Begin Slideshow

»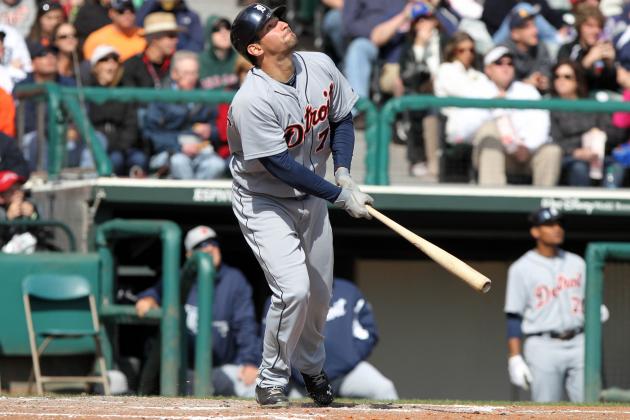 Kim Klement-USA TODAY Sports

While Castellanos has begun to fill out physically over the last year, he still possesses a wiry frame at 6'4", 210 pounds. Considering he's only 21 years old, the outfielder will inevitably add strength as he continues to mature.
Splitting the 2012 season between High-A Lakeland and Double-A Erie, Castellanos batted .320/.365/.451 with 46 extra-base hits, though only 10 of those left the yard.
As a prospect, Castellanos has one of the more projectable hit tools in the minor leagues; his natural inside-out swing and excellent bat-to-ball ability results in consistent hard contact to the opposite field. Presently, most of the right-handed hitter's power is to right-center field. However, if he can start turning on more inner-half pitches, his home run total stands to increase.
Scheduled to open the upcoming season in Triple-A, Castellanos will face pitchers capable of painting plus fastballs on the inside corner, so an adjustment will have to be made in some regard.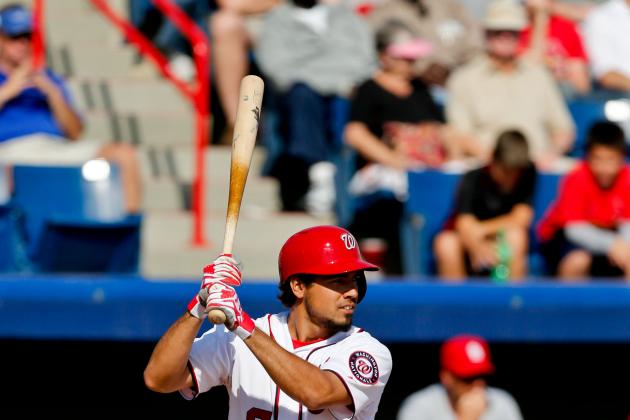 Derick Hingle-USA TODAY Sports

Dating back to his days at Rice, Rendon has always showcased above-average-to-plus power potential. In possession of arguably the most polished hit tool and plate discipline in the minor leagues, it's easy to overlook the thump in the 23-year-old's bat given his concerning medical history.
In the second game of his professional debut last season with High-A Potomac, Rendon fractured his ankle while running the bases. Instead of racing through the Nats' system and banging on the big league door as hoped, the third baseman batted .233/.363/.489 with six home runs over 43 games, 21 of which were played for Double-A Harrisburg.
Fully healthy this spring, Rendon looked like his old self at the dish, as he launched four home runs in 13 games in major league camp. With loose wrists and a lightning-quick bat, the right-handed hitter is comfortable working deep counts and effortlessly smashes the ball to all fields.
Rendon isn't a power hitter, per se; rather, he's is a line-drive hitter who happens to clear walls. Provided that he can stay in the lineup for the majority of the 2013 season, I firmly believe that Rendon will hit for significant power, and certainly more than people are expecting.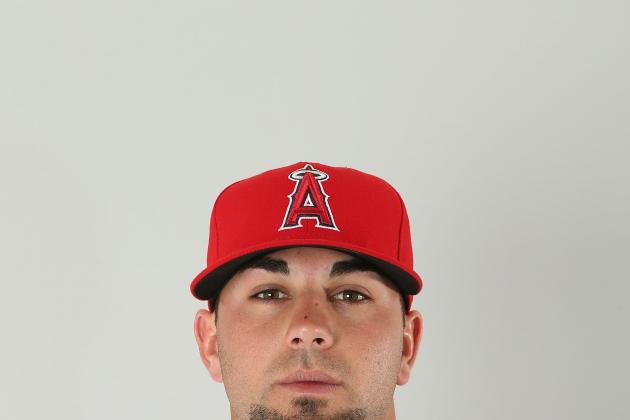 Mark J. Rebilas-USA TODAY Sports

Cowart blossomed into one of the game's top third base prospects last year in his full-season debut, as he batted .276/.358/.452 with 16 home runs in 135 game across both Class-A levels. At 6'3", 195 pounds, the 21-year-old's broad shoulders suggest that he'll add significant upper-body strength as he matures.
The Angels' top prospect has always showcased more power from the left side, as is the case with most switch-hitters. Compared to his natural right-handed swing, his left-handed one is more power-oriented with a leveraged bat path and greater extension after contact.
Although he'll inevitably be challenged by the more advanced pitching in Double-A, Cowart should have no problem surpassing last year's home run total.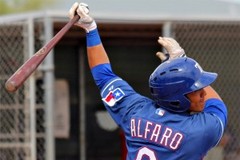 Courtesy of dplbaseball.com
Although he remains raw in all facets of the game, Alfaro's tools give him one of the highest ceilings among all minor league catchers.
At 6'2", 185 pounds, he stands out for his athleticism behind the plate and cannon for an arm. His bat, however, is still very raw with plenty of room to improve. Alfaro held his own last season at a more advanced level, as he batted .261/.320/.430 with five home runs in 74 games for Low-A Hickory as a 19-year-old.
A right-handed hitter, Alfaro takes forceful hacks that should produce above-average power numbers at maturity. However, that same free-swinging approach, as well as his raw pitch recognition, has also led to 186/25 K/BB in 167 games over the last three seasons. Therefore, there's reason to believe that the 20-year-old's power will emerge as his contact rate improves.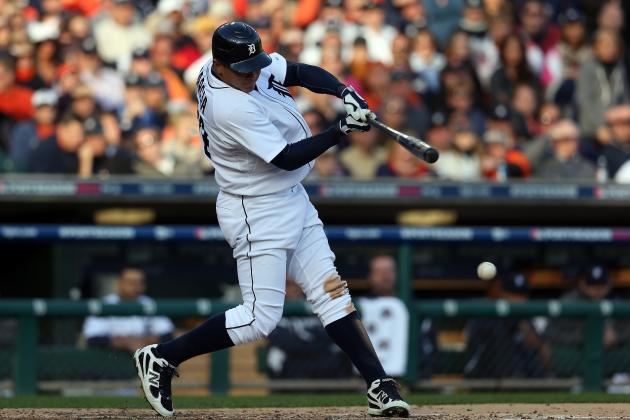 Jonathan Daniel/Getty Images

The 2012 season couldn't have been more eventful for Garcia, who served as the Tigers' right fielder in the postseason after opening the year at High-A Lakeland. At 6'4", 240 pounds, one would naturally peg the 22-year-old as a slugger based on his physical prowess. Therefore, it may come as a surprise that he's never hit more than 14 home runs in a single season, which he did last year across three levels.
Much like fellow prospect Nick Castellanos, Garcia employs an upper-body-oriented swing and opposite-field approach. While he already showcases plenty of power to the right-center gap, the outfielder seems reluctant to cut it loose and turn on inside pitches.
Additionally, he's still learning how to utilize his strong lower half at the plate. But once he puts everything together, Garcia should hit for above-average power, and certainly enough to serve as a right fielder in the major leagues.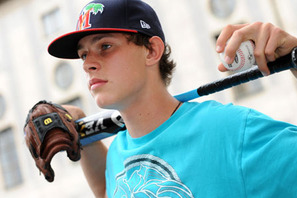 Courtesy of twinstarget.com
Signed as a 16-year-old out of Germany in 2009, Kepler took a major step forward last season when he batted .297/.387/.539 with 10 home runs in 59 games for rookie-level Elizabethton in the Appalachian League.
Having always possessed a projectable 6'4" frame, the now-20-year-old has added roughly 30 pounds of muscle over the last year, and, as a result, saw his home run total jump from one to 10 in back-to-back campaigns in the Appalachian League.
In addition to beefing up, Kepler's plate discipline also vastly improved in 2012, as reflected by his 33/27 K/BB in 269 plate appearances. Set to make his full-season debut at Low-A, the left-handed hitter should endure his share of struggles against more advanced pitching. That said, he'll also continue to tap into his raw power and have no problem surpassing last year's home run total.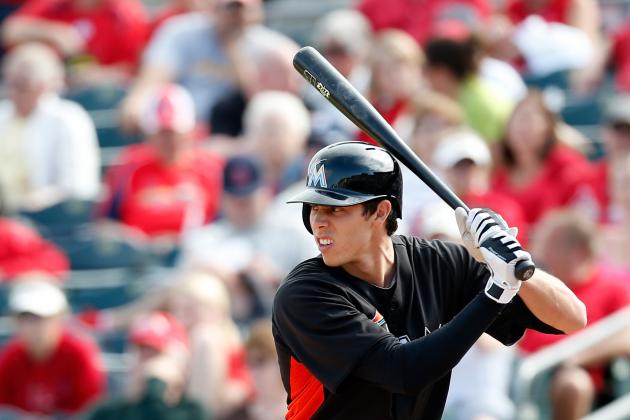 Chris Trotman/Getty Images

Boasting the sweetest left-handed swing in the minor leagues—which says a lot because every left-handed swing is a thing of beauty—Yelich, 21, has batted .322/.395/.497 in 241 games over three seasons. At 6'4", 189 pounds, the outfielder is still growing into his tall, lanky frame and has yet to truly tap into his raw power.
Furthermore, his 27 home runs over the last two years is all the more impressive considering that he played the 2011 season in the cold-weather Midwest League (Low-A) followed by the pitcher-friendly Florida State League (High-A) in 2012.
As a result, Yelich's power potential has been harder to project than his hit tool. That's why it was encouraging to see him go nuts this spring in major league camp with five home runs in 22 games. Set to open the 2013 season in Double-A, Yelich should start to jump the yard with increased frequency as he continues to add strength and play in more hitter-friendly environments.