Best and Worst Moves New York Jets Made in Free Agency
Kim Klement-USA TODAY Sports
Antonio Garay may improve the Jets' pass rush, but he's only played two full seasons in 10 years.
It's difficult to grade many of the New York Jets' moves in free agency anything other than "incomplete." New players like running back Mike Goodson and outside linebacker Antwan Barnes could upgrade the team significantly, provided they stay healthy.
Similarly, discarded players like running back Shonn Greene and tight end Dustin Keller could enjoy monster seasons, making Jets fans regret their loss.
In other words, this is not your black and white "BEST/WORST" article. "BEST" choices involving player signings are made with fingers firmly crossed. Some "WORST" moves, while regrettable, are borne of financial necessity.
A year from now, it's entirely possible that some "BEST/WORST" pairs will flip-flop. That's the safest prediction I can make.
One "BEST" move, for example, is signing Antwan Barnes and Antonio Garay to bolster the pass rush looks good right now. However, if they go on injured reserve two weeks into the season, that won't help matters at all.
Its corresponding "WORST" move, losing Yeremiah Bell and LaRon Landry to free agency while possibly trading Darrelle Revis, looks like the death knell to what could have been an elite secondary. Nonetheless, those moves will be strokes of genius should Bell show his age, Landry revert to his injury-prone ways and Revis not return to his pre-injury form.
Enjoy.
Sources, if not otherwise referenced:
Begin Slideshow

»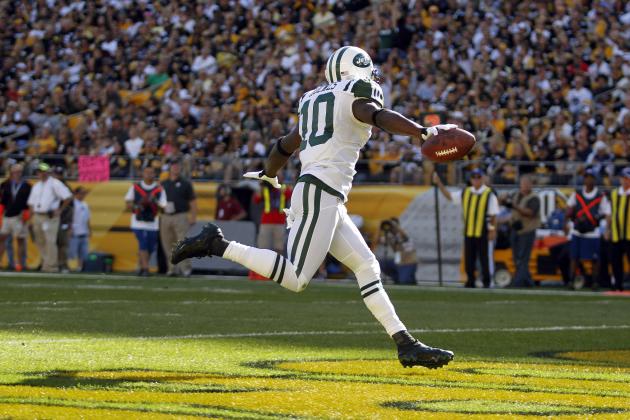 Justin K. Aller/Getty Images
Santonio Holmes in the open field against the Pittsburgh Steelers
Once the Jets made the obvious roster cuts to achieve cap compliance, they still had precious little cap room to spare. The cuts freed over $31 million in cap room. However, even after the NFL raised the 2013 cap to $123 million, the Jets' available space stood at $8.2 million.
Problem is teams must reserve at least $4 million to sign draft picks. That left the Jets with $4.2 million, at most, to spend in the free-agent market.
Cutting Sione Pouha cleared another $3.8 million. John Idzik's next moves cleared $7.7 million more without another cut. He restructured the contracts of Santonio Holmes and Antonio Cromartie.
The moves got the Jets $15.5 million under the cap as the NFL's new year began. Idzik gained more credibility as general manager by showcasing his negotiation skills.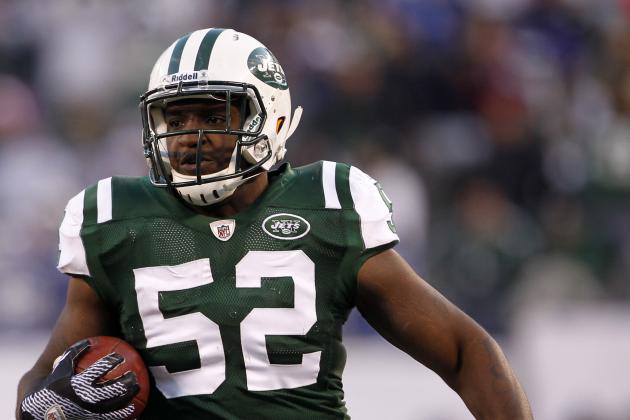 Rich Schultz/Getty Images
Reworking David Harris's deal could add almost $7 million in cap room.
Holmes' and Cromartie's contracts are not the only restructuring possibilities. In Part Two of his series "Looking at the New York Jets Salary Cap," nyjetscap.com and overthecap.com founder Jason Fitzgerald finds other deals to re-work.
He proposes adding another $15.4 million in cap room by restructuring the contracts of David Harris, Nick Mangold and Mark Sanchez. His approach would even leave Sanchez available for release or trade in 2014.
I'll leave the details to Fitzgerald. The questions I have are: Did John Idzik try such moves? What happened?
Many of the "WORST" moves this slideshow discusses were financially motivated. The Jets simply did not have the cap space to keep everyone worth keeping. However, add an extra $15.4 million of cap room and options suddenly expand.
So far, the Jets have lost LaRon Landry, Shonn Greene, Dustin Keller, Mike DeVito and Yeremiah Bell. Take a look at their deals, prorated to annual equivalents:
Bell: $0.905 million
DeVito: $4.2 million
Greene: $3.33 million
Landry: $6 million
Keller: $4.25 million
Total: $18.685 million
In short, an extra $15.4 million in cap room would have let the Jets compete for almost everyone. They could have signed everyone but Greene.
Whether they wanted them all or not isn't as important as that they didn't have the opportunity. Considering that wide receiver Braylon Edwards, guards Brandon Moore and Matt Slauson, tight end Jeff Cumberland and tackle Austin Howard have yet to commit themselves, the impact of not clearing this cap room may yet come back to haunt Idzik and the Jets.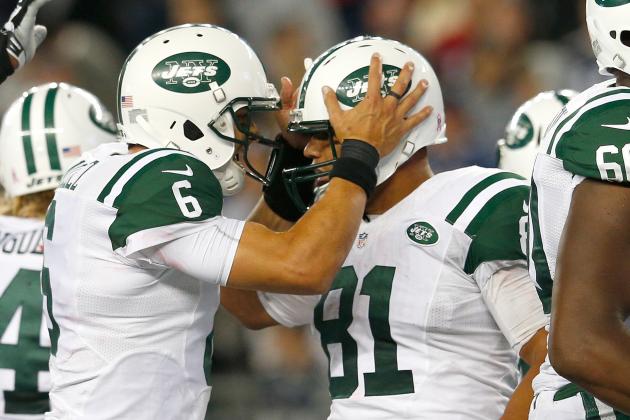 Jim Rogash/Getty Images
Dustin Keller (right) would have earned more in 2013 had the Jets imposed a franchise tag.
For similar reasons, the Jets are better off without Shonn Greene and Dustin Keller. In each case, the contract the player sought was inappropriate. Greene wanted more money to produce the same results. Keller wanted to test the open market despite his injury-hampered season.
Greene had the durability expected of a featured running back but not the game-breaking potential. Other than his durability, the best thing about Greene was his price. Reaching 1,000 yards rushing on the last day of the season was acceptable when Greene commanded a base salary of $615,000 and cap value of $841,250.
Greene's reward was a three-year, $10 million contract with the Tennessee Titans. The Jets' deal with potential replacement Mike Goodson is for three years, $6.9 million. In other words, Greene priced himself out of green and white.
Tight end Dustin Keller, while a favorite of quarterback Mark Sanchez, missed half the season with injuries, then rejected the concept of a one-year trial as the Jets' franchise-tagged player at almost twice as much salary as his 2012 base rate of $3.052 million. Keller's 2012 cap value was almost $4 million.
Granted, the Jets did not use the franchise tag, but it would have been more tactful for Keller to express his preference to Jets' management behind closed doors rather than declare it in public to Manish Mehta.
As it turns out, Keller would have been better off being franchised. His one-year, $4.25 million deal with the Dolphins is for the same duration and less money than the $6.066 million a franchised tight end would receive.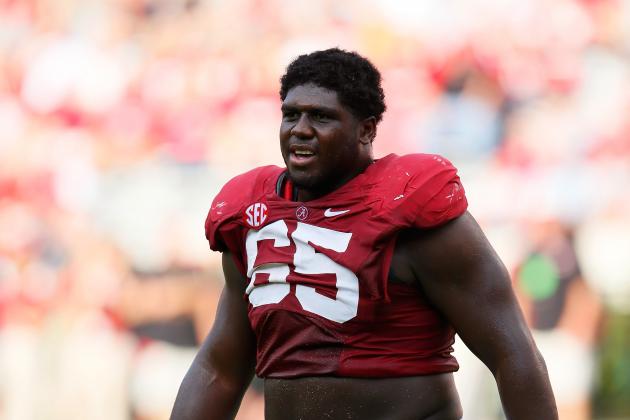 Kevin C. Cox/Getty Images
Maybe Alabama's Chance Warmack will replace Brandon Moore or Matt Slauson.
"Loss" is premature. However, it could happen if tackle Austin Howard doesn't sign his tender offer and guards Brandon Moore and Matt Slauson find new employment.
ProFootballFocus.com's Steve Palazzolo rates both Moore and Slauson among his top 10 free-agent interior linemen available. Palazzolo ranks Moore the No. 1 free-agent interior lineman, writing: "Moore's all-around game has him as our top interior lineman heading into free agency." Of No. 9 Slauson, Palazzolo raves, "Drafted in the sixth round in 2009, Slauson is one of the Jets' few recent picks to actually overachieve his draft position."
The same site's Nathan Jahnke rates tackle Austin Howard the second-most undervalued Jet, behind only Muhammad Wilkerson. Jahnke writes of Howard,
It isn't all that often that you can stick an undrafted player who has yet to play an offensive snap in at right tackle and it work out well....Anytime you can get a suitable starter for the league minimum, you've done something right.
It's true that not everyone rates the Jets' offensive line so highly. Rich Cimini of espnnewyork.com, for example, writes,
Here's the truth: In 2012, the Jets' line wasn't as good as it used to be in 2009 and 2010, but it wasn't as bad as some portrayed it. They have a solid foundation, with Ferguson and Mangold. The organization is high on Howard, who, despite ups and downs in his first year as a starter, looks to be a keeper.
It's also true that unless others pass on Moore and Slauson, forcing them to lower their demands, the Jets will find it difficult to afford all three. Their combined 2012 cap value was almost $6 million, with Moore holding the lion's share. However, Howard's second-round tender offer raises the estimated cap room required by around $1.5 million ($2.02 million offer less 2012 cap value of $540,000). The extra cap room discussed in slide two might have come in handy.
Is it possible, however, that the Jets will try to re-sign Slasuson along with Howard? The acquisition of former Pittsburgh Steelers guard Willie Colon, reputed to be a solid run blocker, raises the possibility of platooning him with Slauson, who Palazzolo considers a stronger pass-blocker.
That raises the possibility of drafting a high-profile guard like Alabama's Chance Warmack to fill the other slot.
If the Jets don't re-sign or find the equivalent of Moore, Slauson and Howard, 2013 could be a long season for quarterbacks and running backs alike.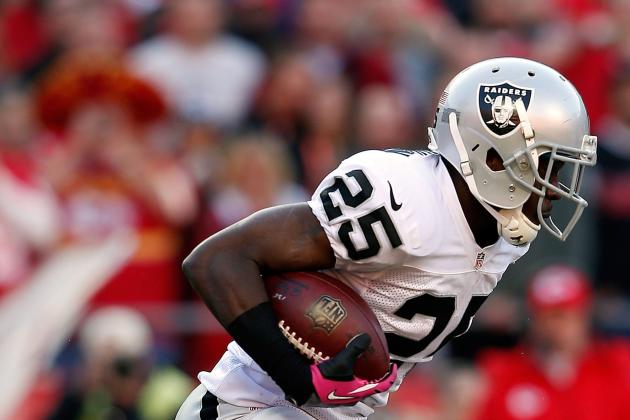 Jamie Squire/Getty Images
Mike Goodson is fast and elusive. Can he be durable?
Despite Mike Goodson's history of injuries and fines, his performance potential is too good to ignore. If he fulfills his promise, his three-year, $6.9 million contract will be one of John Idzik's most cost-effective signings.
The West Coast offense needs a running back capable of generating 2,000 yards of total offense. Goodson's 6.3 yards per carry and 12.2 yards per reception in 2012 suggests that he could do it.
If he assumed Shonn Greene's workload of 16 or 17 carries per game and added five or six catches, he would only need to average at least five yards per carry and between nine and 10 yards per catch to reach 2,000. He must average 125 yards of total offense per game
Goodson must demonstrate durability, however. He has never carried the ball more than 103 times in a season, nor made more than 40 catches. He must run between 250 and 275 times and catch between 80 and 96 balls to reach the 2,000-yard goal.
If he does that, Jets fans will be asking, "Shonn who?", and John Idzik will look like a genius.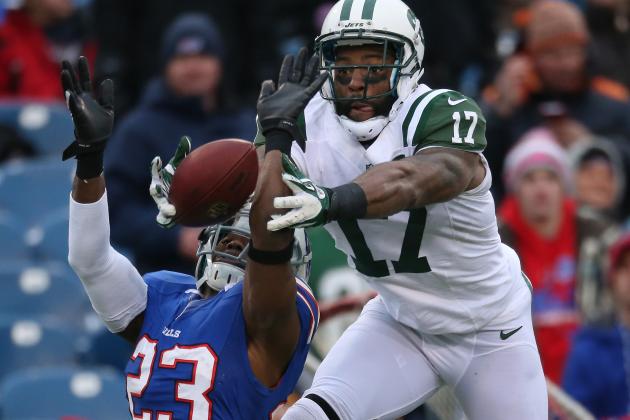 Tom Szczerbowski/Getty Images
Braylon Edwards corrals a ball against San Diego.
Tight end Jeff Cumberland and wide receiver Braylon Edwards are still free agents. Why?
If Mark Sanchez is going to start at quarterback, he needs a lineup with which he is comfortable. Looking back to 2011, when his decline supposedly began, brings to light a couple of interesting points:
Sanchez had new wide receivers Plaxico Burress and Derrick Mason. Jerricho Cotchery and Braylon Edwards were gone. This was an upgrade on paper.
The NFL lockout eliminated offseason team activities and minicamps. Sanchez not only had unfamiliar targets, he had less time to work with them under coach supervision.
No wonder Dustin Keller was a "favorite target." He was the only principal target left from Sanchez's first year, 2009.
Jeff Cumberland may not be the talent Keller was. However, he and Sanchez were beginning to develop some chemistry. Edwards is an old friend from the AFC Championship game years, who showed flashes of that form when he returned to the Jets for the final three games of 2012.
Sanchez is going to have plenty to absorb learning Marty Mornhinweg's West Coast offense. It's best that he have some familiar targets with whom to learn it. Otherwise he may never regain the confidence that he appears to have lost.
The Jets have tendered Cumberland at $1.32 million but need his signature. Edwards should accept a one-year deal at or near the veteran's minimum. They won't break the salary cap bank.
Hopefully, better news is coming.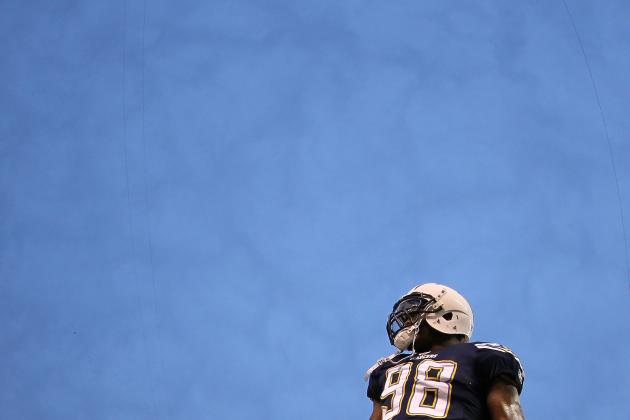 Stephen Dunn/Getty Images
OLB Antwan Barnes had 11 sacks for the Chargers in 2011.
If new outside linebacker Antwan Barnes and nose tackle Antonio Gary perform at their peak, the Jets will get 5.5 sacks from the starting nose tackle and 11 sacks from an outside linebacker. That would dramatically increase the pressure on the opposition quarterback, the major weakness in an otherwise stellar pass defense.
They'll have to stay healthy. In that regard, Barnes has been the more successful of the two. He played 11 or more games in each of his six seasons. In 2011, when he reached his career high of 11 sacks, Barnes played in all 16 regular-season games.
On the other hand, Garay has missed three full seasons since beginning his career in 2003. However, he has produced when healthy. He played all 32 regular-season games from 2010 to 2011 and compiled eight sacks, 74 tackles and 31 assists. In no other season did he play more than eight games.
Here's to Garay's and Barnes's good health. Quarterbacks, beware!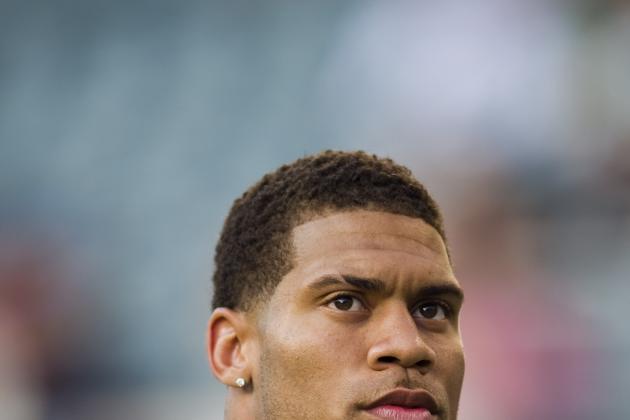 Howard Smith-USA TODAY Sports
LaRon Landry's reward for a Pro Bowl year came from Indianapolis.
The Jets' 2012 pass defense was second in the NFL. The secondary, which included the Jets' only two Pro Bowl selections, was the shining jewel of that defense. It could have shone even brighter had Darrelle Revis rejoined Pro Bowl safety LaRon Landry, Pro Bowl cornerback Antonio Cromartie and safety Yeremiah Bell. However, Bell and Landry are lost to free agency. Revis may depart by trade.
Did this have to happen?
Possibly not. As of this writing, the Jets have enough cap room to have matched Landry's and Bell's offers. However, after doing so, they'd need to find around $3 million more room to accommodate the draft. Again, here's a case where it would have paid to restructure or extend other contracts in addition to those of Santonio Holmes and Antonio Cromartie.
Then there's Revis. Many fans and media wish Revis' status would be resolved once and for all. They respect his ability and at the same time, are tired of the constant haggling over his contract. They would welcome another team taking the headaches, as long as it wasn't the Patriots.
However, there may be a method behind the madness. Jason Fitzgerald of nyjetscap.com developed a table that shows the salary cap consequences of trading Revis at different times.
If the Jets wish to trade Revis in 2013, the best time would be between June 1 and the opening of training camp. The resulting cap hit would be $5 million. Trading Revis before June 1 results in a $13 million hit before pre-camp workouts and a $14 million cap hit upon their completion.
Undoubtedly, however, potential trading partners know this. They would adjust their offers accordingly. Plus, this strategy would eliminate adding new picks to the 2013 draft. Still, the effect of trade timing on cap impact seems too significant for the Jets to ignore.
There's still the matter of replacing Bell and Landry. Second-year safety Antonio Allen may have the inside track on one starting spot, but a draftee, such as Syracuse's strong safety Shamarko Thomas, may have to fill the other.
Sam Greenwood/Getty Images
David Garrard hopes to challenge Mark Sanchez and revive his career.
David Garrard isn't the Jets' long-term quarterback solution. However, he offers an intriguing combination of accuracy, mobility and productivity that should provide Mark Sanchez competition for the starting job.
Garrard has outperformed Sanchez in the following statistical categories:
Completion percentage: Garrard 61.6, Sanchez 55.1
Touchdown percentage: Garrard 3.9, Sanchez 3.6
Interception percentage: Garrard 2.4, Sanchez 3.7
Rushing (yards per carry): Garrard 4.6, Sanchez 2.7
Passer rating: Garrard 85..8, Sanchez 71.7
Pro Bowls: Garrard 1, Sanchez 0
Garrad's downside relative to Sanchez is his sack frequency, 7.3 percent of passing plays versus Sanchez's 6.3 percent and durability. Garrard lost two seasons to injury. Sanchez has lost one game.
On-field competition will decide who gets the Jets' quarterback job. However, even if Sanchez wins, Garrard will still have value, much as Mark Brunell had value as a mentor during 2010 and 2011. After 2013, Garrard's status will be less certain. The Jets' long-term quarterback future will be either a rejuvenated Sanchez or someone selected in the 2013 or 2014 draft.
However, if Garrard hopes to revive his career, this is the time and place for him to begin.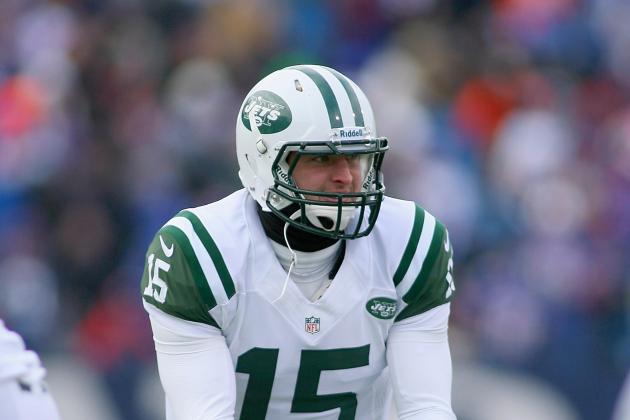 Rick Stewart/Getty Images
Did Tim Tebow attempt to punt in the Jets' 2012 finale?
Why is Tim Tebow still a New York Jet?
Cutting or trading him would have freed $1.055 million in cap room. Compared to the $12 million the Jets gained by cutting Jason Smith, that doesn't sound like much.
However, it's $100,000 more than the value of Yeremiah Bell's deal with the Arizona Cardinals. Who contributed more in 2012, Bell or Tebow? The "approximate value" statistic may offer some insight.
Bell: One sack, three fumble recoveries, 70 tackles, 17 assists. Approximate value: 7
Tebow: 141 yards total offense. Approximate value: 1
Not only is Bell's approximate value higher, but his numbers read like those of a full-time contributor. Tebow's look more like the results of one game.
The Jets do not need Tebow at quarterback. He needs a college-like option offense to function at his best, not the pass-centric West Coast offense the Jets wish to implement. Because of that, he isn't a viable candidate for the Jets' quarterback job, despite his achievements in Denver.
Tebow deserves a fresh start with a new team, perhaps a new league. For Tebow's sake, the Jets should let him go.