Big-Name MLB Prospects in Danger of Being Labeled "Four-A Players"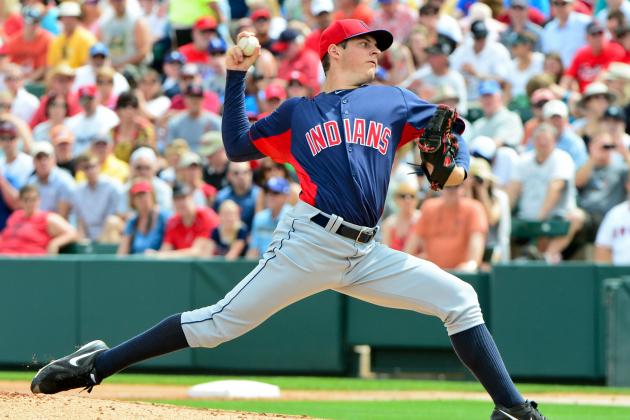 Matt Kartozian-USA TODAY Sports
Trevor Bauer's power arsenal still makes him a potential top-of-the-rotation starter. Now, about that command...
Hearing the term "Four-A" player is supposed to be a nice way of saying that someone is a bust, but when you really stop to think about it, it actually comes off sounding worse.
The term Four-A player has been used forever in Major League Baseball, as a simple way of talking about a prospect that could rake in Triple-A only to get called up to The Show and look like Tony Romo in a late-season game for the Dallas Cowboys.
It would be much easier for a prospect to flame out in the minors, because then there wouldn't be nearly as much head scratching as there is when a player can excel at every level of baseball except the one where it matters the most.
Of course, the disparity in talent between Triple-A and Major League Baseball is off the charts. It's never easy to make the move and have immediate success—even the best players can take at least a full year or two before they figure it out.
We get spoiled when we see players like Albert Pujols move straight from A-ball to St. Louis and become the best player of his generation or see Bryce Harper and Mike Trout at 19 and 20 years old put together historic rookie seasons.
So in anticipation of the usual questions that these big-name prospects will get, here are the players that appear to be in the most danger of being tagged with the dreaded "Four-A" label.
These are not players that necessarily have failed in the big leagues, but they have at least one glaring hole in their game right now that prevents them from being successful.
Begin Slideshow

»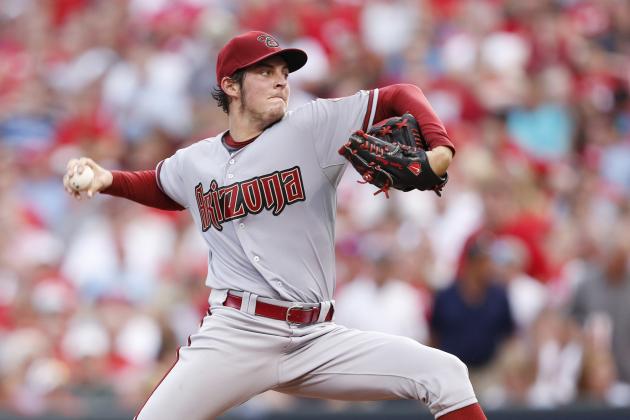 Joe Robbins/Getty Images
The Diamondbacks traded Trevor Bauer to Cleveland during the offseason because his personality didn't mesh with what they wanted.
Career Minor League stats
22 GS, 12-2, 130.1 IP, 2.42 ERA, 107 H, 40 R (35 ER), 9 HR, 61 BB, 157 K
Career Major League stats
4 GS, 1-2, 16.1 IP, 6.06 ERA, 14 H, 13 R (11 ER), 2 HR, 13 BB, 17 K
Why Bauer hasn't succeeded yet
To save time from having to say this with every player, I will say it once here, but it goes for everyone: The sample size by which we are judging Bauer is so small that it is hard to write off his potential.
Bauer was the No. 3 overall pick in the 2011 draft out of UCLA. He features a deep arsenal of pitches to attack hitters, including a plus-plus fastball-curveball combination and an above-average changeup.
The problems that Bauer has had stem from his ability to control the fastball in the zone and keep his curveball up enough so that big-league hitters swing and miss. He tends to overthrow the fastball, causing it to sail on him.
His curveball, which is his best swing-and-miss pitch, gets thrown in the dirt so much, that when hitters see it coming, they know to just lay off it. That leads to high pitch counts early in games and a lot of walks.
Panic meter: 3 out of 10
Bauer is entering his second full season in pro ball and is just 22 years old. His stuff hasn't diminished, so it is just a matter of getting him to tweak some things with his mechanics to have him reach his potential.
Considering how in tune Bauer is with biomechanics, I have little doubt that he will be able to figure things out very soon.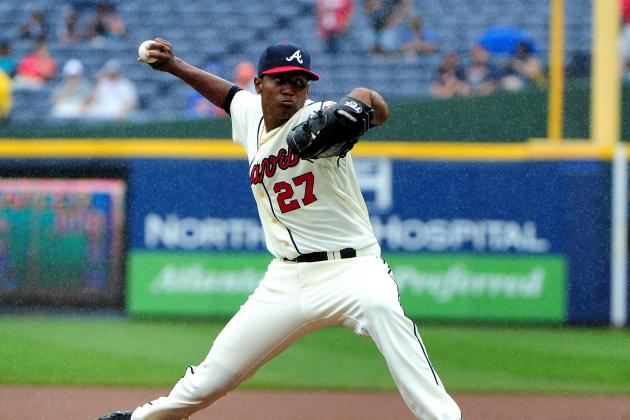 Scott Cunningham/Getty Images
Julio Teheran is getting another well-deserved shot in the Braves' rotation this season.
Career Minor League stats (5 seasons)
95 G (94 GS), 35-26, 514.2 IP, 3.50 ERA, 473 H, 221 R (200 ER), 38 HR, 153 BB, 462 K
Career Major League stats
7 G (4 GS), 1-1, 26.0 IP, 5.19 ERA, 26 H, 15 ER, 4 HR, 9 BB, 15 K
Why Teheran hasn't succeeded yet
Considering how long Teheran has been on the prospect radar, it might surprise some to learn that he is just 22 years old (10 days younger than Trevor Bauer, actually), but his ceiling has gone from potential ace to No. 2 starter under the most optimistic scenario.
The biggest problem Teheran has had so far is the lack of development with his breaking ball. He throws a curveball that can get very loopy and easy to hit when he throws it for strikes, which isn't very often.
Lacking a consistent third pitch may push Teheran into No. 4 starter territory, though he could exceed that because his changeup is so good. Better command in the zone, particularly with his fastball, will go a long way towards determining if this is the year he finally sticks in the big leagues.
He has looked better this spring—obvious caveats for both spring games and small sample sizes apply—so much so that the Braves named him their No. 5 starter this season.
Panic meter: 4 out of 10
Unlike Bauer, whose problems are all command related, Teheran doesn't have the deep arsenal with a consistent breaking ball to support him, but a solid changeup can be the great equalizer, so don't sell him down the river quite yet.
After all, Kris Medlen uses primarily a fastball-changeup combination and he was phenomenal last season.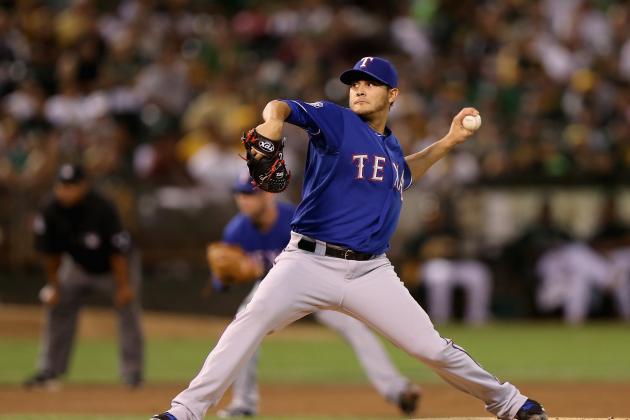 Ezra Shaw/Getty Images
Martin Perez has seen his prospect status drop since his breakout season in 2009.
Career Minor League stats (Five seasons)
115 G (104 GS), 27-30, 540.1 IP, 4.23 ERA, 568 H, 299 R (254 ER), 40 HR, 228 BB, 462 K
Career Major League stats
12 G (6 GS), 1-4, 38.0 IP, 5.45 ERA, 47 H, 26 R (23 ER), 3 HR, 15 BB, 25 K
Why Perez hasn't succeeded
Perez's problems come when he gets behind in counts, which is what you can say for a lot of pitchers. He seems to put more pressure on himself in a 2-0, 3-1 count and leave a fat pitch in the middle of the plate or just miss his spot entirely.
The delivery and stuff are still very good, even though his changeup has regressed over the last two years. It doesn't have the same fade it once did, but can be an effective weapon from time to time. His command has never been great and actually regressed as he got older and moved up the ladder.
Bad luck is also hurting him right now, as Perez seemed to be in line for the No. 5 starting job in the Rangers' rotation this season, but a fractured forearm is expected to keep him out for two months.
Panic meter: 6 out of 10
Perez doesn't have the raw stuff that Bauer or Teheran do, and his command issues are more pronounced, so even at 21 years old, it might be time to start worrying about his ultimate role in the big leagues.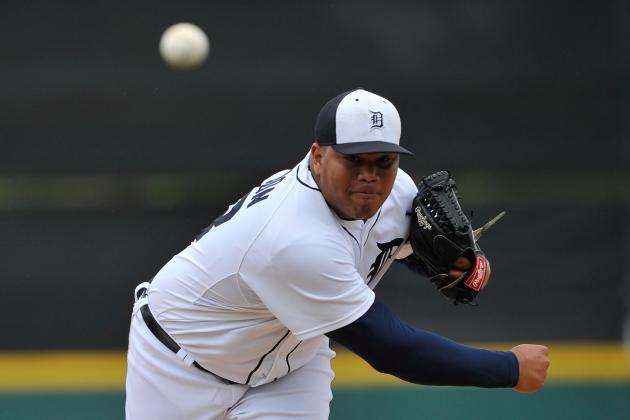 Jerome Miron-USA TODAY Sports
Bruce Rondon is everyone's favorite reliever because of his big fastball--he just doesn't know where it's going.
Career Minor League stats (Five seasons)
140 G (16 GS), 6-10, 65 Saves, 196.0 IP, 2.53 ERA, 132 H, 74 R (55 ER), 5 HR, 111 BB, 213 K
Career Major League stats
N/A
Why Rondon won't succeed
Everyone loves Rondon because he can sling his fastball up to 102 mph. It is incredibly fun to see that kind of velocity, but there is more to pitching in the big leagues than being able to throw really, really hard.
That is why I am skeptical about Rondon's chances to succeed at the MLB level. His command is poor (to put it nicely), and there is a lot of violence to his delivery, plus he doesn't have a reliable second pitch.
Unless you are Mariano Rivera, you can't get away with just one pitch in the big leagues—especially in late-inning, high-leverage situations—for very long.
Panic meter: 5 out of 10
Pushing the panic button on a player that has yet to throw a pitch at the highest level might seem silly, but there are other factors that go just beyond what I have already touched on.
Rondon is not the most reliable pitcher, as he has never thrown more than 53 innings in a season. If the Tigers want to ease Rondon into the big leagues and allow him to work on his secondary offerings, then that might change my opinion.
But since I would bet they will take his late-spring surge as a sign of good things, they are going to be left in a lurch when he fails.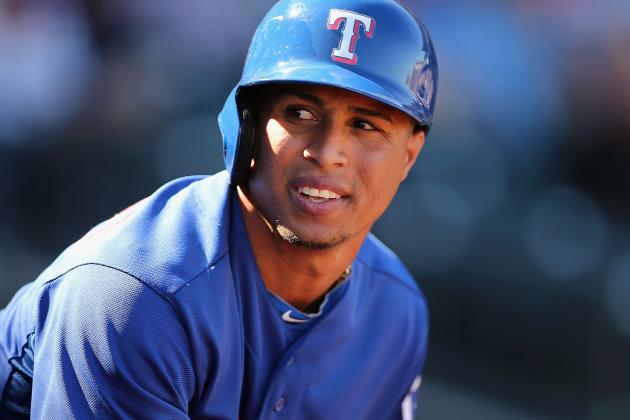 Christian Petersen/Getty Images
Despite signing a huge contract as an international free agent in 2011, Martin doesn't look the part of an everyday big leaguer.
Career Minor League stats (Two seasons)
128 G, .323/.388/.503, 172 H, 34 2B, 7 3B, 16 HR, 84 RBI, 51 BB, 77 K, 29 SB
Career Major League stats
32 G, .204/.254/.389, 11 H, 6 2B, 2 3B, 6 RBI, 4 BB, 13 K, 3 SB
Why Martin hasn't succeeded
After signing a $15.5 million contract with the Rangers in 2011, Martin was expected to be a superstar. He was supposed to have at least three above-average or better tools and wouldn't need much time in the minors.
Yet, at 25 years old, Martin has yet to really find his footing in two brief big league tryouts. His swing is long and leaves him vulnerable against better velocity. He has some plate discipline, but his pitch recognition leaves something to be desired.
He can tear the cover off the ball at Triple-A, but that's because he is 25 and has enough raw tools to be able to succeed at that level. Until he changes his swing to make more contact, while sacrificing some power, he is not going to have much value in the big leagues except on defense.
Panic meter: 7 out of 10
Time is certainly not on Martin's side. He signed as a 23-year-old after defecting from Cuba, has taken two seasons in the minors to show he deserves to be in the mix for a big-league job and still has a lot to work on to succeed.
Because the Rangers spent a lot of money on Martin, they will give him every chance to succeed. He could turn into a good platoon option in center field with Craig Gentry, though that would hardly justify the amount they spent on him.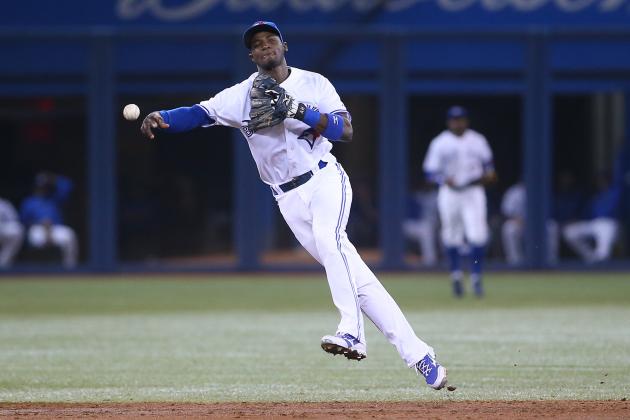 Tom Szczerbowski/Getty Images
One of the slickest fielding shortstops, Adeiny Hechavarria will have to prove he can do anything with the bat to stick in the big leagues.
Career Minor League stats (Three seasons)
340 G, .272/.314/.381, 389 H, 66 2B, 18 3B, 18 HR, 161 RBI, 88 BB, 250 K, 41 SB
Career Major League stats
41 G, .254/.280/.365, 32 H, 8 2B, 2 HR, 15 RBI, 4 BB, 32 K
Why Hechavarria hasn't succeeded
The margin of error for Hechavarria to stick in the big leagues is so small because his offensive profile is so limited. He has a short line-drive swing with enough power to hit the ball in the gap, but his pitch recognition and ability to work counts is bad.
But because Hechavarria is so good with the glove--he may not be Jose Iglesias, but he isn't far away--he could carve out a nice big league career as a defensive replacement. His range, glove and arm are all plus, so if he could just find the bare minimum offense, he could be a solid regular at short.
I just don't see it. He has never shown any improvement with the bat in his hands, making him a detriment to the offense. As much value as he might add on defense, he will take away on offense.
Panic meter: 7 out of 10
One-dimensional players tend to make the worst prospects to evaluate because you can dream on that one aspect so much to convince yourself that they can play everyday. When you play an up-the-middle position, particularly shortstop, you are going to give that player more chances than he would otherwise get.
Hechavarria can handle himself at shortstop right now for the Marlins--though that is also a function of them not having anything else--but the odds of him hitting even an empty .250 are slim.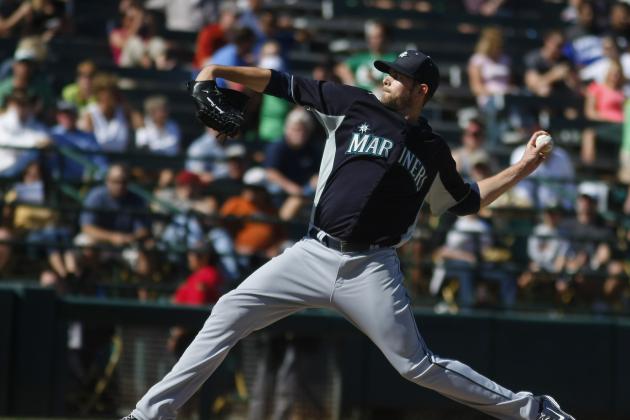 Rick Scuteri-USA TODAY Sports
James Paxton's command issues, as well as diminished velocity, are severely holding him back.
Career Minor League stats (Three seasons)
42 GS, 16-9, 219.0 IP, 2.84 ERA, 184 H, 83 R (69 ER), 9 HR, 104 BB, 259 K
Career Major League stats
N/A
Why Paxton won't succeed
A part of the Mariners' pitching triumvirate, Paxton certainly has moments when he looks the part of a big leaguer. He has shown a plus fastball-curveball combination in the past and strikes out more than a hitter per inning.
The problem when you evaluate Paxton is twofold. First, his fastball actually seems to be regressing. Where it was once had mid-90s velocity, it is more often clocked in the high-80s, low-90s area.
Second, Paxton has never shown good command of anything. He loses his release point thanks to a long delivery that leaves him rather uncoordinated out of the windup. The lack of command and diminished stuff lowers his ceiling tremendously.
Where he once looked like a No. 2 starter, Paxton will be lucky to make it as a two-pitch reliever based on what he is working with now.
Panic meter: 8 out of 10
Lack of command and regression of stuff are the two worst nightmares for teams with young pitchers. Paxton might be able to find some of his old velocity when the season starts, but will it be what it once was?
Until Paxton alters his delivery to stop using so much of his arm in the windup, he is never going to throw quality strikes consistently. He is 24 years old, and the clock is ticking on his ultimate ceiling.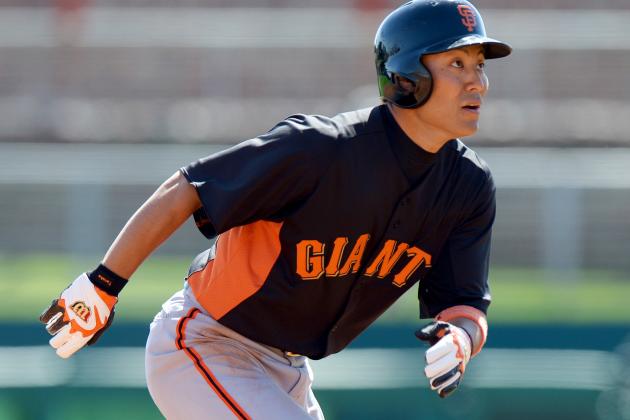 Jake Roth-USA TODAY Sports
Gary Brown can play really good defense in center, but his bat leaves a lot to be desired.
Career Minor League stats (Three seasons)
277 G, .302/.374/.444, 345 H, 67 2B, 16 3B, 21 HR, 124 RBI, 92 BB, 176 K, 88 SB
Career Major League stats
N/A
Why Brown won't succeed
Brown, the Giants' first-round pick in the 2010 draft, gets overrated because of the perception of his tools rather than his actual tools. He was taken with the thinking that he was a burner, both in the field and on the bases. While he has speed, he is not terribly fast.
The Giants drafted him as a potential leadoff man, a spot that he could have some success in. His swing is such that he will generate very little power, being able to hit some balls into the gap and turning them into doubles and triples.
His defense in center field will be above average because of his speed and range, but he doesn't have a great arm and struggles at times to read the bat off the ball.
Panic meter: 7 out of 10
Brown really struggled at Double-A last season, hitting just .279/.347/.385 in 134 games. He also went just 33-for-51 in stolen-base attempts. He needs to get a lot better at being able to read pitchers on the mound before he becomes a quality basestealer.
The move from A-ball to Double-A tends to expose the flaws in a hitter's game, and it did just that with Brown last season. His ceiling has really collapsed on him in the last 12 months.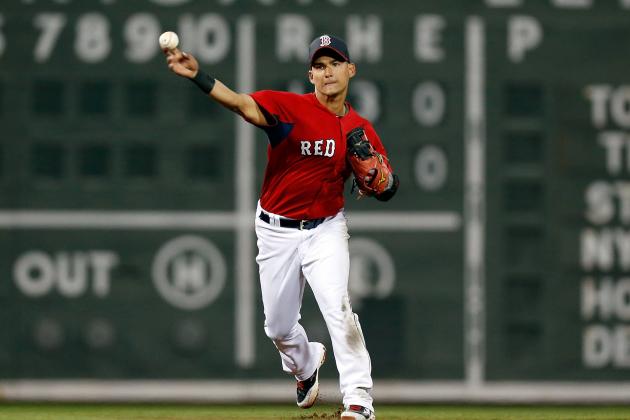 J. Meric/Getty Images
Is Jose Iglesias' stellar glove enough to make him an everyday big leaguer?
Career Minor League stats (Three seasons)
261 G, .264/.313/.314, 258 H, 31 2B, 6 3B, 2 HR, 74 RBI, 64 BB, 162 K, 32 SB
Career Major League stats
35 G, .135/.210/.203, 10 H, 2 2B, 1 HR, 2 RBI, 4 BB, 18 K, 1 SB
Why Iglesias hasn't succeeded
No one in the minors--possibly all of baseball, though Andrelton Simmons might argue--can match Iglesias' defense at shortstop. He has soft hands, a glove that acts as a vacuum, range for days and tremendous instincts.
Unfortunately there are two phases of the game, and where one of them is so good, Iglesias offers nothing with the bat. He boasts some bat speed, but he has no power whatsoever and he doesn't walk enough.
If there was any hope of Iglesias hitting .260/.320/.350, he would be a starter for a contending team because his defense is so good. That just isn't realistic to expect, because virtually everything he hits when he does make contact is on the ground.
Panic meter: 9 out of 10
Iglesias might not have enough bat to even be classified as a Four-A player, but his slash line in the minors has been good enough to keep him on the prospect radar when your defense is that good.