10 Running Backs Most Affected by NFL's New Helmet Rule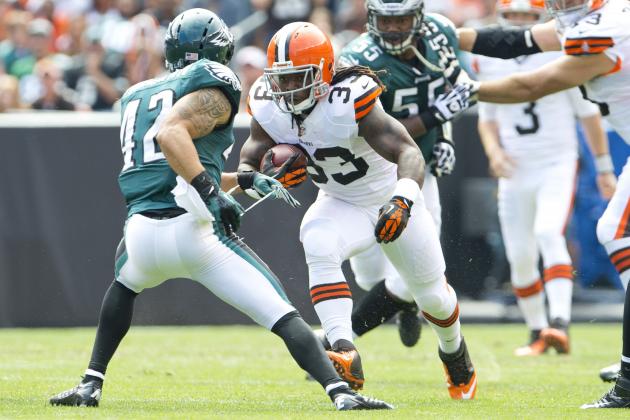 Jason Miller/Getty Images

The NFL's new helmet rule will make it a 15-yard penalty for a player to initiate contact with the crown of his helmet.
The rule only includes tackle attempts made outside the tackle box. Incidental contact, which could be seen as a gray area, won't draw a flag
Still, it's a regulation that will have a drastic effect on many of the league's best running backs. It may be a throw-first league, but plenty of throwback players have utilized bulldozing running methods.
Let's take a look at the running backs who'll be most affected by this new rule.
Begin Slideshow

»
Adrian Peterson's 2012 season reminded everyone why he's the best running back in the NFL.
His size, speed and power combination is unmatched, but there aren't as many instances in which he has lowered his head and inflicted a major hit on a defender as one would think.
Peterson can accumulate yardage in many ways, and the sheer force with which he runs is downright startling.
Trent Richardson told the following to the Cleveland Plain-Dealer regarding the implementation of the new helmet rule:
I feel like I made it bad for all the backs. I feel like it's my fault. I know why they did it, but I won't say that I fully agree with it. I'm not saying it's a dumb rule, but the backs are all talking about it and it's kind of hard on us.
Richardson's pop on Kurt Coleman last year will likely be Exhibit A as to what the new rule is meant to stop. The Alabama product runs with a balanced blend of elusiveness and power.
Maurice Jones-Drew is an absolute wrecking ball at 5'7'', 210 pounds.
He legs are miniature tree trunks. Although he his is able to hide behind mammoth offensive linemen, MJD is just as powerful as he is elusive in the open field.
Most of the time, he runs through arm tackles with an almost unfathomable leg churn, but he has demonstrated a willingness to get extremely low and use his helmet as a weapon.
As the football adage goes, the low man wins.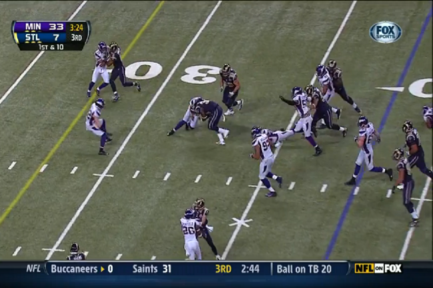 Steven Jackson runs somewhat high, but he has a tendency to finish his runs with his head down.
Steven Jackson has eclipsed the 1,000-yard plateau in eight consecutive seasons, and his powerful running style has enabled him to do so.
Obviously, Jackson doesn't lower his head on every run, but he seems to have a natural instinct to lead with his head when a defender is approaching.
Check the first three runs in this highlight video. On each of them, he finishes his runs by using the crown of his helmet to deliver the hit.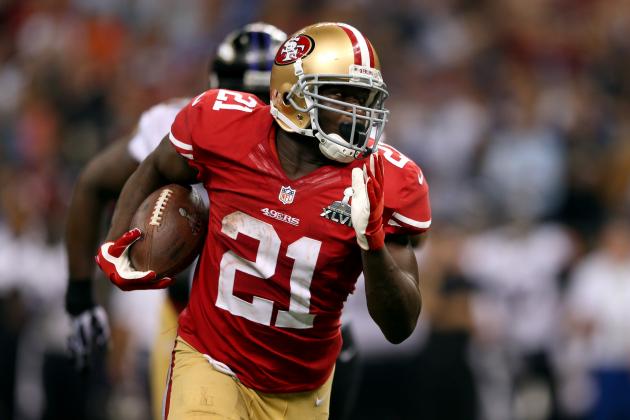 Mike Ehrmann/Getty Images

At 5'9'', 217 pounds, Frank Gore is more of an elusive runner than anything else, but he can also run with power thanks to his MJD-like frame.
This San Francisco 49ers runner doesn't have a history of lowering his head when meeting a linebacker or defensive back beyond the line of scrimmage, but he still makes a habit of falling forward.
Ahmad Bradshaw is listed at 5'10'', 214 pounds. Unlike Frank Gore, Bradshaw's lower half isn't as bulky, and he has a smaller frame.
But just because he doesn't appear to be a bruising running back doesn't mean he's timid with the ball in his hands. There are plenty of instances in Bradshaw's career in which he lowered his head to inflict a blow on a would-be tackler.
If the above video isn't enough proof, check the third carry in this video.
Chris Ivory isn't a household name, but he's one of the fiercest runners in the game. At 6'0'', 222 pounds, this New Orleans Saints running back has the size that translates to him being a punishing finisher.
Check out just about every run in the above highlight reel—Ivory finishes each emphatically with his head down.
Ivory has been productive with his running style, averaging 5.1 yards per rush in his three pro seasons.
DeMarco Murray has had injury issues to begin his NFL career, but when healthy, he's in the upper echelon of running backs defenders don't want to tackle.
At 6'0'', 215 pounds, Murray runs with a deceptive burst and typically turns that acceleration into devastating hits in the open field.
Check out this video of Murray lowering his helmet at impact against New York Giants defensive lineman Justin Tuck.
There may not be a running back who's harder to bring down than Marshawn Lynch.
His legs continually churn until he hears the whistle, and he is a tackle-breaking machine in close quarters or the open field.
Lynch is another runner who runs with an instinctive tendency to lower his head in an attempt to deliver a jolt to an oncoming defender.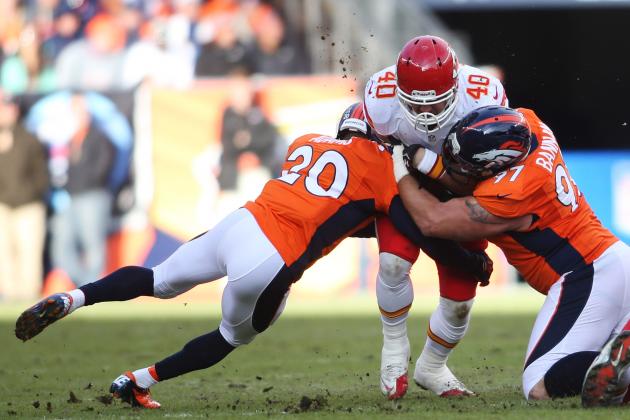 USA TODAY Sports

Peyton Hillis is unemployed, but he's only 27 and is one of the most powerful running backs in the NFL.
The Arkansas product actually lowers his shoulder more often than anything else. But at 6'2'', 250 pounds, he certainly is a power runner who loves delivering the hit on defenders when he can't evade them.