NFL Draft 2013: Defensive End Rankings, Draft Predictions and Analysis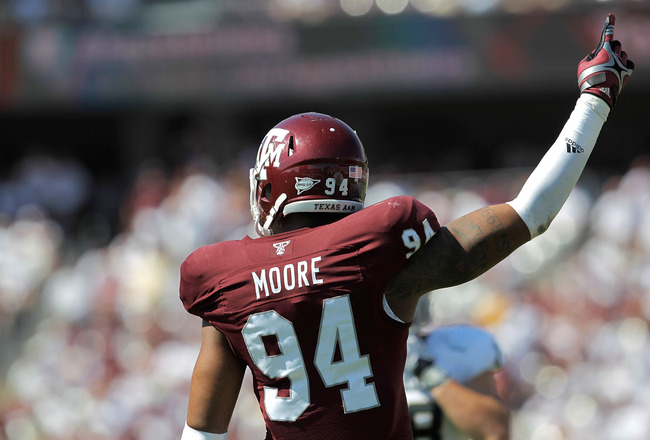 Sarah Glenn/Getty Images
There is a lot of disagreement about the top players in the 2013 NFL draft. After releasing my initial rankings position by position a couple weeks ago, I decided I wanted to go more in-depth with my analysis and give a breakdown of each player I ranked.
I have already looked at the wide receiver position, and now it's time to switch over to the other side of the ball and look at one of the most talented groups in the whole draft: defensive end.
With NFL free agency starting to wind down, all eyes have begun turning to the draft, which is only five weeks away at this point. There were not many big talents at defensive end available on the market this offseason, so there are a number of teams that will be looking to solve their pass-rushing issues via the draft.
And this year, there are a number of good athletes to choose from. Keep in mind that this is not necessarily the order I think they'll be drafted. Different teams need different styles, and in this draft especially there are many different ways the selections could go.
Sleeper: John Simon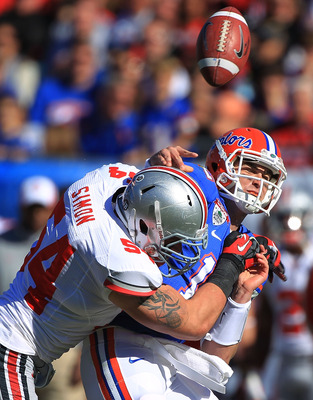 Scott Halleran/Getty Images
John Simon is the type of hard-working defensive player that any NFL team would love to have on its roster. The big question for Simon is at what price. He's had a lingering shoulder injury that kept him from working out at the NFL Scouting Combine or Ohio State's pro day.
Simon also has some concerns about his size and positional prospects. He is incredibly strong, and could be a power-rusher as a 4-3 defensive end if he improves his technique.
Because he's a little undersized for the position, however, some teams may ask him to drop back to the OLB in a 3-4 and lose a little weight. Smith is known for his strength and bulk, and that would take away from his best assets as a player. He also could be a big liability in coverage.
All in all, Smith is a blue-collar player who was a captain at Ohio State and would be a decent value anywhere in the third round, but optimally in the fourth.
10. Alex Okafor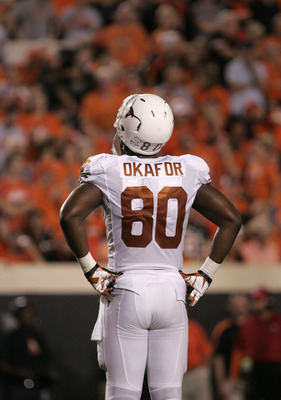 Brett Deering/Getty Images
Alex Okafor has been a little overvalued in my opinion. He's a good, solid defensive end who does everything well, but nothing spectacularly. He had 54 tackles and 12.5 sacks in 2012 even after Jackson Jeffcoat was lost for the season. Those are pretty impressive numbers.
He has good size and length, and uses his arms well to get separation and drive blockers backward. But he is not especially strong, and not especially quick either.
Okafor will do well to add a little weight and focus more on his run-stopping abilities as a defensive end. He doesn't get great bend around the edge as a pass-rusher and does not get consistent leverage either. As a run-stopper, he uses his hands well and is disruptive when the play goes to his side.
Okafor could go as high as the top 10 in the second round, but unless he's a perfect schematic fit I don't think I'd touch him until at least the end of the second.
9. Margus Hunt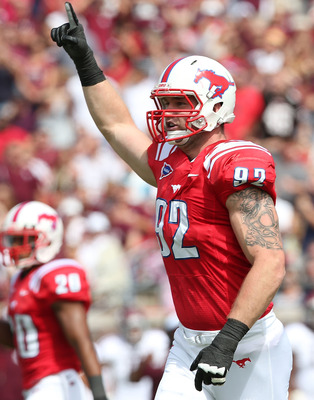 Ronald Martinez/Getty Images
Now we get to perhaps the best overall athlete in the entire draft this year, Estonia native Margus Hunt. Hunt was a world champion discus thrower back in 2005 and 2006 before arriving at Southern Methodist in 2007 to work with the track team.
But then Hunt switched to football when the track team didn't get reinstated, and the results have been somewhat spectacular. Hunt is already 25 years old, but is still learning the game of football and has a ton of room to grow.
At 6'8", 277 pounds, Hunt is an absolute monster and he showed it at the combine. His combination of a 4.60 40-yard dash, 34.5 inch vertical, and 38-rep bench press is outstanding.
He became a full-time starter at defensive end for SMU as a senior, and was recognized with first team All-Conference USA honors. Hunt had eight sacks and 31 tackles last season, and also had an incredible 17 blocked kicks in his career, two shy of the NCAA record.
Hunt's size and athleticism could allow him to play literally almost anywhere on the line in either a 4-3 or 3-4, other than as the nose tackle in a 3-4. His versatility and potential for growth would make him a fantastic third-round pick, although someone may take a shot on him at the end of the second round.
8. Datone Jones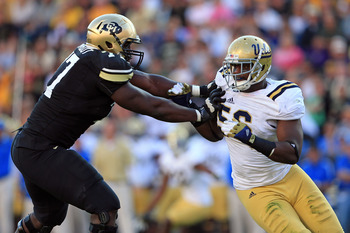 Doug Pensinger/Getty Images
Datone Jones really stormed onto the scene in his senior season, and is an intriguing NFL prospect because of his size and athleticism. He's four inches shorter than Hunt, but actually weighs seven pounds more and had a better 20-yard shuttle time.
Jones broke his foot before the 2010 season and sat out the entire year, then had a disappointing 2011, but he finally began to fulfill his potential as a senior in 2012. He amassed an impressive 62 tackles, 19 of them being for a loss, along with 6.5 sacks.
He's a versatile athlete who plays hard and is active on every play. He has violent hands and always keeps his feet moving, even when he gets himself out of his position. His balance needs a little work, and he does not actually disengage as much as he could, but still manages to do some damage regardless.
The team that takes Jones will have to do a bit of coaching and make sure he fits in their plans correctly. A team could be getting a steal in the second round if he's still there, but I think he could be taken in the 20s.
7. Corey Lemonier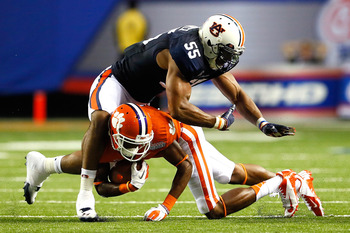 Kevin C. Cox/Getty Images
After being overlooked for the majority of the college football season due to Auburn's down year, Corey Lemonier has started getting a little more respect after a good performance at the combine. In 2011 he was named first-team All-SEC, which is extremely impressive for a sophomore.
Lemonier has some unique measurables that can both help and hinder him. At 6'3" he is an inch shorter than Jones and five inches shorter than Hunt, but has longer arms than both of them. His length sometimes can be a huge asset, but his lack of stability hurts him at times.
He seems to have the build of a 3-4 OLB, but he does not have the quickness or fluidity that it takes to be a complete linebacker. As a speed-rusher off the edge he can be a little hit or miss, but when he's on, he's difficult to stop.
He has a great rip move and can sometimes just lower his shoulder and snake his way around the edge. He also plays with an incredible motor, always giving maximum effort in pursuit of the quarterback and chasing down plays. If it were up to me, I'd grab Lemonier in the second round, but I think he'll fall to the third.
6. Sam Montgomery

Sam Montgomery NFL Player Comparison

Sam Montgomery's stock went down during the 2012 season after a slow start, but it never really recovered even as his production increased. He was named first-team All-SEC in both his sophomore and junior seasons, and had 17 sacks over those two years.
A lot of people look at teammate Barkevious Mingo's incredible quickness next to Montgomery's strength and immediately label the former as a "raw project," the latter as "fundamentally sound." This is not necessarily true, though, as Montgomery only played two years of high school football and two full seasons of college. He needs to continue refining his technique.
Montgomery is an absolute force who thrives on the weak side, and is a capable three-down player. He has an unbelievable motor and full-body strength that allows him to be a factor on every play. He really does get up for big games and seems to play angry.
Montgomery's biggest shortcoming is his quickness and flexibility. He does not change directions that well and can get pushed off-balance if he gets his pads up. Because of this, I could see him going anywhere from the middle of the second to the end of the third round.
5. Ezekiel Ansah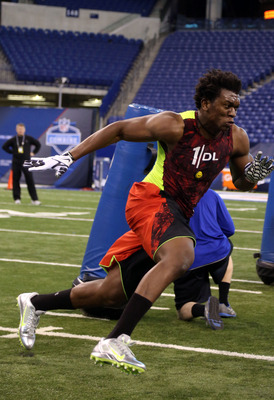 Brian Spurlock-USA TODAY Sports
A lot of people have really hopped on the Ezekiel Ansah train, but I am not convinced he'll be the next great defensive lineman as some have insinuated. I've seen him going as high as second overall on some mock drafts, and that is just ridiculous to me.
Ansah is undoubtedly an impressive athlete. He's 6'5", 271 pounds with extremely long arms. He put up a great time in the 20-yard shuttle at the combine. He tried out for the basketball team twice but failed, and then took up track before joining the football team in 2010.
Ansah put up solid statistics in 2012, his one full season as a starter, and he definitely has a lot of upside, but I just don't see how he can be considered a top-five prospect right now.
He seems to be either too tired or too uninterested on some plays, where he'll either get pushed off the line quickly or fail to pursue a play if it doesn't go directly at him. He also is not particularly quick or violent with his upper body and hands, and his technique is suspect, although with coaching that could improve.
I guess Ansah has a good chance of being a top-10 pick, but I wouldn't take him until the 20s.
4. Tank Carradine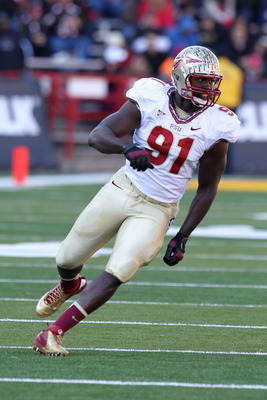 Mitch Stringer-USA TODAY Sports
Tank Carradine was a lock first-round pick before tearing his ACL midway through the season, and he is not yet back to full health. Some of his draft stock will depend on his progress with his recovery, but as long as it is on time he should retain his first-round status.
Carradine went to Butler Community College for two seasons after failing to enroll at Illinois because of academic issues. After transferring to Florida State he had more tackles than Bjoern Werner (38 to 37) in 2011 despite not starting a single game. In 2012, Carradine stepped in after Brandon Jenkins was injured during the first game of the season.
Explosive off the snap, Carradine has extremely strong legs and plays with great leverage despite his height of 6'4". He has a great motor and can bull-rush as well as anyone in the country. He plays hard and physical, and will overcome his lack of experience with natural athleticism, good instincts, and a willingness to fight and hit on every play.
3. Damontre Moore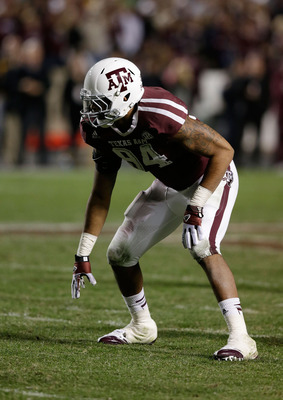 Scott Halleran/Getty Images
Perhaps no lineman took a bigger hit at the combine than Damontre Moore, when he ran a 4.94 40-yard dash and put up just 12 reps on the bench press. Moore improved on his numbers in every facet at Texas A&M's pro day, however, and they shouldn't be taken as the end-all with Moore.
There's a reason he is nicknamed "DaMonster." In his first season as a permanent defensive end in 2012, Moore had 12.5 sacks and was a second-team All-American selection. Moore is not a speed-rusher, nor a strength guy, but he still brings a lot to the table.
Moore could add some bulk, but has good size and length for an end. His biggest asset is his motor, which is going at all times. He gives relentless effort that really helps overcome some of his natural shortcomings.
Moore has a very good spin move, and uses his hands and arms well to keep blockers off his chest, allowing him use his lateral quickness to make plays. Moore should still be a first-round pick in April.
2. Bjoern Werner

Bjoern Werner NFL Player Comparison

Bjoern Werner fits the perfect mold of a 4-3 defensive end in today's NFL. He's 6'3", 266 pounds with a great blend of quickness and strength. A native of Germany, Werner spent two years at prep school in the U.S. before enrolling at Florida State.
The reigning ACC Defensive Player of the Year racked up 13 sacks and 42 tackles in his junior season. Werner has outstanding flexibility and an uncanny ability to dip and bend around the end in pursuit of the quarterback.
He has really good quickness off the line when he's at his best, and gets good leverage if he is unable to drop his shoulder and get around the offensive tackle. He is also good at knocking down passes like J.J. Watt does for Houston.
Werner's motor looks suspect at times, however, and he sometimes stands himself up too quickly and is easily taken out of the play. He needs to stay low and get in the habit of chasing down the ball-carrier when a run goes to the opposite side.
Despite these shortcomings, Werner should be a top-10 pick in the draft.
1. Dion Jordan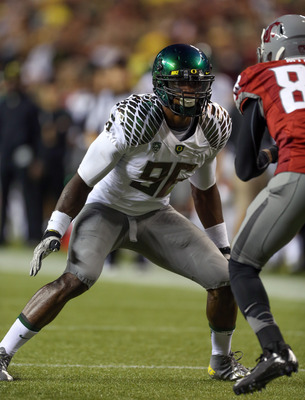 Otto Greule Jr/Getty Images
I think Dion Jordan is the most versatile defensive prospect in the draft. He stands at a lean but muscular 6'6", with good length and outstanding quickness that made him a top-10 tight end coming out of high school before moving to defense halfway through his collegiate career.
Jordan is on this list because, although he would be a fantastic 3-4 OLB, I think he would be just as good playing defensive end in a 4-3 system. He uses his long arms well as a pass-rusher, utilizing a good swim move and often punching offensive linemen right in the chest to give himself room to work with.
Jordan is also quick enough to move even farther off the edge, a la Dwight Freeney, to make a play from way outside the tackles. He can also even drop back in coverage and cover tight ends or slot receivers, making him a big asset in disguising coverages and blitzes.
He has good closing speed and pursues the ball carrier on every play. He plays with a bit of a chip on his shoulder, but he has had some injury issues. He is also on the thin side (248 pounds), and needs some more experience on defense.
Even with those question marks, I think Jordan is absolutely worth a top-five selection in this draft. If a team really wants to get the most out of Jordan, they will find ways to get creative and move him all over the field.
Keep Reading