Bills' 2013 Mock Draft: Full 6-Round Predictions After 1st Week of Free Agency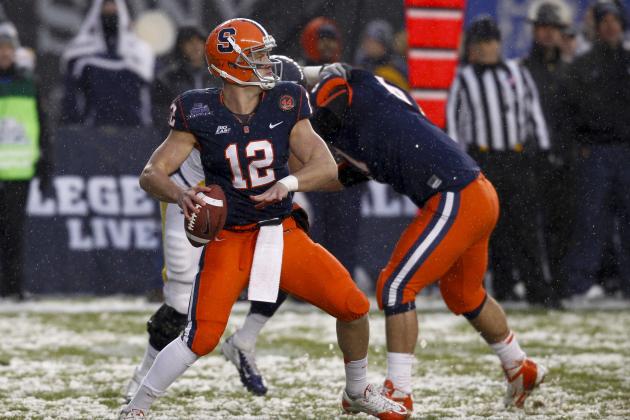 Jeff Zelevansky/Getty Images
I'm becoming more and more convinced that Ryan Nassib is Buffalo's top choice.
Free agency is off and running and the Buffalo Bills...well, the Bills aren't being all that active.
So far the team has signed Manny Lawson and re-signed Leodis McKelvin.
In truth, the Lawson signing was a pretty solid move for Buffalo as it transitions to a hybrid defense. Lawson spent time playing in a 3-4 defense during his tenure with the San Francisco 49ers and in a 4-3 defense with the Cincinnati Bengals.
Lawson's best statistical season came in 2009, where he had 68 total tackles, seven sacks, three forced fumbles and one fumble recovery. According to Pro Football Focus, his best overall season (subscription required) was in 2010, however. Lawson ranked as the ninth-best OLB in a 3-4 defense with positive ratings in pass rush, against the run and in coverage.
Besides Lawson, the Bills haven't added any new players to the team.
They may not be adding many more as the team has close to $10 million remaining in cap space, according to Spotrac:
@buddynixon More like 10 when you factor in Fitzpatrick's full $10M dead money counts until June 1st.

—

Spotrac

.com (@

spotrac

) March 16, 2013
With the limited cap space, it's important that the Bills address most of their needs in the draft.
While this is easier said than done, sit back as I approach this mock draft with the mentality of the Bills front office brass.
Keep in mind that the Bills only have six picks as their seventh-round pick was sent to the Seattle Seahawks in exchange for Tarvaris Jackson, currently the team's starting quarterback.
Begin Slideshow

»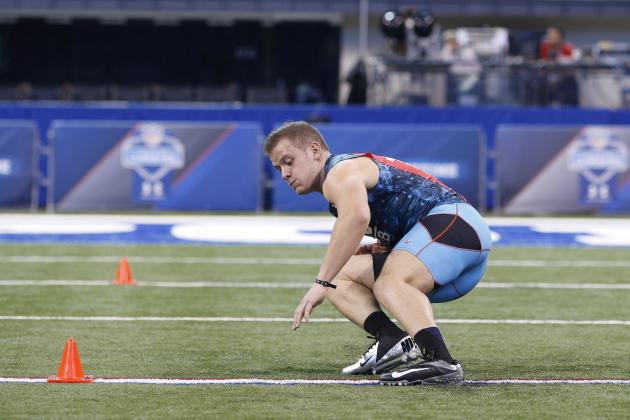 Joe Robbins/Getty Images
With Geno Smith off the board, Ryan Nassib becomes the team's top option.
We want to have a young quarterback we can develop and will be around for eight to 10 years. We're all looking for a Jim Kelly. And I'll tell you this: If you like a quarterback, and like him in the third round, then you had better take him in the second.
That quote was made by Buddy Nix on December 3 at a Monday Quarterback Club luncheon (h/t Tim Graham, The Buffalo News).
Nix's logic also holds true when it comes to a possible second-round quarterback being selected in the first round.
Unless Geno Smith falls into the Bills' laps at pick eight, Ryan Nassib will be the pick.
On March 12, the Bills released Ryan Fitzpatrick. This leaves Tarvaris Jackson and Aaron Corp as the only quarterbacks on the roster.
Bottom line, the Bills need to draft a quarterback with their first pick, and it's likely to be Ryan Nassib.
Nassib already knows Buffalo's offense due to playing under Doug Marrone and Nathaniel Hackett at Syracuse. Due to know knowledge of the offense, Nassib will have a fair shot of competing against Jackson in training camp and the preseason.
Nassib has recently drawn comparisons to Kirk Cousins (h/t Rotoworld and Dan Pompei of the Chicago Tribune):
"His decision-making is suspect, but Nassib is smart and has decent athletic skills," Dan Pompei writes. We think Nassib's arm on short or intermediate targets is much stronger than Cousins', but the latter showed quite well in spot starting duty as a rookie.
Cousins played well in his rookie season with the Washington Redskins, so the comparison should be somewhat encouraging to Bills fans.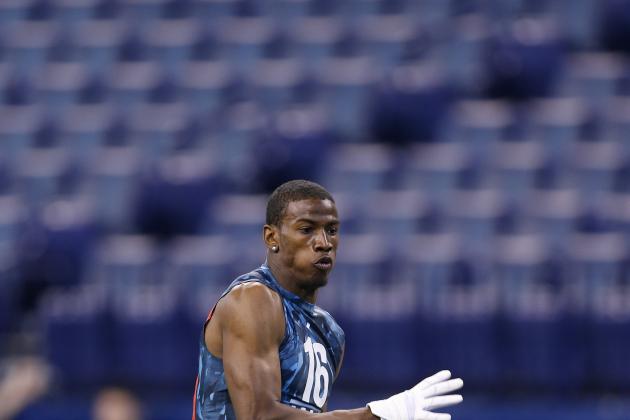 Joe Robbins/Getty Images
Justin Hunter is a tall and fast outside WR that Buffalo covets.
The Bills could hold off on adding a wide receiver due to the depth in this draft, but WR is one of the team's biggest needs.
Stevie Johnson, Brad Smith, T.J. Graham, Marcus Easley, Chris Hogan and Kevin Elliot are the wide receivers currently on the Bills' roster. It's safe to say that the team needs to add one or two players in free agency or the draft.
Buddy Nix let his opinion be known that a WR is needed on the outside (h/t Graham, The Buffalo News):
I look at Cincinnati last night. There's Marvin Lewis. He's been 10 years ... I don't know what their record was for the first six or seven years. Then they take A.J. Green and Andy Dalton. That duo has really turned them around and made them a playoff contender.
Nix continued to stress the importance of an outside wide receiver when he stated the following:
I think Stevie's a guy that you can play him in the slot or you can play him outside. But we need a big-time outside receiver. T.J. gives us a lot of that, but you still need to get another, bigger guy that can line up out there and catch the ball when he's covered.
In the second round, Justin Hunter will be an ideal selection for the Bills based upon this criteria. He's a talent that'll be available in the second round who established himself in college as Tennessee's go-to wide receiver.
He's the "bigger guy" that Nix talked about at 6'4" and he has impressive speed as he ran a 4.44-second 40-yard dash. In terms of catching the ball, Hunter has long arms and can competed well with defensive backs for jump balls.
Adding Nassib and Hunter may not be as exciting as the Dalton/Green combination that Nix used, both players have potential to be excellent players in the NFL.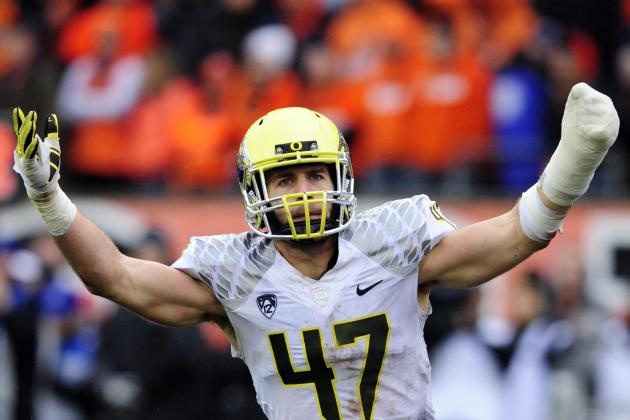 Steve Dykes/Getty Images
Kiko Alonso could play ILB or OLB in Pettine's defense.
Buffalo addressed its outside linebacker depth by adding Manny Lawson, but the team hasn't addressed the inside linebacker position. While I still believe Bart Scott could be in Buffalo's plan, the Bills need a young ILB who could fit into Mike Pettine's hybrid scheme.
Kiko Alonso is one of the most athletic ILB's in the 2013 draft, so Buffalo would be wise to draft him if he's available in Round 3. Alonso is athletic enough to play ILB or OLB depending upon the scheme, so his versatility is something that Buffalo should covet.
Alonso also possesses great instincts, speed and is an aggressive tackler. He's exactly the type of player that Buffalo could use in its defense.
Rob Rang of NFL Draft Scout said the following on Alonso:
Versatile defender who could prove to be a moveable "chess piece" for a creative defensive coordinator.
If anyone knows about moving chess pieces on a football field it's Pettine.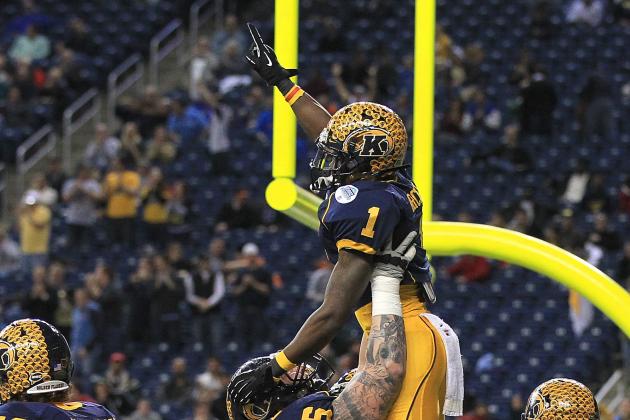 Dave Reginek/Getty Images
Brian Winters played OT in college, but will play OG in the NFL.
Brian Winters is as durable as an offensive lineman in this year's draft. He played in all 49 games in his collegiate career and is known for his upper body strength.
Winters uses his hands well and is strongest in run blocking. A former wrestler, Winters knows how to use leverage against defensive linemen, and he is extremely physical on the field.
Buffalo has openings at both guard positions, and Winters will have exceptional value in Round 4.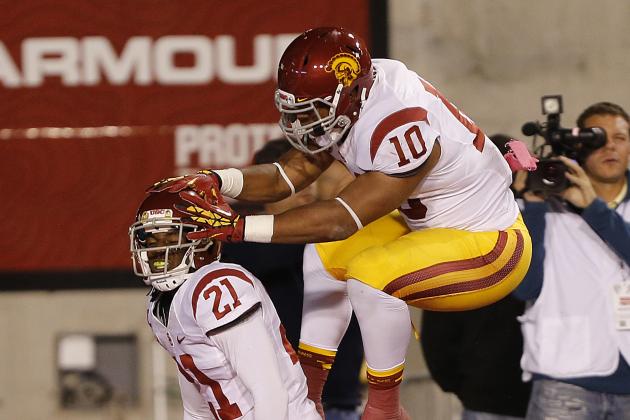 George Frey/Getty Images
Nickell Robey is undersized but he's one of the most athletic corners in the draft.
Let me get this out there, right away. Nickell Robey is extremely undersized for a cornerback. At 5'7", Robey faces an uphill battle to make it in the NFL.
That said, Robey is very talented, and if he was a few inches taller, he'd be closer to a second-round pick.
Robey is one of the most athletic cornerbacks in the draft and possesses good speed, running a 4.5-second 40-yard dash.
The former Trojan has great ball skills and instincts. In spite of his size, Robey is an aggressive tackler and a strong blitzer.
Robey reminds me a bit of Terrence McGee in his prime in terms of his coverage skills.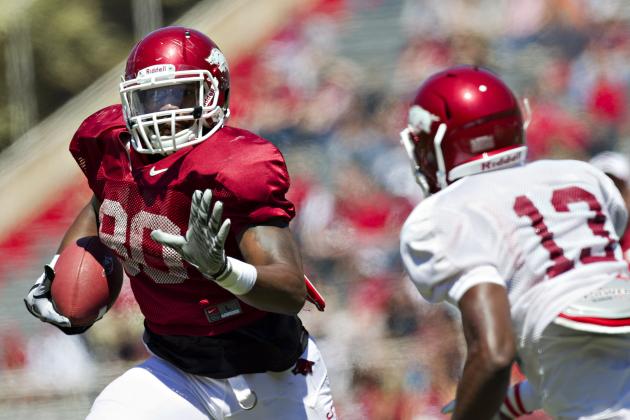 Wesley Hitt/Getty Images
Chris Gragg is a mismatch for opposing defenses.
Chris Gragg has made a few of my mock drafts due to his outstanding athleticism.
Gragg runs a 4.5-second 40-yard dash and plays a lot like a wide receiver/tight end hybrid. Gragg will make for a mismatch in the NFL against opposing teams' defenses.
Some other strengths of Gragg's game is his ability to create separation, make contested catches and he picks up yards after contact.
Gragg does need to work a bit on polishing his route-running abilities.
Overall, Gragg possesses great value in the sixth round.
If the draft falls this way to the Bills, they'll have increased their talent and depth at QB, WR, TE, OL, ILB and CB. Not bad for a team with multiple needs.