Kansas City Chiefs: What Do Personnel Moves Say About the No. 1 NFL Draft Pick?
Use your ← → (arrow) keys to browse more stories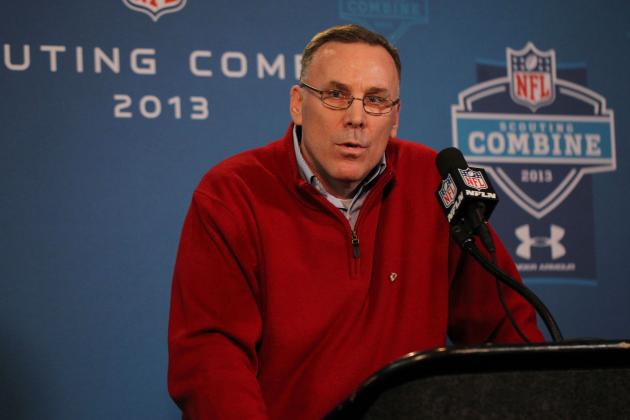 Brian Spurlock-USA TODAY Sports
John Dorsey, Kansas City Chiefs GM
Rookie general manager John Dorsey has already addressed some of the Kansas City Chiefs' most pressing needs prior to the NFL's official free agency period. He's also created a void by releasing right tackle Eric Winston on March 6, but it's no certainty that the Chiefs will address that position with the first overall pick of the NFL draft.
Most of the positions affected by Kansas City's recent moves—trading for quarterback Alex Smith, signing cornerback Dunta Robinson, franchise-tagging left tackle Branden Albert and releasing Winston—have also been discussed as potential No. 1 overall draft picks.
West Virginia quarterback Geno Smith, Alabama cornerback Dee Milliner and a group of offensive tackles including Texas A&M's Luke Joeckel and Central Michigan's Eric Fisher have emerged as the strongest candidates to come off the board first on draft day.
The likelihood that Geno Smith goes to Kansas City as the first player off the board is greatly diminished by the team's sacrificing the No. 33 overall pick along with a 2014 third-rounder to secure the services of Alex Smith. Robinson is 30 years old, so selecting the 21-year-old Milliner to group with him and 27-year-old Brandon Flowers is not out of the question.
Of the aforementioned positions, it has been most logical to pursue an offensive tackle at the top of the draft throughout the offseason for Kansas City. When the club franchised its prized free-agent tackle, it seemed they had both bookend pieces of their offensive line locked in for another season—until it severed ties with Winston two days later.
Albert, one of only eight players to receive a franchise tag this offseason, understandably is not interested in relinquishing his left tackle spot to anybody. He said as much via Twitter following Winston's release, but now his page is gone.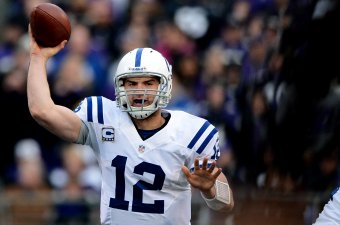 Patrick Smith/Getty Images
If Albert is moved to right tackle to make way for a rookie, the shift away from the blind-side protector position may markedly reduce his leverage in contract negotiations next offseason with the Chiefs, but Kansas City already had a guy handling business on the right side under a four-year, $22 million-dollar deal.
The one-year franchise figure for left tackles is nearly half that.
Last year's No. 1 overall pick, Indianapolis Colts quarterback Andrew Luck, is signed to a similar contract: four years, $22.1 million, which only slightly differs from Cam Newton's four-year, $22.0 million pact with the Carolina Panthers in 2011.
If the Chiefs draft a tackle at the top of the order, their needs—and cap situation—would remain largely the same as if they had not cut Winston at all.
Which position will be picked No. 1 in April's draft?
Without ruling out the possibility of drafting a young offensive lineman at the top of the order, Kansas City may wish to address its defensive front seven. The No. 1 pick could be committed to rushing the quarterback if either of two defensive stars with pre-existing medical conditions, Utah defensive tackle Star Lotulelei or Georgia outside linebacker Jarvis Jones, gets a vote of confidence from the team doctors.
That's if KC doesn't trade out of the top spot in an attempt to recover some of the draft pick value that it lost in the Alex Smith deal. Dorsey is undoubtedly at least mulling that avenue as pro days get underway, as well.
Because of the uncertainty surrounding the Chiefs' intended direction with the No. 1 pick, the top of the 2013 NFL draft order has become one of the more intriguing bunches despite the lack of star power ascending from the collegiate ranks.
For more NFL analysis and opinions, follow Jamal on Twitter: Follow @StatManJ