AL East Preview: Full Forecast for Yankees, Red Sox, Blue Jays, Orioles and Rays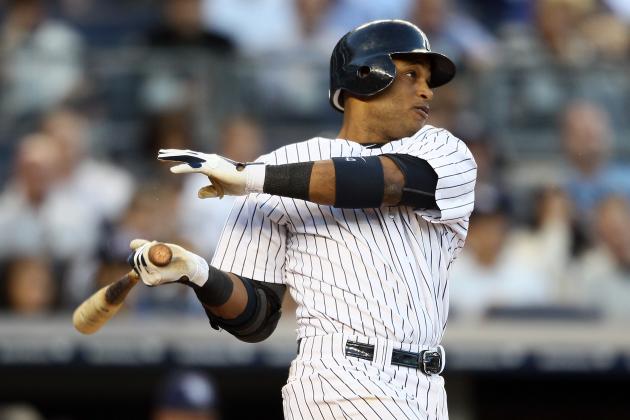 Elsa/Getty Images

For the first time in what feels like 100 years, the American League East is as wide open as any division in baseball.
Instead of the usual talk about the New York Yankees and Boston Red Sox, there is very real, very legitimate buzz surrounding the Toronto Blue Jays for the first time since the franchise won back-to-back World Series in 1992 and 1993.
The Baltimore Orioles were the biggest surprise in all of baseball, winning 93 games, making the postseason for the first time since 1997 and taking the Yankees to five games in the American League Division Series.
The Tampa Bay Rays may not have been able to get over the hump last season, but an active winter that saw the team deal from its surplus of pitching to add one of the best and most exciting prospects in all of baseball could be exactly what this team needs.
Even though the Red Sox and Yankees have their share of problems heading into the regular season, there is still more than enough talent on both teams to get them back to the postseason in 2013.
Here is a look at all five teams in the American League East, including what they need to go right, what could go wrong and a final record projection.
Begin Slideshow

»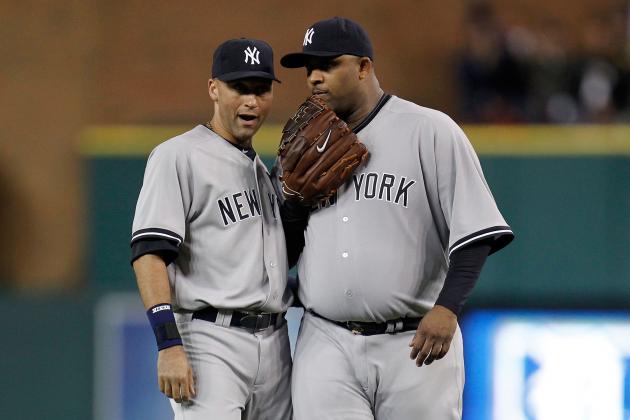 Gregory Shamus/Getty Images

2012 Record
95-67, 1st place in American League East (swept by Detroit in ALCS)
What the Yankees need to happen in 2013
Even though the Yankees kept most of their free agents, the talk this offseason revolved around three key players for very different reasons.
Alex Rodriguez's hip now looks like an afterthought when he was listed in the Miami New Times report linking him to performance-enhancing drugs at the Biogenesis clinic in Miami.
Derek Jeter broke his ankle in the first game of the American League Championship Series against Detroit. He claims that playing on Opening Day is still his goal, though it remains to be seen if that will happen.
Robinson Cano is in entering the final year of his contract with the Yankees. A report from the New York Daily News states that the All-Star second baseman is not going to give them a hometown discount.
Even with the contract talk coming after the season, Cano is still going to be an MVP candidate and the player who carries the lineup throughout the summer.
On top of all those questions and potential distractions, the Yankees are battling Father Time. They are a team built around a lot of old, declining stars. Rodriguez may not play this season, but even if he does, no one knows what he will be due to his hip problems.
Jeter had a lot of hits last season, but he turns 39 in June, hits an overwhelming number of singles and is a bad defensive player.
They need to hope that the bottom doesn't drop out. The rotation has depth and a lot of questions. Sabathia is the horse at the top and everyone knows what he brings to the table.
Kuroda made a very smooth transition to the American League last year, posting a 3.32 ERA in a career-high 219.2 innings. But he is 38 years old.
Andy Pettitte turns 41 in June and has thrown 75 innings in the regular season over the last two years. His average fastball velocity was 87.8 mph (per Fangraphs).
Mark Teixeira's on-base percentage has gone from .383 in his first season with the Yankees to .332 last season. His slugging percentage has dropped 90 points in the last four years, from .565 in 2009 to .475 in 2012.
By the way, Curtis Granderson and his 43 home runs last year will be out for at least the first month of the season after he was hit by a pitch that broke his arm.
This is a team that continues to bet against the odds and time, yet somehow they keep finding ways to succeed. If ever there was a time to bet against them, it would appear to be this season.
Those stop-gap players, like catcher Francisco Cervelli, designated hitter Travis Hafner and outfielders Matt Diaz and Juan Rivera, have to help keep the team's head above water.
What could go wrong
The pitching rotation, like the lineup this offseason, could fall apart. Sabathia battled injuries last season and made just 28 starts, his fewest since 2006. When he is on the mound, he is still one of the best pitchers in the American League.
Beyond Sabathia, you start to run into questions. Can Kuroda keep defying the odds and performing well in his late 30s? Will Andy Pettitte hold up for an entire season at his age? Will Phil Hughes be more than a back-of-the-rotation arm? Will Michael Pineda give them anything?
The lineup looks like a mess right now. Brett Gardner at the top would be an improvement. Cano in the No. 3 spot is safe. Jeter doesn't seem likely to rack up 200 hits again. Rodriguez may not play this season. Youkilis hit .235/.336/.409 last season with Boston and Chicago.
Teixeira has been declining ever since he signed that contract with the Yankees. Francisco Cervelli, Chris Stewart and/or Austin Romine catching could combine to post a .300 on-base percentage.
Mariano Rivera's cutter may not break the way it used to, or he could lose some command after missing so much time in 2012.
This team is vulnerable and that has given everyone else in the division confidence needed to knock the Yankees down a peg or two.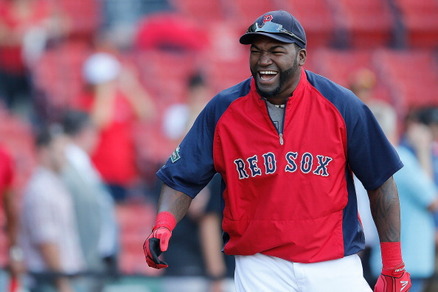 Jim Rogash/Getty Images

2012 Record
69-93, Last place in American League East
What the Red Sox need to happen in 2013
After last year's disaster, the Red Sox are getting back to basics in 2013. Former pitching coach John Farrell was brought back to manage the team.
General manager Ben Cherington has done his best to make his mark, freeing up a ton of money by dealing Adrian Gonzalez, Josh Beckett and Carl Crawford to the Los Angeles Dodgers in one of the most shocking trades in recent memory.
The Red Sox are trying to rebuild their farm system and get back to being competitive in the division, as evidenced by some of the moves they made this offseason.
But first and foremost the Red Sox have to see Jon Lester and Clay Buchholz have to perform up to their talent level if this team wants to be better in 2013. Those two combined to throw 394.2 innings, yet both had an ERA over 4.50.
The addition of Ryan Dempster does give them more depth and someone who can eat innings. Though it will be interesting to see if the 5.09 ERA he posted after being traded to Texas was more a function of the hitter-friendly nature of Arlington or because he is a National League-only pitcher.
John Lackey has shown up to camp looking like a completely different person after losing a ton of weight. He is coming off Tommy John surgery late in the 2011 season, so it is going to take him time to acclimate himself to the game again.
Red Sox fans love to hate Lackey. Their expectations for him are incredibly low, so even if he just eats innings they will consider that a win.
Signing Shane Victorino to be the team's right fielder was a puzzling move, especially for three years, considering his defense and bat speed slipped considerably last year. The Red Sox didn't have a lot of internal options to choose from, so they must have felt the need to overpay him.
Getting a healthy David Ortiz and Dustin Pedroia back in the middle of the lineup, as well as keeping Jacoby Ellsbury on the field, will get this offense back to being one of the best in the league.
Of course, Ellsbury's health has been his biggest issue for years. When he was healthy for an entire season two years ago, he was an MVP candidate. Whether he can get back to that level again, especially in the power department, will be critical for this team.
After seeing their bullpen post a 3.88 ERA last season, 19th in baseball, the Red Sox added Joel Hanrahan from Pittsburgh to close games. Daniel Bard will move back to the role he was meant for, in the back of the bullpen.
This team is deeper entering the 2013 season than it was last year. Top prospects like pitcher Matt Barnes and outfielder Jackie Bradley could be called up this season. Whether that depth will be good enough to get them back in the postseason race depends on if they can stay healthy this season.
What could go wrong
If Lester and Buchholz implode again, the rotation is in trouble. Hanrahan could find that the American League East is a lot more difficult than the National League Central, leaving them with a hole in the back of the bullpen yet again.
Ortiz's age and injuries last season could catch up to him, putting more pressure on players like Ellsbury and Napoli, who have their own health concerns, to play at least 140 games each.
Victorino, who saw his batting average drop by 24 points, on-base percentage drop 34 points and slugging percentage drop 108 points, could continue his steep decline and be an overpaid role player.
This is not a team that is ready to compete for a championship right now. The farm system has gotten markedly better over the last eight months, but their top prospects won't be ready to make significant contributions until 2014.
The Red Sox are headed in the right direction, but so many things have to go right for them to be a playoff team in 2013 that their window might not open again until 2014.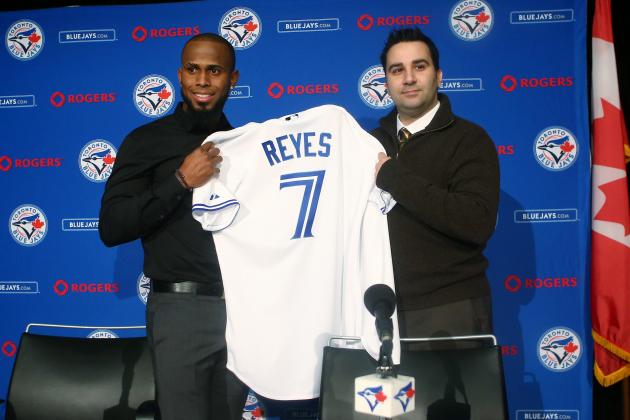 Tom Szczerbowski/Getty Images

2012 Record
73-89, Fourth place in American League East
What the Blue Jays need to happen in 2013
After "winning" the offseason by acquiring Josh Johnson, Mark Buehrle and Jose Reyes from Miami and R.A. Dickey from the New York Mets, optimism is as high as it's been in 20 years for the Toronto Blue Jays.
An infusion of talent brings with it off-the-charts expectations, yet there are several question marks facing the Blue Jays and their new players heading into 2013.
For starters, that rebuilt rotation could easily fall apart. Josh Johnson has made more than 30 starts in a season just twice in the last five years. He has also made less than 15 starts twice during that span. He has the talent to be a Cy Young contender, but health has always held him back.
Mark Buehrle continues to get by despite having some of the worst raw stuff in baseball. He is the anti-Josh Johnson in that he never gets hurt and always throws 200 innings. Given the depth the Blue Jays have built, surely they would be thrilled if he was just a capable innings-eater.
R.A. Dickey has one of the best knuckleballs in baseball history, with velocity and the inhuman ability to command the pitch. Since knuckleball pitchers don't age like normal pitchers, he could have a handful of years left playing at a high level. Maybe not as high as he was last year, but still really good.
Brandon Morrow might have the best raw stuff of anyone in the rotation, but like Johnson, he doesn't stay healthy long enough to show it off. He doesn't have to be the focal point of the rotation anymore, which could serve him well in the long run.
Ricky Romero is a wild card at the back of the rotation. If he can throw strikes, he is one of the best left-handed starters in the American League. If not, well, you get a 5.77 ERA like he had last year.
The offense should be one of the best in baseball. Jose Bautista will be back in the middle of the lineup after missing most of the second half last year with a wrist injury.
Edwin Encarnacion quietly finished fourth in baseball with 42 home runs last season. While he doesn't seem likely to duplicate that kind of power again, he did slug over .450 in 2010 and 2011.
Jose Reyes and his .350 on-base percentage at the top of the lineup will give the bashers in the middle plenty of opportunities to drive in runs.
In a wide-open division, the Blue Jays appear to be the best team on paper. As long as they can get Sergio Santos back pitching late in games, the bullpen should be fine.
What could go wrong
We touched on it already. The rotation features a lot of arms with a history of breaking down or losing their control altogether.
If Johnson and Morrow breakdown at the same time, and Buehrle can't make the transition to the American League East work, and Romero still can't throw strikes, suddenly it becomes Dickey and a lot of what was there last year.
Bautista could struggle to hit for power, especially early, after having the wrist problems last season. Any injury in the hand or wrist for a hitter is going to require a period of adjustment upon returning before we see the player we are accustomed to, if we ever do.
Brett Lawrie has to take the next step in his development and become the hitter everyone (unfairly) expected him to be last year. J.P. Arencibia isn't going to magically start posting an on-base percentage over .300 because he has no patience at the plate.
Melky Cabrera's suspension late last season could take a mental toll on him, not to mention the fact his ridiculous .379 BABIP last season (via Fangraphs) doesn't seem sustainable.
Crowning a champion in the offseason rarely results in a World Series, so don't pencil in the Blue Jays for a division title just yet. Ask the Red Sox in 2011, or the Los Angeles Angels last year how well their offseason spending worked out.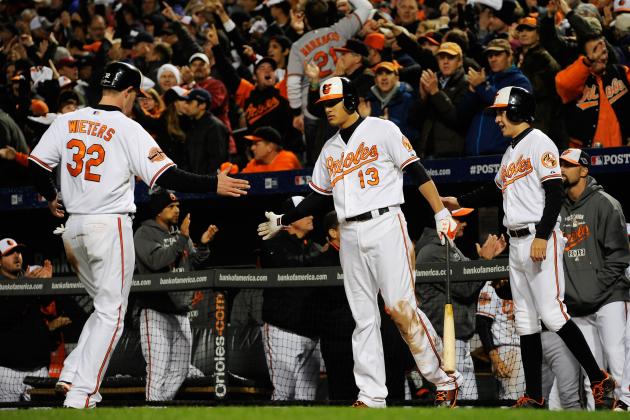 Patrick McDermott/Getty Images

2012 Record
93-69, Second place in American League East (Lost to Yankees in ALDS)
What the Orioles need to happen in 2013
After one of the most surprising single-season turnarounds in recent memory, the pressure is on the Orioles heading into 2013. They aren't getting any respect from the national media for very good reasons.
Everything that went right in 2012 doesn't seem sustainable over the course of multiple years. The bullpen was insanely good, leading them to a 29-9 record in one-run games and 16 straight regular-season wins in extra innings.
The Orioles managed to do all that despite having an offense that ranked ninth in the AL in runs scored and one pitcher who made more than 20 starts.
If the Orioles want to prove the skeptics wrong, the rotation is going to have to hold up better than that in 2013. I don't care how deep you think a bullpen is, relievers are so volatile from year to year that what worked so well last year could turn into a weakness the next.
At the very least, keeping that record in one-run games and extra innings going seems virtually impossible.
Getting a full season from Manny Machado, who should be playing shortstop but will man third base, serves the Orioles well in the future. He has the potential to be an All-Star in the future but is just 20 years old.
If/when the Orioles bring Dylan Bundy up this season—if he doesn't start the season in the big leagues—he will be their best starting pitcher right away.
Matt Wieters is the best defensive catcher in the American League and continues to make strides with his bat. He will never be the all-around force everyone projected him to be as a prospect in 2008, but a great defensive catcher who can hit 20-25 home runs and walk in 10 percent of his plate appearances is a great asset to have.
What could go wrong
Of all the postseason teams from 2012, the Orioles seem like the one to take the biggest step back. The talent still isn't there for them to compete with the best teams in the league, despite what happened last year.
If the bullpen isn't as good as it was last year, it is hard to see the Orioles being able to hang around the .500 mark. Role players like Nate McLouth aren't going to be as good as they were down the stretch last season.
The rotation could get a boost from Chris Tillman, who looked a lot better late last season and could take a step forward this year. Dylan Bundy should start the season in the rotation, though the team really has no need to rush him along.
After that, the Orioles have to rely on Wei-Yin Chen, who faded miserably down the stretch. Jason Hammel has never thrown more than 177.2 innings in a season. Jake Arieta had an ERA over 6.00 last year.
This team put together one of the most baffling great seasons in recent memory last year. If they do it again, Buck Showalter should be inducted into the Hall of Fame as soon as the season is over.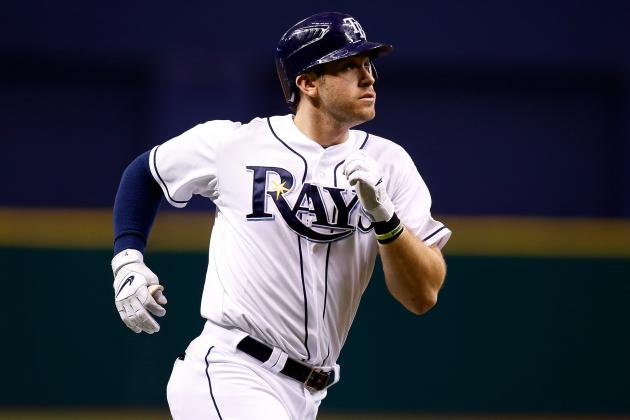 J. Meric/Getty Images

2012 Record
90-72, Third place in American League East
What the Rays need to happen in 2013
Even though the Rays traded James Shields, this team still has the deepest rotation in all of baseball. Anchored by 2012 American League Cy Young winner David Price, they can throw at least three pitchers with No. 1 or 2 starter stuff out there and two others who are league-average pitchers.
Matt Moore will be the key to the rotation this season. He shined in a brief callup in 2011 but struggled with his command and offspeed stuff early last season. He did finish strong, posting a 3.01 ERA in the second half, though he still walked 31 batters in 77.2 innings.
Because Moore's raw stuff is so good, he can get away with average command. He still projects as a No. 1 starter, though it would be nice to see his fastball command take a step forward.
Chris Archer also made it easier for the Rays to part with Shields. He has had his share of command and control issues in the minors, walking at least 4.15/9 IP in each of the last three seasons, yet his stuff looked a lot better after he was called up by the Rays late last year.
Alex Cobb is a very effective innings-eater for the Rays. He will likely enter the season as the No. 4 starter.
But everyone knows the Rays can pitch. Where they need to see improvement in 2013 is on offense. Really, they need to keep Evan Longoria healthy.
The addition of Wil Myers in the Shields trade will give them another middle-of-the-order bat whenever they decide to bring him up from Triple-A. But Longoria is the best hitter in the lineup. He has MVP potential when he is healthy, yet he has missed 117 games in the last two years.
Ben Zobrist remains the most underrated player in baseball. He can play almost anywhere on the field, hit for average, get on base and hit for power. The Rays need Zobrist, Longoria and, eventually, Myers to provide the power in the middle of their lineup.
They won't have to score a lot of runs in order to win many games, as we saw last year. It is just a matter of whether or not they can score enough to win as many games as it will take to make the postseason.
What could go wrong
The bullpen has put its faith in Fernando Rodney, who was incredible last season. There is no way he posts a 0.60 ERA and 0.78 WHIP again. As long as he doesn't go back to being the pitcher who had a 4.50 ERA and 1.69 WHIP with the Angels in 2011, they should be okay.
Moore's command issues could keep his ERA well over 4.00 like it was in the first half last season. The back of the rotation doesn't look as strong as it did when Shields was there, forcing the Rays to mix and match all season.
If Longoria gets hurt and Myers takes longer than expected to adjust when he comes up, the offense is likely to finish 11th in the American League in runs scored once again.
Even with all their offensive woes last season, the Rays still won 90 games and finished just three games out of a playoff spot. How do you not like them to at least duplicate that performance this year?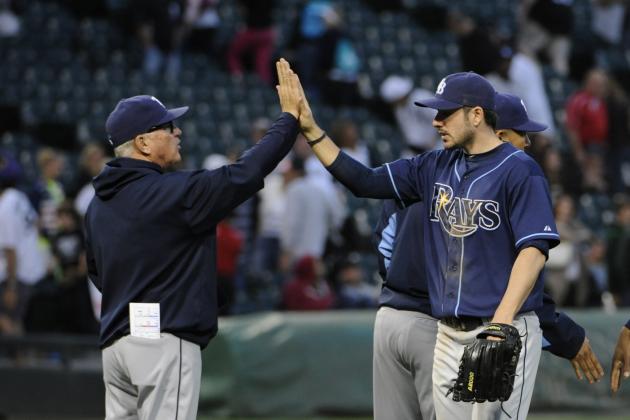 David Banks/Getty Images

Tampa Bay Rays 90-72
Toronto Blue Jays 89-73
New York Yankees 86-76
Boston Red Sox 82-80
Baltimore Orioles 79-83
There is a strong case to be made for each of the top three teams in the division. The Yankees have the most question marks right now, so they get knocked down a peg or two because of that.
The Blue Jays have the most talent, top to bottom, of any team in the division. But they are getting slightly overrated because of the names on the back of the jersey and not really looking at what those players are likely going to be in this division.
The Rays boast the best pitching staff and defensive team in the division. Even with their offensive question marks, we know they don't have to score a lot of runs to win 90 games. As long as their young pitching, along with Wil Myers, develops as expected this season, they will be back in the playoffs.
The Red Sox will be much better this season than they were in 2012—how could they be worse?—but it won't be enough to compete with the trio at the top.
The Orioles could be much worse than that, depending on how their bullpen holds up this season. I am giving them some benefit of the doubt because their young, impact players--Manny Machado and Dylan Bundy--are going to perform well, all things considered, in Baltimore this season.