Grading All 2013 NFL Franchise Tag Decisions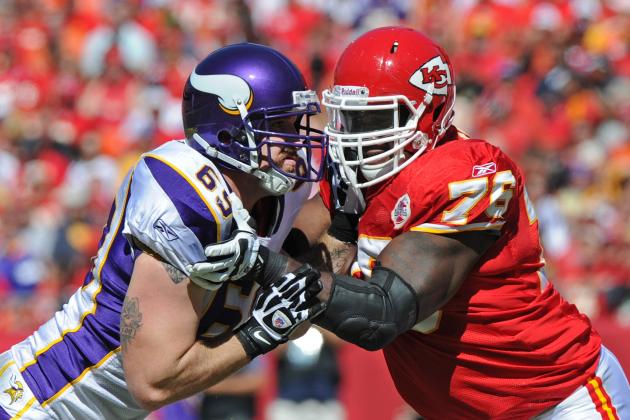 Peter Aiken/Getty Images

When the deadline passed, only eight NFL players had received the franchise tag for the 2013 season. One came down to the last second, as the Kansas City Chiefs tagged left tackle Branden Albert after reaching an agreement on a long-term contract extension with wide receiver Dwayne Bowe.
To recap, which teams used the franchise tag, and did they use it on the right players?
Begin Slideshow

»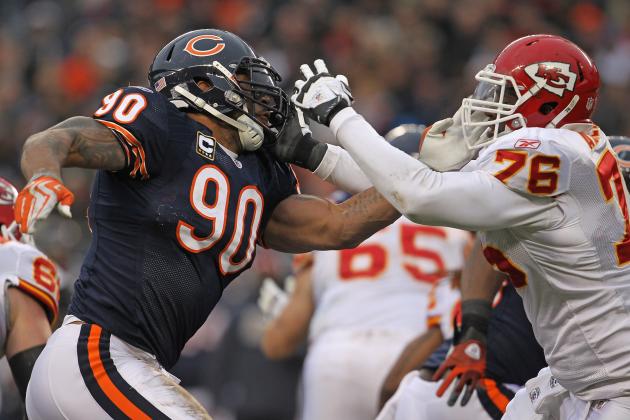 Jonathan Daniel/Getty Images

We might as well start with the franchise that came with the most drama.
Wide receiver Dwayne Bowe and offensive tackle Branden Albert were two leading candidates to receive the Kansas City Chiefs' franchise tag. But as the deadline neared, fans lamented that it appeared neither player was going to get the tag.
And then the news broke: The Chiefs were having their cake and eating it too.
As ESPN's Adam Schefter reported, the Chiefs agreed with Bowe on a long-term extension, slapped the tag on Albert and re-signed punter Dustin Colquitt to an extension of his own for good measure.
Kansas City kept its top wide receiver, retained new quarterback Alex Smith's top pass-blocker and blindside protector and left itself wide open in terms of what to do with the first overall pick in the NFL draft.
Well played, Andy Reid. Well played.
Grade: A+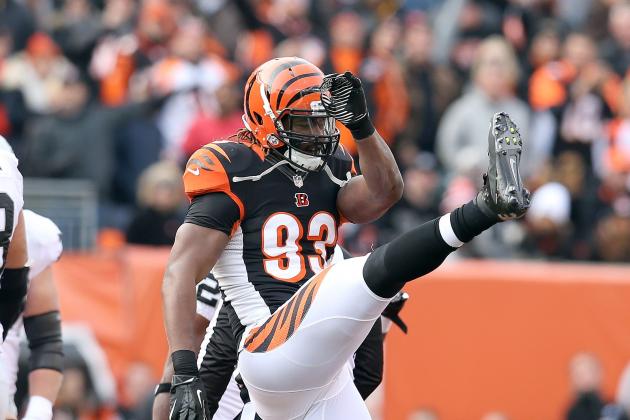 Andy Lyons/Getty Images

Much like with the Kansas City Chiefs, there were two main candidates to receive the franchise tag in Cincinnati this year.
Unlike the Chiefs, the Bengals wasted no time in making a decision.
Granted, right tackle Andre Smith graded out as the top player in the NFL at his position last year, according to Pro Football Focus, but $9.8 million is a lot of money for a right tackle with a history of weight problems.
Instead, the Bengals franchise-tagged left defensive end Michael Johnson, who appears to be entering his prime after a career-high 11.5-sack season.
That number matches his career total before last season, so by tagging Johnson, the Bengals are essentially both rewarding his 2012 production and challenging him to repeat it in 2013.
Grade: A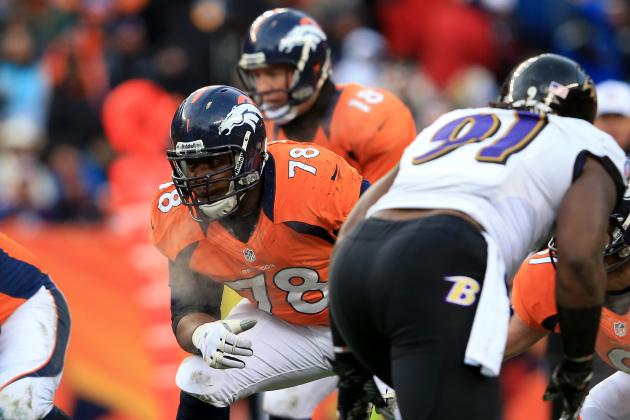 Doug Pensinger/Getty Images

This one was a surprise to absolutely no one.
After a season in which offensive tackle Ryan Clady graded out fourth among all tackles, according to Pro Football Focus, there was very little chance that the Denver Broncos were going to let him hit the open market.
Add in that Clady protects Peyton Manning's blind side, and that chance dropped to zero.
Clady is only 26, and while he has had a serious knee injury and tore his rotator cuff late in the 2012 season, the five-year veteran has yet to miss a start for the Broncos.
Grade: A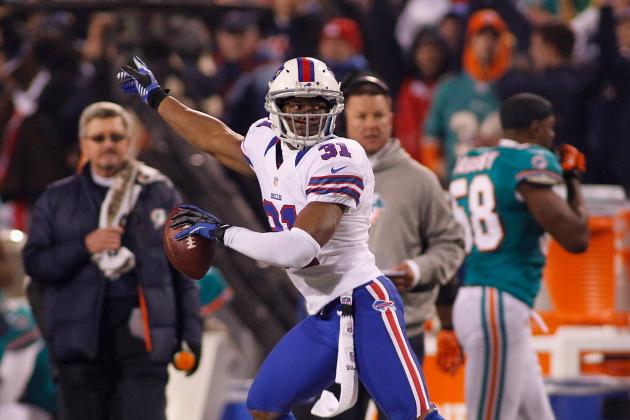 Rick Stewart/Getty Images

On one hand, it's relatively easy to see why the Buffalo Bills assigned the franchise tag to free safety Jairus Byrd.
The 26-year-old has amassed 18 interceptions over his four NFL seasons, and he graded out as Pro Football Focus' second-ranked safety in 2012. To top it off, his position carries with it a relatively palatable $6.9 million tag number.
On the other hand, using the tag on Byrd precluded the Bills from assigning it to guard Andy Levitre, and while $10 million is a lot to pay an interior lineman, they are much harder to replace than safeties are.
It was a good move, but one that brings with it some risk if it costs Buffalo an excellent young lineman.
Grade: B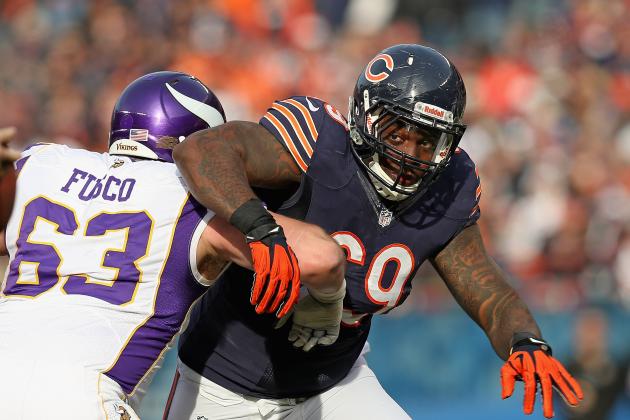 Jonathan Daniel/Getty Images

Defensive tackle Henry Melton is the last of the franchise tags that I would deem "obvious."
Melton has emerged as one of the better young defensive tackles in the NFL, accruing 13 sacks over the past two seasons and finishing 2012 as one of Pro Football Focus' top 10 tackles.
With Chicago's defense not getting any younger, it was critical that the Bears kept Melton in the fold.
However, $8.5 million is quite a bit of cash. In a perfect world, the Bears would have locked up Melton to a deal that was both more cap-friendly and afforded each party more long-term security.
Grade: B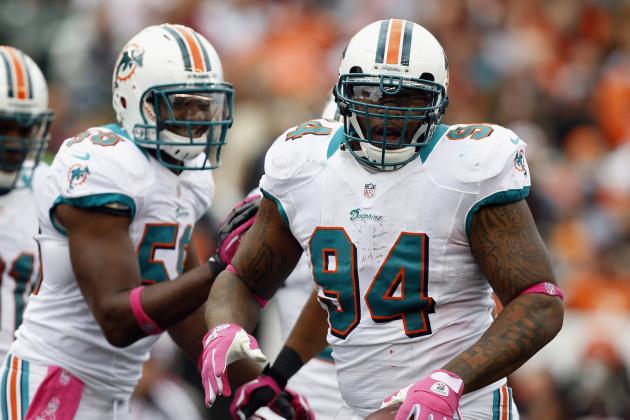 Matt Sullivan/Getty Images

The Miami Dolphins have quite a bit of salary cap space in 2013.
Unfortunately, they also have a number of prominent free agents, many of whom were considered candidates for the franchise tag.
The team settled on defensive tackle Randy Starks, who will now make $8.5 million after tallying 27 tackles and 4.5 sacks in 2012.
Starks is a decent player, but he finished in the middle of the pack among defensive tackles last season, according to PFF. Tagging him means that cornerback Sean Smith and offensive tackle Jake Long will now probably hit the open market.
Even with Long's play slipping the past couple of years, this move is something of a gamble.
Grade: C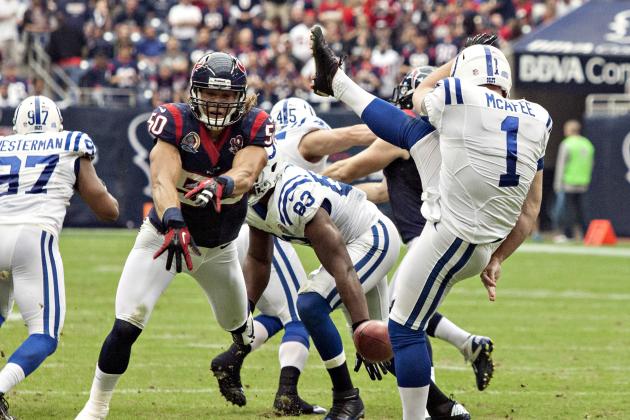 Bob Levey/Getty Images

What can you really say about franchise-tagging a punter?
Yes, Pat McAfee of the Indianapolis Colts is one of the NFL's top players at his position, and the Colts have plenty of cap room at their disposal.
However, McAfee now becomes the third-highest-paid punter in the NFL and one of only four punters who make more than $2 million a year.
Apparently overpaying punters is the "in" thing to do, though, given that the Kansas City Chiefs just handed Dustin Colquitt nearly $9 million in guaranteed money.
Grade: C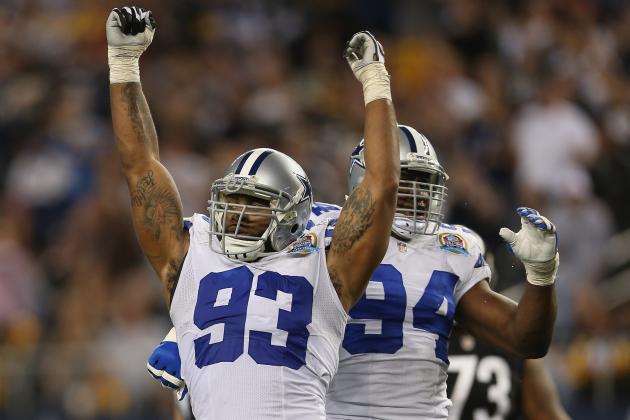 Ronald Martinez/Getty Images

The Dallas Cowboys have made it clear that the future is now.
One week after deferring a ton of cap money for future years, the team made yet another short-term fix on Monday, applying the franchise tag to outside linebacker Anthony Spencer for the second straight year.
Spencer set career highs in tackles (95) and sacks (11) in 2012, but the Cowboys now have well over $10 million committed to a player who has had all of one very good season.
Oh, and this coming season, that player will be moving to defensive end, a position he hasn't played since college.
Short-term? More like shortsighted.
Grade: D