2013 NFL Free Agents: Elite Offensive Linemen Teams Must Sign
Al Bello/Getty Images

We are less than two weeks away from the start of NFL free agency.
On March 12, players who haven't re-signed with their former clubs will be on the open market for the entire league to bid on.
While names like Joe Flacco, Greg Jennings, Mike Wallace and Steven Jackson may be the most star-studded and attractive option, the ones we are focusing on here are the offensive linemen.
To me, the offensive line is one of, if not the, most important positions in all of football. Without a good one, your offense will go nowhere and your quarterback will flounder.
Good offensive linemen are getting top-dollar these days and, on Wednesday, the New York Giants took the first step in taking a top lineman off the market.
The Giants re-signed starting left tackle Will Beatty to a five-year, $38.75 million deal, with $19 million of the deal guaranteed.
Expect this kind of market for the top linemen and expect players to use Beatty's signing as a measuring stick (and possibly leverage) in what to look for in a deal.
Which linemen should teams look to sign this spring?
Begin Slideshow

»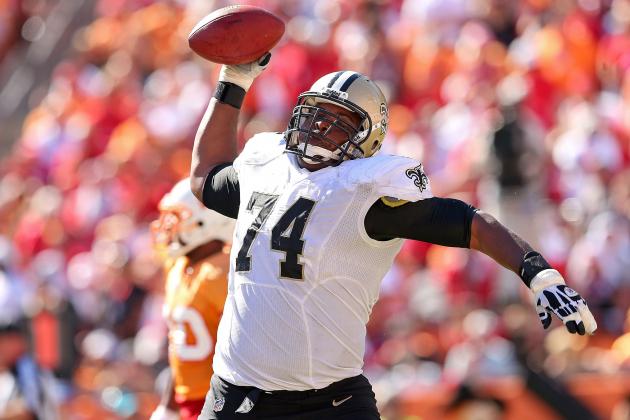 Mike Ehrmann/Getty Images

Jermon Bushrod has struggled as of late but, as one of the top left tackles on the market, should get a nice offer in 2013.
Bushrod is a far better run-blocker than he is a pass-blocker and even struggles when he is pitted up against speedy pass-rushers.
He relies more on power than speed,but Bushrod doesn't give up many sacks playing on the left side of the ball.
Some have wondered if he would be better suited to move inside to play guard, a switch he may be forced to make as he gets older.
But, for now, the 6'5", 315 pound tackle will be a nice option for teams to go after this spring, especially if the Saints don't bring him back.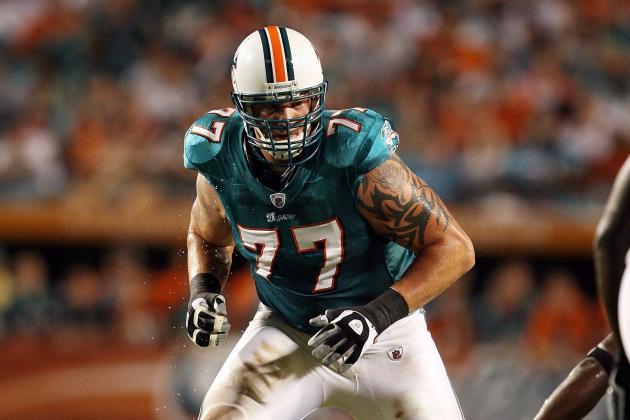 Doug Benc/Getty Images

The former first overall pick of the 2008 NFL Draft will likely be looking for work elsewhere in 2013.
There were reports of him demanding at least $10 million per season in his next contract and, if his demands don't lessen, then the Miami Dolphins will probably just go with Jonathan Martin at his spot and invest their money in a wide receiver.
Some people feel that Long is starting to break down physically since getting drafted, but I think Long could benefit from a fresh start.
What team wouldn't want the chance to bring in a former No. 1 pick and bolster their offensive line?
I don't know if Long will get the $10 million he's looking for, and if he doesn't back off that, could stay on the market a lot longer than expected.
For around the $7 million range? Some teams would gladly give that up for Long.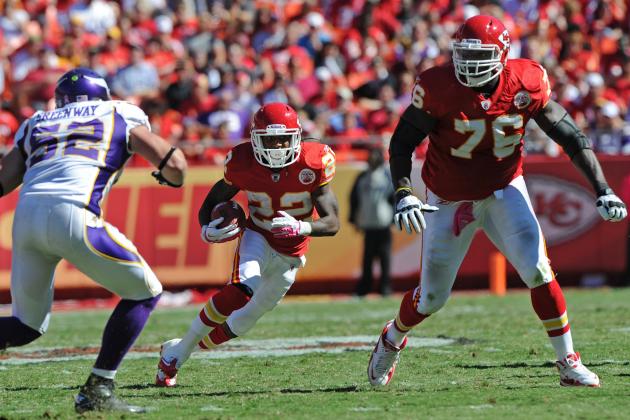 Peter Aiken/Getty Images

The Kansas City Chiefs have the first overall pick in the 2013 NFL Draft and are expected to take Luke Joeckel with the pick.
If Joeckel is who the Chiefs want in April, that means Branden Albert is finding a new home next season.
Albert is a tremendous pass blocker, who allowed just one sack in all of 2012.
At 6'5" and 316 pounds, Albert is a really good athlete who has a great first step and can dominate once he's got his hands on a defender.
His run-blocking skills are not the best and, if teams try to run to the left, they might see plays blow up behind the line of scrimmage.
Maybe a new offensive line coach will be able to teach him better techniques in the run game. Regardless if he develops in this facet, he's still a solid player who will get a decent amount of change back in a new deal.
Hannah Foslien/Getty Images

One of the biggest reasons why Adrian Peterson had a record-setting season in 2012 was the offensive line in front of him.
Phil Loadholt served as the massive right tackle, helping pave the way for Peterson to get into open space in the second and third level.
At 6'8" and 343 pounds, the 27-year old is one of the most physical linemen in the sport, with the ability to maul defenders into the ground.
The one thing working against him deals with his footwork in pass protection. Because he's such a large guy, he could get beat off the edge against a quicker defender.
But, if Loadholt proves he can stand up one-on-one against defensive ends who display good burst, good luck trying to get around him.
I don't see why the Vikings would let him walk away, as he's one of the top linemen on the market and responsible for much of their success on the ground. If they do cut ties, expect plenty of teams to be interested.
Jonathan Daniel/Getty Images

There aren't many guards set to hit the free agent market this spring, adding to Levitre's value.
The former second-round pick of the 2009 NFL Draft is not only a top lineman on the market, but one of the top left guards in the NFL.
His strength is as a pass blocker and can even adjust when he has to pull to take on pass-rushers.
His run-blocking skills are a little weaker than what he offers in pass protection, but he makes up for it with his raw strength and has worked to improve getting his hands on defenders.
At 27-years-old, Levitre has a lot of great football in him and other guards who are free agents (Kevin Boothe, Louis Vazquez) will likely wait to see what he gets in an offer.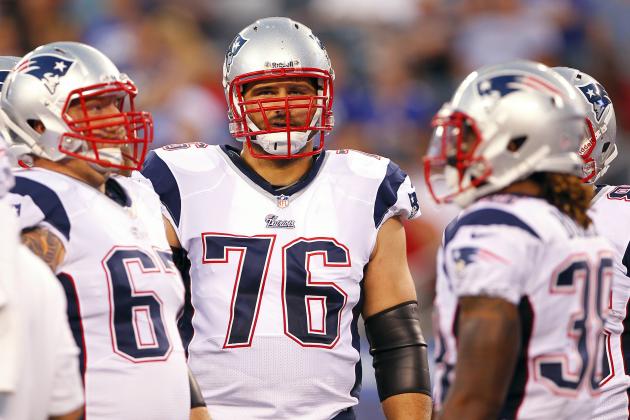 Rich Schultz/Getty Images

If the Patriots recent track record in free agency is any indicator, we should not be surprised if the Patriots let go of their starting right tackle.
They've done it in the past with guys like Dan Koppen, Ross Hochstein, Joe Andruzzi, Stephen Neal and Nick Kaczur.
The two veterans they've hung onto over their stretch run is Matt Light and Logan Mankins, who have gotten up in age, but continue to provide protection to Tom Brady.
Sebastian Vollmer has developed into one of the most well-balanced offensive linemen in the sport and will likely be due to get a huge payday on the open market.
When front offices do their free agent shopping list of players they want to have, Vollmer's name should often pop up somewhere near the top.
The Patriots should try to keep Vollmer but, again, they have a habit of bringing in new faces to play on the line, allowing established veterans to walk. Vollmer may be next.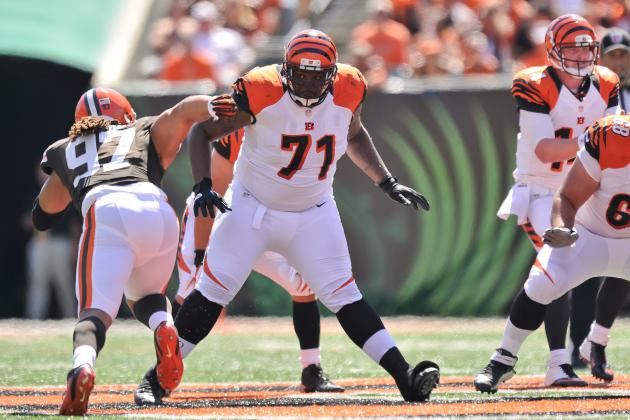 Jamie Sabau/Getty Images

When Andre Smith first came into the NFL, there were many question marks surrounding him, the two chief concerns being his maturity level and ability to stay in football shape.
After getting off to an inconsistent start to his career, Smith finally became the player the Bengals envisioned when they drafted him back in the first round of the 2009 NFL draft.
In the running game, Smith can just maul defenders into the ground and gets a lot of leverage due to his extremely large and long arms.
He's not as agile as some other offensive linemen, but he makes up for that with pure strength and ability to create a hole for a running back.
Of the linemen in free agency, I'd have to consider Smith in the top three and, arguably, even top two.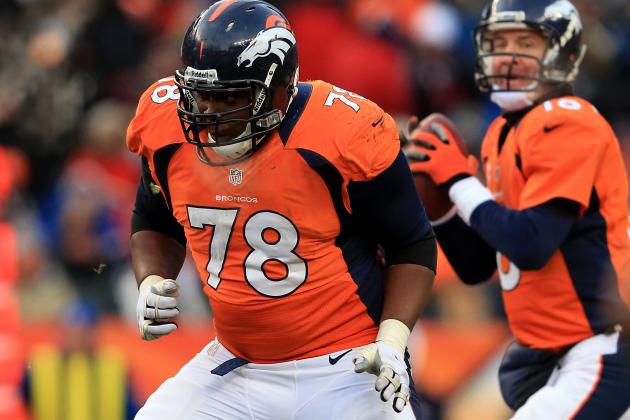 Doug Pensinger/Getty Images

Once Joe Flacco is off the market, probably re-signing with the Baltimore Ravens, Ryan Clady should hold the distinction of not only the best offensive linemen on the market, but also the best free agent at any position.
Truthfully, I'm surprised the Broncos haven't used their franchise tag on Clady to keep him, but maybe they just intend to re-sign him long term.
I think John Elway will use Will Beatty's signing and contract as a starting point in negotiations but, with Clady set to be the best overall lineman in free agency available, he should get a lot more money.
The Broncos have about two weeks to determine if they want to keep Clady around long-term before he hits the market.
If Clady hits free agency, Denver will have a ton of competition for his services and may find themselves in a bidding war for the coveted three-time Pro Bowler.
I really don't expect Clady to bolt, especially with the influence Peyton Manning has on the team.