10 New York Yankees Talking Points from Early Spring Training Action
Al Bello/Getty Images
Derek Jeter's ankle is one of many talking points for the New York Yankees entering the 2013 season
Coming off a disappointing finish to the 2012 season, there certainly isn't a lack of discussion points for the New York Yankees at spring training.
From Curtis Granderson's broken arm to the undetermined catching position, there are a heap of questions that remain unanswered for Joe Girardi's club just weeks before the 2013 season begins.
A change in the offensive approach may be necessary for the Yankees, who lost a great deal of power to free agency and the disabled list.
Perhaps a fresh face could be found behind the plate on Opening Day.
Maybe Michael Pineda can provide New York with an internal addition halfway through the season and spark a playoff push in the merciless American League East.
But for now, we have no choice but to wait, as the MLB season is a marathon and not a sprint.
With 162 games to complete, the best teams nearly always rise to the top. Will the 2013 Yankees be able to overcome adversity and add to their unparalleled resume?
Or will Father Time catch up with Derek Jeter and friends, shifting them towards the bottom-feeders of the American League?
Here are a handful of current talking points that may ultimately decide New York's fate in 2013.
Begin Slideshow

»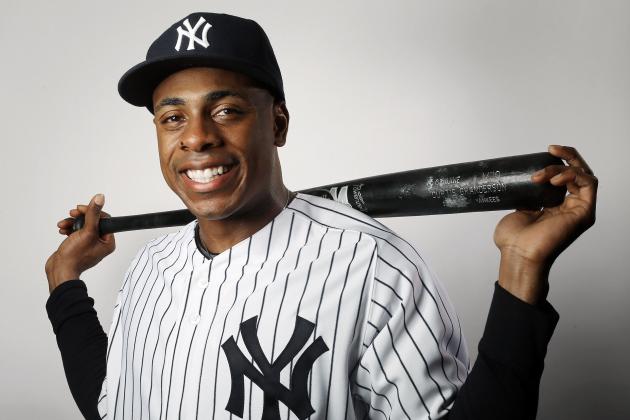 Elsa/Getty Images
Curtis Granderson poses during New York Yankee Photo Day on February 20, 2013
The Yankees' offseason went from subtle to somber Sunday afternoon when star outfielder Curtis Granderson went down with a broken arm.
After losing nearly half of their home run production to free agency and injuries the past few months, New York can now expect to be without their most reliable power threat for at least 10 weeks.
Coming off of back-to-back 40-plus home run seasons, Granderson hoped to continue a positive trend in 2013.
Unfortunately, we will have to wait until at least May to find out if he can touch his torrid pace.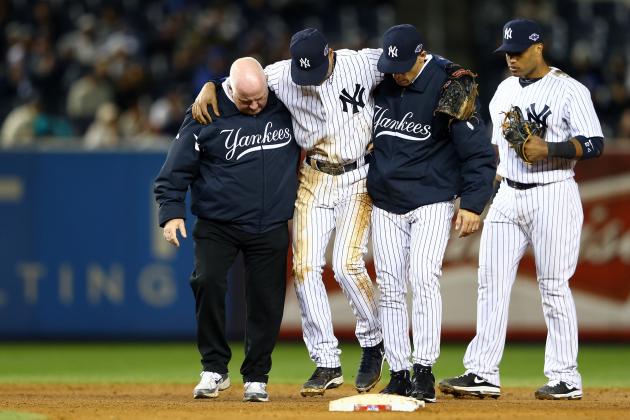 Al Bello/Getty Images
Derek Jeter is helped off the field after hurting his ankle during Game 1 of the 2012 ALCS against the Detroit Tigers
Many agreed that the Yankees' 2012 postseason hopes collapsed with their captain during the 12th inning of Game 1 of the ALCS last October.
Derek Jeter's broken ankle would later prove to be an ominous foreshadowing for a New York team that got swept at the hands of the Detroit Tigers.
Now, just more than four months removed from surgery on his left ankle, Derek Jeter is preparing for his 19th MLB season in pinstripes.
Team doctors are hopeful that the captain will be ready for Opening Day—a revelation many thought impossible when watching the 38-year-old lay face down on the Yankee Stadium infield last fall.
If anyone can do it, it is Derek Jeter. You can bet your bottom dollar that the captain's crippled catwalk will be the talk of the town in Tampa, Florida.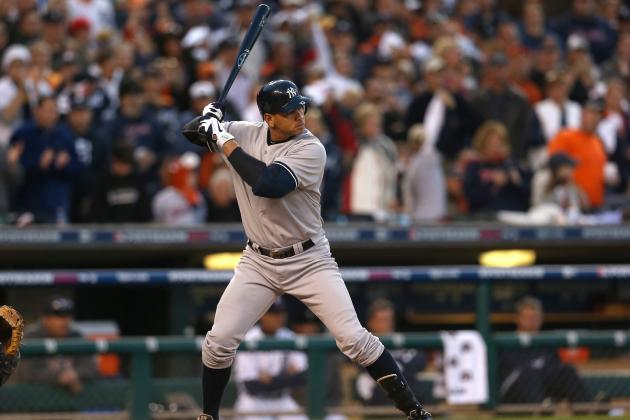 Jonathan Daniel/Getty Images
Alex Rodriguez awaits the pitch during Game 4 of the 2012 ALCS against the Detroit Tigers
When the New York Yankees signed Alex Rodriguez to a 10-year, $275 million contract, they understood the inevitable spotlight that would come with such a lucrative deal.
The organization accepted the fact that the highest-paid player in sports would attract an unprecedented amount of media coverage during his pursuit of the all-time home run record.
They just didn't realize quite how negative the attention would be.
Well, thanks to another major hip surgery and a second connection to performance-enhancing drugs, Alex Rodriguez is back in the headlines during spring training.
During a preseason that he will miss completely, the Yankees' star third baseman still manages to be the subject of questioning around Tampa.
Will he return in 2013? Will he face a suspension for his connection to Anthony Bosch and the Miami clinic connected to PED distribution?
Will Alex Rodriguez ever play third base for the New York Yankees again?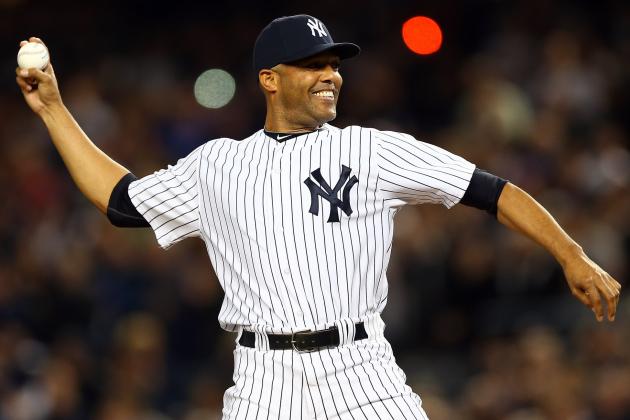 Elsa/Getty Images
Mariano Rivera throws out the first pitch during Game 3 of the 2012 ALDS against the Baltimore Orioles
Another illogical scenario. Another defiance of Father Time.
Mariano Rivera could have called it quits when a torn ACL sidelined him for the remainder of the 2012 season last May.
At the age of 43, not many people in this world can recover from such a severe injury to compete at the highest level of competition.
But just as he has done his entire career, MO is defying all odds once again.
Arguably the best closer the game has ever seen, Mariano Rivera will look to rebound one more time entering 2013.
After extensive rehab and unwavering dedication, the aging veteran is on pace to be available Opening Day.
His second live bullpen session attracted heaps of attention from reporters like Mike Feinsand of the New York Daily News, and only further coverage will result from Rivera's continued progress.
Stay tuned, Yankees fans.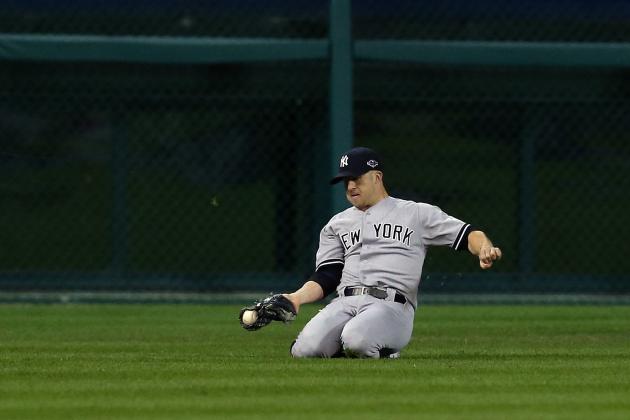 Jonathan Daniel/Getty Images
Brett Gardner makes a sliding catch during Game 3 of the 2012 ALCS against the Detroit Tigers
The versatile Yankees outfielder participated in just 16 games last season, thanks to arthroscopic surgery on his left elbow.
And now, he might be shouldering more pressure than ever.
The left-handed speedster enters 2013 looking to prove his value as one of the game's best all-around athletes.
Factor in Curtis Granderson's broken arm, and Brett Gardner may be all that New York has to brag about in their outfield.
A move back to center field is likely in place. And 60 steals is not out of the question if he can remain healthy.
But will Brett Gardner be able to take that next step towards elite status in Major League Baseball?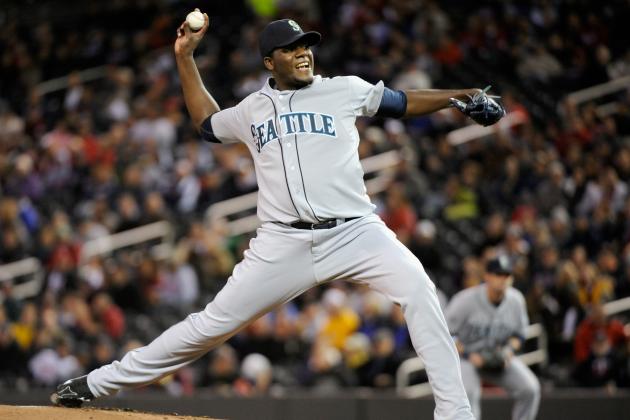 Hannah Foslien/Getty Images
Michael Pineda has yet to pitch for the New York Yankees during regular season action
When the New York Yankees surrendered their top prospect (Jesus Montero) to Seattle last offseason, they were expecting something in return.
So far, that investment has yielded nothing.
That is because an overweight Michael Pineda showed up to camp last spring and dealt with velocity problems before tearing his labrum and ending his year altogether.
Now it is time for the 24-year-old to get his act together and rehab his shoulder so that he can help his team make a playoff push.
DUI allegations certainly haven't helped the cause for Pineda, who is expected face live batters for the first time in a year sometime in the next month.
Given the current rotation, do the Yankees need to rush back their young stud?
Certainly not. However, Michael Pineda could be a valuable mid-season addition to a competitive AL East Division chase.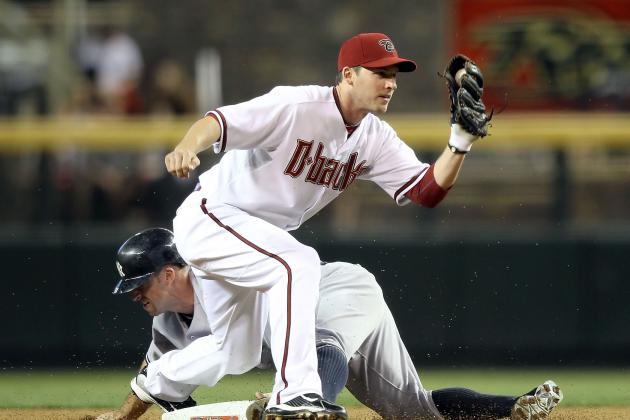 Christian Petersen/Getty Images
Brett Gardner successfully steals second base during a June 22, 2010 game against the Arizona Diamondbacks
As I touched on in a previous article about Curtis Granderson's trade value, the 2013 Yankees lineup may very well be a skeleton of the 2012 offense that led the majors in home run production.
The losses of Nick Swisher, Russell Martin, Raul Ibanez, Andruw Jones and Eric Chavez to free agency, combined with the losses of Alex Rodriguez and now Curtis Granderson to injury, means that New York will enter 2013 with less than half of their power production from a season ago.
Together, those seven players accounted for 155 (or 63 percent) of the team's 245 home runs.
So, what else can manager Joe Girardi do but take a different approach to scoring runs?
The 2013 New York Yankees will likely have to focus more on a style many call "small ball" or "station-to-station" offense. They will need guys like Brett Gardner to get on base and accumulate steals.
They will need timely hitting.
The 2012 version of the Yankees weren't all too good at such an approach, which proved devastating in a four-game sweep to the Tigers in the ALCS.
Hopefully, an early preseason commitment to run manufacturing will get the job done in 2013.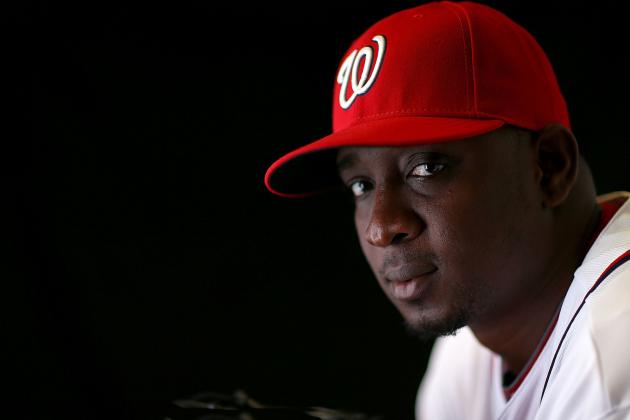 Mike Ehrmann/Getty Images
The New York Yankees no longer have the reliable Rafael Soriano in the back end of their bullpen
Many were skeptical that the Yankees bullpen could hold it down when backbone Mariano Rivera went down with a torn ACL just one month into the season in 2012.
But New York's relievers did just that, combining to post a satisfactory 3.43 ERA in 444 innings of work.
Much of the credit is due to Rafael Soriano, who posted 42 saves and a 2.26 ERA in Rivera's absence.
Unfortunately, Soriano now resides in Washington playing for the Nationals, and the Yankees are faced with multiple questions about the state of their relief pitching.
Will David Robertson bounce back from a relatively disappointing 2012 to reclaim his position as the heir to Mariano Rivera's throne?
Can Joba Chamberlain continue to progress as he returns from several lingering injuries?
And will someone like Mark Montgomery step up from the farm system to add depth to New York's bullpen in time for a late season playoff push?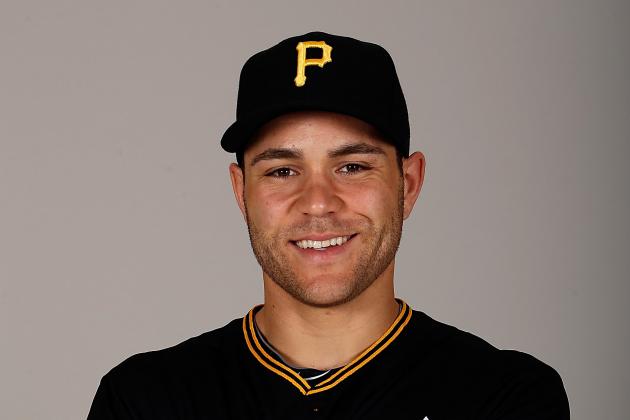 J. Meric/Getty Images
Like Rafael Soriano, former Yankee Russell Martin has transitioned to the National League in 2013, playing for the Pittsburgh Pirates
Russell Martin's value to the New York Yankees likely won't be recognized until the 2013 season begins without him.
Because although the former Yankee catcher struggled to hit for average with the Bronx Bombers, Martin was a professional hitter and consistent behind the plate.
New York is moving on. And the future remains unclear.
Prospects like Austin Romine have been slated as starters for years; however, the minor league has yet to make the next step to the bigs—and likely won't for at least another few months.
So Brian Cashman and Joe Girardi have a decision to make.
According to recent reports by SB Nation's Jason Cohen, it appears Francisco Cervelli and Chris Stewart are both without minor league options.
This means the Yankees may have found their catching tandem to start the season in the two seasoned veterans.
But that doesn't mean that we won't see Romine, or even Bobby Wilson, at some point in 2013. Impressive spring performances from either could sway the ship in their favor.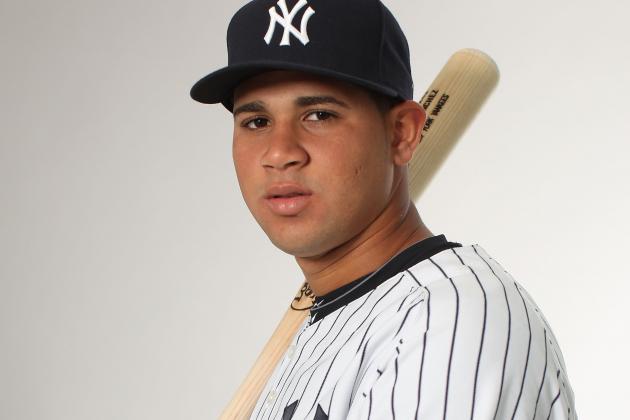 Nick Laham/Getty Images
Gary Sanchez poses for New York Yankees Photo Day last Spring
Each and every spring, coaches and general managers pay close attention to their young prospects during preseason play.
Allowing the veterans to settle into a routine, the talent evaluators are forced to decide whether or not any of the organization's minor league cornerstones are ready to make the giant leap to the big leagues.
For the New York Yankees in 2013, only a few names may have a shot.
Gary Sanchez stands as one of the Yankees' top positional prospects after impressing scouts across baseball in Class-A Charleston and Class-A Tampa last season. However, the 20-year-old likely still has a year or two before he is polished enough for the majors.
Zoilo Almonte and Mark Montgomery, on the other hand, might be able to salvage a roster spot on this year's team.
It remains a long shot for both, but positional needs could help the young prospects reach their goal in 2013 if all goes well during spring training.
For Almonte, the 23-year-old non-draftee signee could provide the Yankees with depth in the outfield after the team parted ways with Raul Ibanez, Nick Swisher and Andruw Jones in the offseason.
As for Montgomery, a wicked slider and 1.88 ERA in Double-A Trenton last year could help the youngster make the 25-man roster out of spring training if he plays his cards right.