Why Eric Fisher Could Be the Key to an Arizona Cardinals Turnaround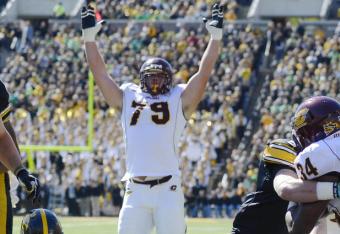 Eric Fisher should be a top-10 draft pick. Photo by Denny Medley-US PRESSWIRE
Brian Spurlock-USA TODAY Sports
If the Arizona Cardinals were to invest their No. 7 overall draft pick in the 2013 NFL draft on Central Michigan tackle Eric Fisher, how quickly could he help in turning around the worst offense in the NFL?
Lord knows the Cardinals' offensive line needs plenty of help. For the last three seasons, the Cardinals have allowed either the most or second-most sacks in the league. The sack totals are alarming. 50 in 2010, 54 in 2011 and then 58 in 2012.
No wonder Peyton Manning had no interest in playing quarterback for the Cardinals.
Part of the problem had to do with the former coaching staff, and part of the problem was the lack of talented tackles whom the Cardinals employed. For starters, ex-head coach Ken Whisenhunt had Russ Grimm as his offensive line coach—but that was it. The Cardinals employed no other assistant coaches to work with Grimm to motivate or coach up his linemen.
That will change under new head coach Bruce Arians. In a story by Kent Somers of The Arizona Republic, Arians has come up with a plan to devote four assistant coaches to work with the offensive line in 2013. Finally somebody is paying attention to the biggest problem on the team, or at least devoting the amount of attention it deserves.
Next, we examine the tackles on the Cardinals offensive line for 2011 and 2012.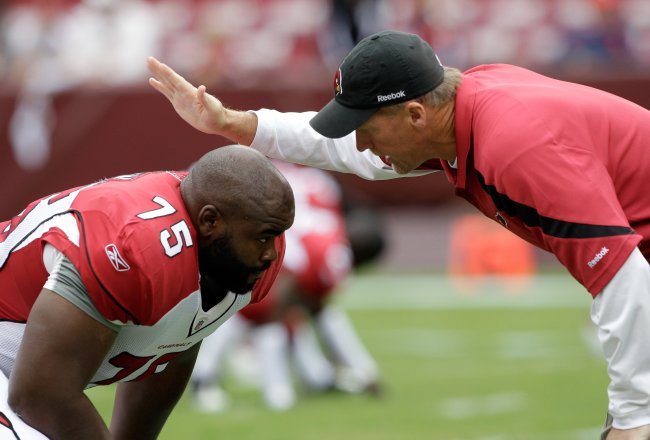 Levi Brown missed the entire 2012 season
Rob Carr/Getty Images
In 2011, the Cardinals employed Levi Brown at left tackle and Jeremy Bridges at right tackle. Bridges took 524 snaps until he got injured, so the Cardinals plugged in Brandon Keith to take Bridges' job. Brown took the majority of snaps at left tackle (1,041 total snaps).
As per the 2011 rankings at Pro Football Focus, none of the tackles had a positive grade. Out of a total of 76 tackles that they graded, the rankings revealed Bridges (No. 47), Keith (48) and Brown (57). The trio combined to allow 23 sacks, 10 quarterback hits and 80 quarterback hurries during the year.
In 2012, Bridges was supposed to be the starter, but he was beaten out in camp by rookie Bobby Massie. Bridges went on IR and the team later released him with an injury settlement. Keith wasn't offered a contract to come back in 2012. Brown tore his triceps, went on IR and missed the entire season.
So, the Cardinals put D'Anthony Batiste at left tackle to replace Brown. After watching Batiste for 645 snaps on the job, the Cardinals coaches had seen enough. He was benched in favor of rookie Nate Potter, who finished out the year. Over at right tackle, rookie Bobby Massie won the job and played 1,079 snaps at the position.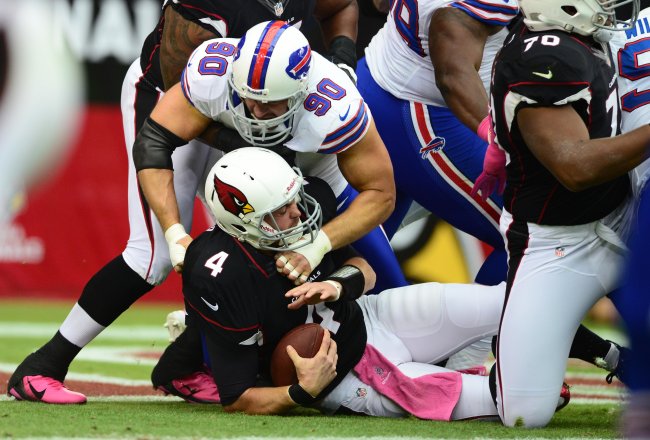 All to familair to Cardinals fans, Kevin Kolb getting sacked.
Mark J. Rebilas-USA TODAY Sports
How did the 2012 tackles grade out? All three tackles received a negative overall grade. Out of a total of 80 tackles whom Pro Football Focus evaluated, Potter was ranked the best (No. 67), followed by Massie (72) and Batiste (79).
When all three of your tackles finish in the bottom-20 of the league, you know your offense is in trouble.
During the 2012 season, the tackle who allowed the most quarterback hurries in the NFL was Jonathan Martin of the Miami Dolphins with 47. Massie wasn't far behind with 42. Batiste allowed 35 and Potter gave up 12. The trio gave up 32 sacks, 18 quarterback hits and 89 quarterback hurries in 2012. Those are brutal numbers and proved that the Arizona tackles were actually worse in 2012.
People might complain about the size of the contract that Kevin Kolb signed, but when you understand how much duress he was under (and those totals were just what the tackles allowed), you begin to feel for him.
The Cardinals averaged only 263.1 yards per game in 2012, which was 61 yards fewer than the year before. The running game was dead last in the NFL, averaging just 75.3 yards per game. The running game averaged 101.6 yards in 2011, so the offensive line was giving up sacks left and right in addition to not opening up enough holes for the running game.
When you realize just how poorly the tackles played, you begin to understand why the Cardinals had the worst overall offense in the NFL last year.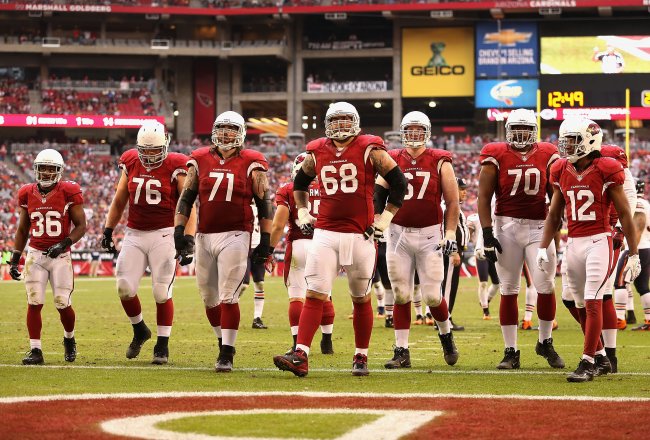 Cardinals tackles don't grade out very high.
Christian Petersen/Getty Images
Matt Miller, the lead writer at Bleacher Report for the NFL draft, came out with his B/R NFL 1000 series. For left tackles, Miller ranked Batiste at No. 34 and Potter at No. 31. For right tackles, he ranked Massie No. 18, which seems rather generous given Massie's low ranking by Pro Football Focus.
The Cardinals front office reacted to this mess by firing head coach Ken Whisenhunt and hiring 2012 NFL Coach of the Year Bruce Arians to come in and turn around the offense.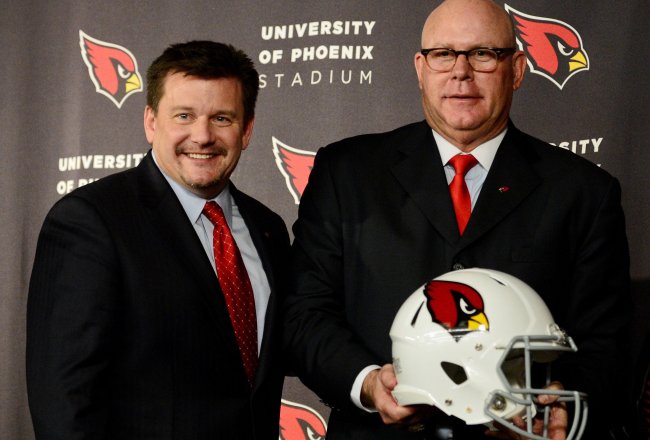 Bruce Arians is charged with turning around the Arizona Cardinals.
Matt Kartozian-USA TODAY Sports
Arians and his scouting department need to take advantage of a 2013 NFL draft class that has a number of strong tackle projected to be drafted in the first round. If the Cardinals don't take advantage of this opportunity to upgrade their offensive line, they will continue to flounder in the NFC West.
In addition to adding more assistant coaches to help the offensive line, Coach Arians stated that he plans to keep his running backs in to assist with pass protection. That demonstrates that Arians is aware of how dire the pass-protection situation is in Arizona.
Regarding the tackles in the 2013 draft class, NFL Network draft analyst Mike Mayock came out with his top-5 ranked tackles pre-combine list. Fisher is the No. 2 tackle on Mayock's list, behind Luke Joeckel of Texas A&M. Joeckel will probably be long gone by the time Arizona is on the clock.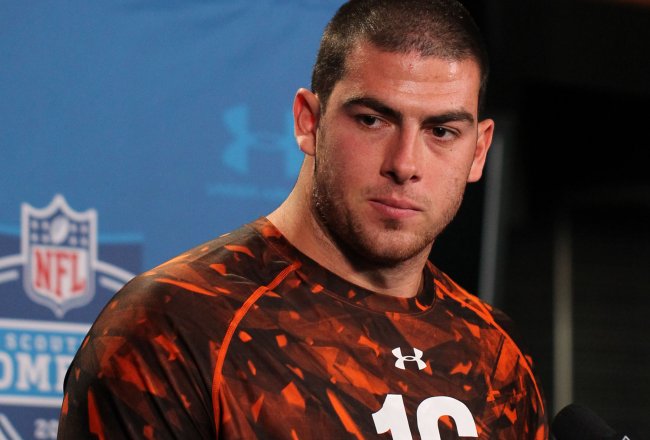 Eric Fisher is attending the NFL Scouting Combine to prove he is worthy of a top-10 pick.
Brian Spurlock-USA TODAY Sports
So, when Arizona turns in their draft card, will they pull the trigger and draft Fisher with the No. 7 overall pick?
Let's take a close look at Fisher to learn more about what he brings to the table.
Central Michigan OT Eric Fisher 6'7 1/4 306 lbs. Arm length 34 1/2. #NFLCombine

— Daniel Jeremiah (@MoveTheSticks) February 21, 2013
Daniel Jeremiah, ex-NFL Scout and current NFL Network draft analyst, reported from the weigh-ins at the combine that Fisher came in at 6'7 1/4" tall and 306 pounds. His arms are 34 1/2" long, which are more than adequate for the length required to be a starting NFL tackle.
At NFL.com, they graded the linemen attending the Indianapolis Scouting Combine, and Fisher wound up with the third-highest grade for all lineman. Alabama guard Chance Warmack was first at 95.9, followed by Joeckel (95.3), then Fisher (91.3).
NFL.com conducted some analysis of Fisher and concluded that he most closely resembled All-Pro tackle Joe Staley, which is high praise. The analysis concluded that Fisher has the quickness to be able to neutralize the better pass-rushers.
Eric Fisher video on preparing for scouting combine.
We first learned of Mayock's admiration for Fisher during the week of televised practices at the Senior Bowl. Leading up to the game in Mobile, Fisher made a huge impression on Mayock, who continued to rave about prospect every day, showing footage of how he was neutralizing one top defensive line prospect after another in one-on-one drills. He also displayed a nasty streak, which is always something you like to see in your offensive linemen.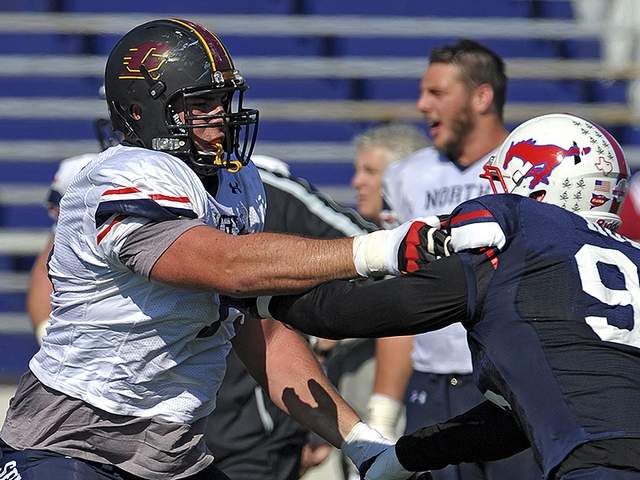 Eric Fisher dominated at Senior Bowl practices. Photo courtesy of the Detroit Free Press
Fisher capped off his solid week with a strong performance in the Senior Bowl game itself. With the start of the 2013 NFL Scouting Combine upon us, Mayock will no doubt have an opportunity to sing the praises of Fisher again.
Granted, if the Cardinals draft Fisher, he will only represent 20 percent of their offensive line. So, even though he stands a great chance of coming in and providing superior play at the left tackle position, the other four Cardinals linemen will still have to do their job.
What do you think of Arizona Cardinals drafting Eric Fisher in first round?
But if Coach Arians knows that he has a franchise left tackle on board, he can begin to design the offense to take advantage of the talents that Fisher brings to the team. By bringing a degree of stability to the offensive line, it allows Arians to roll the quarterback out to Fisher's side. Dropping back to pass and not worrying about being blindsided will be a huge relief to whoever is Arizona's quarterback.
By drafting Fisher, the bottom line should result in having more time to throw, more completions and fewer sacks and big hits on the quarterback. The running game should have more holes to run through. In essence, the overall offense would benefit.
When the dust settles after the draft, don't be surprised if the Cardinals select more than one lineman. However, if the Cardinals decide to pass on Fisher for some reason, or he is already off the board when their turn comes up on the clock, then all bets are off for Arizona's offense in 2013.
This article is
What is the duplicate article?
Why is this article offensive?
Where is this article plagiarized from?
Why is this article poorly edited?

Arizona Cardinals: Like this team?