10 NFL Combine Prospects That the Saints Closely Watch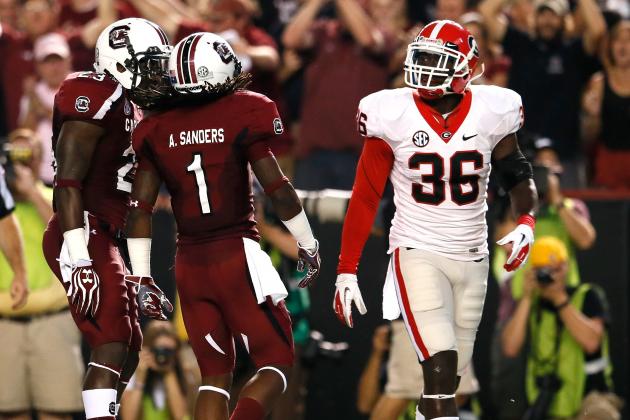 Kevin C. Cox/Getty Images

There are 10 NFL draft prospects the New Orleans Saints must watch closely as the NFL Combine opens up today and runs through Tuesday, February 26 in Indianapolis.
While everyone and their brother knows Dion Jordan and Barkevious Mingo will dominate every drill they participate in, the lesser known players and questionable athletes are who should hold the eyes of the Saints' brass in attendance at Lucas-Oil Stadium over the next seven working days.
More importantly, it is the interview process the team will go through with prospects it deems worthy or necessary that will give the team a full and final grade.
At positions of need, or potential need, there is at least one player the team must keep an eye on this week. In all, there are 10 players who fit that mold.
Begin Slideshow

»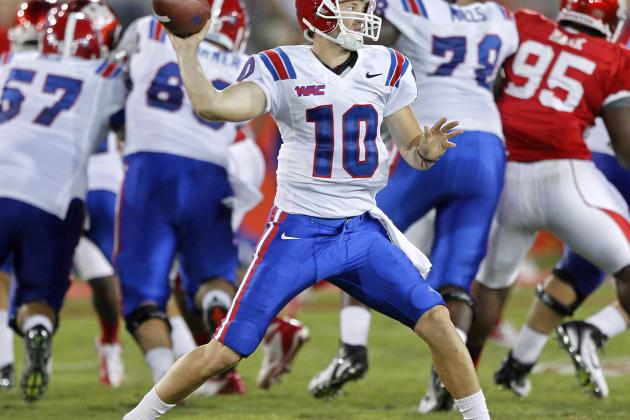 Bob Levey/Getty Images

Colby Cameron hails from my neck of the woods in Southern California (he grew up one town away from me). His brother, Jordan, plays tight end for the Cleveland Browns. His sister, Brynn, shares a child with former USC Heisman Trophy-winning quarterback Matt Leinart.
In other words, Colby is currently the least known of the Cameron clan. That, despite the fact he had two fantastic seasons under Sonny Dykes the past two years. This past season, in his senior year, he set the NCAA record for consecutive passes thrown without an interception.
At 6'2", 205 pounds, Cameron is not lacking NFL measurables. But his arm strength and lack of elite skill set will not help his case as he attempts to make the transition to the NFL. Still, he seems like the perfect quarterback for Sean Payton to groom as a developmental prospect.
Cameron will need to show the requisite arm strength this week while maintaining some semblance of accuracy. Look for him to impress Payton and the Saints' coaching staff in the interview process. That could easily endear him to the Saints brass as the draft nears.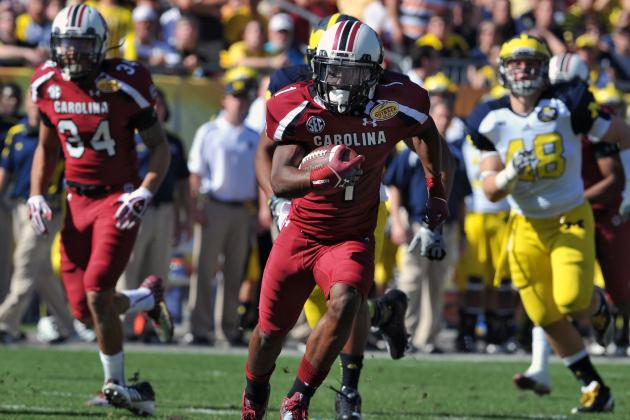 Al Messerschmidt/Getty Images

Ace Sanders is one of the three most naturally explosive playmakers in this draft. Though not a highly developed wide receiver prospect, Sanders is the elite return guy in the class.
He turned around and/or won several key games for South Carolina this season with his amazing open-field return abilities.
As a receiver, he has the quickness and agility to get open in zone coverages, catch the ball and make plays with the ball in his hands. With improved route-running, Sanders could become a legitimate deep threat at the NFL level.
The combine will not prove anything about his speed or quickness, but should give the Saints an idea of how quickly he can improve his route-running and receiver-specific skill set.
On Tuesday, the Saints released veteran tight end David Thomas, according to nola.com and several other media outlets. Even before this move was made, the Saints appeared in need of adding a tight end in the draft or free agency.
Now the need is one of utter necessity. In fact, if the team wants to add two this offseason, it now has a legitimate argument for it.
Though I have posited for months that Dion Sims was a player the Saints should keep an eye on, I am more enthralled with him now that I have, for personal reasons, become a Michigan State fan.
Remember, Sims is 285 pounds, yet freakishly athletic. He was quite productive for the Spartans. Blocking should be as easy as "just get in the way!" His abilities as a receiver will make Sean Payton go ape for him.
Look for Sims to tear the combine up and rise up draft boards.
Streeter Lecka/Getty Images

If you're on Twitter, and follow any of the draft experts who take up approximately half of my feed, you'd know that yesterday Menelik Watson was quite the topic of discussion.
Opinions vary, as would be expected. Some have him as a potential first-round pick, while others are more cautious. All praise his skill set and natural ability. Everyone agrees he will tear up the combine like maybe only one other offensive lineman (Central Michigan's Eric Fisher) is capable of doing.
What the Saints are going to want to watch for in Watson—who is now quickly becoming a realistic option at No. 15, or better as a trade-down selection between 20 and 25—is whether Watson is more than a great athlete.
At 320 pounds, his movement skills are unreal. The Saints hope they see a young man who cannot only move but do so with power. Most importantly, does he look the part?
It's pretty simple. Watson's full grade will not be made on his combine effort, on his but film. Still, the combine will raise his stock and could make him a first-round target for New Orleans.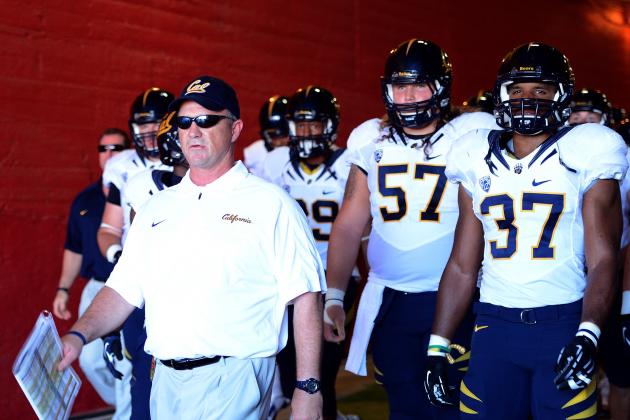 Harry How/Getty Images

Brian Schwenke has climbed up draft boards recently. At 6'3", 307 pounds he is ideal size for an NFL center.
At the Senior Bowl, Schwenke showed exactly what the New Orleans Saints want out of their center—the ability to anchor one-on-one in a phone booth. Because the Saints do not ask their center to move a ton, they are not looking for a freakish athlete.
Schwenke is the epitome of that, as a big strong guy who can handle himself in one-on-one matchups and move just well enough to redirect to pick up a delayed blitz or rusher who comes free.
The Saints are likely to use the combine to simply affirm their grade on Schwenke.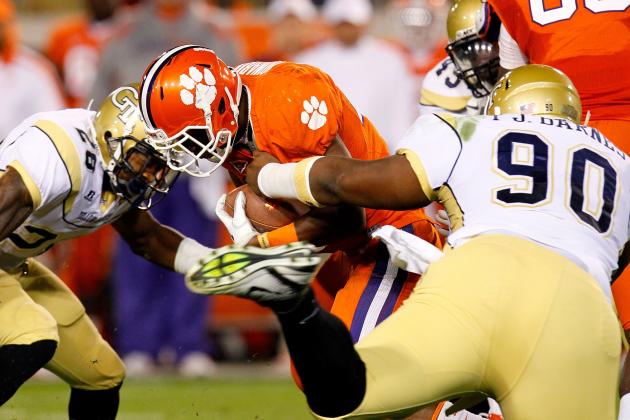 Kevin C. Cox/Getty Images

At 6'6", 378 pounds T.J. Barnes is almost literally a giant. If nothing else, he is a huge human being. The Georgia Tech product seems to be a fit for a 3-4 defense—specifically at the nose tackle spot.
Few men possess the size of Barnes. Of course with such incredible size come many questions. First, can Barnes play in the NFL at his current size? Is he actually too big? Can he lose a little weight?
Second, with such size is he able to move at all? While a nose tackle can afford to take up space—and frankly that is his job—it would be nice if the guy can move laterally enough that he is not simply chopped at the line of scrimmage by a chop block before the play even begins.
In other words, his combine workout needs to prove that he has enough athleticism to move and use his hands to shed those early blocks. If he tests out well in those areas, he could become a tremendous weapon in the middle of the Saints' new 3-4 scheme.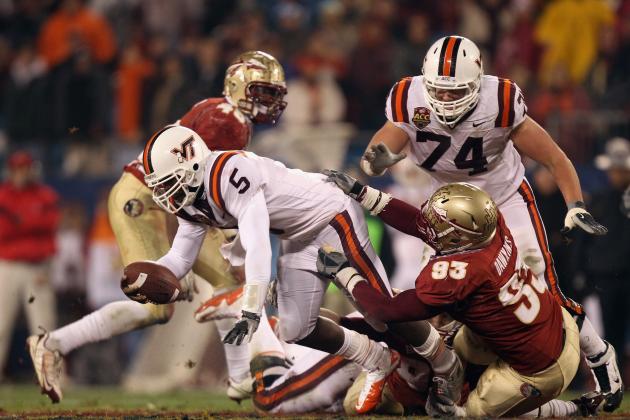 Streeter Lecka/Getty Images

Everett Dawkins played inside at Florida State under Mark Stoops. In the pros, he will likely slide outside to play a five-technique in a 3-4 defense.
At 288 pounds, he is nearly the perfect size for a one-gap 3-4 defense. He possesses the quickness and agility to create pressure in the backfield. But he also brings with him the ability to hold the point of attack against the run.
Put it simply, the Saints would love to get their hands on a player the quality of Dawkins. The combine will give Dawkins a chance to prove to the Saints, and other NFL teams, he was not just the product of a great scheme and superior talent surrounding him.
Look for Dawkins to go off at the combine and see his stock rise significantly.
Jonathan Daniel/Getty Images

Perhaps there is no player in this year's draft class whose stock will be more influenced by his combine interviews (the only other player who comes to mind as close is Tyrann Mathieu) than Manti Te'o. By all accounts, Te'o is a good guy, who may just be the most gullible person anyone has ever met.
On the football field, though, there is little doubt that Te'o is the best of a pretty good inside linebacker class in 2013. Some will question his ability to play sideline-to-sideline. Others may mistakenly question his abilities in coverage.
To some small extent those questions can be answered at the combine, or at least be evaluated more fully. But the main point of the combine for the Saints in evaluating Te'o is the mental and emotional side of the controversial player.
If everything checks out, Te'o could become a wonderful addition for the Saints, if the team decides to go away from Jon Vilma and/or David Hawthorne. Doing so would save the team some money.
Te'o would figure to become an instant impact starter from day one.
Quanterus Smith dominated against No. 1 Alabama in 2012, and it was a good way to get his name out there.
After taking it to D.J. Fluker—who is expected to be a late first- or early second-round pick—Smith dominated everyone else in his path throughout the 2012 college football season. Unfortunately for Smith, his season ended early.
In a November contest versus Louisiana-Lafayette he tore his left anterior cruciate ligament (ACL). He missed the final regular-season game and the team's bowl game as a result of the injury, as well as any college All-Star Game opportunities.
Yet he was invited to the combine. He may not have a completely clean bill of health to his name yet but the combine will provide him the opportunity to show he is healthy enough to at least to compete in training camp come July and August.
If he is healthy enough to compete, he will not only make the Saints roster but likely contribute immediately. The combine will give him an opportunity to earn that opportunity.
The Texas A&M film isn't Daxton Swanson's most impressive film of 2012. But the Sam Houston product dominated at the East-West Shrine Game. One has to love the way Swanson competes and takes the challenge of playing at a high level of football.
For a corner, that competitiveness is key to success. He will have an opportunity to compete and prove that he is a great player at the 2013 NFL Combine.
If he can show necessary skills for success covering man-to-man, which include hip turn ability and catchup speed, Swanson could become another late-round success for Mickey Loomis and his staff.
Of course there are a number of other prospects the Saints will be keeping their eyes on this week in Indianapolis. Here are but a few that many would not instantly think of, especially in correlation to the Saints.