Stock Up, Stock Down for Key 2013 NFL Draft Prospects
Matthew Emmons-USA TODAY Sports
The 2013 NFL draft is finally upon us with no more distractions like that crazy Super Bowl, and it's time to start looking at players who are rising up draft boards or falling down them. Some are rising because of their play at All-Star games, and a few are falling because of a perceived lack of clarity on what position they will play in the NFL.
We learned a lot from All-Star games like the Senior Bowl and East-West Shrine Game, as we have watched players go head to head with some of the best that the draft has to offer. We also know that there is a talented group of underclassmen to choose from and that the top of the draft will be full of juniors.
However, there is a lot of talent in this draft class overall, and it is incredibly deep from the middle of the first round through the third round.
The NFL Scouting Combine is a few weeks away, and we are in a position to see draft boards solidifying. Let's look at players who are rising and those who are falling at this point in the process.
Rising: Ezekiel Ansah, DE, BYU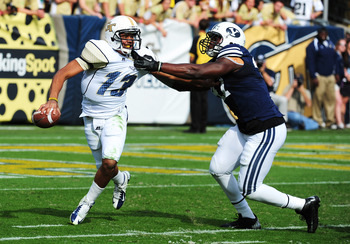 Scott Cunningham/Getty Images
Ezekiel Ansah is a very curious case, as he just started playing football in 2010. There are easy knocks that can be made on him, but those are similar to those that were made on New York Giants defensive end Jason Pierre-Paul.
Most considered Pierre-Paul too raw a player to be considered as highly as he was drafted, and they overlooked his elite overall athleticism.
At the Senior Bowl, Ansah took the opportunity to play against better competition and had an up-and-down week of practice, but he followed up with a fantastic game where he was simply unblockable. He is an explosive athlete, and he was by far the best defensive end at the Senior Bowl.
Ansah, like Pierre-Paul before him, comes into the NFL with elite measurables. Ansah has incredibly long arms, just like Pierre-Paul. They both have about 34-5/8" arms and the ability to lock out an offensive lineman, shed him and get to the ball.
Ansah has rare closing speed and can track down plays easily. He also displays great awareness, batting down passes when he can't get to the passer.
Like Pierre-Paul before him, Ansah is getting knocked for being too raw. However, he displays good football instincts, as explained by Detroit Lions head coach Jim Schwartz, who served as the head coach of the South team at the Senior Bowl (via Matt Rybaltowski of cbssports.com):
Everybody keeps saying that he's raw but I keep seeing things like instincts and knocking down passes that doesn't look raw to me. It looks like he has a really good feel for the game.
Ansah has come up draft boards because of his physical tools and overall athleticism. He is also rising because no player has become entrenched as the consensus No. 2 defensive end behind Florida State's Bjoern Werner.
I would expect Ansah to move even higher as he showcases his skills at the combine. He is expected to run a great 40-yard dash time, and he is the type of athlete who will look great in the combine format.
Falling: Barkevious Mingo, DE/OLB, LSU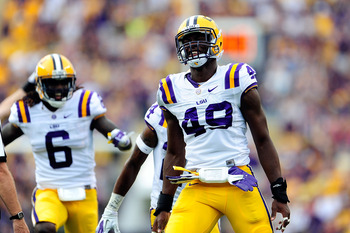 Stacy Revere/Getty Images
There are a few reasons why Barkevious Mingo is falling, and the first is simple: What position is he best suited for in the NFL? Is Mingo big enough to play defensive end in a 4-3 defense, or is he more suited to play standing up as a 3-4 outside linebacker?
The second reason he is falling is because Mingo had a down senior season where he lacked production, and it raised questions about his ability to play physically at the point of attack. Far too often Mingo would get washed out of a play when an offensive lineman got his hands on him.
However, Mingo's pure athleticism and elite ability to burn the edge of the line jump off film. He is lightning-quick, has incredible balance and agility and can change directions very easily. Mingo looks like a player that can be a terror if he finds the right fit, from a position perspective.
I don't think he can physically hold up setting the edge as a 4-3 defensive end, as he is only 240 pounds. If he gets into a scheme where he can stand up and play in space, taking advantage of his speed and initial quickness, he could be one of the steals of the draft.
For now, teams and scouts are debating where his future is in the NFL, and he is sliding because of the uncertainty. There is little doubt that Mingo will get drafted early in the 2013 NFL draft, as he will look incredible at the combine. He will find his way into the first round; water always finds its level.
Rising: Eric Fisher, OT, Central Michigan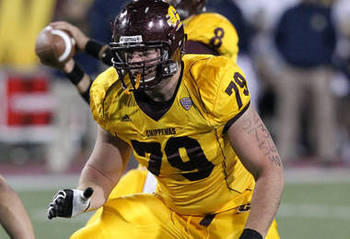 Photo via mlive.com, courtesy of CMU Athletics
Eric Fisher came into the Senior Bowl with the opportunity to solidify his draft stock with a good week of practice. He took full advantage and is now widely considered the No. 2 left tackle prospect in the 2013 NFL draft class, and he might challenge to be the first tackle selected. To say he is a riser is an understatement.
Fisher showcased great footwork, starting with his kick-slide. He mirrored extremely well, and when he got his hands on a defensive lineman with a good fit, he showed the ability to ride that defender out of the play. He also showed tenacity and grit, as there were times when he physically looked to be playing on the edge.
The only weakness that stood out was how tall he played. It allowed a defensive end to get into his body and push him back into the quarterback, but it didn't happen often and is something that can easily be fixed.
Fisher plays in a highly coveted position of priority, as teams are always looking to find that next franchise player who can protect their quarterback from a defender he can't see. He is a tackle prospect with great size at 6'7" and 305 pounds. He also has 34" arms and will be helped in the process by how he measured out.
Fisher solidified his stock and then some coming out of the Senior Bowl. He is a candidate to challenge Texas A&M's Luke Joeckel to be the first left tackle drafted this year in the first five picks of the draft.
Falling: Damontre Moore, DE/OLB, Texas A&M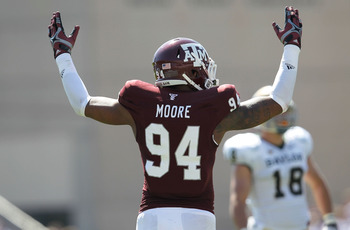 Sarah Glenn/Getty Images
Damontre Moore is similar to Barkevious Mingo in that there are a few big questions he must answer over the next few months. Like Mingo, there are those who question what his best position in the NFL will be, but that is a secondary concern. The primary concern is that Moore is not anywhere near the athlete he has been portrayed to be.
His position going forward is up for debate, as he switched from outside linebacker to defensive end for his junior season. He is listed at 6'4" and 250 pounds, but he has the kind of frame to add bulk and not lose much explosion. Moore could add 10 pounds of bulk and be a prototypical defensive end in a 4-3 defense.
He has a good first step but doesn't close well. He plays passively at times and looks to be happy just tying up the man blocking him. He also plays very tall, and the tape shows that he gets stoned by the stronger right tackles he has played against. He isn't the great athlete that the others playing the position are, and he disappears for long stretches of games.
Moore will have the opportunity to be a first-round selection, but he is currently facing a slide because he doesn't match up athletically when compared to the other defensive ends and pass-rushing linebackers who will get drafted near him.
It speaks volumes that former general manager Scott Pioli left Moore off his list of the top 10 underclassmen in the draft, a list that appeared in Peter King's "Monday Morning Quarterback" column.
Rising: Lane Johnson, OT, Oklahoma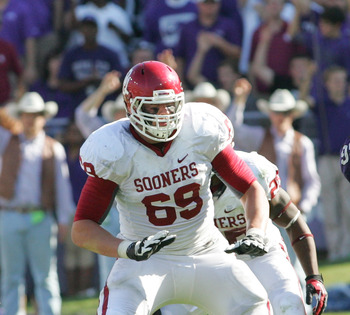 R. Yeatts/Getty Images
The NFL is a pass-first league, and players who can protect the blind side of the quarterback are going to be valued at a much higher level than those at other positions. At 6'6" and 305 pounds with 35" arms, Lane Johnson is exactly what teams are looking for out of a left tackle prospect.
At the Senior Bowl, Johnson showcased the ability to stay on his man with very solid footwork all week in practice. He plays tall and mirrors well, but his ability to reset himself after contact was truly impressive. While watching him in practice, I was continually surprised by how effortless and natural he looked while on the hoof.
Johnson is in a position to be drafted very highly in the 2013 NFL draft because there are a slew of teams that need a high-quality starting left tackle. Teams drafting in the middle of the first round that really need better left tackle play are the San Diego Chargers, St. Louis Rams and Chicago Bears.
It would be surprising if Johnson fell past these teams in the first round. He is one of the clear winners of the Senior Bowl and a player to watch going forward.
Falling: Manti Te'o, ILB, Notre Dame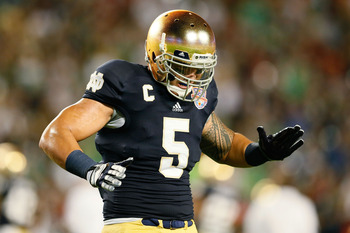 Kevin C. Cox/Getty Images
Notre Dame linebacker Manti Te'o is in a free fall as we get the draft process started. Negativity is very high, and it is a situation for which there is no barometer. There is simply nothing like this story to point to as far as an outcome.
It is a dramatic understatement to say he will be in damage control as he meets with teams at the upcoming NFL Scouting Combine. He needs to spin himself away from the "story," and he needs to do it as fast as possible. The more distance Te'o can put between the "story" and what he can do on the football field, the better it will be for him and his draft stock.
On the field, Te'o is an inside linebacker with limited coverage skills. There are questions about his ability to shed from big offensive linemen to make tackles. The hype surrounding Te'o pushed his draft stock far too high, as he was never going to be selected in the upper third of the NFL draft's first round.
There has been a tremendous amount of backlash, and his stock has plummeted. He has time to repair it, and the focus needs to be on the field, not off it.
The reality is that he isn't the best inside linebacker in the draft, but Te'o still has a chance to be drafted in the late part of the first round. Inside linebackers don't get highly drafted; like guards, teams don't prioritize them as much as players at other positions.
Te'o's stock has fallen partly because of the "story" and partly because it was going to fall anyway. His play on the field didn't match the hype he was receiving. It is another case of the water finding its level.
Rising: Jonathan Cyprien, S, Florida International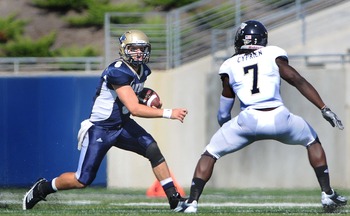 Eric P. Mull-USA TODAY Sports
Jonathan Cyprien is a fast-rising safety prospect who has a very interesting set of skills to go with great athletic ability. He is a well-rounded player who can break down and tackle well. He rarely misses tackles and is a physical player willing to step up and deliver a blow to a ball-carrier.
Another area where Cyprien stands out is running down the seam in coverage. He can stay with tight ends and running backs because he can fluidly flip his hips and not lose ground while changing directions. This talent was on display at the Senior Bowl, as Cyprien stood out as the best safety in Mobile.
NFL defenses need players with range who can play the pass and defend the run. The new breed of safety needs to be able to cover tight ends and running backs while defending the pass, as well as step in and fill against the run. Cyprien has shown that he is skilled in both aspects and can do it all as a safety.
Texas safety Kenny Vaccaro is widely considered the best safety in the class, but Cyprien's play at the Senior Bowl puts him in the discussion to be the second safety off the board, and his stock is rising very quickly. It should not be a surprise to hear Cyprien's name called early on the second day of the 2013 NFL draft, if not before.
Falling: Margus Hunt, DE, SMU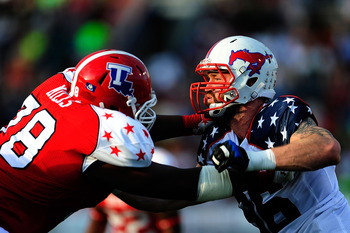 Stacy Revere/Getty Images
Unlike the risers on this list, Margus Hunt took a step back during the Senior Bowl. He failed to take advantage of playing against better competition in Mobile. In fact, he looked lost and out of place at times during practice.
Hunt was invisible for the most part during the week. He simply did not make a meaningful impact and looked to be going through the motions as the practices wore on. Physically, he had a hard time with the physicality of the offensive linemen at practices and was overwhelmed at the point of contact.
Hunt had a chance to solidify his draft stock with a good week of practices, but he went backwards. He looks the part of a defensive end in a 3-4 defense because he is not quick-footed enough to beat linemen around the edge to play in a 4-3. He is big enough to handle himself inside, but he needs to play with better pad level and leverage.
Hunt's stock is falling because he failed to show that he can physically hang with better offensive line competition. It is hard to see him getting drafted highly in the 2013 NFL draft after his poor performance at the Senior Bowl.
Rising: Eddie Lacy, RB, Alabama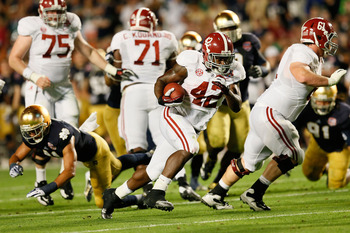 Kevin C. Cox/Getty Images
Eddie Lacy is a player who gained tremendously from the exposure of the BCS National Championship Game. Alabama physically steamed through Notre Dame, but it wasn't the power that Lacy displayed that made scouts take note.
We all know that Lacy is a power runner, but what stood out was the quickness of his feet and how elusive he was while carrying the ball. He showed the ability to make a defender miss because of how quickly he was able to move his feet, and once a player like Lacy gets into space, he is going to punish the smaller defensive backs in the secondary. Lacy showed some real wiggle with the ball in his hands.
Running backs are no longer dominating the draft like they used to, and the position is being filled by multiple players in a committee. Teams are pairing a power back with a third-down back who can catch the ball out of the backfield. In this scenario, the third-down back must be proficient in pass protection. Lacy was the primary back for Alabama for only one year, but he showed the ability to fill all of these roles with ease.
Lacy is a very physical running back who won't go down easily and doesn't consider the sideline a friend. He constantly falls forward for the extra yard, and simple math gives us a player who, with 20 carries, might finish with 15 to 20 more yards than others because of his desire to fall forward.
He won't be a great fit for every NFL offense, but he fits perfectly in a power running game. Lacy is going to measure bigger than his listed weight of 220 pounds, and he should run a good 40-yard dash time. He should show very well at the combine, especially in the power and explosion drills.
There is no clear-cut No. 1 running back in this year's draft, and it is likely that certain teams will have a different running back at the top of their draft board depending on the style of back they are looking for. Lacy is clearly in the running to be the first running back selected in the 2013 NFL draft, and his stock should continue to rise throughout the process.
Falling: Ricky Wagner, OT, Wisconsin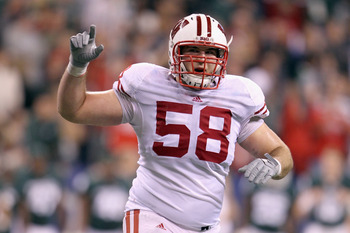 Andy Lyons/Getty Images
Ricky Wagner came into his senior season as a member of the powerful Wisconsin Badgers offensive line, but he struggled this year to live up to expectations.
In Madison, he might have been acceptable in Wisconsin's powerful running game, but he won't make a roster in the NFL if he doesn't get better in pass protection.
Wagner got exposed at the Senior Bowl playing tackle, both on the right and left side. The speed of defensive ends really caused him problems, and he simply couldn't get his feet out of the dirt to meet them at the edge. He looked overmatched by speed but was also susceptible to the power rush. Wagner got beat regularly in one-on-one drills through speed and power.
At this point in time, Wagner can't be considered to play on the left side. Even in Mobile on the right side, he struggled and had a very hard time keeping up with speed and holding his own against power moves. That leaves only one possibility, and it's that Wagner gets moved inside; with his nasty disposition as a run-blocker, that might be a very good move. In fact, it might be the only way he stays on a roster.
When a right tackle gets drafted, there is only one place to move him if he can't make it there, and that's inside to play guard. There isn't room on rosters for backups who can only play right tackle, and Wagner appears limited to playing guard in the NFL.
For a player who was highly thought of entering his senior season, Wagner has really fallen down draft boards because of his inability to protect the edge from the speed pass rush. He is now being considered to play guard and faces a position change.
Certainly, his stock is falling and there won't be many chances for him to make another impression other than the combine. Those days might be the most important of his early career.
Keep Reading