Buffalo Bills 2013 NFL Draft Wish List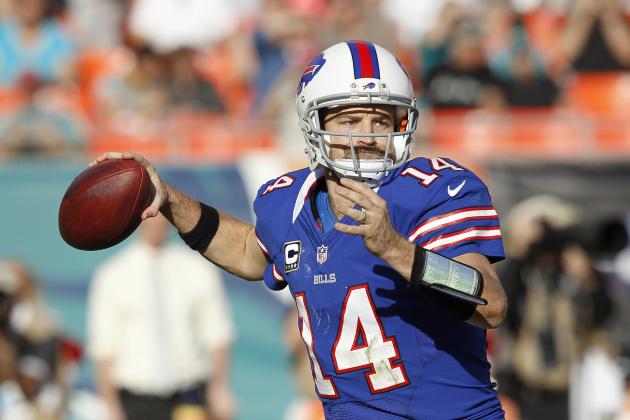 Joel Auerbach/Getty Images
A replacement for Ryan Fitzpatrick is high on my wishlist.
Recently I was picking up the house and I found what I thought was my wife's Christmas list for this past year. It mentioned that she wanted an iPad Mini as well as a few smaller items and it had ideas for our children. Upon reading the list, I felt awful. I didn't get her any of the items listed.
Since Christmas had past, I thought I'd throw the list out. Before doing so, I figured that I should ask my wife about it first. I'm glad I did! She quickly corrected me and said it wasn't her Christmas list, but instead it was her wish list for 2013.
That wish list was on my mind recently and I thought that if I wrote up a wish list for the Buffalo Bills, maybe I'd be lucky enough to see a few of them come true in 2013.
For the sake of karma, I ordered my wife her iPad Mini. So if the Bills have a great season in 2013, you know who to thank.
Without any further ado, here is my early wish list for the 2013 Buffalo Bills.
Begin Slideshow

»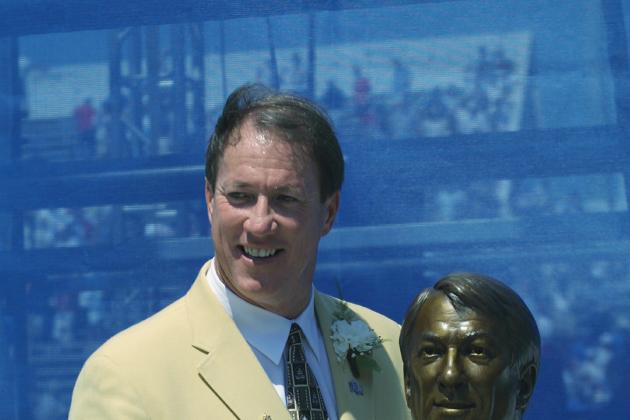 Rick Stewart/Getty Images
It's been way too long since we've had a dependable quarterback.
Growing up, I was spoiled as a Bills fan. Jim Kelly joined the team when I was quite young, but I remember the Super Bowl years vividly and thought that it was common to have such a great QB on the roster.
Oh how little I knew.
From 1986-1996, Jim Kelly's record as quarterback of the Buffalo Bills was 101-59, good for a .631 winning percentage.
Since then, no quarterback other than Doug Flutie has had a winning record in a Bills uniform (21-9). In the 16 seasons since, the Bills have compiled a record of 109-147. That's only eight more wins in five extra seasons.
That is absolutely abysmal.
Speaking of abysmal, take a look of the QBs that have started games since Jim Kelly retired: Todd Collins, Alex Van Pelt, Doug Flutie, Rob Johnson, Drew Bledsoe, J.P. Losman, Kelly Holcomb, Trent Edwards, Brian Brohm and Ryan Fitzpatrick.
Collins lasted one season and Alex Van Pelt was nothing more than a backup.
The Flutie/Johnson debacle still angers me as I was a Flutie guy.
Bledsoe seemed like a good idea on paper, and he did lead us to our last winning season in 2004 (9-7), but his lack of mobility and our disastrous offensive line was a bad combination.
Losman was an absolute reach in the first round in 2004. He had a cannon for an arm, but much like the earliest cannon's in our nations history, he was extremely inaccurate. His inability to play QB led to the short-lived Kelly Holcomb era.
The dink-and-dunk era of Trent Edwards had its promising moments, but overall he didn't live up to the endorsement that Bill Walsh gave him.
Brohm had two garbage starts and showed he wasn't an NFL-quality QB.
Last, but certainly not least when looking at these names is Ryan Fitzpatrick. Fitzpatrick started the 2011 season strong and was given a $59 million extension. This clearly was a mistake as Fitzpatrick went 8-18 the rest of the way.
After reading all of that, you can understand why Bills fans are clamoring for a new QB, even in a supposed weak rookie class.
In the actual draft class, Geno Smith and Tyler Wilson are my only first-round QBs. However, if the team feels strongly about Matt Barkley, Ryan Nassib, Tyler Bray (my dark horse QB), Mike Glennon, E.J. Manuel or another signal-caller, then go for it.
At worst, the rookie QB flops and puts the team in prime position to look at Teddy Bridgewater in 2014.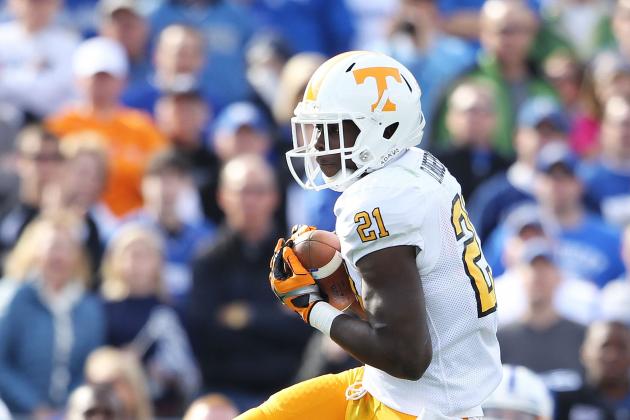 Andy Lyons/Getty Images
Da'Rick Rogers will be the steal of the 2013 NFL Draft.
Stevie Johnson is a very good wide receiver. I'll actually go on the record and say that he's the best route-runner in the NFL. Johnson isn't extremely fast, agile or freakishly athletic. He's not a large target and he can't out-jump most cornerbacks. Yet Johnson is the only wide receiver with three consecutive 1,000-yard seasons in the history of the Buffalo Bills.
That's pretty impressive if you look at some of the wide receivers that have been on the team over the years: Andre Reed, Eric Moulds (our last great outside wide receiver), James Lofton, Lee Evans, Jerry Butler and Elbert Dubenion for you older Bills fans.
That being said, when you go back to my first paragraph, you'll see my feelings on Johnson. He's very good, but he's not a game-changing wide receiver. Johnson is ideal in the slot, and there is nothing wrong with that.
Luckily for the Bills, the 2013 NFL Draft is one of the deepest classes at WR in recent history. Also, the free-agent pool isn't too shabby either.
Look at the NFL Draft and here are some of the top outside wide receivers available: DeAndre Hopkins, Cordarrelle Patterson, Keenan Allen, Robert Woods, Terrance Williams, Justin Hunter and Da'Rick Rogers.
Hopkins is my personal favorite in the draft class. He's not the fastest prospect, but he attacks the ball at the highest point and has excellent hands.
Cordarrelle Patterson is a decent-sized target at 6'3"; he has excellent footwork and is possibly the best athlete of the group. That said, he is still a bit raw as a wide receiver and has a tendency to catch the ball with his body rather than his hands.
Keenan Allen and Robert Woods are two wide receivers that I'm personally a bit down on. I think they are fine NFL prospects, but both remind me a bit of Stevie Johnson. They do a lot of things well, but don't necessarily stand out among the pack.
Terrance Williams will battle with Tavon Austin to be the first senior wide receiver drafted in 2013, but his skill set isn't really No. 1 WR worthy.
However, my last two prospects, Justin Hunter and Da'Rick Rogers, both have outside WR potential. After DeAndre Hopkins, Hunter may be my favorite WR prospect. Hunter has the size and speed you look for in a wide receiver at 6'4" and 4.49 40-yard dash. His biggest flaw is his weight of 200 lbs. Hunter will need to add some muscle to his frame to truly excel in the NFL.
Last, Da'Rick Rogers has first-round talent, but has some red flags. Rogers was kicked off of the Tennessee Volunteers for failing multiple drug tests. He played this season at Tennessee Tech. Rogers is extremely strong and agile. Don't be surprised if he jumps into the first round by the time April rolls around.
All in all, Buffalo has a great chance to add an outside wide receiver in 2013.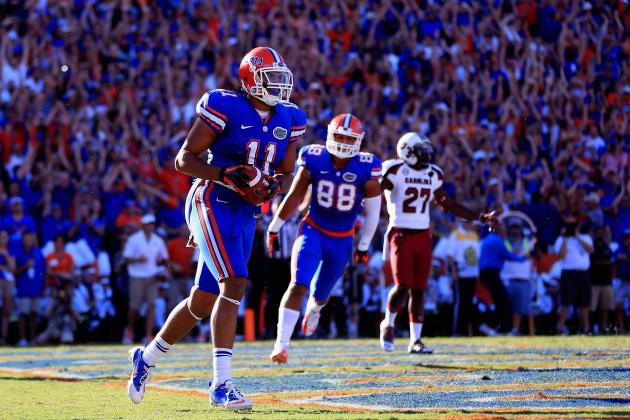 Chris Trotman/Getty Images
Jordan Reed reminds me a lot of Aaron Hernandez.
Tight end probably wasn't a target for the Bills until December 24th of 2012 when the team placed Scott Chandler on the injured reserve.
Chandler tore his ACL and isn't necessarily going to be ready for training camp in 2013. Behind Chandler? Blocking tight end Lee Smith, athletic yet raw HB-TE Dorin Dickerson.
The draft seems to be an ideal place to find a tight end for depth.
Now, Buffalo won't be selecting Tyler Eifert or Zach Ertz. Both are great tight ends and will be starters for many years in the NFL, but at eight it'd be a ridiculous reach.
Luckily, there are still plenty of other options.
Jordan Reed could be a potential target in the third round and he compares very well with former Gator Aaron Hernandez. He's a freakish athlete and will be a nightmare matchup for many defenses in his career. Reed would not be a depth move, however, as he'd instantly become Buffalo's best tight end.
Vance McDonald is a sleeper option out of Rice in the fourth round. He's a great route-runner and has very good hands.
Truly, this is a very deep tight end class and there are plenty of intriguing options, even late in the draft or as potential UDFA, such as Jake Stoneburner, Mychal Rivera and Joseph Fauria.
This is one position where Buffalo may not be looking for a starter as much as depth.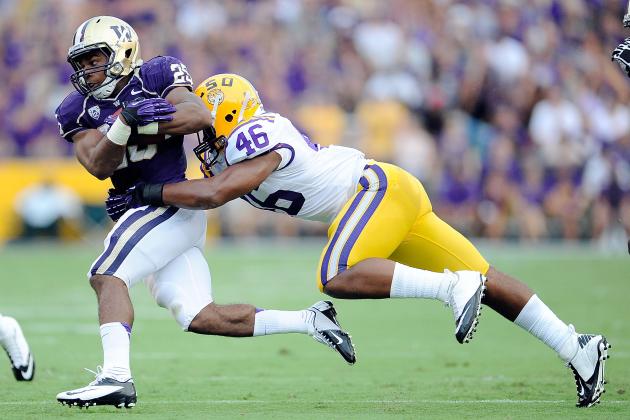 Stacy Revere/Getty Images
Kevin Minter's aggressive play could be a nice fit in Buffalo.
The Buffalo Bills LB situation is a mess. Right now, the starters are Nigel Bradham, Kelvin Sheppard and Nick Barnett.
As a rookie, Bradham started 11 games in 2012. With each passing game, Bradham improved and he certainly has the highest ceiling of any of the starters. Kelvin Sheppard just hasn't worked out. Sheppard does not have the speed necessary to play MLB and is not strong against the run. Barnett is still an adequate player, but he's on the downside of his career. For those reasons, Buffalo should look to add at least two linebackers in the draft or free agency.
In the draft, there are plenty of intriguing options. At outside linebacker there are outstanding prospects like Jarvis Jones, Khaseem Greene, Alec Ogletree and Arthur Brown.
Inside linebacker is a bit weaker, but Manti Te'o and Kevin Minter are first- and second-round talents.
Jarvis Jones has the potential to be the top pick in the 2013 NFL Draft. The only thing that may hold him back is his spinal stenosis. If Jones somehow falls to pick eight, Buffalo would be foolish to pass. I'd take a player like Jarvis Jones playing at an extremely high level for five or six years than pass on him for someone who could be a 10-year starter.
I shouldn't sit here and say that Jones is a sure thing to produce in the NFL, but I am. There is no doubt in my mind that Jones will be an impact player in the NFL.
Khaseem Greene is my second favorite OLB. Greene plays extremely fast and is a strong blitzer. In Mike Pettine's defense, the ability to get to the quarterback is very important. Greene can do just that.
Ogletree is another prospect that has the potential to get to the quarterback. My biggest knock on Ogletree is that he's not a sure-tackler. He'll have to improve significantly at tackling to make it in the NFL.
Arthur Brown is a great tackler and is strong against the pass and run. The biggest knock on him is his size and short arms. The potential is there with Brown however and someone will take him on day two of the draft.
At inside linebacker, Manti Te'o is the best available option. His stock has taken a pounding due to the Lennay Kekua story, but as more news emerges it seems that Te'o had nothing to do with the story. Was he gullible to fall for this for three years? Absolutely, but that has nothing to do with what he can do on the football field.
The biggest question with Te'o is if he has the speed you look for in a middle linebacker.
Kevin Minter is a strong blitzer and plays an aggressive style of football. He'd be a nice fit in Buffalo's new defense if he is still on the board in round two.
While I discussed the top names, there are mid-round players like Sean Porter, Chase Thomas, John Simon, Nico Johnson, Jon Bostic and A.J. Klein, among others.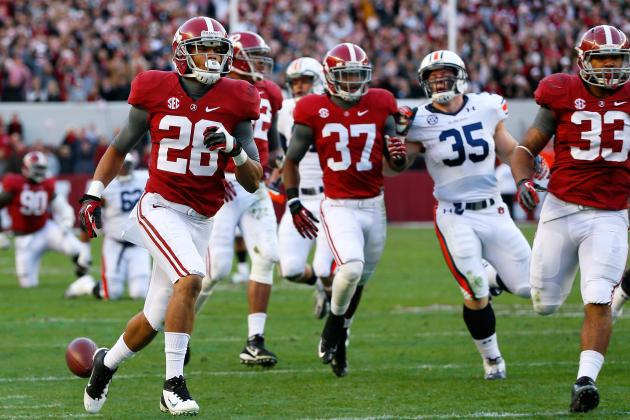 Kevin C. Cox/Getty Images
A Dee Milliner-Stephon Gilmore CB combination would be intriguing.
If you watched the Buffalo Bills in 2012, you know that their cornerback situation is worrisome.
Stephon Gilmore was a bright spot as a rookie, but you obviously need more than one cornerback to have a strong defense in the NFL. Gilmore started from the beginning of the season and as the season wore on, teams picked on him less and less.
Gilmore's biggest weakness was his aggressiveness. I like players who jam and bump wide receivers at the line, but oftentimes Gilmore would continue to do this downfield.
Across from Gilmore was Aaron Williams and Leodis McKelvin. Williams has been extremely disappointing through two seasons. When he is playing, teams frequently target the former Texas Longhorn as he's known to bite on pump-fakes and simply get lost in coverage.
McKelvin actually wasn't bad in 2012, but he is a free agent so he's not guaranteed to return. If he does return, McKelvin is the early favorite to be the second cornerback in 2013. His play is very inconsistent, but he played much better in 2012 than anyone else at the second cornerback position.
Ron Brooks is one player who could earn a shot as a starting cornerback, but he is probably best suited in the slot.
In the draft, there are early options like Dee Milliner, Xavier Rhodes, Desmond Trufant and Johnthan Banks.
A cornerback wouldn't be well-received by many fans with Buffalo's first pick, but a Milliner-Gilmore pairing has the potential to be a great cornerback duo for many years to come. Milliner has great awareness and finds the ball in the air better than any other corner available. He is also a very strong tackler and plays the run well. Milliner pretty much does it all.
Rhodes is my second favorite cornerback. He too can do it all as a cornerback and one area that he is stronger than Milliner is in press coverage. Rhodes does a great job jamming wide receivers, but much like Stephon Gilmore, he can be too aggressive.
Trufant is an excellent coverage corner, but compared to Milliner and Rhodes, he needs more work in terms of becoming a better tackler.
Banks at times played like a first round cornerback, but his lack of speed is worrisome, especially at the next level in the NFL.
Jordan Poyer, Logan Ryan and Robert Alford are other corners to keep an eye on in this year's draft. Truthfully, this is another position that is very deep in the 2013 NFL Draft.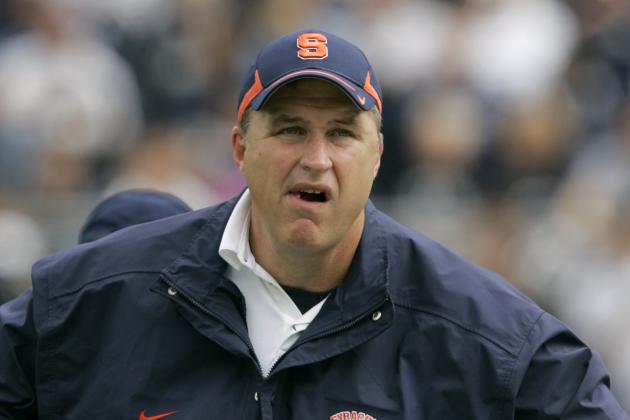 Chris Gardner/Getty Images
Hopefully Doug Marrone can lead the Bills back to respectability.
The Bills have too many spots to fill to get everything they need in the 2013 NFL Draft. That said, Buffalo is lucky in that three positions they may be looking at—WR, TE, and CB—are very deep this year.
In all likelihood, I won't be able to cross everything off of my 2013 Buffalo Bills wishlist. However, if Buffalo can address two or three of these areas of need in the draft, the other spots could be addressed via free agency.
My biggest wish for the 2013 Buffalo Bills is that return to respectability. Hopefully Doug Marrone is the man that brings Buffalo back.
With the draft getting closer and closer, what positions are on your personal Buffalo Bills wish list? If you want to be more specific, I'd love to hear which specific players you want to see in a Bills uniform in 2013.