2013 NFL Draft: 15 Players Who Should Blow Up at the Scouting Combine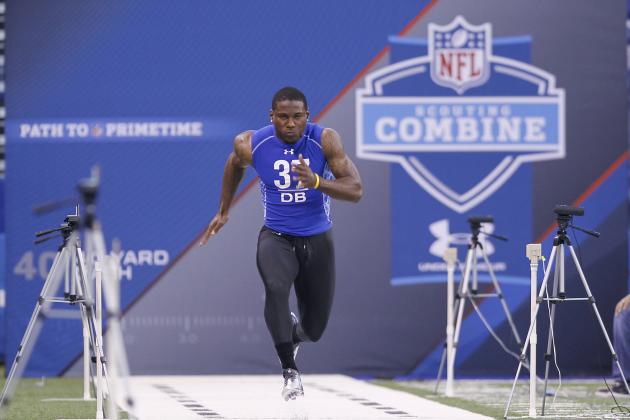 Joe Robbins/Getty Images

Moments of tension, stress and sheer nerves, the NFL Scouting Combine can be both an athletes' best friend and worst enemy. Dubbed the "Underwear Olympics" for its designation to test true athleticism rather than actual football skill, the event has the capability to slingshot a player from relative unknown to potential star in a matter of hours.
Last year's event gave us Dontari Poe and Stephen Hill, each of whom, despite incomplete film, skyrocketed up draft boards after spectacular performances in marquee individual drills and testing. A year later, a new group emerges to challenge the record books and leave lasting impressions in the minds of NFL scouts and general managers.
Wise evaluators ultimately realize the tape is the DNA of a prospect's overall football ability. Still, the combine can be used as a tool to reaffirm and cross-reference what you have seen on film or to distinguish between two similarly graded prospects.
The NFL Scouting Combine has become one of the most anticipated events for both fans and teams alike because of its flare for the dramatic and moments of suspense.
Here are the fifteen players I believe will conquer Indy next month, walking away as the biggest winners leading into the 2013 NFL draft.
Begin Slideshow

»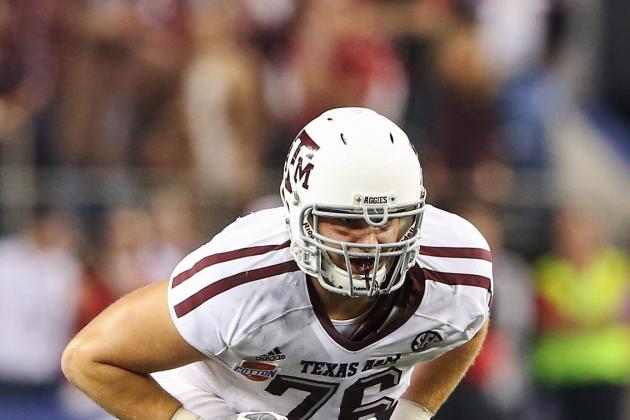 USA TODAY Sports

Only a junior, Luke Joeckel did not have the opportunity to participate in Senior Bowl festivities last week, where his counterparts Eric Fischer and Lane Johnson stole the show and gained ground.
But Joeckel will have his opportunity to stake claim as the No. 1 offensive tackle available in the draft when he performs at next month's NFL Scouting Combine in Indianapolis.
Expect Joeckel to flex his muscles and back up his quality film with a superb showing due to his unique movement skills and length for the position.
A natural athlete, Joeckel is very quick into his pass-set and displays a very smooth and efficient kick step to beat corners to the edge. Coupled with his ability to drop his weight and bend at the knees allows Joeckel to gain proper leverage on his opponent while using his length and flexibility to stymie pass-rushers at the point of attack.
These natural movement skills and technical proficiencies will allow Joeckel to display why he is truly a complete package and elite talent, capable of starting from the word go.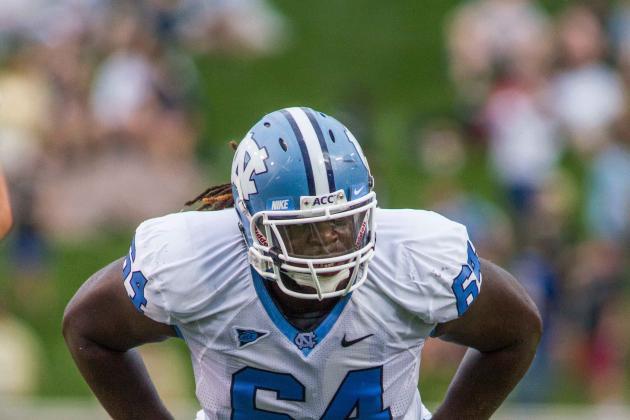 Jeremy Brevard-USA TODAY Sports

Another fleet-footed athlete, Jonathan Cooper is one of the most fluid athletes you will see for a man weighing over 300 pounds.
Typically not a position of supreme importance, Cooper is one of the many talented guards in this class—but he should have his name called on the first day.
Blessed with exceptional foot quickness, balance and coordination, Cooper extends himself to the second level effortlessly and excels as a pulling guard, where he is able to get out in front and neutralize opponents at the point of attack.
A perfect fit for a zone-blocking scheme that utilizes pulling guards, Cooper is one of the most nimble athletes who can win inside with his initial quickness and also beat opponents to the point while operating in space.
Expect Cooper to awe folks at the combine with his performance in agility and movement-based drills.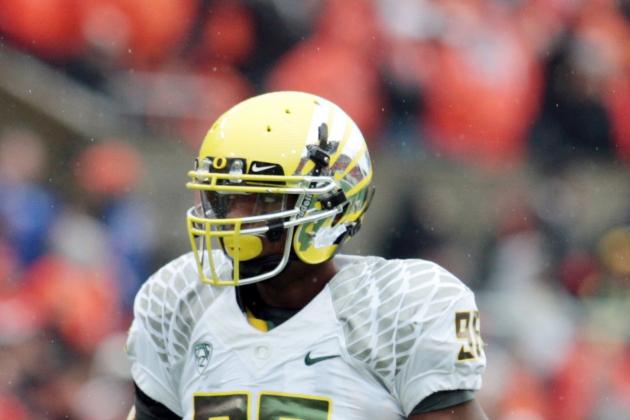 Scott Olmos-USA TODAY Sports

By now you are noticing a constant theme. Athletes with both the size and dynamic ability in space will blow up at next month's combine, and Dion Jordan is perhaps the biggest physical freak of them all.
Listed at 6'7" 240 pounds, Jordan is still filling out his frame but offers up rare athleticism and versatility to play multiple positions, in multiple alignments, while carrying out multiple roles.
A quick-twitch athlete, Jordan has excellent burst off the line and possesses the long arms, flexibility and wingspan to keep defenders off his body. Although he needs to work on his strength, Jordan is a dynamic athlete capable of operating in space or working in tight quarters due to his lightning quick hands.
His versatility to play standing up or with his hand in the dirt will appeal to both teams operating out of a 4-3 or 3-4 defense and will likely make him one of the fastest risers following a workout in which Jordan is expected to display top-level athleticism and change of direction skills.
Jordan will have scouts grinning ear-to-ear following what is sure to be a jaw-dropping performance.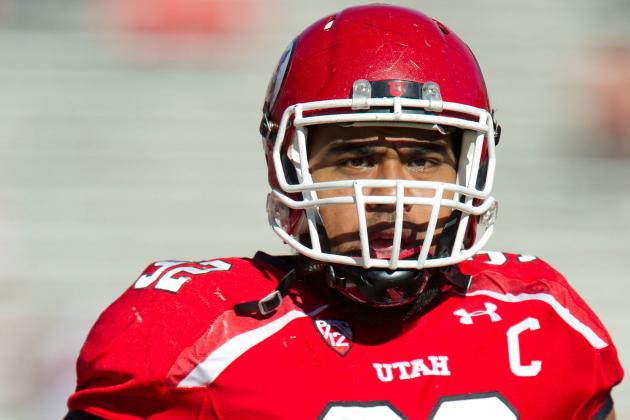 Russ Isabella-USA TODAY Sports

Quickness, power, explosion, versatility, these are just a few of the words used often when describing Star Lotulelei's dynamic ability.
Comparisons to Haloti Ngata and Ndamukong Suh are well-warranted, as all three players display unique characteristics that make them disruptive forces on the interior of the defensive line.
Lotulelei's ability to both control the line of scrimmage and blow up gaps because of his quickness off the snap, lateral agility and powerful hands make him one of the hardest players to block one on one; just ask USC's center Khaled Holmes.
A special athlete who can take over the game from the defensive tackle position, Lotulelei has rare ability that will shine in drills that encompass a combination of power, agility and quickness.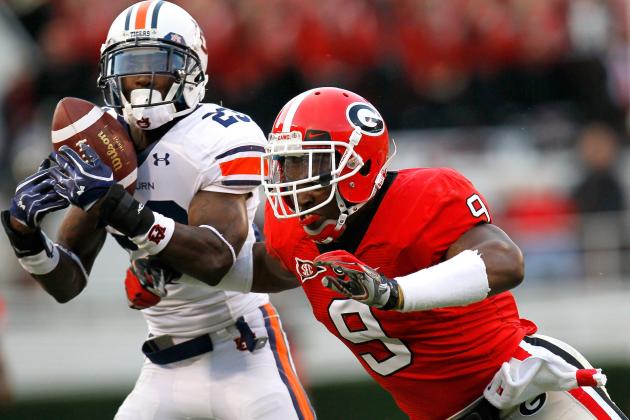 Kevin C. Cox/Getty Images

A converted safety and former High School All-American, Ogletree has near-limitless upside due to his incredible athleticism and long rangy body type.
At 6'3", 235 pounds, Ogletree brings safety coverage skills and a linebacker-like mentality to the middle of a defense.
Ogletree's rare athleticism and coverage skills allow him to make plays all over the field; he possesses excellent closing speed and range to move sideline to sideline and make plays in pursuit.
This raw athleticism and dynamic ability is one of the things that should leave a lasting impression on NFL executives and is sure to send Ogletree's draft stock headed due north.
Expect Ogletree to shine bright in Indianapolis and pass the proverbial "eyeball test."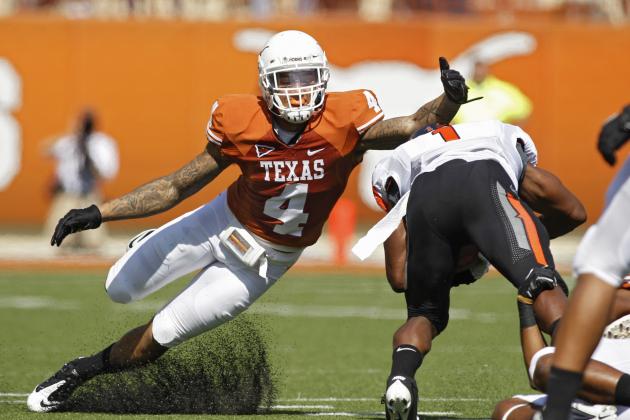 Erich Schlegel/Getty Images

"Hybrid" safeties are all the rage in the NFL nowadays. Today's safeties must be able to roam the deep part of the field, come up in the box to support on the run and also be able to line up over a tight end or slot receiver and play man coverage.
Kenny Vaccaro is this safety and then some. His versatility, size and athleticism allow him to fill multiple roles to be both the last line of defense and an extra defender in the box.
Although his career interception numbers are lacking (5), Vaccaro is a fluid athlete who truly plays at one speed, allowing him to make plays all over the football field.
Possessing loose hips and nice feet, Vaccaro displays the ability to stay with quicker and more agile receivers—witness the commendable job he did earlier in the year against West Virginia's Tavon Austin.
The most complete and versatile safety in this class, Vaccaro's overall movement skills and dependability will set him apart from the rest of the crowd and likely lead to a Mark Barron-type rise.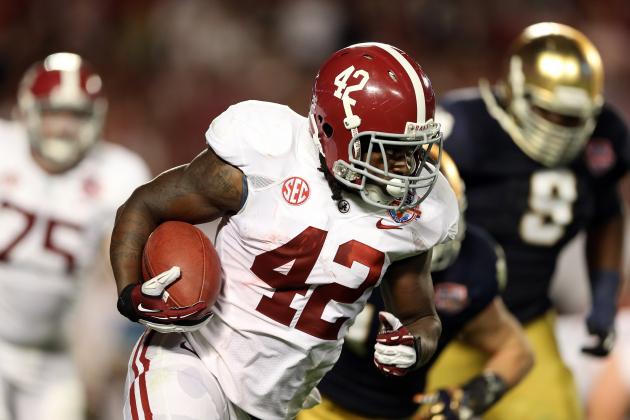 Streeter Lecka/Getty Images

Thickly built and rocked up while coming off big performances down the stretch, Eddie Lacy was an integral piece to Alabama's ability to repeat as national champions.
Although he was a big beneficiary of a great run blocking effort up front, Lacy has special skills that will translate very well to the next level while also opening up eyes at next month's scouting combine.
While Lacy will not blow you away with his straight-line speed, he does possess nice burst and overall explosion through the hole.
Where Lacy will shine next month is in the agility drills where he will showcase surprisingly nimble feet and the footwork of a running back much smaller than 5'10", 220 pounds.
Lacy's ideal frame and ability to both finish runs by running through tacklers and athleticism to make defenders miss in space makes him a unique back with starter potential.
Light on his feet with excellent balance to create yards after contact, Lacy is sure to draw comparisons to backs such as Marshawn Lynch, Michael Bush and former Crimson Tide teammate Trent Richardson.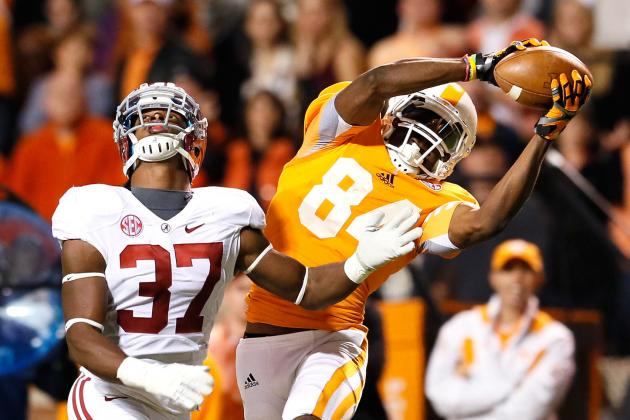 Kevin C. Cox/Getty Images

One position that is completely up in the air to this point is wide receiver. While a deep and talented class, no receiver has stood out from the bunch to this point.
Keenan Allen is viewed by many to be the top option available, but a late-season injury and questions about his deep speed leave uncertainty into just how high his overall ceiling is.
Enter Cordarrelle Patterson.
A former junior college stand-out, Patterson possesses an excellent combination of length, size and athleticism that should allow him to leave behind the competition.
Perhaps one of the most versatile weapons in the country last year, Patterson displays fantastic after-the-catch ability with the vision and agility to make defenders miss and take it to the house on any given play.
Patterson's versatility as a kick returner and ability to change directions on a dime make him one of the most intriguing players with the most to gain next month.
A wide-open race as it stands, I would put my money on Patterson to not only close the gap but eventually pass Allen as potentially the best receiver with the most upside.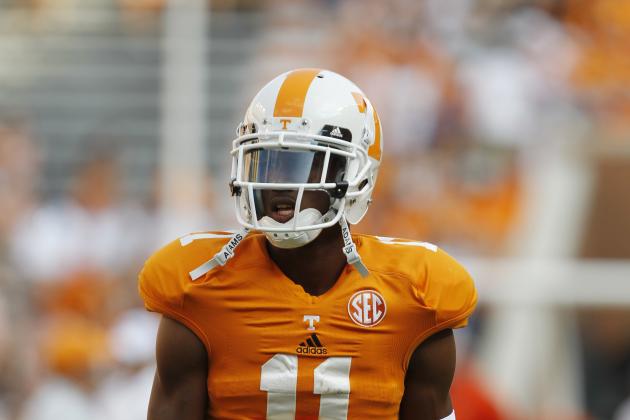 John Sommers II/Getty Images

An explosive athlete in every sense of the word, Justin Hunter can truly jump out of the gym with his insane physical attributes.
Looking at the picture you can see Hunter is the very definition of a long and rangy player with an impressive catching radius.
Built like A.J. Green, Hunter is also a dynamic athlete capable of stretching the field vertically. Explosive footwork and suddenness to plant and drive out of his breaks allows Hunter to gain separation easily as he accelerates and eats up cushions effortlessly with his long and smooth gait.
One of the better track and field athletes in the nation coming out of high school, Hunter's ability to go up and get the football at its highest point is second-nature, making him a dangerous red-zone threat as well.
Back-to-back Volunteer wide receivers, Hunter may not be on the level of Patterson but has just as much upside and should blow up the combine with his overall numbers.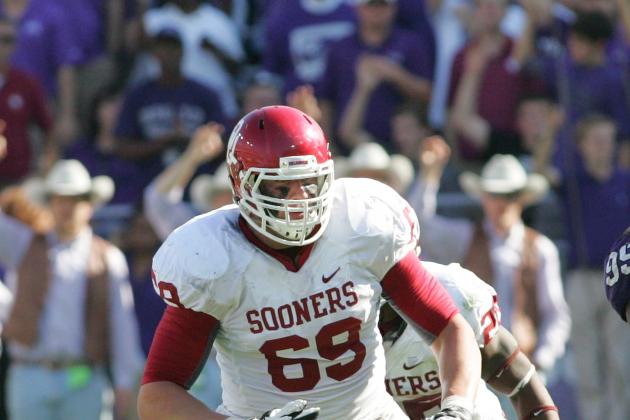 R. Yeatts/Getty Images

One of the players who raised his stock considerably after an impressive Senior Bowl week, Lane Johnson will likely continue his ascension with an impressive performance at the combine.
Johnson is on the record saying he expects to run a 4.8 40-yard dash next month in Indianapolis. At 6'6", 300-plus pounds, words can't begin to describe how impressive that would be for a former high school quarterback.
While offensive lineman rarely if ever sprint forty yards downfield, Johnson's overall athletic ability and movement skills are sure to generate some smiles in the stands.
One of the most efficient movers in this draft, Johnson's foot quickness, balance, and overall coordination will leave a lasting impression.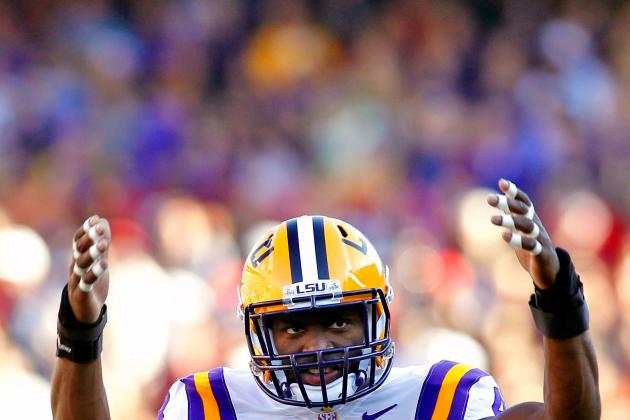 Crystal Logiudice-USA TODAY Sports

Much like Dion Jordan, Barkevious Mingo is the very definition of a freak athlete with unlimited potential.
Standing a lengthy 6'4" with branches for arms, Mingo's enormous wingspan is capable of wrapping around an adult-sized tree. This, along with his explosive first step and rare change of direction/movement skills makes him one of the most talked-about prospects in the entire draft.
Perhaps the most explosive athlete on this list, many are anxious to see Mingo's 10-yard split time, which is seen as a valuable tool while deciphering a pass-rusher's ability to get upfield and challenge the edge.
Look for Mingo to dominate lower body explosion tests like the broad jump and vertical, while also displaying fluid movements in drills that highlight his ability to operate in space.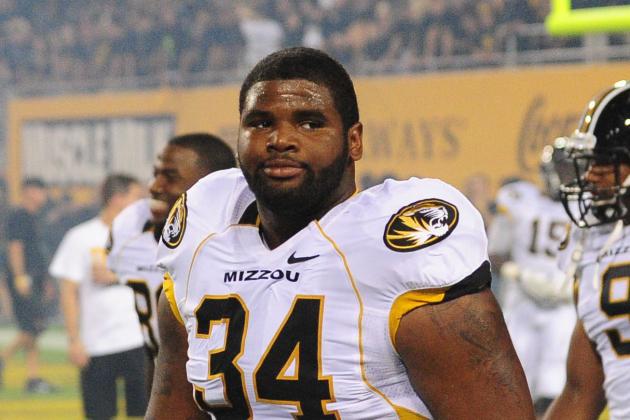 Matt Kartozian-USA TODAY Sports

The photo is eerily reminiscent of Big Foot's exaggerated arm swing. Sheldon Richardson is anything but stiff and rigid like the mystical creature—although he is a beast.
At a powerful and stout 6'3", 295 pounds, Richardson has a well-developed and proportionate frame, capable of standing up to blocks and playing multiple positions along the defensive line.
Blessed with burst, power and explosion, Richardson's short-area quickness allows him to blow up plays before they have even begun. A dominating presence on the interior, he is poised to impress onlookers with his blend of skills.
In an insanely strong class overall, expect Richardson to be one of the bigger winners a month from now, as he stands just a notch below Lotulelei on sheer talent but possesses a much better motor to consistently be a menace and force in the middle.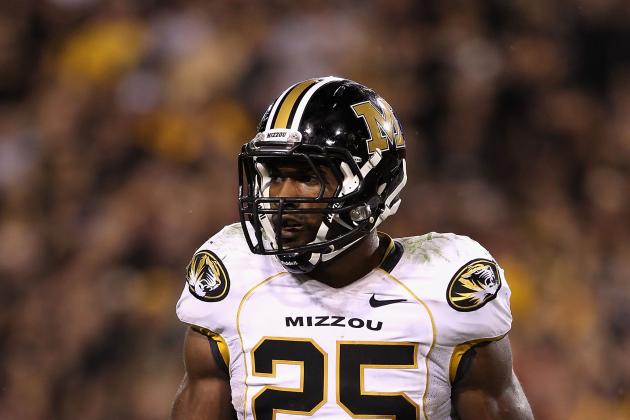 Christian Petersen/Getty Images

Another Missouri defender, Zaviar Gooden is one of the most purely athletic players in this draft class.
A former safety, Gooden excels in coverage and displays natural fluidity operating in space and picking up running backs out of the backfield.
Although his numbers were down this year due to a nagging hamstring injury, Gooden is sure to be healed up and ready to explode onto the scene with a highly impressive performance.
Teammates describe Gooden as a workout fanatic and have seen first-hand just how explosive of an athlete he is due to his commitment and dedication to the weight room.
That commitment and dedication is about to pay off for Gooden big-time.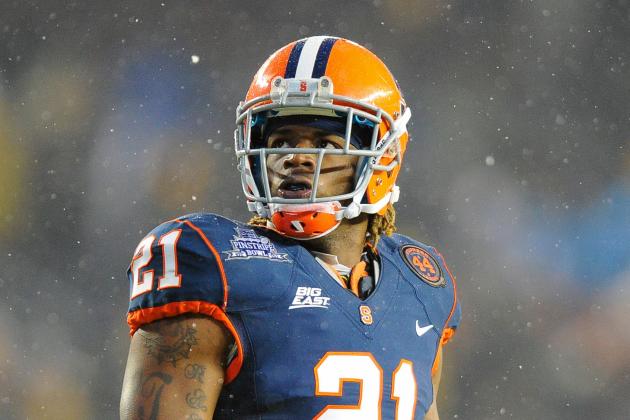 Rich Barnes-USA TODAY Sports

To say Shamarko Thomas has had a difficult time would be an understatement. Losing both his parents in the span of one year while at Syracuse, Thomas' recent hardships are one of the best and most undersold stories in all of college football (h/t Syracuse Post-Standard).
His sheer determination, willpower and strength to push through his struggles and adversity is just one of the things that will impress both scouts and general managers in interviews next month.
However, it's not just off the field that will endear you to an athlete and person like Shamarko Thomas. He is also known as a workout warrior. Stories of pushing cars up hills to break a sweat and stay in shape, Thomas' workouts may be unconventional but also surprisingly effective (h/t the Post-Standard).
Built like a bull, Thomas packs a punch despite his compact 5'9" 220-pound frame. Known as a fierce hitter who arrives with violent intentions, Thomas has earned a reputation as a big hitter and a player who reminds some of Bob Sanders.
Athletes like Thomas understand that opportunity to make a quality first impression is limited. Success can be fleeting, especially in the NFL, but Thomas is without a doubt ready and prepared. Tragedy, hard work, dedication and character—Thomas has prepared his whole life for this one moment, and I fully expect him to shine through.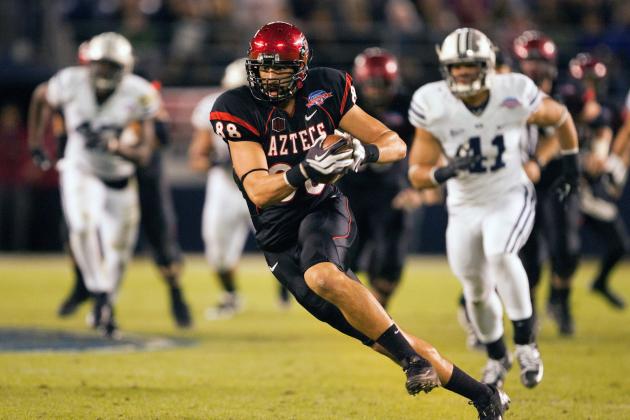 Kent Horner/Getty Images

There were plenty of players deserving to make this list, and most can be found below. With the last spot I want to document a player who is flying under-the-radar to this point and is a vastly underrated talent due to his upside.
At 6'5" 255 pounds, Gavin Escobar is a vertical seam stretcher with the size and athletic ability to make a big plays all over the field. More of a receiving tight end to this point, Escobar displays the type of ability to be a consistent threat in the pass-happy NFL.
Not only is Escobar a physical specimen, he also possesses extremely strong hands with the body control and length to consistently adjust to passes outside his frame. This innate skill allows him to make difficult catches in traffic as he is able to use his big body to out-box defenders, making him a reliable red-zone target as well.
A player to keep an eye on next month, former Chiefs general manager recently listed Escobar as one of the ten best underclassmen available in April's draft (h/t Kansas City Star). No small claim, Escobar finds his name paired with highly ranked players such as Luke Joeckel, Bjoern Werner and Dee Milliner, which I predict will be not quite as crazy a thought one month from now.
Ten Honorable Mentions:
Virginia Tech WR Marcus Davis
SMU DE Margus Hunt
South Carolina DE Devin Taylor
Southern Mississippi DE/LB Jamie Collins
Texas A&M LB Sean Porter
Texas WR Marquise Goodwin
West Virginia WR Tavon Austin
Arkansas-Pine Bluff OT Terron Armstead
South Carolina WR/KR Ace Sanders
Connecticut LB Sio Moore