Jets Mock Draft: Instant Contributors New York Can Find in Every Round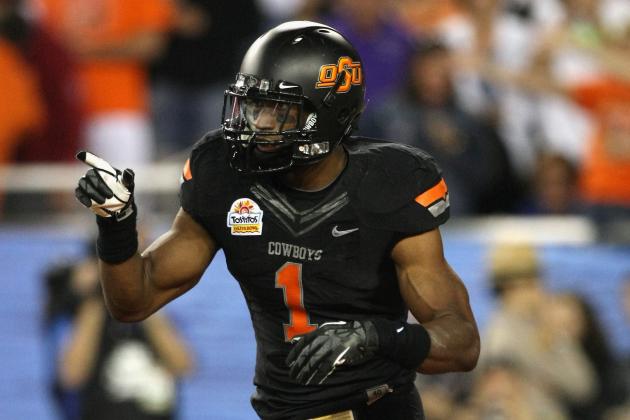 Donald Miralle/Getty Images

The New York Jets need to draft players capable of making sizable contributions next season.
New general manager John Idzik will dictate whom the Jets choose to draft through "collaborative effort(s)" with head coach Rex Ryan and the team's brain trust.
They should optimally select the best available player on the board at key areas of need, such as outside linebacker, safety, offensive guard, wide receiver, cornerback and tight end.
The team's most disparate personnel situation is at quarterback, but this season's draft class doesn't feature any franchise-changing players at that position. In this mock draft, the Jets select players ready to make an immediate impact in their rookie seasons.
The following slideshow highlights seven instant contributors the Jets can find in every round of the 2013 NFL Draft.
Begin Slideshow

»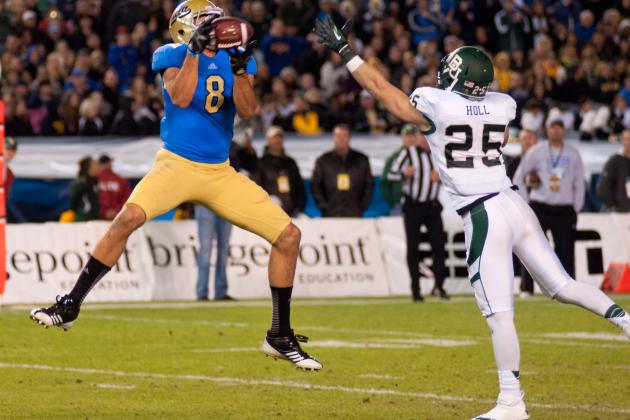 Kent Horner/Getty Images

UCLA tight end Joseph Fauria is a big, athletic, receiving target that emerged as a perennial scoring threat in his senior season. Fauria had started just nine games prior to 2012 but became a premiere offensive weapon in his final collegiate season.
Fauria pulled down 39 catches for 481 yards and six touchdowns in a standout season-long effort. He features rare athletic ability and enormous size, but he is a below-average blocker who lacks physicality in the trenches.
His draft value is definitive of the mismatch he presents in the passing game. Fauria doesn't sustain incredible speed, but he's an effective route-running tight end that has extensive leaping ability to effectively complement his size.
Fauria has prototypical size for his position, listed at 6'7'' and 257 pounds. He's a raw talent with limited experience and is expected to be selected towards the end of the draft.
Fauria is a good fit for the Jets because of their dire need for a play-making tight end in the likely scenario that Dustin Keller walks in free agency.
Run-blocking tight end Jeff Cumberland could supply the Jets with an effective tandem if the team opts to draft Fauria.
Fauria is a legitimate tight end with receiving prowess, even if he lacks versatility and premium blocking ability. He's a solid seventh round talent.
The Jets need to add several playmakers to an offense that came in at No. 30 overall in 2012, and Fauria would supply the offense with supreme athleticism.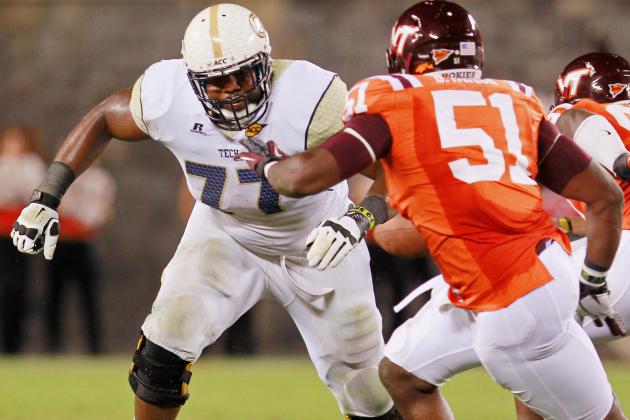 Geoff Burke/Getty Images

Learn how to pronounce this name, because it commands serious respect.
Georgia Tech offensive guard Omoregie Uzzi (O-more-gay ooze-E) is a beastly force in the trenches, poised to deliver serious run-blocking support in his rookie season.
Uzzi was considered a four-star recruit out of high school and didn't disappoint expectations at the collegiate level.
He's been gaining accolades ever since his sophomore season when he was selected second team All-ACC in 2010. Uzzi spent three seasons at starting right guard and earned first-team honors for consecutive seasons, starting in 2011.
He heavily aided Georgia Tech in building a formidable ground game that averaged 312.5 yards per contest to rank No. 4 in the nation in 2012. The Yellow Jackets mounted over 440 yards of total offense and 34 points per game last season, largely because of an offensive front anchored by Uzzi.
Uzzi is a powerful force at 6'3'' and 302 pounds. He's a physical run blocker that stands to improve in pass protection, although he's touted as one of the top-five senior offensive guards in this season's draft.
He's an optimal sixth-round selection for the Jets, who could be in the business of acquiring two offensive guards this offseason. Brandon Moore and Matt Slauson are both free-agent eligible.
Uzzi is projected to be selected in Round 6 of April's draft, but he's a high-caliber player capable of manning the right guard position in the NFL as a rookie.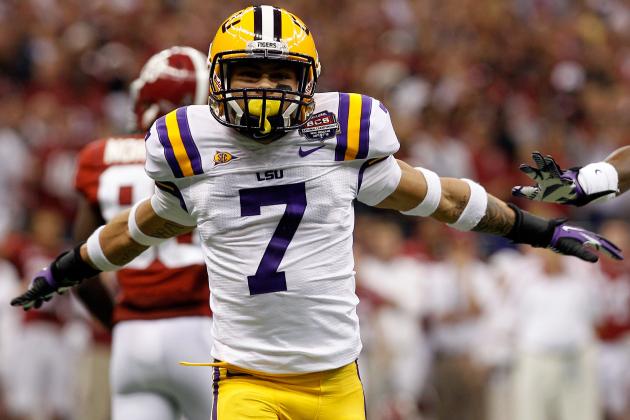 Chris Graythen/Getty Images

Former LSU cornerback and controversial figure Tyrann Mathieu has the potential to be the best steal of the 2013 NFL Draft.
The 2011 Heisman Trophy finalist has battled off-field issues and was forced to enter a drug treatment program after multiple violations of marijuana use and possession.
Still, Mathieu is a top-tier talent with limited draft value because of aforementioned missteps. A multitude of NFL teams wouldn't fathom drafting Mathieu, but the Jets shouldn't be among them.
New York needs to add as much talent as possible to their roster for 2013. Mathieu ultimately boasts enormous upside because of his fierce nature and punishing ability on the playing field. His vitals are outmatched by his tenacity; his intangibles don't fit the pro scout mold.
Mathieu isn't afraid to use body to compensate for his small size. He plays on top of receivers and doesn't yield open space to his opponents.
He's a quick accelerator, aptly fitting his reputation as a relentless defender. His awareness in coverage overrides receivers' ability to leap over him to snag catches.
Mathieu's aggressive nature encompasses his dynamic game play. He has the potential to be a top-tier cornerback if he's able to keep his head in check. He's a legitimate top-50 talent,= but is expected to last until at least Round 5.
The Jets lack depth at cornerback behind Darrelle Revis and Antonio Cromartie, making Mathieu an intriguing prospect in the fifth round.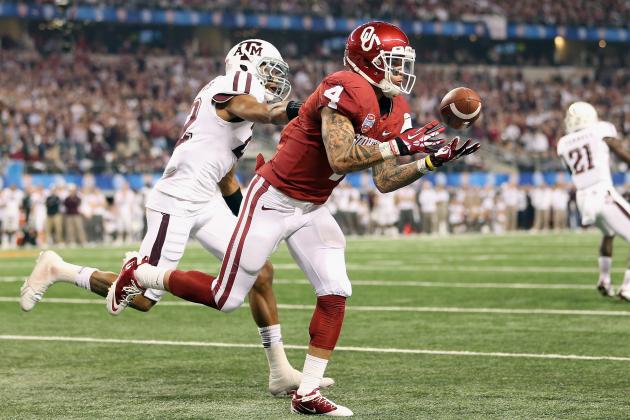 Ronald Martinez/Getty Images

Oklahoma wide receiver Kenny Stills is a big-play threat destined to immediately contribute at the pro level.
Stills registered 82 total receptions for 959 yards and 11 scores in the 2012 season, good enough to earn second team All-Big 12 honors en route to the 2013 NFL Draft.
He's considered physically unimpressive, but he's a talented route-runner and has keen ability to catch footballs. This is a feat difficult to accomplish for some Jets' receivers. (See Stephen Hill, Week 7.)
Stills has started every game since his true freshman season, demonstrating a strong aptitude to shred defenders. He recorded 61 receptions for 786 yards and five touchdowns in the Big 12 as an 18-year-old kid.
Stills is average-sized at best, checking-in at 6'1'' and 190 pounds. He's undoubtedly smashing the weight room, though, and his penchant for success is proof. He claims to be his toughest critic, labeling performances—such as his junior season when he racked-up eight scores on 61 catches—"subpar."
A player who acknowledges his own game play as dissatisfying is in possession of the greatest intangible necessary to compete: the willingness to work harder to succeed.
He's a receiver that boasts speed off the snap, able to get downfield quickly to create separation and give the quarterback a window of opportunity. He features premiere athletic ability, constantly making stellar catches look like no big deal.
Stills' most impressive intangible isn't related to athleticism or play-making ability though. Pro scouts have touted him as undersized and inconsistent on top of a DUI arrest in 2011. But those reports are missing what might be the most important talent he has going for him.
Stills has never considered himself to be good enough. He's a hard-working individual guaranteed to tear his heart out for whoever selects him in the draft.
Oklahoma State running back Joseph Randle opted to forgo his final season of collegiate eligibility to enter the 2013 NFL Draft.
Randle is a perfect third-round pick for the Jets, who are desperate for speed on offense.
He burst into the forefront last season after being shadowed by former Cowboys' quarterback Brandon Wheeden and wide receiver Justin Blackmon in 2011. Randle led the Big 12 with 1,417 rushing yards on 274 carries and racked up 14 touchdowns. He hit the end zone 14 times in 2012 and averaged 109 rushing yards per game.
Randle has sustained receiving prowess out of the backfield, reeling in 28 catches for 224 yards. His ability to sprint downfield as a receiver makes him valuable from the Jets' standpoint.
New offensive coordinator Marty Mornhinweg is well known in the NFL for utilizing running backs in the passing game. Randle fits that game scheme because of his speed and ability to catch throws in stride.
He's not a horse in between the tackles and shouldn't be featured as a durable back. Instead, he's a solid change-of-pace weapon who sustains dynamic ability as a receiver.
Randle also has breakaway speed in open space. He isn't phased by traffic in the tackle box and has keen ability to hit the hole with acceleration and blast through defenders.
Randle's upper body strength and narrow frame enable him to stay low up-the-middle and plow through tacklers, but he's not built to take a beating. He's a potential secondary back with big-play ability and receiving prowess.
Look for the Jets to select Randle with their third-round pick because of his dynamic play-making ability.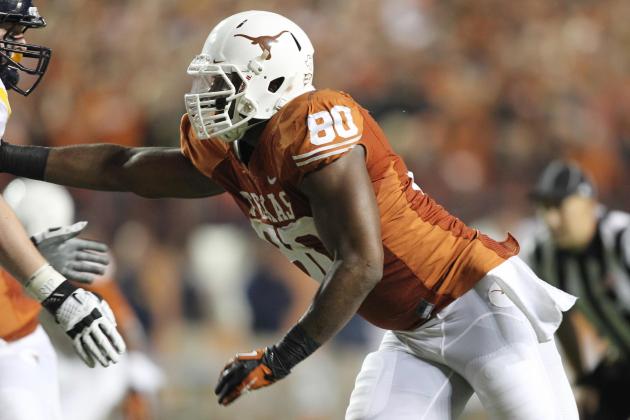 Tim Heitman-USA TODAY Sports

Texas defensive end Alex Okafor is a hybrid defender capable of effectively holding his ground at outside linebacker.
His natural ability to blast off the line of scrimmage and effectively elude would-be blockers makes him an ideal defensive end, but his pass-rushing ability would be best utilized in an outside line-backing role.
He's a devastating force on the quarterback, constantly applying pressure and recklessly swarming the opposition.
Okafor solidified his draft stock with a ridiculous tally of 4.5 sacks in the Alamo Bowl against a quality opponent in Oregon State.
He's displayed unique ability and dynamism throughout his college career, serving on his team's special teams unit and as a second-string defensive end as a freshman before finding his collegiate niche at defensive tackle.
He plays well inside because of his agility and footwork. He doesn't boast superior strength in the trenches, but he is quick off the block, enabling him to counter slow-moving opponents in spite of size.
Okafor is a physical, in-your-face brand of football player.
His versatility on the defensive front and coverage ability at linebacker make him a high-powered draft selection. He's demonstrated the ability to torment ball carriers—like the quarterback—without succumbing to double-team efforts or beastly opponents.
The Jets are in the business for a brand of player like Okafor. His equal ability to play against the pass and run at different positions make him the most apt defensive prospect in the country.
It would be a no-brainer for the Jets to draft Okafor in the Round 2. He's a premium talent who will have a powerful impact on defense.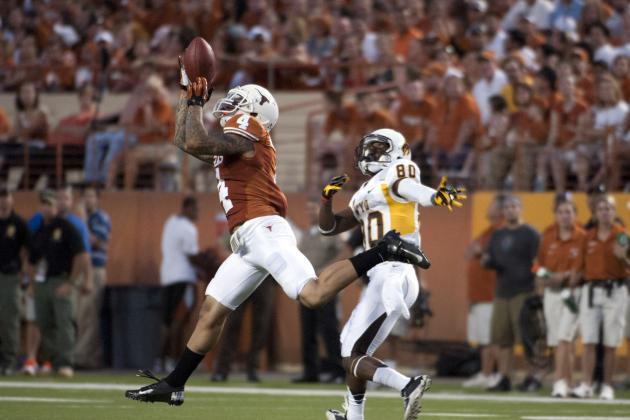 Brendan Maloney-USA TODAY Sports

Texas free safety Kenny Vaccaro is a premium talent who embodies the prototype of what it takes to be an elite defensive back in the NFL.
Vaccaro is the top safety in his draft class. He's a talented defensive back with strong coverage ability. He checks in at 6'1'' and 218 pounds, possessing a formidable combination of size and athletic ability.
The Jets won't be able to afford hard-hitting safety LaRon Landry in free agency, making it critical to find a replacement who can fill the void and instantly contribute.
Drafting Vaccaro with the ninth overall pick wouldn't be a flashy selection. Instead, it would be an efficient decision.
The defensive back field is the staple of the Jets' defense. Next season should be no different. New York has gaping holes all over the field, but addressing the void at safety is crucial.
Vaccaro is rated as the thirteenth-best prospect in this season's draft class, according to CBSSports.com. He's a physical defender who appropriately fits Ryan's defensive concept. His keen ability to read the quarterback and effectively react in coverage make him a constant interception threat.
Vaccaro has steadily improved on a season-to-season basis at the collegiate level. He posted 92 tackles in his senior season, swarming the field to make plays. Vaccaro added seven deflected passes and two interceptions on top of 4.5 tackles for loss to cap his resume in his final collegiate season.
The Jets have several deficiencies at multiple positions on their roster. New GM John Idzik needs to deliver on draft day and bolster the Jets' roster with players who can instantly contribute, starting with Kenny Vaccaro in the Round 1.