Full Colts Scouting Guide to the 2013 Senior Bowl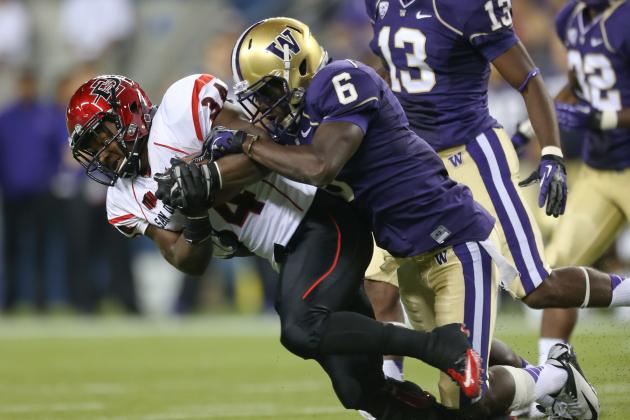 Otto Greule Jr/Getty Images
Desmond Trufant (#6) could be a possible first round target for the Colts.
Despite earning a playoff berth in 2012, the Colts are still, for lack of a better word, rebuilding. Indianapolis has many holes to fill in order to become a legitimate contender in the AFC.
Fortunately, with over $40 million in cap space this offseason, the Colts should be able to take a big step forward in the team-building process via free agency and the draft. As crucial as the Colts' No. 1 pick last year (Andrew Luck) was to last year's turnaround, this year's top pick is arguably even more important, as the Colts are missing their second rounder and have a much lower draft position.
One of the most important events before the 2013 NFL draft is the Senior Bowl, which showcases the nation's top seniors in a North-South showdown. Throughout the week, team scouts, general managers and media members have been in Mobile, Alabama in order to scout each and every practice in preparation for the draft. However, most fans will settle for simply watching the game on Saturday.
So, when watching from a Colts' perspective, I've split it up into who fans should be focusing on when each unit is on the field.
Begin Slideshow

»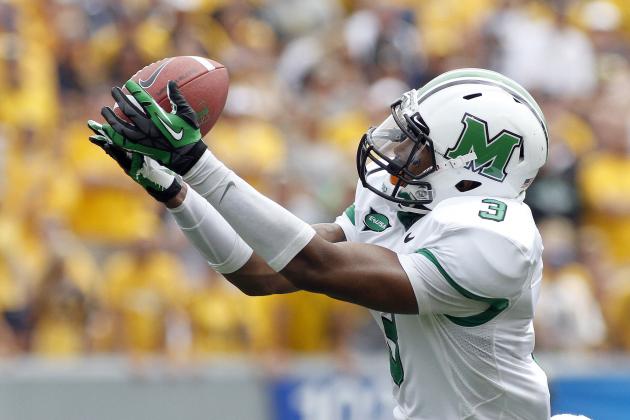 Justin K. Aller/Getty Images
WR Aaron Dobson is one potential target the Colts could be looking at in the 3rd round.
Running Backs
Robbie Rouse- Rouse is a potential late-round target for the Colts, whose offensive system is likely to transition to a West Coast, power-run scheme with new offensive coordinator Pep Hamilton. The Colts have three running backs under contract for 2013, including Donald Brown, Vick Ballard and Delone Carter (not including Deji Karim, who could return as a special teams ace). But, if the Colts are looking for some competition at the position in 2013, Rouse is a small, but powerful back who can split carries in the NFL, and can also be a weapon in the passing game.
Wide Receiver
Aaron Dobson- Dobson quietly put together a consistently productive career at Marshall, despite the lack of a top-level quarterback to throw him the ball. Dobson doesn't have elite speed or route running skills, but he has good size (6'2", 206 lbs), hands and body control that provide a lot of upside. Dobson isn't incredibly fast, but he does have elusiveness that would be useful in the West Coast offense. His biggest draw, however, is the possibility to be an elite red zone target, something the Colts lacked this season. If he drops to the Colts' pick in the third round, he'll be a very attractive prospect.
Chris Harper- The most physical receiver in the Senior Bowl, Harper is a former-quarterback-turned-receiver while at Kansas State. As a former quarterback, Harper is a smart route runner and uses his physicality to get open as well as beating defensive backs in jump ball situations (a la Anquan Boldin). He's impressed this week in practice, and could be a perfect #2 in the West Coast offense. Harper has been mocked anywhere from the third to fifth round, and could be a steal in the late rounds of the draft.
Aaron Mellette- Mellette was an incredibly consistent receiver in college, but the level of competition at Elon will put a damper on that. Mellette doesn't have any elite skills, but some analysts believe he could be a solid third or fourth receiver in the NFL. After not having a good week in practice, Mellette needs to have a good game on Saturday to convince team's he's worth a mid-round pick.
Offensive Linemen
Brian Winters (T)- Winters played tackle at Kent State, where he was First Team All-MAC, but the 6'5" 310 lb. lineman can play guard as well, which may be where he's best suited in the NFL. He's a tough, nasty player with a quick step off the snap. He's had an inconsistent week in practice, looking uncomfortable at times, so his performance on Saturday will be closely watched. He could go in the third or fourth round and could play either right tackle or either guard spot for the Colts.
Hugh Thornton (G)- A mauler in the run game, Thornton has looked dominant in run drills, and would be a powerful interior lineman in the Colts' new system. He may not be as athletic as some, but anchors well in pass protection. The Colts need to improve their interior lineman if they wish to run an efficient offense in 2013, and Thornton would be a huge upgrade in run blocking.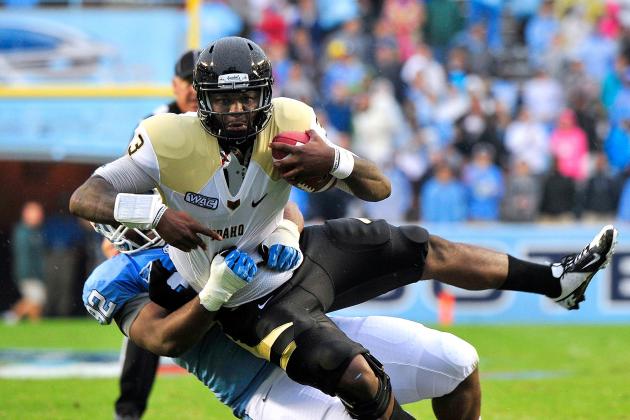 Grant Halverson/Getty Images
Sylvester Williams is a load in the middle that could anchor the Colts' defensive line.
Defensive Linemen
Sylvester Williams (DT)- Williams likely would play nose tackle for the Colts, but could possibly play DE with a playing weight of 320. He is an explosive player with great burst, but can also control the line. He's had an impressive week of practice, generally able to dominate the 1-on-1 drills. However, Williams is somewhat raw and can struggle if he doesn't win the matchup right off of the initial snap. With some coaching and development, however, Williams could be a solid starter.
Kawann Short (DT)- Like Williams, Short would likely play NT in the Colts' 3-4 scheme. Short has impressed scouts in practice with his ability to anchor the defensive line and use an effective bull rush. There have, however, been questions about his conditioning and hustle, but he's pushed those aside (at least, temporarily) with an impressive week of practice.
Datone Jones (DE)- The UCLA lineman wowed scouts this week with an impressive blend of explosiveness and power. Jones was arguably the most impressive player on the defensive line all week, and was the only pass rusher who was able to give star OT Eric Fisher a challenge. Jones would be an excellent choice for the Colts to fill a one-gap DE position. Originally thought of as a second or third-round guy, Jones has likely moved up into the first round after a very impressive week.
Linebackers
Alex Okafor (OLB)- Okafor has not been as impressive as Jones as a pass rusher, but could be an option for the Colts as a stand-up rusher in the late first round. He's shown above average hand placement and power in drills, and looks to be a consistent, reliable player. The concern may be that he doesn't fit the OLB role as well as he would the 4-3 DE role, much like a Freeney or Mathis.
Khaseem Greene (ILB)- With Arthur Brown out with an injury, Greene seems to have taken the top ILB spot fairly easily. The former-safety transitioned to linebacker at Rutgers, and looks to be a very good coverage linebacker, especially in zone, in the NFL. Greene is also a solid tackler and reads plays well, although he lacks the size/strength to get off blocks quickly. If the Colts are looking to upgrade the starting ILB spots, Greene would be a target in the first round.
Defensive Backs
Desmond Trufant (CB)- Trufant has been the best corner on the North squad, and has risen up into the late first rounds on most draftniks' boards. The 6'0 corner from Washington has quickness to stick with receivers in coverage, as well as the bulk to press at the line of scrimmage. He's also very explosive when breaking on throws, and could be a ball hawk in the NFL. If you hope the Colts upgrade at cornerback with a first-round pick, Trufant would be a perfect fit.
T.J. McDonald (S)- The USC safety is one prospect I'm intrigued with for the Colts' third round pick. McDonald can be big and physical, and has the ability to be very good against most tight ends in coverage, as well as having good range in zone coverage. He's also been an explosive tackler and can be a strong, in-the-box run defender. If he drops to the Colts' third-round pick, he could be a valuable pickup.
Jonathan Cyprien (S)- Outside of Florida's Matt Elam, Cyprien is the best available replacement for Tom Zbikowski/Joe Lefeged. Cyprien projects to the second round right now, so the Colts would likely need to trade up for him, but it may be worth it. The Florida International safety has impressed practice attendees this week with his ferocious tackling and solid cover skills in both man and zone. Cyprien has impressed with his demeanor and leadership qualities as well.
Robert Laberge/Getty Images
Will Pep Hamilton bring RB Stepfan Taylor to Indianapolis with him?
Running Back
Mike Gillislee and Stepfan Taylor- Both of these running backs are big, powerful runners between the tackles. Taylor (Stanford) has the obvious connection with Pep Hamilton, the Colts' new offensive coordinator, as well as offensive starters Andrew Luck and Coby Fleener. However, Gillislee has a bit better vision than Taylor, and has been slightly ahead of him on most boards. Both are slated as late third/early fourth rounders currently, and if one drops to the Colts' fourth-round pick or lower, they could be a possible target.
Wide Receiver
Quinton Patton- Patton has been one of the best wideouts in Mobile this week, wowing everybody with his route running abilities and exceptional tracking of the ball. Patton isn't an elite athlete, but has the height at 6'2" to be able to win jump-balls. He has the hips and feet to be able to run precise routes, and enough speed and subtle elusiveness to be a threat after the catch in the West Coast offense. Patton projects to a second-rounder after an impressive week and would likely force a trade-up scenario for the Colts.
Terrance Williams- Williams is a fast, yet big receiver who looks to be a late first rounder. More of a finesse wide receiver, Williams was used a lot in crossing routes that allowed him to stretch the defense horizontally. He may fit in well with the new offensive scheme, However, personally I don't think he'd be worth taking in the first round, and he almost certainly won't drop to the third.
Ryan Swope- With the makings of a premier slot receiver, Swope could be a potential fourth or fifth round pick, depending on how he falls. About the size of Austin Collie at 6', 206 lbs, Swope doesn't have elite speed, but is very quick in and out of breaks and is deceptively fast after the catch. The forme-Texas A&M receiver has been mocked anywhere from the second to fifth round, but some scouts think that drops during this past week may cause his stock to drop.
Offensive Linemen
Larry Warford (OG)- A monster at 6'3", 343 lbs, Warford would be a mauler at guard for the Colts. He's not the quickest guard, and would be a terrible option for some of the pulling plays the Colts ran last season. But, if the Colts want to use man blocking schemes that allow the guards to just plow ahead, Warford is your guy. He's been good in pass protection this week as well, although he could have trouble with quicker DTs.
Lane Johnson (OT)- Johnson was seen as right on the edge of the first round for most scouts before this week, but has solidified himself as a first round prospect with a great week of practice. Johnson has great athleticism, and his quickness and feet have scouts raving about his future potential. The former-Sooner could play left or right tackle at the pro level, which would give the Colts a lot of flexibility with him and Anthony Castonzo.
Brian Schwenke (C/G)- Schwenke has the potential to be a solid, dependable pro with his understanding of the game. He's not a great athlete, and can struggle to move laterally, but has the fundamentals and drive to be a solid player for a long time. Look for him to be available in the fourth-sixth rounds.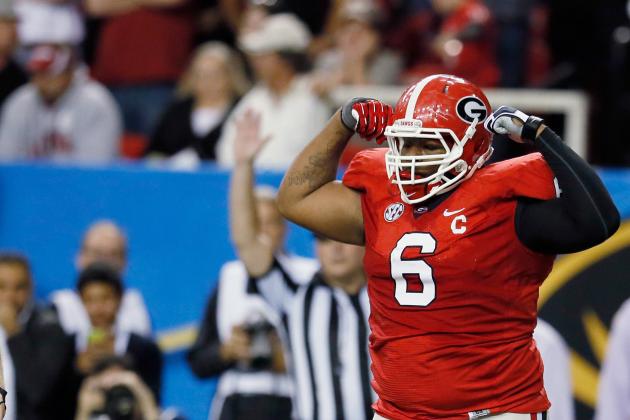 Kevin C. Cox/Getty Images
John Jenkins would be an enormous anchor for the 3-4.
Defensive Line
John Jenkins (NT)- At 6'3", 358 lbs, Jenkins is hard to miss, for defenders and scouts alike. The huge nose tackle has had an inconsistent week in practice, but his size and flashes of elite talent are enough that he'll likely go in the second round. I wouldn't say he's worth trading up for in the second, but if he manages to drop into the third, the Colts will have to take a look at him.
Montori Hughes (NT)- From Tennessee-Martin, this small-school defensive tackle impressed people with his practice on Tuesday, winning battles both in 1-on-1 drills and in team drills. Prior to this week, Hughes was seen as a final-day guy largely due to off-the-field issues (namely academic), but has helped himself with a solid week, and may be a nose tackle option in the late rounds.
Linebackers
Jamie Collins (OLB)- Collins rose from the dredges of Conference USA this season, as the Southern Mississippi pass rusher led the conference in sacks with 6.5. He's extremely raw, but has a lot of potential as an athlete and could be a pick if he drops to the fourth round or later.
Chase Thomas (OLB)- Yes, this is another Stanford guy. Thomas would be a fit as the strong outside linebacker in Indianapolis, setting the edge against the run and having the versatility to drop back into coverage. Thomas wouldn't be the strongest pass rusher, but has a high motor and would be much more consistent against the run and in coverage than Robert Mathis was this season, and would allow the Colts to move Mathis into the rush linebacker position. Watch to see if he makes it to the late third round.
Defensive Backs
Leon McFadden (CB)- From San Diego State, McFadden showed great man coverage skills throughout the year, and excelled at breaking up passes, leading the conference with 15 passes defensed. He showed that this week in practice, picking off a couple practices and knocking down at least one more. Scouts noticed his fluidity as a corner, as well as a strong ability to track the ball in the air. McFadden was originally a fourth-round target, but may have pushed himself into the third round.
B.W. Webb (CB)- A small-school target from William and Mary, Webb was hardly tested this season at all due to his reputation. He had an inconsistent week of practices, and could really benefit from a strong showing throughout the game on Saturday. He does a good job of staying low and using very fluid hips to move across the field. He could be picked up anywhere from the fourth-sixth round.
Sanders Commings (CB)- The Georgia cornerback is one of the biggest corners in this game at 6'2", 216 lbs, but dosn't sacrifice much movement at all even with his big frame. He has quick feet and has been able to stick with receivers even without using that size to be physical with them. But he's been playing high in his stance throughout this week of practice, and it's resulted in an inconsistent week. He could very likely be a fifth-seventh round pick.