Updated 2013 NFL Draft Stock Report After East-West Shrine Game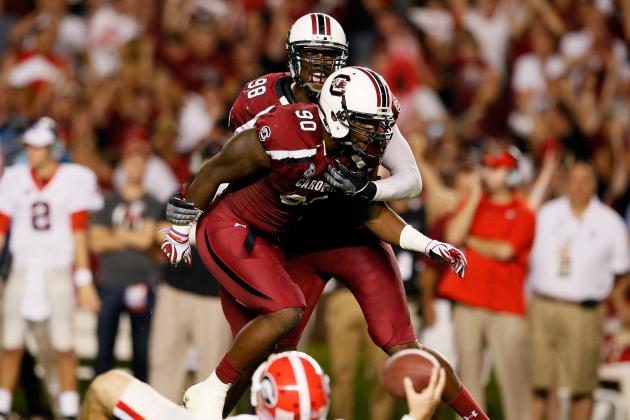 Kevin C. Cox/Getty Images
Devin Taylor put himself on the map during the East-West Shrine game.
The 2013 East-West Shrine Game is in the books, and several of the prospects in the game changed their 2013 NFL draft stock in a big way.
For a lot of the lesser-known prospects, this game is a chance to make a first impression on NFL scouts. For the bigger-name prospects, it is a chance to validate their draft credentials against elite competition.
Some folded under the pressure, while others flourished.
Let's break down which prospects hurt and helped themselves the most.
Begin Slideshow

»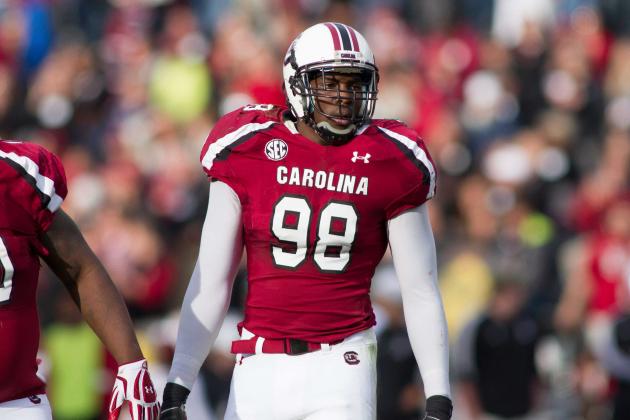 Jeremy Brevard-USA TODAY Sports
Devin Taylor is a name to watch after his big performance.
Devin Taylor was not a household name entering the game, but he certainly made a name for himself with his performance.
The South Carolina prospect is not expected to go too high in the draft, but he made the most of his opportunity during his first performance in front of scouts.
Taylor had several sacks and used his imposing 6'7" frame to disrupt several plays. He caused a strip fumble early in the game and dominated the rest of the way.
Taylor's stock is riding high.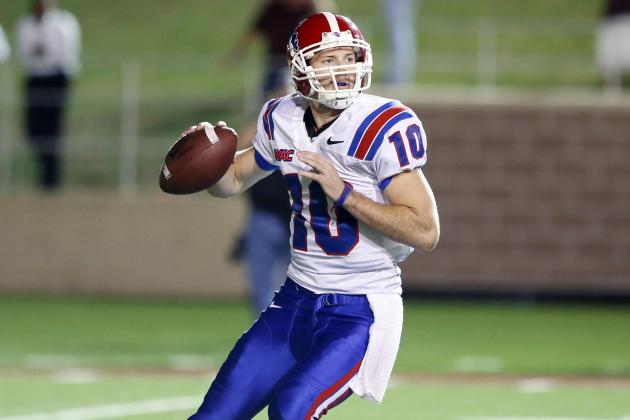 Soobum Im-USA TODAY Sports
Colby Cameron threw just one pass that seriously hurt his stock moving forward.
Colby Cameron is a solid quarterback prospect from Louisiana Tech who is expected to be taken the middle rounds of the draft.
But that may be a stretch considering some of the decisions he made during the game.
Near the end of the first half, Cameron telegraphed a horrendous pass that was intercepted by Kansas State's Nigel Malone and returned for a touchdown.
Throwing a pick-six is not the best way to impress NFL scouts, especially when it is entirely on the quarterback.
Cameron will have a tough time rebounding from that hit to his stock.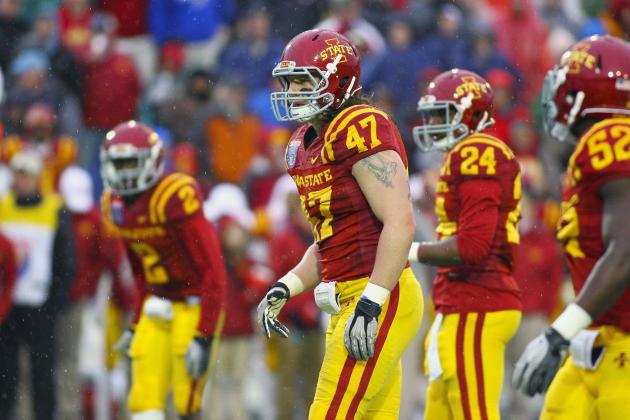 Spruce Derden-USA TODAY Sports
A.J. Klein had a big day, which should boost his stock.
A.J. Klein is a lesser-known linebacker prospect who needed a big game to make himself known to pro scouts.
He did just that, as he was visibly involved in most of the snaps he took. As the inside linebacker, he disrupted running backs as they attempted to upfield.
Klein is not expected to go much higher than the fourth or fifth round. But if he keeps performing this way, he could be taken much higher.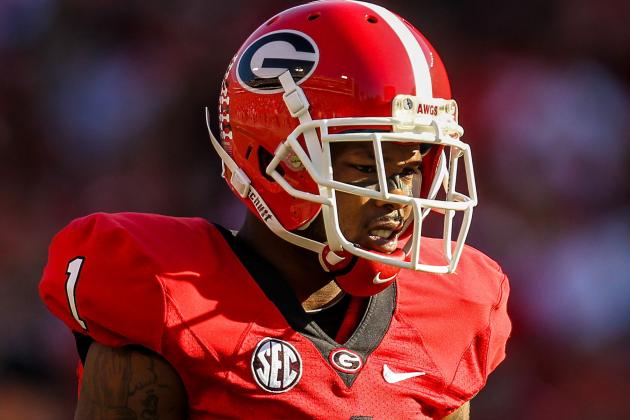 Daniel Shirey-USA TODAY Sports
Branden Smith hurt his stock massively on one big play.
Branden Smith of Georgia was not slated to go any higher than the middle rounds of the draft, but he may have hurt those chances after his performance in the game.
Chad Bumphis of Mississippi State beat Smith on a 57-yard touchdown reception. He grossly mistimed his jump on a pass that appeared to be a routine play for a cornerback.
He managed to intercept a pass later in the game, but his glaring mistake overshadowed it.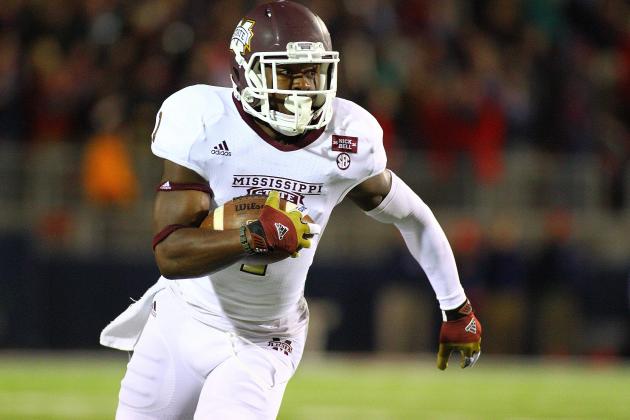 Spruce Derden-USA TODAY Sports
Chad Bumphis had a big game, which should not come as a surprise.
Chad Bumphis is a smaller receiver at 5'11" and was not well known before the game.
But he came up big, catching four passes for 92 yards and a touchdown. He displayed great awareness, hauling in passes that were tipped.
Bumphis was the go-to guy on offense when he was in the game. He is a great option for NFL teams looking to add an effective slot receiver. He is the epitome of a sleeper pick.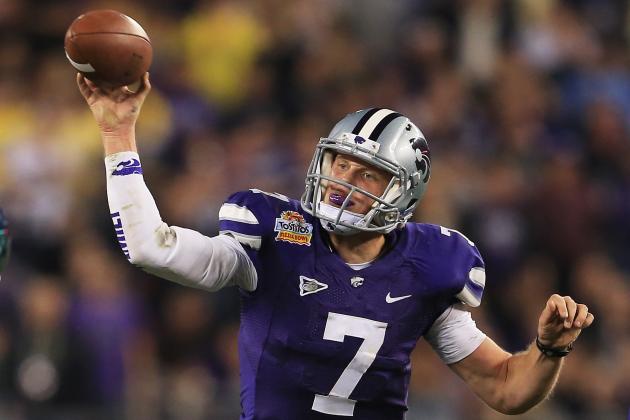 Doug Pensinger/Getty Images
Collin Klein did not do much to help his faltering stock.
Kansas State's Collin Klein has always been a difficult prospect to assess, especially considering his style of play in college.
He did not do much to help himself against some solid competition. NFL scouts were likely left unimpressed with his minimal passing yards and below-average decision-making.
The offense was stagnant most of the time Klein was in the game, and it became clear that those who predict him as a late-round selection may not be far off.
Klein, who is known more for his running than passing ability, completed just five of 13 attempts for 43 yards and one interception. He did almost nothing to bolster his reputation as a pro-style quarterback.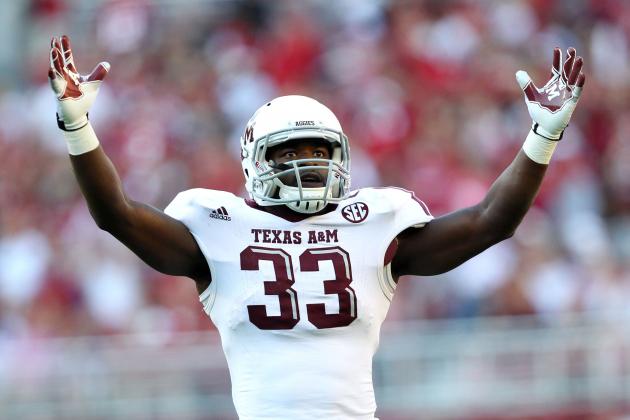 Mike Zarrilli/Getty Images
Christine Michael made the most of his opportunity with a solid performance.
Texas A&M running back Christine Michael needed a strong game to begin his ascent up the tiered ladder that had him slated as a mid-round pick.
Michael delivered in a big way, carrying the ball 13 times for 42 yards and a touchdown. He displayed excellent vision before cutting upfield.
At 5'11" and 220 pounds Michael has prototypical size, so the sky is the limit for him if he continues to keep performing this well.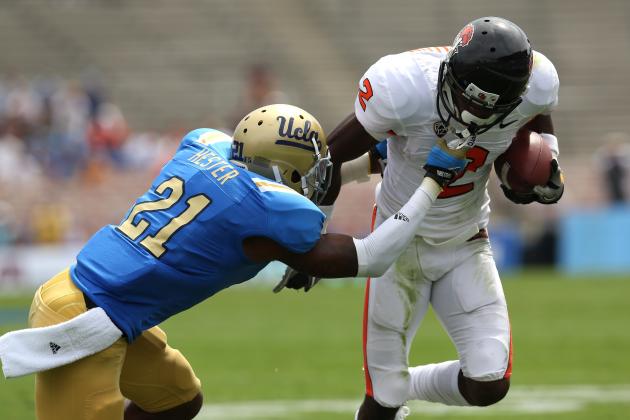 Stephen Dunn/Getty Images
Aaron Hester hurt his stock in a big way on just one drive.
UCLA's Aaron Hester, who was projected as a late-round pick entering the game, managed to leave with it even lower rating after an average performance.
He picked up two pass-interference penalties on one drive alone, which is a blemish on his resume that could carry over to April.
It was an unfortunate turn of events for Hester, who has prototypical NFL size for a cornerback at 6'1" and 203 pounds. He has a long climb to rejuvenate his stock.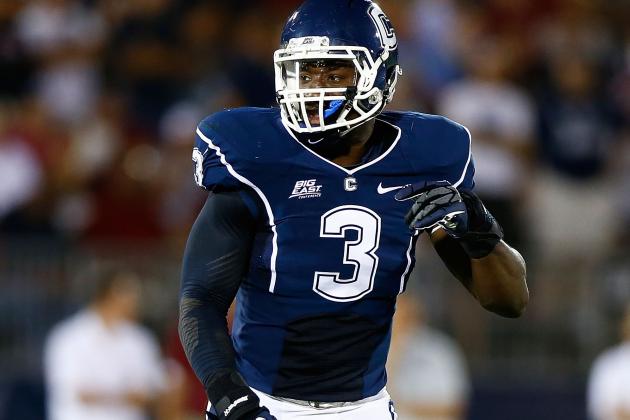 Jared Wickerham/Getty Images
Sio Moore managed to stand out from the pack, which boosts his stock.
The 2013 draft class is deep at linebacker, so this game was the perfect opportunity for some of the lesser-known players to make statements.
That is exactly what Connecticut linebacker Sio Moore did. He did not put up eye-popping statistics, but he displayed great decision-making and was seemingly in on every play, whether it was a run or pass.
Moore is in the middle of the pack of this year's linebacker crop, but he has a step on the competition after his sound performance in front of scouts.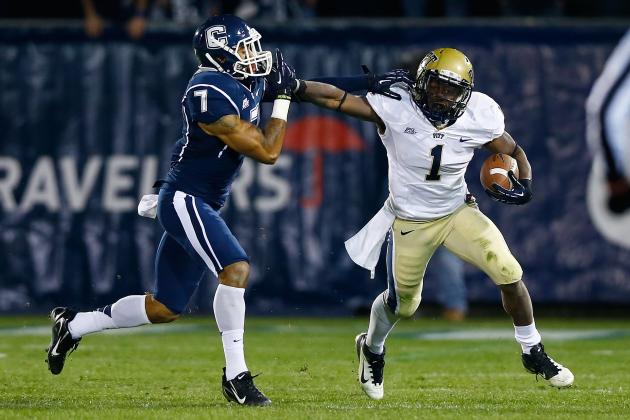 Jared Wickerham/Getty Images
Ray Graham needed a good performance to boost his stock.
After posting a 1,000-yard season, Pittsburgh's Ray Graham is an intriguing prospect at running back. But he needed an impressive performance to separate himself from the pack.
Graham started off on the wrong foot by fumbling, and things simply did not improve.
He received only five handoffs, which he turned into just 19 yards. Graham was impressive all season, but he seemed to fold under the pressure of playing in front of NFL scouts.
Graham faces a long road to get back on solid footing with NFL scouts.
Follow me on Twitter for more NFL news and analysis.