Predicting Every MLB Team's Best Player 5 Years from Now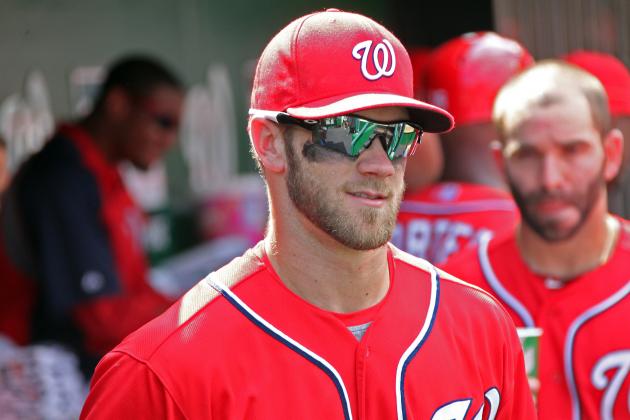 Ned Dishman/Getty Images

While making predictions for the upcoming season is always a challenge, predicting five years down the road is virtually impossible
With so much changing on a season-to-season and even a day-to-day basis in the MLB, the landscape of the league will no doubt look entirely different by 2018.
Challenging as it may be, here are my predictions for who will be each team's best player five years from now.
Begin Slideshow

»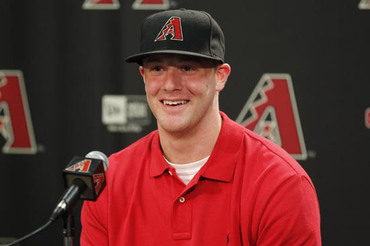 Photo Credit: MLBlogs Network
Age in 2018: 25
A two-sport athlete in high school who was recruited to play quarterback at the University of Oklahoma, Bradley was taken seventh overall by the Diamondbacks in the 2011 draft.
In his first pro season last year, he went 12-6 with a 3.84 ERA and 10.1 K/9 over 27 starts at Single-A South Bend.
He likely won't debut until sometime in 2015, but with a fastball that he can dial up to 96-97 and one of the better curveballs in minor league baseball, he already has two plus pitches.
He'll move quickly if he can cut down on his walks (5.6 BB/9), and he has all of the tools to be the future staff ace of the Diamondbacks.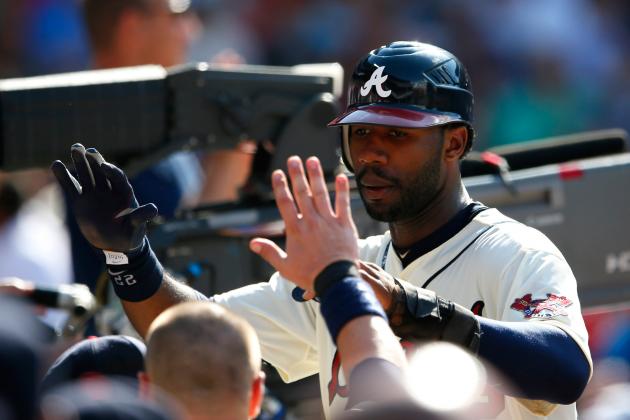 Kevin C. Cox/Getty Images

Age in 2018: 28
After a stellar rookie season and a disappointing sophomore campaign, Heyward began to settle into life as a big leaguer last season with solid numbers across the board.
He hit .269 BA, 27 HR, 82 RBI with 21 steals and a .814 OPS at the plate, and won the first of what could be many Gold Glove awards in the field.
Perhaps most important of all, he stayed healthy after battling injuries his first two seasons in the league, playing in 158 games.
Still developing, he could begin a lengthy spell of 30-home-run, 100-RBI seasons as soon as this April. He'll be the face of the team now that Chipper Jones is gone.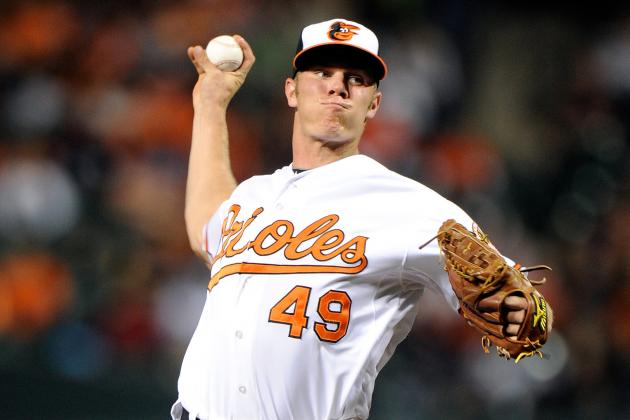 Greg Fiume/Getty Images

Age in 2018: 25
This was a tough choice between Bundy and third baseman Manny Machado, but in the end Bundy gets the nod as he has a chance to be something really special.
The fourth-overall pick in the 2011 draft, Bundy started his pro career last year in Single-A and ended the season with a big league call-up at the age of 19.
He was the talk of minor league baseball to kick off the season, as he allowed just five hits and struck out 40 without allowing an earned run over 30 innings of work in Single-A.
He has an outside chance at cracking the Orioles rotation this spring, and should finish the season as part of the staff one way or another.
Bundy could be the best pitcher in baseball when 2018 rolls around—he has that high of a ceiling.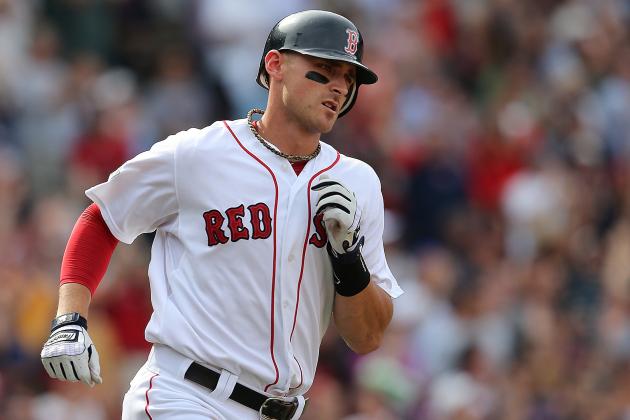 Jim Rogash/Getty Images

Age in 2018: 29
This is assuming that Xander Bogaerts is still in the early stages of his big league career and has not yet reached his full potential. Middlebrooks should be the driving force in the middle of the Red Sox lineup five years from now.
He earned a call-up last season when Kevin Youkilis went on the disabled list, and he wound up playing Youkilis right out of Boston.
A broken wrist ended his season in the middle of August, but he still managed to finish up his rookie campaign with a .288 BA, 15 HR, 54 RBI line over 267 at bats.
Expect him to be among the best third baseman in the game this coming season, and he could be the best by 2018.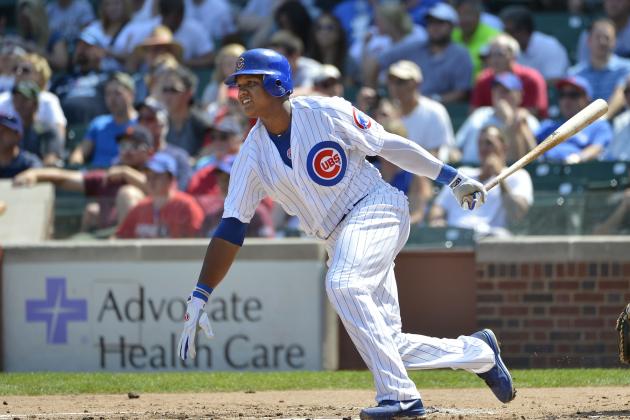 Brian Kersey/Getty Images

Age in 2018: 28
Castro won't be 23 until this coming March, but he already has 529 hits under his belt at the big league level.
An All-Star each of the past two seasons, Castro should continue to develop his power stroke, and could be a perennial 20/20 guy with a .300 average.
At worst, I picture Castro being Edgar Renteria when he was in his prime on the Cardinals, but there is certainly room for more.
He's the face of a rebuilding Cubs organization, and locked up through 2020, he'll be at the heart of the team's attempt at a return to the postseason.
Ed Zurga/Getty Images

Age in 2018: 29
After two years in the White Sox bullpen to kick off his pro career, Sale made a seamless transition to the rotation last season and emerged as a bona fide Cy Young candidate.
In going 17-8 with a 3.05 ERA and 192 strikeouts, he far exceeded expectations in his first season as a starter, and he looks ready to assume the role of ace.
By 2018, he could be battling Matt Moore and the aging duo of Clayton Kershaw and Cole Hamels for the title of top left-handed pitcher in the game.
As it stands, he's one of the few bright spots in a number of years to come out of what has been a perennially thin White Sox farm system.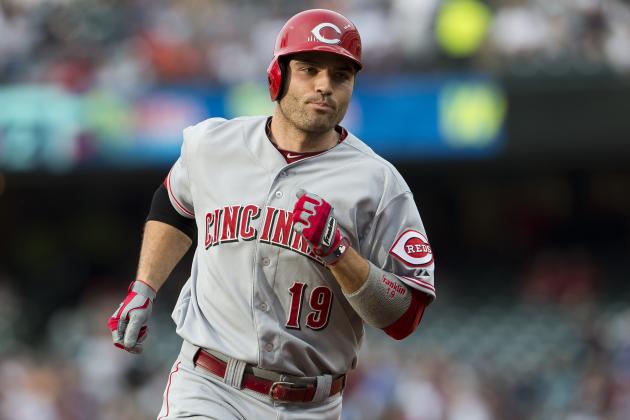 Jason Miller/Getty Images

Age in 2018: 34
Though he'll be entering the downswing of his career, I expect Votto to still be among the best in the game at the age of 34.
The Reds have him locked up through 2023 with an option for 2024, so it's a safe bet that he'll still be hitting in the middle of the Cincinnati lineup five years from now.
Had it not been for an injury last season, he would have had a great chance to add a second MVP award to his resume, and you can expect him to be in the hunt for the award for the next several seasons.
Speedy Billy Hamilton is an intriguing prospect, but I need to see a little more out of him before anointing him the future of the Reds.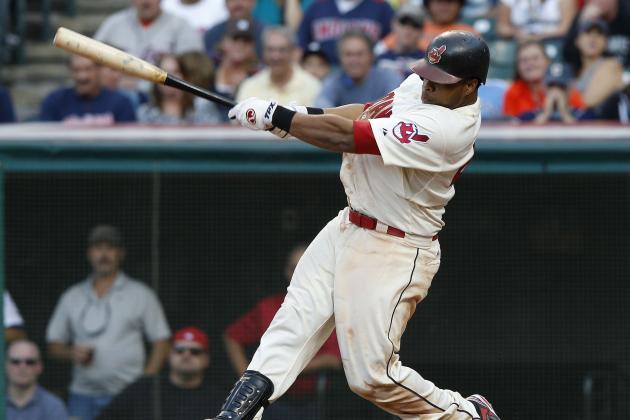 David Maxwell/Getty Images

Age in 2018: 32
To this point, Santana has yet to put together the monster season many were expecting out of him when he first became a regular in the Indians lineup.
With 90-plus walks each of the past two seasons, he has some of the best plate discipline in all of baseball.
However, his average is not where most expected it to be, as he's hit just .247 over his first three seasons in the big leagues.
Catchers tend to develop a little more slowly than other players, so this season could be a big step forward. A .275 BA, 30 HR, 100 RBI season in 2013 wouldn't be a huge surprise, and could be the norm for Santana by 2018.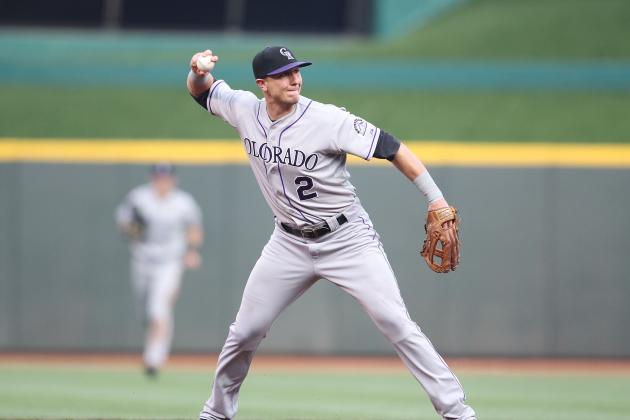 Andy Lyons/Getty Images

Age in 2018: 33
Last season was a lost year for Tulowitzki, as a groin injury limited him to just 47 games, but when healthy, he remains one of the best all-around players in baseball.
From 2009-2011, he averaged a line of .304 BA, 30 HR, 97 RBI and owns a pair of Gold Glove awards, as he was arguably the top player at his position.
The Rockies have him locked up through 2020, and while there have been suggestions that the team should shop him, nothing has materialized to this point.
If he's healthy to kick off the 2013 season, there is no reason why he shouldn't be right back to where he was before he was injured—one of the game's most exciting young talents.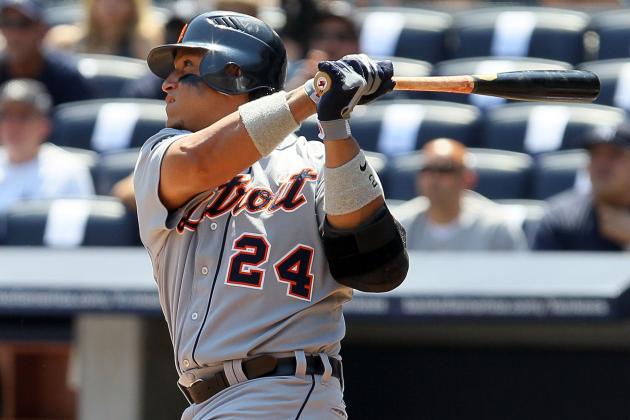 Jim McIsaac/Getty Images

Age in 2018: 35
Five years from now, both Miguel Cabrera and Justin Verlander will be 35 years old, and with no real superstar prospects on the horizon (prove me wrong Nick Castellanos), the decision here really came down to which one would be better five years from now.
I certainly wouldn't bet against Verlander, and he'll likely still rank among the game's best, but I expect Cabrera still to be producing at essentially the same level.
He could be approaching some serious milestones in 2018, as he should be around 475 home runs and 2,700 hits by that time, assuming he stays healthy and puts up similar numbers to what he has throughout his career.
He's a free agent at the end of the 2015 season, so there is the question of whether or not he'll still be in Detroit, but if the team is consistently winning, it won't be able to afford losing him.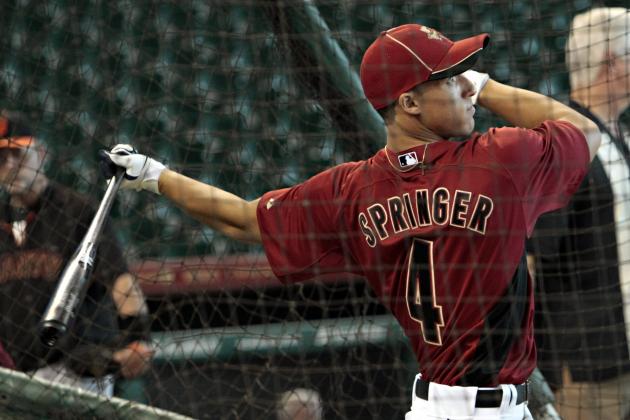 Bob Levey/Getty Images

Age in 2018: 28
Though he's not as highly regarded as Carlos Correa or Jonathan Singleton, I expect Springer to be the superstar of the Astros' rebuilding effort.
Correa will still be in the early stages of his big league career, and while I think Singleton will be a solid power hitter, I'm not yet sold on him hitting for a solid average at the big league level.
Springer was one of the top college bats in the draft when the Astros took him 11th overall in 2011, and he is a legitimate five-tool talent.
Those tools were on display between High Single-A and Double-A last season, as he hit a combined .302 BA, 24 HR, 87 RBI with 32 steals and a terrific .908 OPS. Similar numbers at the big league level five years from now are a real possibility.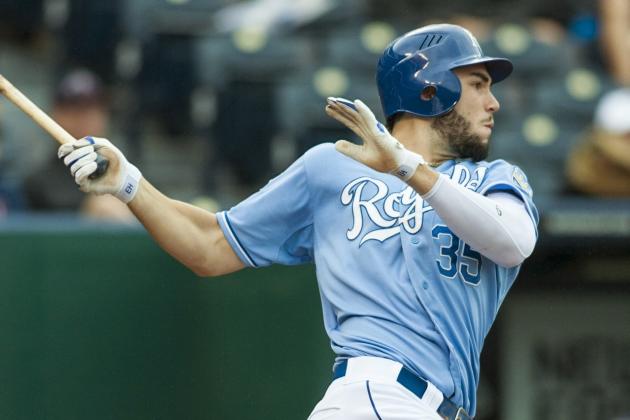 Tim Umphrey/Getty Images

Age in 2018: 28
After bursting onto the scene as a rookie in 2011 and hitting .293 BA, 19 HR, 78 RBI to finish third in AL Rookie of the Year voting, Hosmer took a big step backward last season.
His numbers slipped to .232 BA, 14 HR, 60 RBI, and he spent the later part of the season hitting in the bottom third of the lineup.
Which Hosmer will turn up in 2013? My money is on the future star that we saw in 2011, as he'll be counted on to anchor the young offensive core.
Believe it or not, Billy Butler will only be 32 years old five years from now, so he has a chance to take this honor as well, but I'll go with Hosmer turning it around and becoming a full-blown superstar.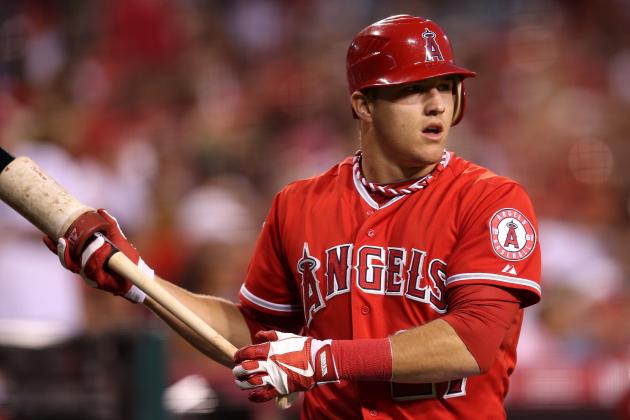 Stephen Dunn/Getty Images

Age in 2018: 26
Trout turned in arguably the best rookie season in the history of baseball last season, hitting .326/.399/.564 with 30 home runs, 83 RBI and AL-highs of 49 steals and 129 runs.
He posted the best WAR in all of baseball at 10.0, finished a controversial second in AL MVP voting to Triple Crown winner Miguel Cabrera, and did it all while playing the majority of the season at age 20.
As pitchers begin to adjust to him, he may come back down to earth a bit, but five years from now expect him to not just be the best player on the Angels, but one of the faces of the league.
It will be fun to watch the careers of Trout and Bryce Harper progress, as the two will be compared throughout their time in the big leagues.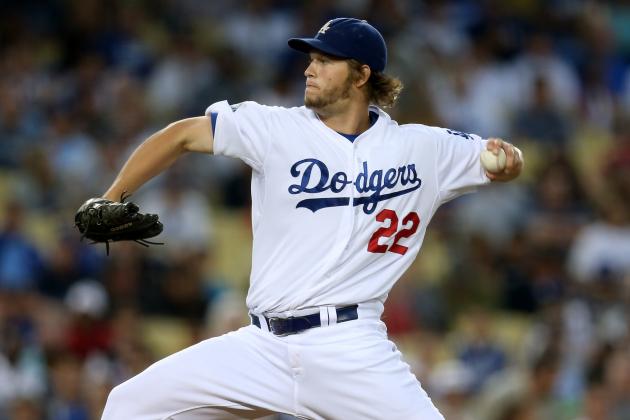 Stephen Dunn/Getty Images

Age in 2018: 30
That's right, Kershaw will only be 30 years old and still in the prime of his career five years from now; it's hard to believe how good he already is at such a young age.
With back-to-back ERA titles and an NL Cy Young already under his belt, Kershaw should continue to rack up the numbers and the accolades as the ace of the free-spending Dodgers staff.
He'll be a free agent after the 2014 season, and after Cole Hamels signed a six-year, $144 million extension last season, one has to wonder if Kershaw could be baseball's first $200 million pitcher.
If he keeps pitching like he has the past two seasons, he'll be worth every penny.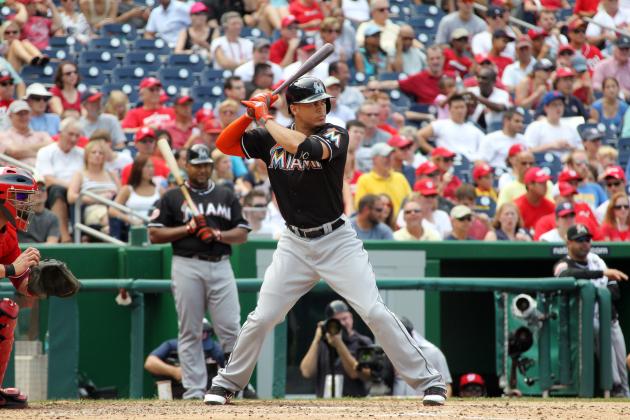 Ned Dishman/Getty Images

Age in 2018: 28
Home runs by Giancarlo Stanton before the age of 23: 93
Home runs by Ken Griffey Jr. before the age of 23: 87
Above stats put into perspective how good Stanton has been at such a young age; the scary thing is he could still get better. Significantly better.
Last season, he hit 37 home runs in just 449 at bats and saw his average spike 28 points from .262 to .290.
When he finally reaches his prime, he could legitimately be a .300 batting average, 50 home run guy for several seasons in a row.
The question is whether he'll be doing it in a Marlins uniform, as no one would be surprised to see him sign elsewhere when he hits free agency in 2017. He could also be traded before then, given that it is the Marlins we're talking about here.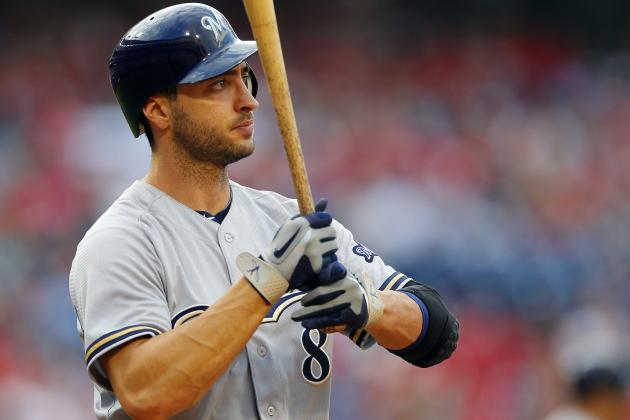 Rich Schultz/Getty Images

Age in 2018: 34
Though he'll be on the outskirts of his prime five years from now, Braun will still likely be the best player on the Brewers by a long shot.
The team has a number of solid prospects, but none that project as future superstars. Braun figures to be the face of the franchise through his current contract, which runs to 2021.
He may no longer be a 30-steal threat on the base paths by the time he's 34, but he is a good enough hitter that a .300 BA, 30 HR, 100 RBI season should be well within reach.
Braun could be putting together a strong Hall of Fame case five years from now if he keeps playing the way he has. He already has a career line of .313 BA, 202 HR, 643 RBI with 1,089 hits through his first six seasons.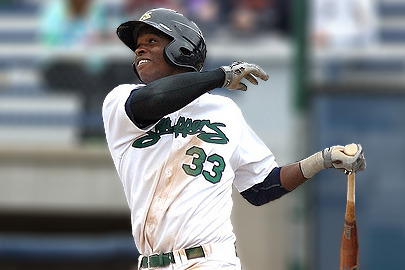 Photo Credit: MiLB.com
Age in 2018: 25
Though he'll likely still be in the early stages of his big league career five years from now, there is plenty of reason for excitement surrounding Sano's arrival.
As a 19-year-old in the Midwest League last season, he hit .258 BA, 28 HR, 100 RBI and showed plate discipline beyond his years with 80 walks and a .373 on-base percentage.
His power should continue to develop as he fills out, and he could be a legitimate 30 home run threat once he reaches the big leagues.
The Twins could be in for some major turnover in the years ahead as they begin to rebuild, and Sano is a cornerstone piece for years to come.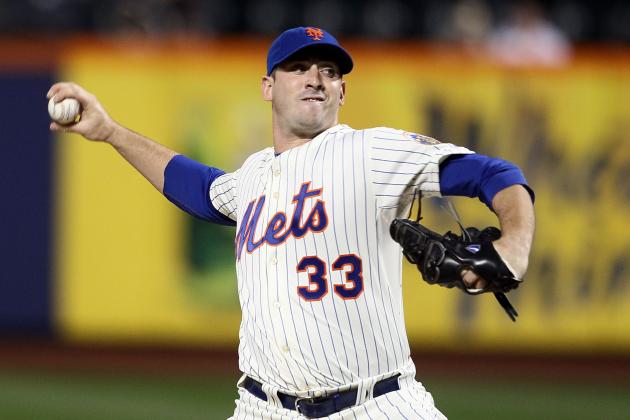 Alex Trautwig/Getty Images

Age in 2018: 29
It will be interesting to see where things stand with the Mets' starting rotation five years from now, as they have a number of prospects with the potential to be front-of-the-rotation arms.
Harvey and top prospect Zack Wheeler will likely be vying for the role of staff ace five years from now, and with Harvey ahead of the developmental curve and already with some big league success under his belt, we'll go with him as the choice.
The right-hander made his big league debut last season, going 3-5 with a 2.73 ERA and 10.6 K/9 over 10 starts, and he could emerge as the staff ace in 2013 with similar production.
Signed through 2020 after inking his big extension, it will be interesting to see what kind of player David Wright is in five years, when he'll be 36 years old.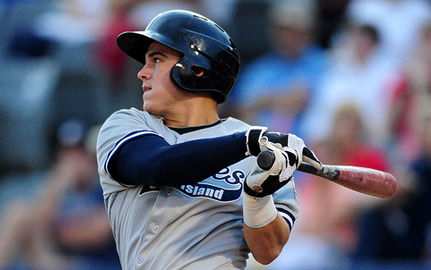 Photo Credit: River Ave Blues
Age in 2018: 26
The future is a cloudy one for an aging Yankees team, as its core of superstars will likely be on the downswing of their careers, and the team lacks a marquee prospect.
One player who appears to have the tools to be a superstar down the line is Tyler Austin, who hit .322 BA, 17 HR, 80 RBI with 23 steals and a .960 OPS.
He climbed four levels last season to end the year in Double-A, and he should be in line to take over in right field once Ichiro Suzuki's two-year contract is up at the end of 2014.
This will be a telling season in what will be his first full year above Single-A, but he looks the part of a future impact player with his bat.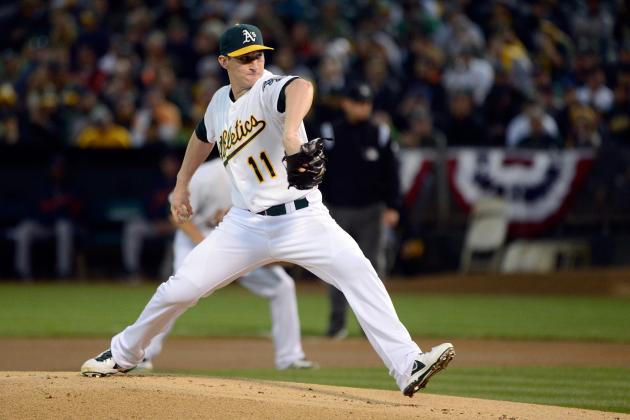 Thearon W. Henderson/Getty Images

Age in 2018: 29
Acquired from the Diamondbacks in the deal that sent Trevor Cahill to Arizona last offseason, Parker wound up being the better pitcher of the two in 2012.
The right-hander went 13-8 with a 3.47 ERA and a 1.263 WHIP, finishing fifth in AL Rookie of the Year voting and ending the season as the ace of the staff.
The A's organization is chock-full of young pitching talent, as guys like Tom Milone, Daniel Straily and A.J. Griffin all look to have bright futures ahead of them.
I expect Parker to be the best of the group, emerging as the clear-cut ace of what should be a terrific Oakland staff for years to come.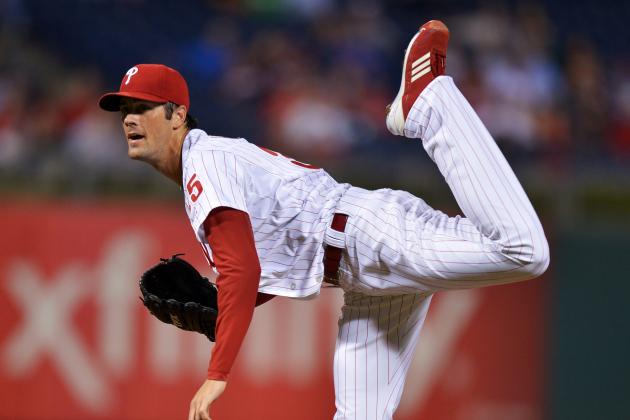 Drew Hallowell/Getty Images

Age in 2018: 34
Hamels has been the third guy to Roy Halladay and Cliff Lee for the last couple years, but five years from now he'll be the top dog on the Phillies staff.
Hamels signed an extension through 2018 with an option for 2019, so he's not going anywhere. He'll be a key piece of a rebuilding effort that could begin as soon as next season.
The left-hander has already put together a terrific career, going 91-60 with a 3.34 ERA and 8.5 K/9 in seven big league seasons.
As someone who relies heavily on a changeup rather than a blazing fastball, Hamels should be able to pitch at a high level well past age 30.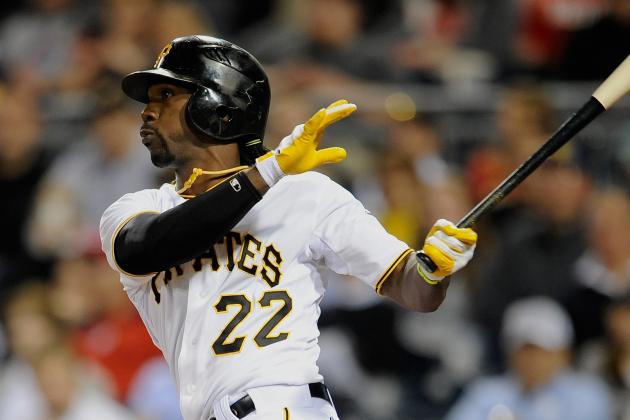 Joe Sargent/Getty Images

Age in 2018: 31
Top arms Gerrit Cole and Jameson Taillon could certainly step forward as top dogs in Pittsburgh five years from now, but there may be no safer bet to still be performing at a high level in 2018 than Andrew McCutchen.
The young star took a big step forward last season with career-highs across the board, hitting .327 BA, 31 HR, 96 RBI with 20 steals and a .953 OPS.
He single-handedly carried the Pittsburgh offense in the first half of 2012, and as he gets more consistent production around him, his numbers should only get better.
If and when the Pirates finally make it back to the postseason, McCutchen will likely play as big a role as anyone. He should be a legitimate NL MVP candidate for the foreseeable future.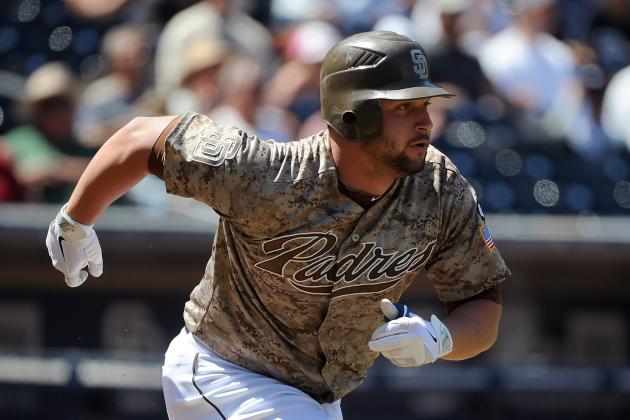 Lisa Blumenfeld/Getty Images

Age in 2018: 31
Last season, center fielder Cameron Maybin would have been a clear-cut choice for the Padres, but a disastrous 2012 season leaves his future in doubt.
Instead, I expect one of the two hitters the team got from the Reds for Mat Latos last offseason—catcher Yasmani Grandal and first baseman Yonder Alonso—to emerge as the team's star.
Alonso get the nod here, as Grandal will serve a 50-game PED suspension to kick off this season, and he still has some distance to go in developing to his full potential.
As the everyday first baseman last season, Alonso hit .273 BA, 9 HR, and 62 RBI. Perhaps the most telling stat was his 39 doubles, as one would imagine that at least a handful of those will turn into home runs in the years to come. He won't be a top-tier first baseman, but a .300 BA, 25 HR, 100 RBI season is certainly within reach.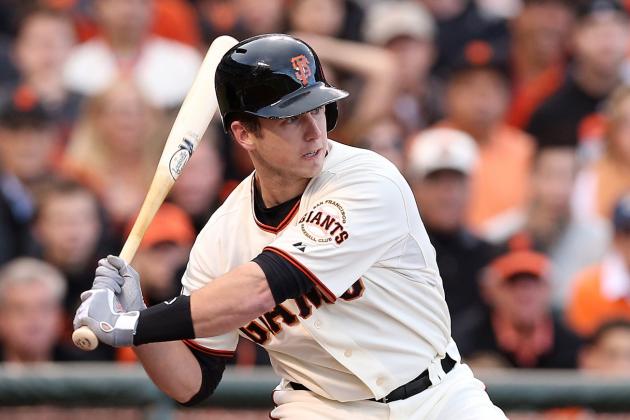 Christian Petersen/Getty Images

Age in 2018: 31
Whether or not he'll still be catching five years from now remains to be seen, but one way or another Posey will be making a major impact in the middle of the Giants lineup.
He won the batting title last season, hitting .336 BA with 24 home runs and 103 RBI, earning him NL MVP honors as he helped the Giants to their second title in three years.
He wouldn't have quite as much value as a first baseman, but based on the state of the minor league system in San Francisco, it is likely the team still will be leaning heavily on Posey to produce five years from now.
Left-hander Madison Bumgarner is one to watch as well, as he'll be just 28 years old in 2018, and will likely be the ace of the Giants staff at that point. He already has 36 big league wins under his belt over parts of four seasons.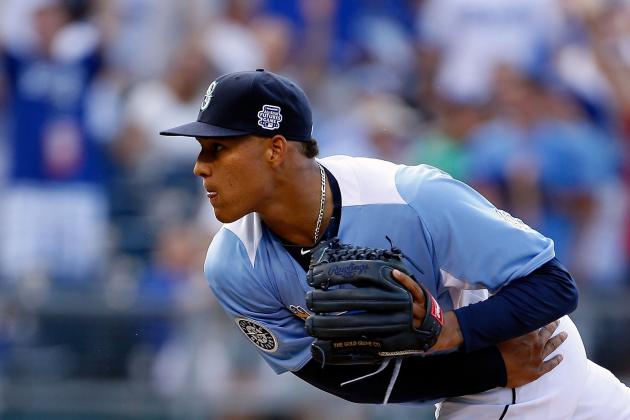 Jamie Squire/Getty Images

Age in 2018: 25
The Mariners have as bright a future as any team in baseball, and they have a wave of top- tier prospects getting ready to make big league debuts this coming season.
Starters Walker, Danny Hultzen and James Paxton, shortstop Nick Franklin and catcher Mike Zunino are All-Star caliber players, and five years from now they could make the Mariners legitimate contenders.
Zunino is the safest bet to emerge as a star, but no one has a higher ceiling than Walker, as he could pass Felix Hernandez as the ace of the staff five years from now.
A top basketball recruit in high school, Walker started focusing solely on baseball two years ago, and last season he held his own as a 19-year-old in Double-A. With more experience and development, the sky is the limit for Walker.
David Welker/Associated Press (via ESPN)
Age in 2018: 26
A .321 BA, 23 HR, 94 RBI season at Double-A would likely be enough to make any player a top prospect, but when that player is only 20 years old, there is reason for serious excitement.
Taveras put up those numbers in a full season with Double-A Springfield last year, and showed phenomenal plate discipline with a 42/56 K/BB ratio, good for a .380 OBP and .953 OPS.
With a strong performance to open the 2013 season, he could supplant John Jay as the Cardinals everyday center fielder by midseason.
Don't sleep on right-hander Shelby Miller either. He's seemingly been the Cardinals top prospect forever, but he's still just 22 years old, and he put together a stellar full season at Triple-A last season. He's got ace-caliber stuff and should be fronting the staff five years from now.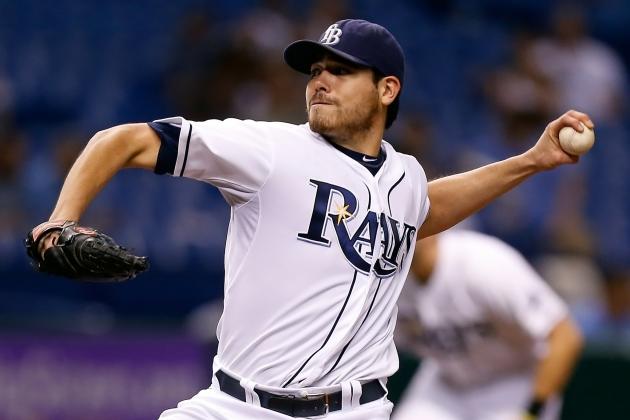 J. Meric/Getty Images

Age in 2018: 29
Expectations were high enough for Moore entering last season that an 11-11, 3.81 ERA, 175 Ks season was legitimately disappointing.
All things considered, those are stellar numbers for a 23-year-old rookie, and Moore should only get better in the years to come.
His 700 strikeouts over 497.1 minor league innings speaks to the type of frontline stuff that he possesses. With a David Price trade very likely in the upcoming years, Moore should step into the role of staff ace long before 2018.
I'm still not 100 percent sold on Wil Myers yet, as his .314 BA, 37 HR, 109 RBI line last season masked the fact that he struck out 140 times. Those holes in his swing will be magnified at the next level, and he'll need to adjust to be a legitimate superstar.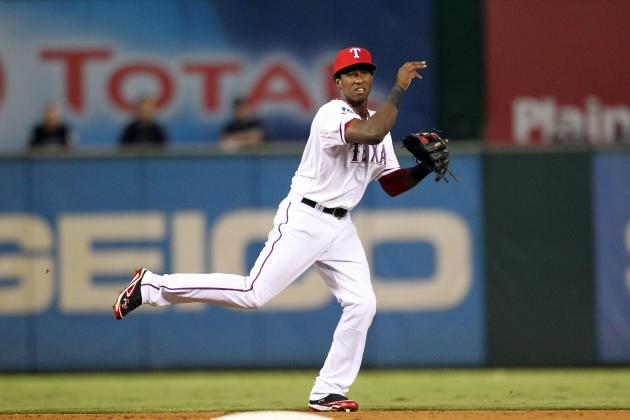 Layne Murdoch/Getty Images

Age in 2018: 25
Profar made his big league debut last season, and five years from now he'll be the age that many players are when they break into the league. That shows just how far ahead of the curve Profar is.
He may have to settle for another season in the minors this year, but he'll be an everyday player one way or another by 2014.
There is no facet of the game at which he doesn't project to excel, and as his 6'0' and 165-pound frame fills out he should develop some serious power. He managed 14 home runs and 26 doubles in a full season at Double-A last season.
If the Rangers can find a way to work Profar and Elvis Andrus, who will be just 29 five years from now, into the lineup together, they will likely be the league's top double play combination by 2018.
Tom Szczerbowski/Getty Images

Age in 2018: 28
The Blue Jays mortgaged a large chunk of their future this offseason in blockbuster trades with the Mets and Marlins, but they still have at least one future superstar in Lawrie.
Acquired from the Brewers during the 2011 offseason for right-hander Shaun Marcum, Lawrie managed to put up a 3.5 WAR over just 43 games during his debut in 2011.
Like the rest of the Toronto roster, he battled injury last season and finished with a .273 BA, 11 HR, 48 RBI line, adding 13 steals as well.
His breakout season is on the way, and whether it is 2013 or sometime after that, he should be among the top all-around players in the American League five years from now.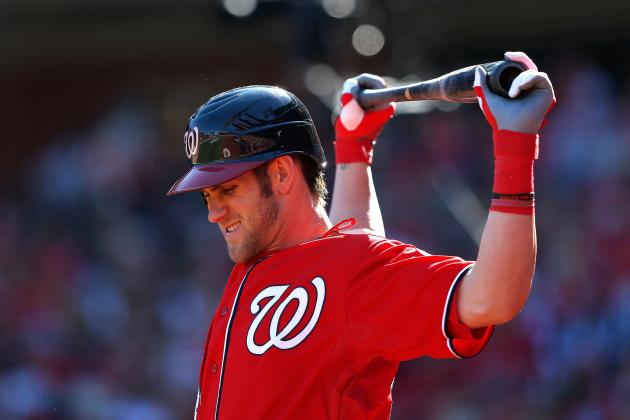 Jamie Squire/Getty Images

Age in 2018: 25
A baseball prodigy since the age of 16, Harper did not disappoint in his debut season, hitting .270 BA, 22 HR, 59 RBI with 22 steals as a 19-year-old to capture NL Rookie of the Year honors.
He'll look to avoid the dreaded sophomore slump this coming season, but even if he does struggle, there is no denying his tremendous upside. He should be a force five years from now.
As his power develops, he is a legitimate home run title contender, and if he can cut down his strikeouts a bit, he should be a perennial .300 hitter as well.
Expect him and Mike Trout to be the face of Major League Baseball five years from now. Love him or hate him, it will be fun to watch Harper's career progress.