5 Draft Prospects the Green Bay Packers Would Love to Target in the First Round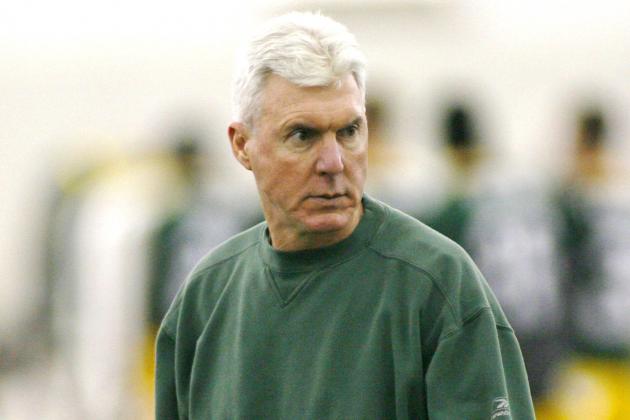 Darren Hauck/Getty Images

It's official. Now that the Green Bay Packers have been taken out of the 2012 NFL postseason by the San Francisco 49ers in convincing fashion, the Packers will have the 26th pick in the first round of the 2013 NFL Draft.
The draft process has started. The Packers did lose a key piece of their front office, when John Dorsey left the Packers to take over as general manager of the Kansas City Chiefs on January 12th. Dorsey played a key role in evaluating prospects when he was director of college scouting for 12 years, before becoming director of football operations this past year.
However, Ted Thompson still has a very solid scouting staff working beneath him.
The process starts this week at the East-West Shrine Game in St. Petersburg, Florida, and then a week later with the Senior Bowl.
After that, there is the NFL Scouting Combine, and then the Pro Day workouts by the various prospects.
Some players will add to their draft stock in this process, while others will see their value go down.
Looking at the needs of the Packers, and who might be available at the 26th pick in the draft, I've listed five players who the Packers would love to see on the board when it's their time to pick in the first round.
Begin Slideshow

»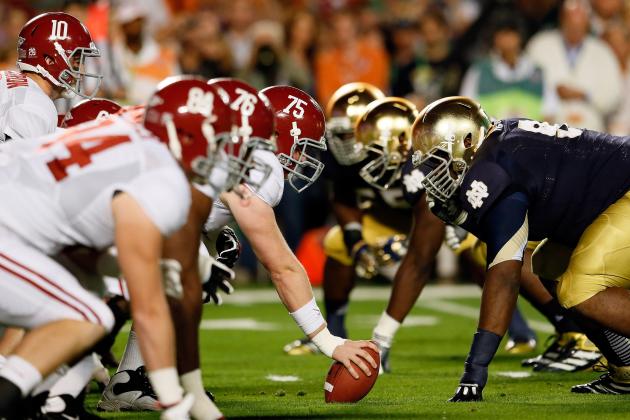 Kevin C. Cox/Getty Images

Height: 6'4"
Weight: 305
Barrett Jones played center his senior year at Alabama, but has played both guard and tackle earlier in his Crimson Tide career, and he played those positions very well.
Jones won two very prestigious awards this year: the 2012 Rimington Trophy (best center in college football) and the 2012 William V. Campbell Trophy (best scholar-athlete in the nation).
Was also named All-SEC by both the coaches and writers as the first-team center in 2012, plus was just named to the first-team of the Associated Press All-American team.
Jones played on three national championship teams at Alabama, and he played a different offensive line position on each one of those teams.
Jones played left tackle in 2011, was named All-American and All-SEC and won the 2011 Outland Trophy. Alabama also won the national championship.
In 2009 and 2010, Jones played right guard, including his freshman year, when Bama won yet another national title.
Jones and the Alabama offensive line dominated Notre Dame in the recent BCS Championship Game, when the Crimson Tide had 525 total yards in a 42-14 blowout win over the Fighting Irish.
Jones could help the Packers at a number of positions on the offensive line, due to his versatility. The Packers need quality depth at the center position, and Jones would certainly provide that.
It is expected that Jones will be selected late in the first round or early in the second round.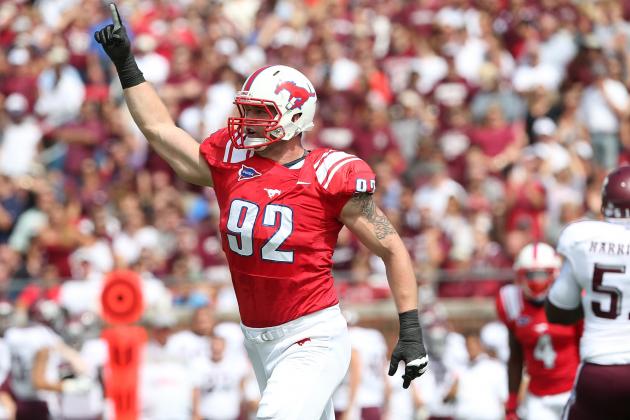 Ronald Martinez/Getty Images

Height: 6'7"
Weight: 285
Margus Hunt had a very good senior year for SMU, as he had 28 tackles, six sacks, one interception, two pass deflections and three blocked kicks in the regular season. Hunt followed that up with a great performance in the Hawaii Bowl against Fresno State, as he had a sack for a safety, plus two forced fumbles in a 43-10 win for the Mustangs.
Hunt is still raw, but he keeps improving, both in rushing the passer and in stopping the run. He has the frame to add weight as well. He has excellent speed for his size, a massive 82-inch wing span and was named to the 2012 All-Conference USA first-team.
Hunt is sort of the modern day version of Ted Hendricks with his kick-blocking ability. He blocked 17 kicks in his career at SMU.
The Packers need quality depth on the defensive line, as Ryan Pickett isn't getting any younger, and Jerel Worthy just had knee surgery.
The Packers also want a defensive end that has the prototypical height (6'5" or better) for the position.
Hunt is quickly moving up the draft boards, and it would not be a shock if he was picked late in the first round, especially after a strong showing in the Senior Bowl.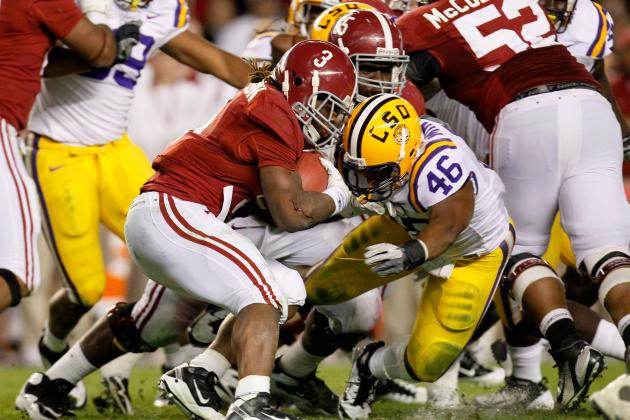 Kevin C. Cox/Getty Images

Height: 6'1"
Weight: 245
Kevin Minter is considered to be the third-best inside linebacker in the draft, only behind Manti Te'o and Alec Ogletree, who both will probably be off the board when the Packers have their selection at No. 26.
Minter had a fabulous junior season at LSU, as he had 111 tackles, with 13.5 tackles for a loss, three sacks, five passes broken up, an interception and a forced fumble. That production led Minter to be named first-team All-SEC.
Minter is a physical and intense linebacker who is always attacking the line of scrimmage.
The Packers may not bring back left inside linebacker A.J. Hawk in 2013, due to his contract ($5.45 million), plus both Desmond Bishop (hamstring) and D.J. Smith (knee) were lost for the season because of injuries.
Brad Jones, who took over at right inside linebacker after Bishop and Smith were injured, is an unrestricted free agent. Terrell Manning had a rough rookie season due to illness and injuries, while Robert Francois is a restricted free agent.
It is expected that Bishop will be completely healthy for training camp in 2013, and someone like Minter might be playing next him at inside linebacker, depending on what happens this offseason.
Streeter Lecka/Getty Images

Height: 5'10"
Weight: 220
In the 2013 NFL draft, some believe a running back won't be taken in the first round of the draft. However, if any running back should be, it's Eddie Lacy, who ended his collegiate career with an exclamation point in the BCS Championship Game.
Lacy rushed for 140 yards on 20 carries, had a touchdown for the Crimson Tide, caught two passes for 17 yards and had another score as Alabama whipped Notre Dame 42-14.
Before that, Lacy rushed for 181 yards in the SEC Championship Game against Georgia.
For the season, Lacy rushed for 1,322 yards (6.4 average) and had 17 touchdowns.
The Packers have all sorts of questions at running back. Veterans Cedric Benson and Ryan Grant will probably not be back. James Starks has been injured too often in his three years in the NFL, while Alex Green has ability, but his ACL injury from 2011, set him back late in the 2012 season, due to some scarring issues.
The Packers were pleased with the emergence of DuJuan Harris late in the 2012 season and in the playoffs, but because of Harris' size (5'7", 208 pounds), the Packers aren't sure he could handle the role of full-time running back.
Lacy would be an excellent back to pair with Harris, as he is a powerful, inside-the-tackles, running back. Lacy also catches the ball well.
The Packers improved their rushing offense from 27th in 2011 to 20th in 2012, but it still needs to improve.
Aaron Rodgers almost always saw opposing defenses playing their safeties deep, because the Packers did not have much of a threat in the running game. That would change with Lacy.
Height: 6'2"
Weight: 205
The Packers might have a changing of the guard at the wide receiver position. Veteran Donald Driver is most likely going to retire. Unrestricted free agent Greg Jennings also will be probably be gone, unless the team uses the franchise tag on him.
If that is the case, I expect Ted Thompson to select a wide receiver early in the draft, which has been his modus operandi in Green Bay.
Since Thompson became general manger in 2005, he has selected a wide receiver (Terrence Murphy, Greg Jennings, Jordy Nelson and Randall Cobb) in the second round four times and drafted James Jones in the third round.
Depending on the board at the time the Packers pick in round one, Thompson might be interested in selecting wide receiver Terrance Williams of Baylor.
Williams has excellent size and speed and led the nation in receiving yardage in 2012, with 1,832 yards to go with 97 receptions and 12 touchdowns.
The two previous seasons, with Robert Griffin III as his quarterback, Williams totaled 102 catches and had 15 touchdowns.