10 Pitching Prospects Ready to Take the Largest Leaps in 2013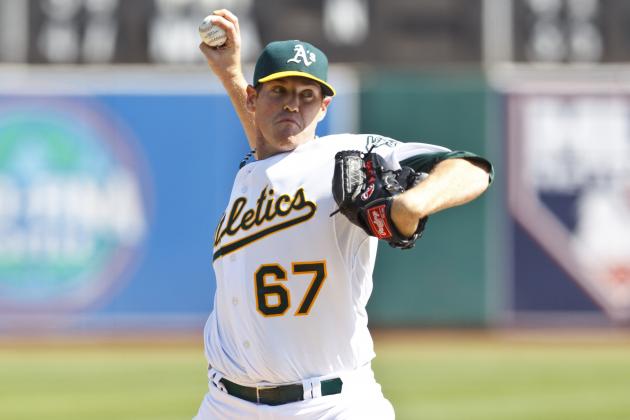 Jason O. Watson/Getty Images
Dan Straily (A's): In 2012, the right-hander went from pop-up prospect to big-league starter for a contender.
Each year, there are lower-level pitching prospects who narrow the gap between their present abilities and future potential, and as a result emerge as a highly projected prospect.
Usually, it's someone who has battled injuries early in his career or simply a young, unrefined pitcher who suddenly puts everything together (stuff, command, consistency).
Examples from 2012 of pitchers who fit this mold include Aaron Sanchez, Jesse Biddle, Dan Straily, Nathan Karns and Trevor Rosenthal. Each of the aforementioned players was regarded as an intriguing pitching prospect heading into last season, but vaulted into the rankings with a strong campaign.
Looking ahead at the 2013 season, I've identified 10 pitching prospects who I believe will gain invaluable experience and take a huge step forward with their overall performance.
Since some of these players already rank within their organization's top-10 prospects, I've included scouting notes from their original profile.
Begin Slideshow

»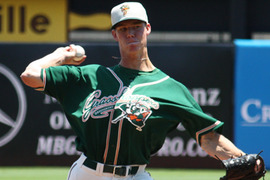 Courtesy of MiLB.com
Overview: Brice made his full-season debut in 2012 after back-to-back years in the rookie-level Gulf Coast League. The 6'4", 205-pound right-hander registered a 4.35 ERA and 10.0 K/9 in 109.2 innings at Low-A Jupiter; 5.6 BB/9 and 1.1 HR/9 leave plenty of room for improvement.
Scouting Report: Mechanics are inconsistent and sloppy; rips open with his front side; hasn't learned to utilize his lower half; entire arsenal needs refinement; high ceiling, but needs to start closing developmental gap.
Right-hander's power arm yields a plus fastball that ranges anywhere from 91-97 mph; consistently registers towards the lower end of velocity range; delivers pitch on solid downward plane; curveball has sharp downer bite; inconsistent pitch; changeup is present but nothing special, and will be crucial towards his overall development.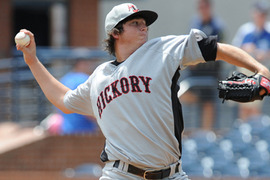 Courtesy of MiLB.com
Overview: After registering a 5.64 ERA in his professional and full-season debut for Low-A Hickory in 2011, Jackson repeated the level last season with better, but not ideal, results. The 20-year-old posted a 4.92 ERA with 72/33 K/BB in 64 innings, followed by a 4.39 ERA with 74/32 K/BB in 65.2 innings for High-A Myrtle Beach.
Scouting Report: 6'2" right-hander works shoulders and release point to consistently throw on downward plane; too much wasted movement in delivery and long arm on the backside hinders overall command; struggles to demonstrate balance throughout delivery and fails to finish pitches with consistency; tons of upside once he cleans things up and gains a better feel for delivery.
Fastball sits at 93-95 mph and is thrown with weight on steep angle; can scrape 96-97 mph and holds velocity deep into starts; curveball is a hammer when he's not spiking it or losing his release point to the arm side; changeup will be an ongoing work in progress but should represent at least a third average pitch.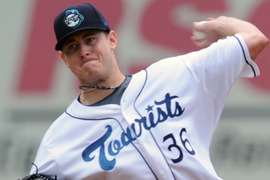 Courtesy of MiLB.com
Overview: Matzek bounced back from a dismal 2011 season in which he walked the world and even took a short break from baseball; spent entire 2012 season at High-A Modesto and registered a 4.62 ERA and 9.7 K/9, though it was somewhat tainted by a 6.0 BB/9.
Scouting Report: Still a big fan of his frame and pure stuff; a lot of his struggles are mental at this point; mechanics are surprisingly efficient; fails to repeat release point with consistency; doesn't utilize lower half in order to execute pitches.
Command is still below-average, though he does boast a deep, swing-and-miss arsenal; potential for three above-average-to-plus pitches; fastball is a present plus when he can command it, though his velocity varies from start to start; curveball and slider both have depth and flash plus potential with tight break; love the difference in speed between fastball and changeup; there's something to be said for his eagerness to work through issues without skipping starts.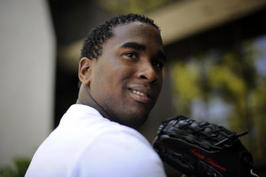 Courtesy of sbsun.com
Overview: The 6'3", 220-pound southpaw defected from Cuba in early 2011 with the hope of becoming an international free agent. He entered into the 2011 draft but pulled his name out of the mix shortly thereafter; he was entered in the draft again in 2012 but this time was drafted in the third round by the Dodgers. His frame involves little projection and he's already 23 years old, but still has a fairly high ceiling.
Scouting Report: Garcia's fastball sits 90-93 mph and noticeably sneaks up on opposing hitters; his plus curveball is a hard downer with a pace that's difficult for opposing hitters to time, though he struggles to throw it for a strike early in the count; at the same time, it's a legitimate out pitch and induces lots of whiffs; the development of his changeup is what will ultimately determine whether he'll be a starter or reliever; given his age and the fact that he made his pro debut at High-A, Garcia could have a quick ascent to the major leagues.
Courtesy of MiLB.com
Overview: Johnson was excellent this past season at both Low-A (2.30 ERA, .232 BAA) and High-A Winston-Salem (2.74 ERA, .225 BAA). He especially stands out given the White Sox's dearth of projectable pitching prospects.
Scouting Report: Large, durable frame at 6'3", 240 pounds; has an impressive arsenal that he's still gaining a feel for; will need to refine secondary pitches as he develops; fastball usually sits in low-to-mid-90s with some life to the arm side; throws a pair of impressive breaking balls in a slider with tilt and sharp break, and a curveball with some downer action; still gaining a feel for his changeup, which should be at least an average pitch by the time he reaches the major leagues.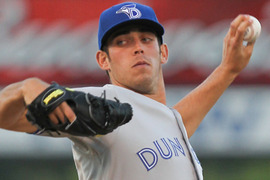 Courtesy of jaysprospects.com
Overview: The 6'5" left-hander had a monster season at High-A Dunedin in the Florida State League, registering a 2.19 ERA with 90/21 K/BB in 86.1 innings. Nolin was promoted to Double-A New Hampshire to finish the season and was equally as sharp with a 1.20 ERA and 18/6 K/BB in 15 innings.
Scouting Report: Perennially underrated southpaw who may be a steal as a former sixth-round draft pick; tall, physically mature pitcher with repeatable mechanics, deception and deep arsenal; expect him to start moving quickly this next season as he'll be 23 with considerable experience.
Adept to adding and subtracting from his 88-95 mph fastball and commands it well to both sides of the plate; changeup is a second plus offering thrown with deception, especially when used off his well-located fastball; slider has the makings of a legitimate out pitch and he's comfortable using it to back-foot right-handed hitters; curveball has some depth and he's comfortable using it to get ahead in counts.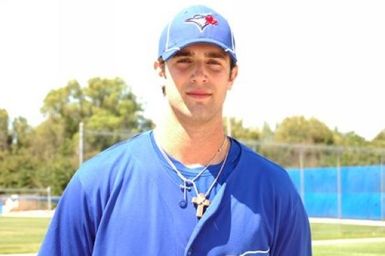 Courtesy of jaysprospects.com
Overview: 6'2" left-hander showed the pure stuff in pro debut that had him regarded as the top prep southpaw in 2011 draft class. Granted it's a small sample, but Norris struggled to the tune of an 8.44 ERA with 58 hits allowed and 43/18 K/BB in 42.2 innings.
Scouting Report: Mechanics are highly inconsistent and he struggles to repeat his delivery and release point; obvious lack of feel for controlling running game; can unravel with runners on base; Norris' fastball works in the low-90s, though he's capable of reaching the mid-90s when his mechanics are in sync; curveball has plus break though he lacks the command to make it effective at the moment; has the makings of an above-average changeup but command and feel will need considerable refinement moving forward; it may take him much longer than expected to reach the major leagues, but it should be worth it once he does.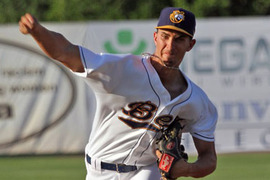 Courtesy of MiLB.com
Overview: Acquired by the A's from the Nationals in the Gio Gonzalez trade prior to the 2012 season, Cole struggled mightily at High-A Stockton with an 0-7 record and 7.82 ERA. He was demoted to Low-A Burlington where he righted the ship and registered a 2.07 ERA with 102/19 K/BB in 96 innings.
Scouting Report: 6'4" right-hander has a highly projectable frame with the ability to add strength, especially to his lower half and core; fastball sits low-to-mid-90s with natural sink; curveball flashes plus break when thrown with consistency; changeup noticeably improved last season; has a better feel for the pitch than his breaking ball; cleaned up mechanical issues that plagued him at High-A Stockton following demotion; his exceptional upside and pure stuff profiles as a potential No. 1 or 2 pitcher in the major leagues; it may take him some time to get there, but it should be worth the wait.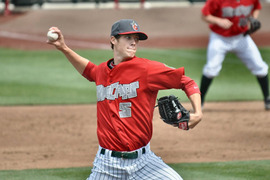 Courtesy of MiLB.com
Overview: A seventh-round draft pick out of high school in 2011, Wisler has a chance to be a major sleeper. He's highly advanced for his age in terms of both stuff and command, and he enjoyed an impressive full-season debut last season at Low-A Fort Wayne, registering a 2.53 ERA with 113/28 K/BB in 114 innings. He limits baserunners while missing bats.
Scouting Report: Projectable, 6'3", 175-pound frame; repeatable delivery with a clean arm action; free-and-easy fastball velocity that sits in the low-to-mid-90s; will top out at 95-96 mph with late life; impressive secondary arsenal; curveball and change are both potential above-average offerings, and he showcases advanced command of both; makings of an average slider; impressive polish for age could have him moving quickly beginning next year; projects as a mid-rotation starter in the major leagues.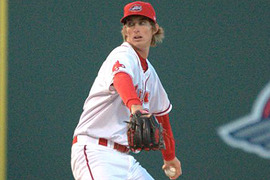 Courtesy of MiLB.com
Overview: Owens made both his professional and full-season debut last season for Low-A Greenville in the South Atlantic League. An inexperienced and understandably raw prospect, he registered a 4.87 ERA with 130/47 K/BB in 101.2 innings.
Scouting Report: 6'6" left-hander projects through the roof, but it may take him a while to get anywhere close to his high ceiling; despite long, lanky frame, Owens repeats his mechanics better than any stats suggests; has huge stride towards the plate that aids his overall deception and, in turn, makes his entire arsenal play up; really like his arm angle and ability to deliver on a downward plane.
Strikeout artist with an impressive three-pitch mix; fastball typically sits at 88-92 mph and can be difficult for hitters to pick up out of his hand; will occasionally flirt with 94-95 mph; breaking ball flashes above-average potential and he's adept to adding and subtracting when necessary; would like to see him use it to back-foot right-handed hitters with more consistency; changeup is best secondary pitch and projects as a legitimate plus offering; command of overall arsenal is shaky at the moment, but his athleticism and mechanics suggest it will improve as he develops.