2013 NFL Free Agents: Most Crucial Re-Signing for Every Franchise This Offseason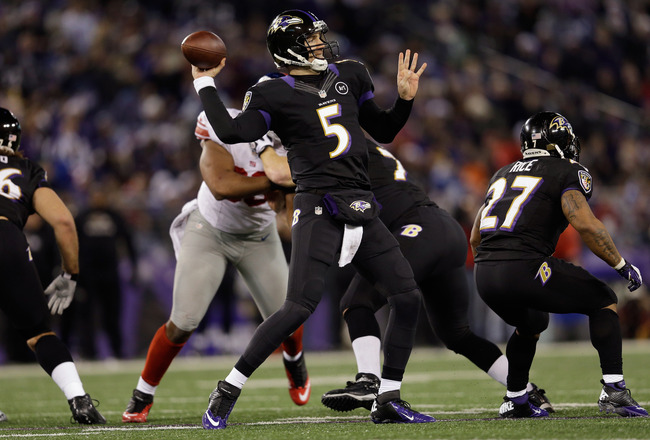 Rob Carr/Getty Images
For 20 of the 32 NFL teams the season is over. There's no playoffs, and in some cases no more job. The thought process then moves to the roster. Who do you keep? Who is coming out of college this year? Who are the top free agents available? Playoff teams face this also, but right now they have bigger things at stake.
Come March 12, 2013 at 4:00 PM, all eyes will be on the free agency period and getting ready for the new league year.
Every team will have a number of free agents coming available this offseason and all of them have certain players who they will have to decide if this player is critical enough to their success to hang on to. With that said, here's a list of a critical free agent signings that each team must consider.
Arizona Cardinals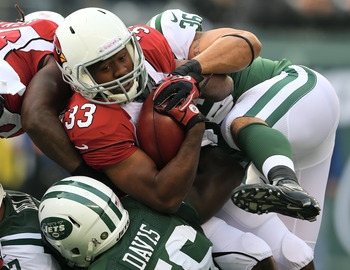 Elsa/Getty Images
William Powell – RB (RFA)
Despite being protected by the worst offensive line in football—58 sacks surrendered, 3.4 yards per carry as a team, both ranked 32nd in the NFL—the undrafted first-year running back out of Kansas State has shown a lot of promise on a very dismal offense.
Powell averaged 5.9 YPC in the preseason and scored 3 touchdowns. While getting only limited opportunities in the regular season, he made the most of the opportunities.
He averaged a combined 4.5 YPC in the two games in which he received double-digit carries, as well as leading the team in kick return yards (507) and return yard average (24.1).
If the reports of former Eagles Andy Reid being the front-runner for the Cardinals job are true, Powell's ability to catch passes out of the backfield could make him a valuable asset in Reid's West Coast Offense.
With so many pieces to address on offense, a potential asset who will likely come cheap could be a good starting point.
Atlanta Falcons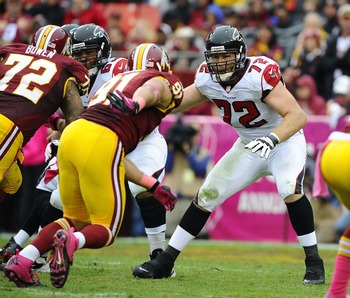 Brad Mills-USA TODAY Sports
Sam Baker – T (UFA)
The Falcons moved up to select Baker with the 21st overall pick in 2008. Since that time he's started 57 of 66 games and has served as the primary protector of quarterback Matt Ryan's blind side.
He's been a featured part of an offensive line that has not given up 30-plus sacks in any season during his five-year career and has consistently ranked in the top 10 in that category.
Baker's role is even more important now that the Falcons have moved to a more pass-oriented offense, dropping from 12th in the league in rushing yards in 2010 to 29th in 2012 while passing yards have gone from 15th to sixth in the same time span.
If the Falcons hope to be a consistent championship contender, Ryan must stay healthy. For Ryan to stay healthy, he must be protected.
Baltimore Ravens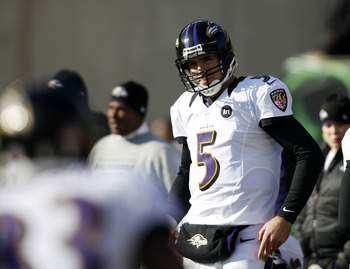 Frank Victores-USA TODAY Sports
Joe Flacco – QB (UFA)
The ongoing battle with Joe Flacco and his contract has now reached DEFCON 3. The Ravens brass and GM Ozzie Newsome need to face facts and realize that Flacco IS NOT Trent Dilfer and this IS NOT the Ravens defense of 2000.
The offense now leads this team. Flacco has consistently thrown for over 3,600 yards, 20 TDs and 57 percent pass completion for the last four seasons. His season-long passer rating has never been lower than 80.3 and he's never thrown more than 12 interceptions in a season.
Is he an Aaron Rodgers or Drew Brees? Not at the moment, but new offensive coordinator Jim Caldwell could be the one to change that. Flacco will likely get franchise-tagged, unless the Ravens are crazy enough to tag 34-year-old, constantly-speaking-of retirement-Ed Reed instead.
If Flacco does go to free agency two things will happen: a number of suitors will be waiting for a chance to grab him, and the Bengals will cheer as they will now only need to compete with Pittsburgh in the division.
Buffalo Bills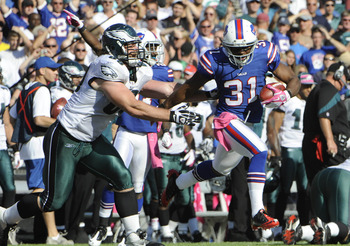 Richard Mackson-USA TODAY Sports
Jarius Byrd – S (UFA)
A second-round pick in 2009, Jarius Byrd has performed well despite playing on a putrid defense. Aside from his rookie season, Byrd has consistently finished the season in the top four on the team in tackles.
He has also led the team in interceptions twice in his four seasons—2009 and 2012—and ranked in the top 10 in the league in those same seasons—first in 2009 and seventh in 2012. Byrd also finished 2012 tied for 10th in the NFL in forced fumbles.
As the Bills go through a coaching change, much focus will be placed on what to do with Ryan Fitzpatrick and the direction of the offense.
However, given that the Bills defense finished 10th in the NFL against the pass, the new regime will want to keep some continuity as well as keeping a player as solid and as young as Byrd.
Carolina Panthers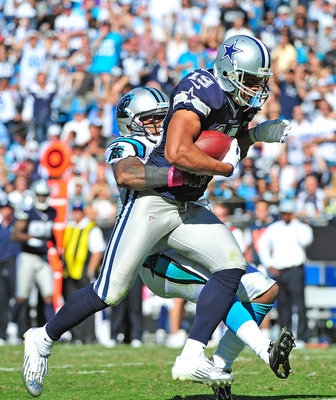 Grant Halverson/Getty Images
Captain Munnerlyn – CB (UFA)
Aside from having one of the coolest names in the NFL, Captain has worked his way from a seventh-round pick in 2009 to a starter in the Carolina defensive backfield.
A decent cover and return man—nine passes defended, two interceptions returned for touchdown—Munnerlyn will likely be looking for a large raise over the initial four-year $1.8 million contract he signed in 2009.
While Munnerlyn has performed well, he's probably better suited as a nickel which would make him still a regular contributor on defense but with a smaller payday.
Chicago Bears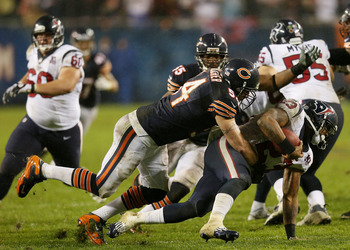 Jonathan Daniel/Getty Images
Brian Urlacher – LB (UFA)
Losing head coach Lovie Smith has shaken the Bears' locker room, especially the defense. The last thing they want to do is to part ways from their on-field leader who at age 34 is still producing.
He missed four games this season due to a hamstring injury. In the two seasons prior, he tallied over 100 tackles and at least seven passes defensed.
Similar to Ray Lewis, Urlacher could receive one last contract to keep him in Chicago until he retires.
Cincinnati Bengals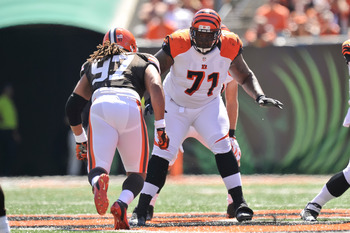 Jamie Sabau/Getty Images
Andre Smith – T (UFA)
After an unimpressive as well as disturbing-to-watch display at the 2009 NFL combine, Andre Smith went from a potential No. 1 pick to possibly falling out of the top 10.
The Bengals decided to take a chance at No. 6 and while it took some time, drafting Andre Smith appears to be paying dividends. He's started 35 of 43 career games, including starting his last 30 contests. His strength has been as a run blocker at the right tackle position.
In 2011, Cedric Benson had his highest YPC when rushing to the right side (4.1) and scored three of his six rushing touchdowns. In 2012, BenJarvus Green-Ellis had even greater success with 5.1 YPC and two touchdowns.
Smith is just starting to reach his potential (and fortunately erasing the painful memory of the 2009 combine).
Cleveland Browns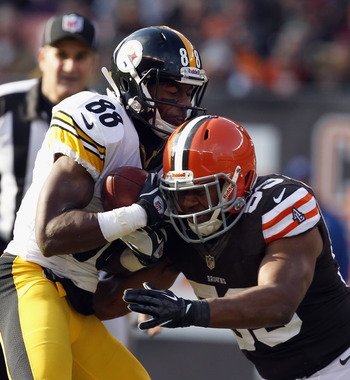 Matt Sullivan/Getty Images
Craig Robertson – LB (RFA)
Undrafted, spent 2011 on the practice squad, yet Robertson has made a huge name for himself. Robertson started only three games in 2012, however he finished second on the team in tackles and chipped in two interceptions and two fumble recoveries.
One of his best performances was a 14-tackle performance against Denver in Week 15. In primarily a back-up role, Robertson has proven himself to be a huge asset on defense.
One of the strikes mentioned against him is his small size, but his vision, agility and field-awareness have made him successful so early in his career.
With the right coaching from whichever the incoming regime is, he could be a defensive stalwart in a short period of time.
Dallas Cowboys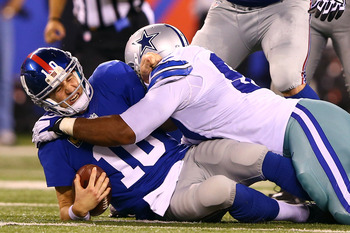 Al Bello/Getty Images
Anthony Spencer – LB (UFA)
Spencer has been a force on the Cowboys defense for a number of years now. He's posted at least five sacks in each of the last four seasons.
In 2012, he led the Cowboys with 95 tackles as well as 11 sacks—tied for ninth in the NFC in sacks. Spencer has also stepped up when it matters most. In order for Tony Romo to have those late game opportunities, the defense needed to do their part and Spencer did just that.
5.5 of his 11 sacks in 2012 came in the fourth quarter of games decided by seven points or less. He played under the franchise tag in 2012 and no doubt did himself a favor having such a great season in a contract year.
He will certainly be looking for a deal ranking among the highest in the league for linebackers and owner Jerry Jones should happily oblige.
Denver Broncos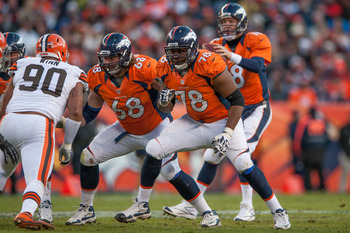 Dustin Bradford/Getty Images
Ryan Clady – T (UFA)
Three Pro Bowl selections plus two All-Pro selections plus starting every career game equals the best left tackle in football.
Clady has been a consistent performer since the Broncos took him in the first round in 2008 out of Boise State. He came out of college considered the best lineman in the draft and he hasn't disappointed.
He has committed only seven false starts in his career and posted his second career season giving up only one sack—2008 and 2012.
It's without question that he's one of the main reasons that quarterback Peyton Manning has only been sacked 21 times this season, among the lowest in the NFL.
It's a safe bet that if a long-term deal isn't worked out, Clady will get the franchise tag. Regardless, Clady should and will be locked up by the Broncos brass.
Detroit Lions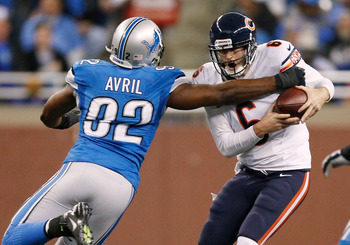 Gregory Shamus/Getty Images
Cliff Avril – DE (UFA)
While Ndamukong Suh and Nick Fairley have gotten much of the press, Cliff Avril has performed equally as well if not better than his defensive line counterparts.
Avril has led the team in sacks the last two seasons—11 in 2011 and 9.5 in 2012 and has posted no less than five in any season in his career. He has also forced eight fumbles over that same time frame.
Although the Lions regressed this season, Avril is still and integral part of very stacked defensive line. The Lions used the franchise tag on Avril after the 2011 season.
Green Bay Packers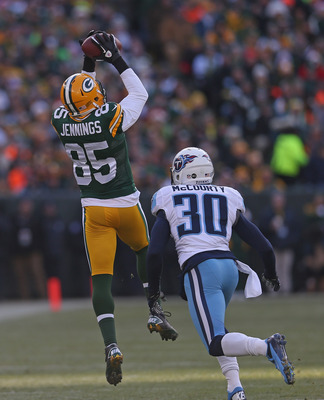 Jonathan Daniel/Getty Images
Greg Jennings – WR (UFA)
Jennings fought some injury issues this season but nicely re-integrated into the offense by late season.
Jennings has missed 11 games in the last two seasons which may cause some people to question his ability to stay healthy, especially given that he will turn 30 at the start of next season.
Regardless, Jennings is one of the biggest receiving threats in the NFL. Jennings posted three straight seasons of 1,100 yards or more between 2008 and 2010. He fell just short of another 1,000 yard season in 2011.
If Jennings stays healthy, he should get back to form and has a great compliment of receivers surrounding him to take some of the pressure off.
Houston Texans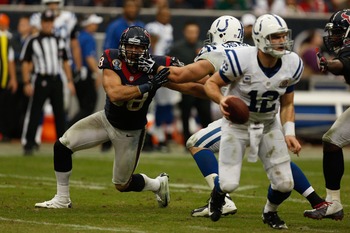 Thomas Campbell-USA TODAY Sports
Connor Barwin – LB (UFA)
Barwin began contract negotiations after the 2011 season in which he posted 11.5 sacks.
While his numbers have retreated—three sacks in 2012—Barwin can still bring added pressure from the left side which combined with J.J. Watt creates a lot of problems for opposing offenses.
His reduced sack numbers will likely affect the Texans' offer and could force some back-and-forth from both parties.
Indianapolis Colts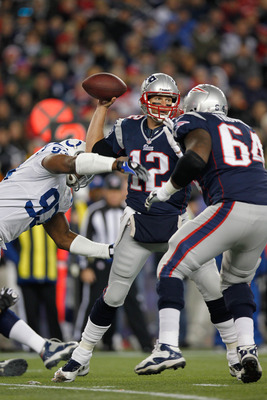 Greg M. Cooper-USA TODAY Sports
Dwight Freeney – DE (UFA)
Dwight Freeney has been torturing quarterbacks for 11 seasons now. When Chuck Pagano took over as coach in 2012, Freeney was moved to linebacker in the 3-4 defense.
Although his forced fumbles have gone down, he still put up five sacks this season and remains a leader on the Colts defense.
If Dwight is allowed to hit the free agent market, there will certainly be a market for his services, possibly in Houston. It will all depend on how the Texans value Freeney's current position on the team.
Jacksonville Jaguars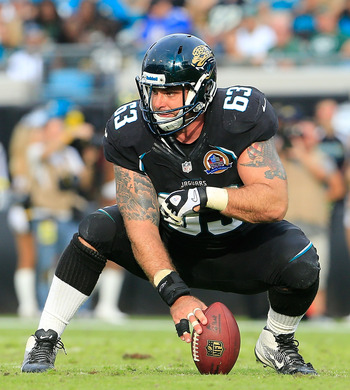 Sam Greenwood/Getty Images
Brad Meester – C (UFA)
One of the last remnants of the Coughlin era in Jacksonville, Brad Meester believes that he may have played his last game in Jacksonville.
With GM Gene Smith gone and coach Mike Mularkey's future still up in the air, the future is uncertain for many Jaguars players. Meester's resigning makes sense for continuity.
Whether sticking with one of the quarterbacks on the roster or bringing in a new one, it would help to have a veteran guy leading the line as well as grooming the next center in the future. Meester has started all 193 of his career games and hasn't missed a game since 2008.
How much weight that carries will depend on whose calling roster shots.
Kansas City Chiefs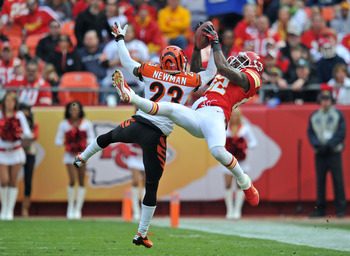 Peter Aiken/Getty Images
Dwayne Bowe – WR (UFA)
The Chiefs were, how you say, "less than stellar" this year.
Okay let's be honest, they were God-awful. Despite the second-worst quarterback situation on the NFL—congrats to the Cardinals on the worst—Bowe still managed 801 receiving yards and three touchdowns in 13 games.
He played under the franchise tender after some intense negotiations prior to the 2012 season. With the absence of a head coach and Scott Pioli's uncertain future, there's no telling how the Chiefs will choose to proceed.
Bowe is respectable talent who with the right supporting wideout on the opposite side, could potentially surpass the 1,100 yard seasons he put up in 2010-2011. He finished the season on IR for the last few games with a rib injury.
Miami Dolphins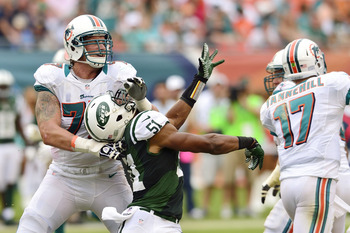 Steve Mitchell-USA TODAY Sports
Jake Long – T (UFA)
Here's one of those tricky situations. Jake Long was picked No. 1 overall in 2008 and has been more than worth the pick and the price paid to get him.
However, Long was also one of the last of the big rookie contracts and will want to add on to the $57 million he received in 2008.
It's not that Long isn't worth it, but with other needs on offense such as wide receiver and possibly running back—Reggie Bush and Brian Hartline are free agents—the potential price tag may be just too expensive.
In my opinion, with a young quarterback you need solid protection in his blind spot, even just for the sake of his confidence. I'd anticipate a franchise tag, but look for a trade or deal before it comes time for Long to sign.
Minnesota Vikings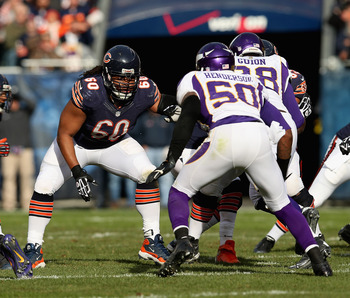 Jonathan Daniel/Getty Images
Erin Henderson – LB (UFA)
Undrafted out of the University of Maryland in 2008, Henderson spent his first few seasons has a special teams player.
In 2011, he moved up to weakside linebacker and has proven himself to be a key part of a young Vikings defense—only three players on the Vikings 2012 defensive roster is 30 years or older.
Henderson has also fared well against the pass, playing in some nickel formations. The Vikings finished 2012 11th in the NFL against the run. The 26-year-old Henderson still has plenty of upside as the defense matures.
New England Patriots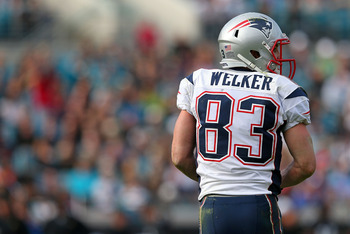 Mike Ehrmann/Getty Images
Wes Welker – WR (UFA)
The Patriots need to face facts, Julian Edelmen and Danny Woodhead ARE NOT Wes Welker.
Rob Gronkowski and Aaron Hernandez are not wide receivers. Welker has recorded more first downs than any other receiver or running back on the Patriots roster.
In 2009 and 2011-2012 Welker ranked second, first and sixth in the NFL in first downs respectively. He signed a franchise tender before the 2012 season and made a statement with his third-highest reception total (118) and second-highest yardage total (1,354) of his career.
I believe the Patriots will make this right with Welker. He has been an "X" factor in Tom Brady's offense for years and I would think Tom would be willing to fight for Wes as well.
New Orleans Saints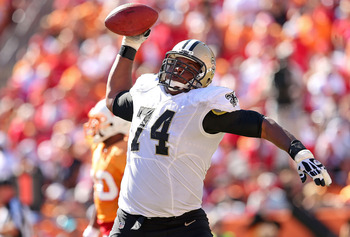 Mike Ehrmann/Getty Images
Jermon Bushrod – T (UFA)
Bushrod is a four-year starter on the Saints offensive line having played in all 16 games each of the last three seasons.
Bushrod made his first Pro Bowl in 2011 and has been part of a line that has allowed one of the top-five fewest sack totals in the NFL over the last three seasons.
After an injury to Jamaal Brown in 2009, Bushrod has stepped in and protected Brees ever since.
New York Giants
Al Bello/Getty Images
Victor Cruz – WR (RFA)
The last thing the Giants want to do is get into a nasty dispute over a tender offer rather than a long-term deal for the Giants best receiver and salsa dancer.
He has posted two straight seasons of 80-plus receptions and 1,000-plus yards. He posted an 18.7 yards-per-catch average in 2011, third-best in the NFL.
He was one of the key reasons the Giants offense was able to do what little they did against the 49ers defense in the 2011 NFC title game. He had 10 catches for 142 yards in the first half, before the Niners adjusted at the half.
Given his acts during the Newtown shooting aftermath as well as him turning down Dancing with the Stars, it goes to show he's a character guy who's focused on football.
Isn't that the type of guy coaches typically dream of being long-term staples in the locker room?
New York Jets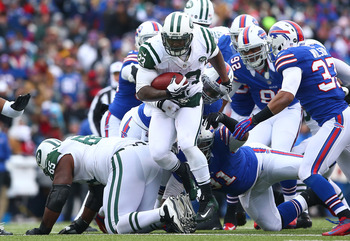 Tom Szczerbowski/Getty Images
Shonn Green – RB (UFA)
With all of the things wrong with the Jets this season, one of the few bright spots was Shonn Green. Green posted back-to-back 1,000-yard seasons in 2011-2012 and has scored at least six touchdowns in both seasons.
The Jets are likely going to be looking to evaluate their current quarterback situation in some fashion. Some stability at the running back position would at least give them some tools to work with should they move on from Sanchez and decide to look in the draft.
A legitimate passing threat could help move defenses back giving Green more running lanes.
Oakland Raiders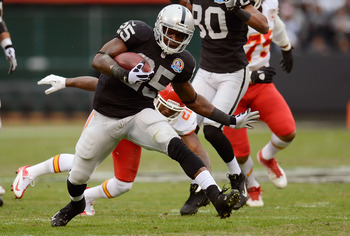 Thearon W. Henderson/Getty Images
Mike Goodson – RB (UFA)
Darren McFadden is the entrenched starter in Oakland but he has never played a full 16-game season—he's missed 23 in the last two seasons.
In his first season with the Raiders, Goodson averaged 6.3 yards-per-carry, 12.2 yards-per-catch and 22.4 yards-per-kick return. With no certainty on the health of Darren McFadden, a viable option who can step in must be available.
Although, the Raiders are still in a state of influx so there's really no way to know how things will play out this offseason. Even long-time Raiders punter Shane Lechler could be looking for work.
Philadelphia Eagles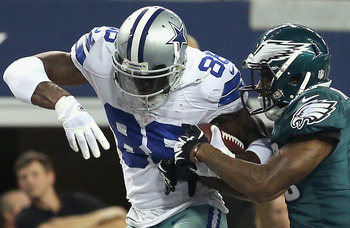 Ronald Martinez/Getty Images
Dominique Rodgers-Cromartie – CB (UFA)
It's safe to say that the Eagles got the better end of the Kevin Kolb trade. Rodgers-Cromartie has outperformed even the high-priced Nnamdi Asomugha in 2012.
Rodgers-Cromartie racked up 17 passes defensed this season, seventh in the NFL and his highest total since 2010. DRC is one of the few players on the roster who may not fall into GM Howie Roseman's assessment of being "overvalued."
While Rodgers-Cromartie's future isn't secure, he may be the best option as far as salvaging workable pieces of this defense.
Pittsburgh Steelers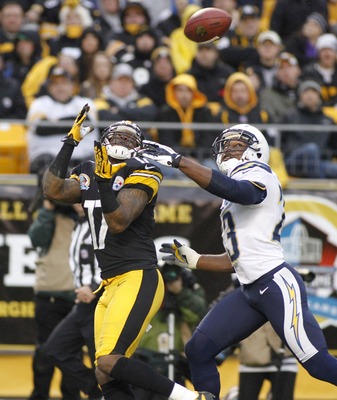 Justin K. Aller/Getty Images
Mike Wallace – WR (UFA)
Wallace came into 2012 with a chip on his shoulder due to him receiving a tender offer rather than a long-term deal. He went on to lead the team in receiving for the third straight season and has stated that he wishes to remain in Pittsburgh.
The Steelers are seeing a more controlled offense under new offensive coordinator Todd Haley, yet Wallace has continued to excel even with the limited big plays—his YPC has fallen from 21 in 2010 to 13.1 in 2012.
The Steelers have been known to not bend to players who cause problems but if Wallace does have a changed attitude, he could see the money he's looking for coming his way.
San Diego Chargers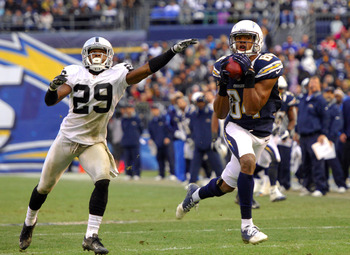 USA TODAY Sports
Danario Alexander – WR (RFA)
A big, young receiver with big-play ability, Alexander had the best season of his career in 2012. He was second on the team with 37 catches and 658 yards.
His 17.8 YPC is third in the NFL this season and he tied for the team lead with seven touchdowns. Alexander's six-foot-five inch frame provides a huge mismatch on the deep ball and gives quarterback Phillip Rivers a big target.
How he'll be used in the future will largely depend on who will be brought in to coach the team. Even if it wasn't considered, the Chargers should at least take another season to see exactly what they have in Alexander.
San Francisco 49ers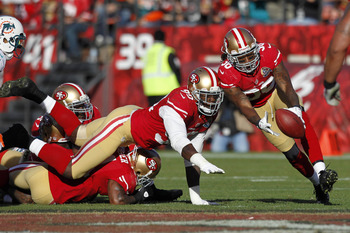 Cary Edmondson-USA TODAY Sports
Dashon Goldson – S (UFA)
Hard-hitting safety Dashon Goldson has been looking for his big payday for two seasons now. He signed a one-year deal in 2011, then a franchise offer prior to 2012.
His 11 passes defensed are second on the team in 2012 and he's posted nine interceptions in the last two seasons. Goldson is another staple on a very stingy Niners defense.
He was just selected to his second-straight Pro Bowl. His physical style makes him a force in the defensive backfield and there is no doubt that the 49ers won't do everything in their power not to bring him back long-term.
Seattle Seahawks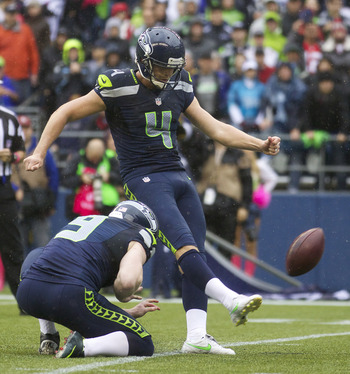 Stephen Brashear/Getty Images
Steven Hauschka – K (UFA)
Hauschka is wrapping up 2012 as one of the best seasons in his career.
His accuracy percentage was just below 90 percent. He finished a perfect 23-for-23 from 49 yards or less and a perfect 9-for-9 at home overall. With the rain and harsh weather conditions they can experience in Seattle, having a sure kicker with a solid leg is critical in close games.
Although he struggled a bit this season beyond 50 yards, his past success and conversion rate under 50 gives him a leg to stand on (no pun intended).
St. Louis Rams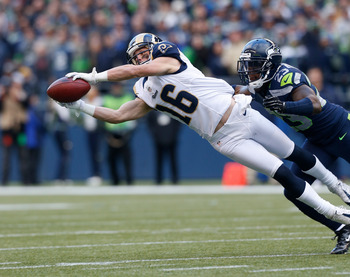 Otto Greule Jr/Getty Images
Danny Amendola – WR (UFA)
Danny Amendola is quarterback Sam Bradford's top receiving target and has the ability to break for the big play on almost every down. The drawback that Amendola will face is his injury history.
He's played in only 12 of a possible 32 games over the last two years. One of the scariest was the broken collarbone suffered against the Cardinals.
Originally thought to keep him out potentially for the year, he made it back in three weeks. Amendola should be retained by the Rams, but what price will he want and what will the Rams be willing to pay?
Tampa Bay Buccaneers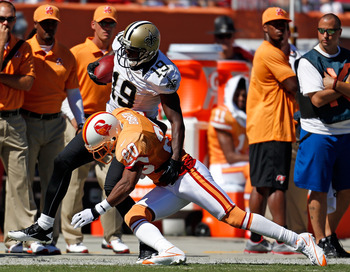 J. Meric/Getty Images
Ronde Barber – S (UFA)
As long as he's willing and able to play, the Bucs should keep Ronde Barber's leadership in the locker room.
Barber just wrapped up his 16th season in the NFL and while he's not as effective as he once was at cornerback, switching to safety has extended his career. His stat line this season reads better than many players with half his experience.
His 91 tackles were third on the Bucs' roster. He recorded four interceptions and 13 passes defensed, both of which led the team. At age 37, Ronde is still playing well and at this point in his career would come with a fairly inexpensive price tag.
The only question is, will Ronde come back for No. 17?
Tennessee Titans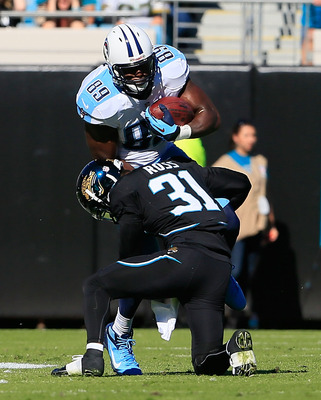 Sam Greenwood/Getty Images
Jared Cook – TE (UFA)
Originally a third-round pick in 2009, the former Gamecocks tight end struggled in his first two seasons.
However, Jared Cook has made significant strides in spite of dealing with an inexperienced quarterback in Jake Locker. His yardage totals decreased this season, however he missed the final three games on IR with a torn rotator cuff.
Locker appears to still be the starter going forward and as these two build more chemistry on the field Cook's production should continue to rise. He provides a big target and big blocker on the end of the line.
It's just a matter of seeing if Mike Munchak can get this offense moving forward.
Washington Redskins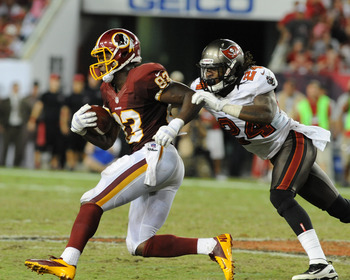 Al Messerschmidt/Getty Images
Fred Davis – TE (UFA)
There are extenuating circumstances surrounding Fred Davis' contract situation. Okay not really. It's your typical "player gets franchised, player gets hurt."
Fred Davis played 2012 under the one-year deal but got hurt after playing in only seven games. He also missed the last four games of 2011 due to a violation of the league's drug policy.
Davis became the full-time starter in 2011 after signing the franchise deal and incumbent Chris Cooley was moved to a reserve role.
Davis is still recovering from a torn Achilles and will likely not get the contract he was looking for or at least not without demonstrating that he will return to form. Given the success of the Redskins offense without him, this could develop into a point of contention.
However, having a weapon like Fred Davis on the team shouldn't be underestimated.
Follow Walt J as he comes to you on his blog "Live From AREA 49″ with his rants on the world of sports from the fan perspective. Whether it's picks against the spread, fantasy football tips, or sheer frustration with your team, AREA 49 has a place for you. Follow him on Twitter at @a49_waltj and @area49sports, and on Facebook.
Keep Reading